In the middle of winter, many cyclist's thoughts turn to …indoor bike trainers. Not because trainers are inherently attractive, but more because their alternative may be a lot less tolerable.
It's not much fun to pedal your bike through standing road-slush, or to attempt to remain upright on sheets of ice. Of course there are riders in the cycling world who get a kick out of 'winterizing' their bikes with homemade studded tires and duct tape reinforced fenders, but a lot of us aren't quite as compulsive about our bike riding ways.
On the other hand, we're not willing to throw up our hands and watch the winter weight accumulate around our waists like a jelly roll either. That's where some well timed indoor bike trainer workouts come in.
Three Basic Types Of Trainers
Indoor bike trainers are categorized into three basic groups, defined by how they create resistance. From least expensive to most expensive, they're wind trainers, mag trainers, and fluid trainers. Each has their advantages…and of course each has their disadvantages.
Wind Trainers: Loud, Weak, but Foolproof
You can't get much simpler than wind trainers. The resistance is provided by impellers attached to the roller. There isn't a lot that can go wrong with a wind trainer, unless it's so cheaply made that the bearings fail or basic metal parts break.
However, in the eyes of some riders there isn't too much that can go 'right' with a wind trainer either. The two most common complaints are how loud wind trainers are and how little resistance they provide.
The level of sound when the rider's pedaling hard can be a real problem in tight living quarters, such as an apartment complex. It can get so loud that some cyclists report having to wear earplugs.
For riders intent on getting a strong 'interval' style workout, wind trainers may not be appropriate, since they can't provide extremely high levels of resistance. On the other hand, for riders seeking an easy to moderate 'steady state' type resistance workout, they may be adequate.
Mag Trainers Have Come A Long Way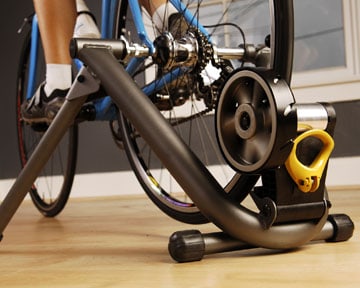 It wasn't too long ago that tales of discarded mag trainers weren't hard to find. With more parts to go wrong, and shoddy workmanship, I've read old reports of mag trainers leaning to the side, or clanking themselves all the way to the junkyard.
Consumer satisfaction with old school mag trainers was lacking.
That isn't the case anymore. High end mag trainers like the CycleOps Mag trainer or the Cycleops Magneto trainer are well designed; made using high quality materials and workmanship. In fact, using an innovative design, the Magneto is the only mag trainer on the market that provides progressive resistance…the level of resistance increases naturally as the rider increases their effort, without having to manually change anything on the trainer.
Mag trainers produce their resistance utilizing the opposing forces of magnets.
Fluid Trainers Dominate Now That They Don't Leak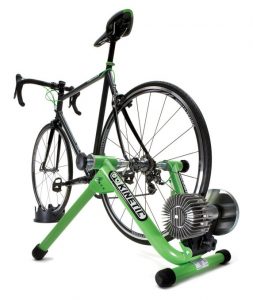 Fluid bike trainers have established themselves at the top of the heap now that they aren't plagued with leakage problems. Until Kurt Kinetic came up with a design that allowed them to completely seal off the silicone filled chamber in the Kurt Kinetic Road Machine, fluid trainer owners could count on their trainers eventually starting to spill fluid all over the training room floor.
Fluid trainers are the quietest of the bunch, and they provide resistance that's most helpful for the cyclist who's in need of some extreme resistance during high intensity 'interval' style workouts.
The resistance from a fluid trainer increases exponentially rather than linearly, so the harder the cyclist works, the more difficult it is to squeak out every extra mile per hour on the trainer.
In simpler terms, it's a lot harder to increase speed from 24 mph to 25 mph than it is from 14 mph to 15mph. When looking at a speed vs resistance graph for a fluid trainer, the slope get steeper and steeper, until it approaches near vertical at extreme speeds.
There's Now A Trainer For Just About Any Level Of Rider
The indoor bike trainer world's evolved sufficiently to now offer a trainer for just about any level of cyclist.
Casual cyclists who don't want to spend a lot of money, will work out at a mild to moderate intensity, and who value a simple design may gravitate toward a wind trainer.
Mag trainers appeal to riders who want more sophistication than a wind trainer, but who don't want to risk the leakage problems that plague some fluid trainers. By offering a variety of resistance levels, mag trainers supply more variety to the rider who will exercise at various intensities.
Fluid trainers are the quietest, supply the most vigorous resistance, while costing the most. Now that leakage problems are a thing of the past in some models, more riders are gravitating toward fluid trainers.
About the author: Ron Fritzke is a cycling product reviewer with a passion for 'all things cycling'. A former 2:17 marathoner, he now directs his competitive efforts toward racing his bike…and looking for good cycling products.
What do you think?
comments