Premium Rush: Bike Messengers in Hollywood Blockbuster
Next month, we are going to see the first action movie out of Hollywood that features bike messengers as the main characters. Interestingly enough, when I first saw the preview in the movie theaters, I turned to my wife and said, "I bet you 10 bucks that Danny MacAskill is doing the stunts in this one." Sure enough…he is…so there should be some amazing trials bike work on the urban streets of New York City.
But…I would be interested to see what actual bike messengers in NYC think of this movie. Did they just take what they do for a living too mainstream? Did they cheapen up the fixie subculture by laying it over a pretty weak "you are going to die if you don't do this" plot?
Regardless, it will probably include some incredible riding even if the acting and subplot is lacking. For that alone…it might be worth watching. Check out the trailer and let us know what you think.
Dodging speeding cars, crazed cabbies, open doors, and eight million cranky pedestrians is all in a day's work for Wilee (Joseph Gordon-Levitt), the best of New York's agile and aggressive bicycle messengers. It takes a special breed to ride the fixie — super lightweight, single-gear bikes with no brakes and riders who are equal part skilled cyclists and suicidal nutcases who risk becoming a smear on the pavement every time they head into traffic.

But a guy who's used to putting his life on the line is about to get more than even he is used to when a routine delivery turns into a life or death chase through the streets of Manhattan. When Wilee picks up his last envelope of the day on a premium rush run, he discovers this package is different. This time, someone is actually trying to kill him.
Keep On Keepin' It On: Fixie Riding in Seattle, WA
I found this video on Vimeo by morehartfilms recently and it captured my attention. Some of the fixie riding in this short sequence is fantastic.
Video: Trials Fixie Riding by Chris Akrigg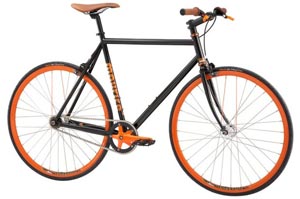 A friend of ours sent over this video of Chris Akrigg ripping up the streets of Barcelona on his Mongoose Maurice fixie.
Chris has taken his Mongoose Maurice fixed gear bike to the streets of Barcelona to see what the Spanish city streets has to offer in terms of a challenge. This is the second fixed gear video from Chris. The first one has been watched over 65 thousand times on this website alone, check out the next installment now!
Racing Fixies At The Roswell Crit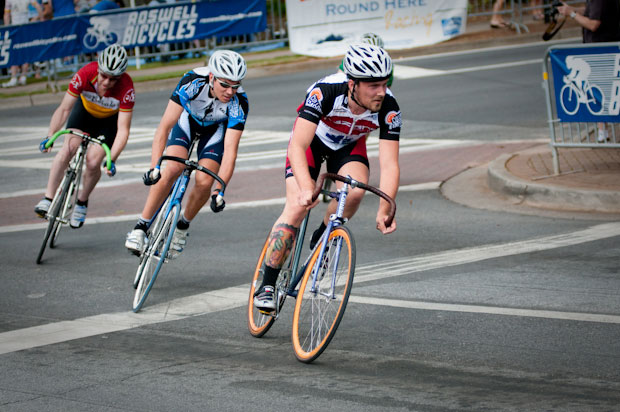 We all know that dicing through over 100 road racers on a short criterium track is insane enough at 30+ miles an hour, but one of the coolest things I have seen in a long time was actually a different animal all together. During the historical Roswell crit in Georgia yesterday, there was a fixie race.
If dropping into sharp turns isn't hard enough at speed, just imagine trying to do so without the aid of a freewheel. These guys were out there killing it on their fixed geared bikes without a single crash that I could see. Blasting through tight turns pedaling all the way through and drafting other riders with the same obstacles is a feat unto itself. Not surprisingly, these talented riders were running at speeds that were on par with some of the other road bike groups.
Just goes to show…it is all about the rider and not the bike. These guys have my utmost respect for getting out there and racing hard when most cyclists won't even attempt a fixed gear ride. There were even cheers coming from the crowd…"woohoo! No brakes!"