Video: Danny MacAskill's Imaginate Series Episode #1
It is great to see Danny MacAskill coming back from injury and getting back into making videos again. This series is going to be awesome and it will give us insight into the life of Danny MacAskill…arguably the best trials mountain biker currently spinning the cranks and clearing the impossible.
"'In the Balance' – As Danny embarks on his most ambitiously creative project to date, an old injury flairs up threatening not just the project but his career as a rider."
Video: The Coolest GoPro Setup Ever Conceived
A friend of mine posted this video on my Facebook timeline as a joke for a project for my son and I while my wife is out of town this week. While I thought it was hilarious given my need to go over the top with things…this video and GoPro setup is truly EPIC.
What do you get when you put 15 GoPros on a beam together? Awesome that's what…
Extreme bike commuting?!
Rahim Bugo sent us over an interesting photo this week of a bike commuter with what looks like a propane tank strapped to his head. I have seen a lot of things in my life…but this is a first for sure.
We are unsure of the source but it makes for an interesting view.
Mind Boggling 20″ Skills from Daniel Sandoval
Every now and then I see a video that just blows my mind. This is one of those…
Video: Danny MacAskill vs. San Francisco
In this short clip basically promoting Gillette, Danny MacAskill opens up with a really cool thought.
"I've always feel like I've had a slightly different way to view a city."
Followed up with one of my favorite lines in a mountain bike video to date.
"The style of riding that I do – comes about just from playing around…and I'll just sort of think of something new…and try it"
While Danny MacAskill does an incredible job of creating stunts that are almost unimaginable…I do believe one of the driving forces behind his online success is the passion he has towards riding his bike. Not only is it incredible to watch his clips…but they make you want to get out and ride. Enjoy.
New Release: Specialized Turbo – 28mph eBike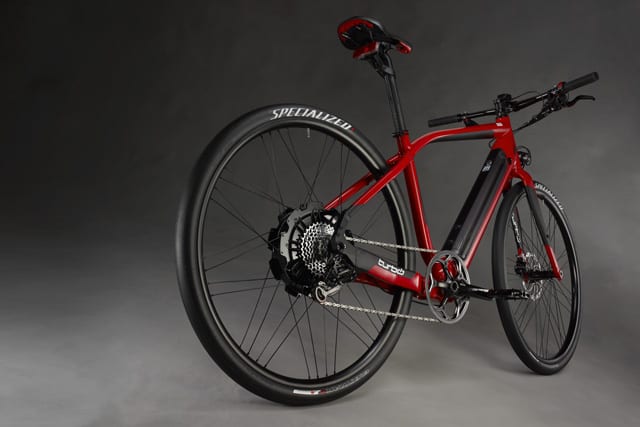 Specialized Bicycles made a big jump in the electric bike market with their announcement of the Specialized Turbo earlier this week. This ebike claims to be able to cruise the streets of your favorite city at 45kph (~ 28mph). Ironically, it can only be sold in Europe at this time due to US regulations calling this bike too fast.
In designing the Turbo we created an entirely new category of eBike: a speed-focused, high-tech urban bike that looks and performs like a fast bike should… and it just happens to have a motor!

With a top speed of 45kph, the Turbo is unquestionably fast. It's even fast standing still: the battery recharges in just 2 hours.

Every aspect of the design exudes speed, efficiency and style: clean, sweeping frame lines, a hidden battery, internal cable routing and fast, grippy tires.

On the road, or standing still, it's all about speed. It's you, only faster.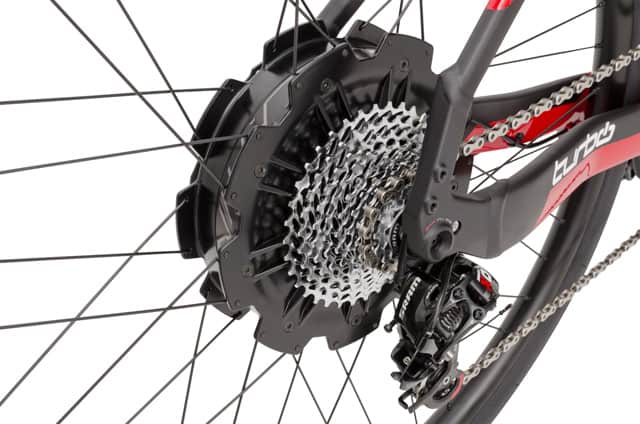 To achieve Turbo's lofty performance goals—and set if far ahead of the rest—engineers focused on three critical areas: the battery, motor, and electronic interface. They looked at them not as individual parts, but as integral parts of a whole.
They started by choosing the finest, most powerful rear-hub motor available, and then we customized and redesigned it for our precise demands. Then a battery was built from scratch with our specific parameters to provide that motor with the most efficient, immediate, and lasting power. Finally the electronics were engineered to assure the entire package works flawlessly and intuitively—easily allowing for rider customization and interface with current and future technology.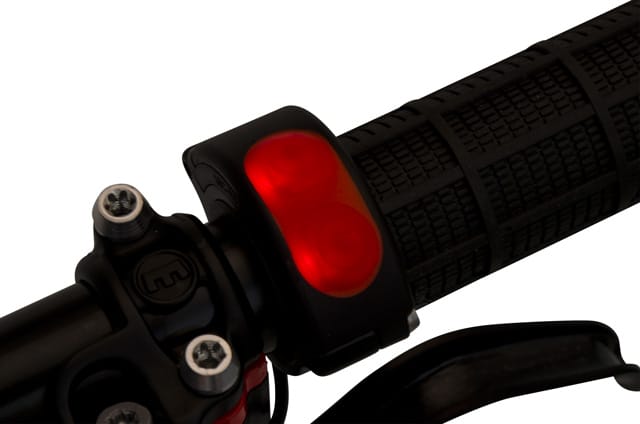 Actual speed control is handle through this bar mounted button control and you have a full onboard computer installed to track all of the essentials.
As far as eBikes go, this has to be one of the cleanest examples we have seen. From the battery integration, routing of the lines and overall design of the bike, Specialized did a great job of not making the Turbo look like a typical eBike. From the outside, it looks more like a really fast commuter bike like the ones you see in downtown NYC and Seattle.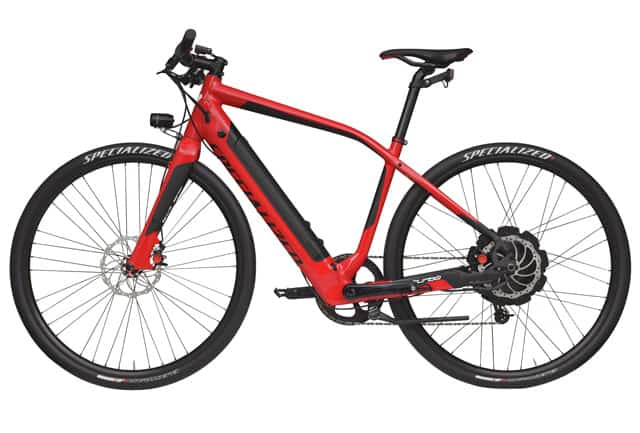 Incredibly burly yet sleek and racy alloy frame with performance geo designed for high-speed riding with tapered head tube, fully-integrated down tube battery, internal routing, thru-axle dropouts and full fender/rack mounts.
Oversized alloy fork with tapered 1-1/8″ to 1-1/2″ steerer and Q15 thru-axle dropout is strong and responsive—even at 45kph.
Magura MT Carbon hydraulic brakes with carbon levers/clamps and 180mm rotors provide huge braking power and great modulation; provide regenerative charge to battery when engaged.
Direct Drive rear hub motor provides uber efficient power directly where it counts—at the rear wheel—for maximum push and efficiency at both full Turbo speed and on slow hill climbs.
Wireless interface unit with illuminated display to show assist level, battery status, light on/off switch as well as normal bike computer features like speed, time and distance. Illuminated grip remote switch to adjust power level.
Finest quality Li-Ion battery, optimized for our specific motor, pulls maximum power from each cell for outstanding performance and highest efficiency; 342Wh capacity, specific internal cooling system, superfast charging times.
I guess the big question still remains…
When will this be available in the states if at all? Will they have to make the bike slower to sell it here?
For more information on the Specialized Turbo, check out the new Turbo website.
Video: Harry Main Best 2011 Shreds at BMX Parks
It really is amazing how much BMX is progressing lately. While we thought Hoffman pulling off a no handed 900 at the X-Games in 2006 was epic, the riders today are stretching those limits even further. This clip by Harry Main is a great example of how the sport is progressing. The amount of speed he can carry in to spins and what he can do with relatively low air time is amazing.
Harry Main 2011, #VX Edit. Hope you enjoy. head over to www.facebook.com/harrymainfanpage hit harry up with your thoughts on edit and show some love!
Video: Drew Bezanson Is Back – Insane Tricks and Transfers
Back from injury, Drew Bezanson is back and looks like he is in the best shape of his life by the looks of this video. The competitors in the Dew Tour is going to have their hands full this coming season. The transfers and trick combos he is pulling off at Joyride 150 are just insane. The last gap transfer in the video is HUGE.
Drew Bezanson is back! Shot at Joyride 150 Bike Park.

Music: Pretty Lights – If I Could Feel Feel Again

Shot with:

Panasonic HMC150
Canon 60D
Canon EF 24-70mm f2.8
Canon EF 50mm f1.4
16×9 EXII Fisheye
Rode NTG2 mic
Rode Video Mic

Filmed & Edited by: Justen Soule
Premium Rush: Bike Messengers in Hollywood Blockbuster
Next month, we are going to see the first action movie out of Hollywood that features bike messengers as the main characters. Interestingly enough, when I first saw the preview in the movie theaters, I turned to my wife and said, "I bet you 10 bucks that Danny MacAskill is doing the stunts in this one." Sure enough…he is…so there should be some amazing trials bike work on the urban streets of New York City.
But…I would be interested to see what actual bike messengers in NYC think of this movie. Did they just take what they do for a living too mainstream? Did they cheapen up the fixie subculture by laying it over a pretty weak "you are going to die if you don't do this" plot?
Regardless, it will probably include some incredible riding even if the acting and subplot is lacking. For that alone…it might be worth watching. Check out the trailer and let us know what you think.
Dodging speeding cars, crazed cabbies, open doors, and eight million cranky pedestrians is all in a day's work for Wilee (Joseph Gordon-Levitt), the best of New York's agile and aggressive bicycle messengers. It takes a special breed to ride the fixie — super lightweight, single-gear bikes with no brakes and riders who are equal part skilled cyclists and suicidal nutcases who risk becoming a smear on the pavement every time they head into traffic.

But a guy who's used to putting his life on the line is about to get more than even he is used to when a routine delivery turns into a life or death chase through the streets of Manhattan. When Wilee picks up his last envelope of the day on a premium rush run, he discovers this package is different. This time, someone is actually trying to kill him.
Bike Commuting Safety: Claiming the Lane vs. Riding on the Sidewalk
Take the sidewalk or the road? This is the pressing issue of safety for some many bike commuters. And many new cyclists make the mistake of sticking to the sidewalk because it seems less intimidating when you consider the other optional traffic-filled road. I myself, came to the decision after a dangerous accident with a car making a left turn when I road my bike through a crosswalk. The car struck my bike, throwing me off and caused severe injury to my right leg which forced me to spend 6 months in rehabilitation. Luckily I was smart enough to contact a personal injury lawyer in Denver, which is my hometown, and seek compensation for my injuries.
Surprisingly, many cyclists are dead set on the sidewalk because they assume it's the safest place to ride. Unfortunately, they are mistaken, the sidewalk isn't very safe for bicycles at all and this is why:
The sidewalk offers poor maneuverability on a bike. Sure, you don't have to worry about being struck by a car from behind, but you'll have to dodge running kids, people walking dogs, elderly folks who are unable to clear the way fast enough and other cyclists coming at you head on. So youíre not only a danger to yourself, but to pedestrians as well!
Drivers in cars on the road are not looking for fast moving objects, like bikes, on the sidewalks. This is why it's imperative to get off of your bike and cross street on foot while pushing your bike. Otherwise you risk getting struck by a left or right turning car.
The surfaces of sidewalks are not maintained for bike traffic. You could be facing potholes and other uneven surfaces for riding.
In many cities, itís illegal to ride on the sidewalk and cyclists face tickets should they choose the sidewalk and endanger pedestrians.
Equally dangerous, for entirely different reasons, is choosing to ride on the extreme right side of the road due to the following threats to cyclists:
You increase your chances of getting hit when car try to squeeze past you in the same lane.
You ride in a blind spot of any approaching cars. Imagine you're a car approaching the tail end of another car. The car in front is moving very slow so you follow a little too closely, but what's the harm? Suddenly, the first car swerves around a cyclist, but as the second driver you didn't notice the cyclist as it was traveling in behind the first car. As the second driver, it's too late to stop because didn't realize the cyclist was on the road until it was too late.
6 reasons why claiming the lane is your safest option as a cyclist
Drivers will automatically make room for you.
Drivers will be forced to slow down when you claim the lane in order to pass you.
You are now in the field of vision of other drivers. It's important to be visible to other drivers on the road and ahead, in the middle of the lane is where drivers keep their eyes peeled for other cars. Claiming the lane means you will be seen by cars approaching you from behind and the side, just as much as you will by oncoming traffic.
You will protect your tires this way. Where does all the dangerous debris and litter collect? It pools on roadsides where it can cause a fall or puncture your tires. Take to the roads for the flattest and safest riding surface available to cyclists.
You'll enjoy a stress free ride on the road where it's safer, easier to peddle and the risk of being struck by a car is lessened.
You are making the roads safer by riding there.  Cyclists who claim the lane have a long term effect on road safety by spreading a 'share the road' mentality. If drivers are forced to watch for you, they will be more aware of sharing the roadways with other cyclists, motorcycles, pedestrians in crosswalks and other vehicles.
This article was written by Colleen Harding who is a freelance writer that loves commuting by bike.
Video: Flatland Freestyle BMX with Matti Hemmings
This video brings me back. Freestyle flantland BMX used to be a big part of the industry. With demo's at almost every cycling event and riders drooling after the latest pigs and gyros, flatland freestyle was as big a part of the industry as sections of mountain biking is today. Over the years, we have seen this creative style loose a little steam, but…if this video of Matti Hemmings is any proof, the style is still alive and kicking. The following is a great example of the talent and balance these riders have on a bike.
Discuss this video here –> Flatland BMX Video
Dephect rider Matti Hemmings riding in Bristol in the UK.

Music – The Glitch Mob V La Roux : In for the Kill / Bad Wings