Some…if not all…of you may have seen this bike. The Delta 7 Arantix is hailed as one of the most expensive hardtails on the market. With an MSRP of 4,895 for frame only (recently reduced from $7,000!) this "Isotruss" frame is the most expensive cheese grater money can buy.
I am all for advancements in mountain bike frame technology, but this bike looks ridiculous on all levels.
We deal with dust, mud and other foreign objects on the trail…this frame has way to many places for all fo this matter to hide.
Imagine a bad crash where you could not get the bike away from you. Do you want to be rolling around with that mess?
Repair Cost – Frames break…how much is it going to cost when one of those strands go bad?
According to Delta 7, IsoTruss is the following:
IsoTruss Technology – The ultimate composite structure being utilized in the cycling industry. Carbon fiber and Kevlar spider web-like open lattice tube design create a stronger, lighter and more durable frame. In addition to the visually stunning appeal IsoTruss also creates ride features and qualities unmatched by any other material and or structure. Experience IsoTruss and see for yourself what the media is trying to put into words.
Now..remember the three words that you just read together…"lighter, stronger and more durable" as you look at this picture.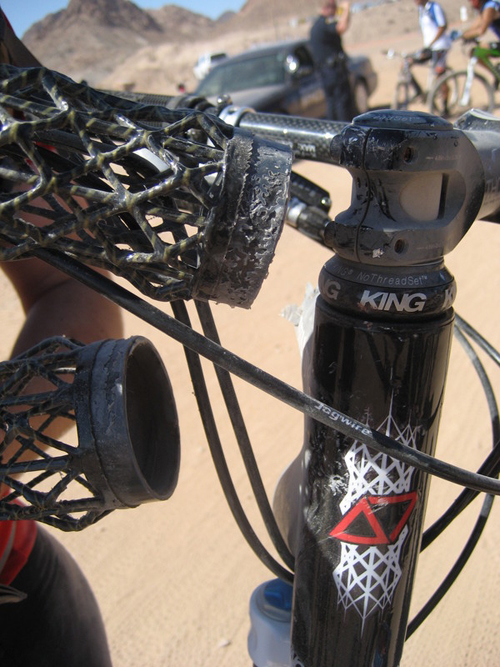 A lucky rider at the Interbike Dirt Demo had one of these ultra expensive, "lighter, stronger and more durable" frames come apart on him at the joints of the head tube. Talk about lucky!
Jason at FeedtheHabit.com pointed me towards this article by Generation-Outdoors.com (where that picture came from).
For reference…here is what the frame is supposed to look like at that joint.
It appears that the frame's down tube and top tube just completely separated from the head tube. The rider got completely lucky and only chipped one of his front teeth. Can you imagine just riding along and the front of the bike coming apart on you? It's almost hard to believe.
Needless to say…I will not be running out to grab one of these "lighter, stronger and more durable" frames any time soon.
Check out Generation-Outdoors.com for more pictures of the frame and chipped tooth. I do feel for Delta 7 some…it has to be tough having something happen like this at the biggest show of the year.
What do you think?
comments