Today is the start of a LONG series dedicated to one purpose…turning this seasoned mountain biker into a roadie. I know what you are thinking…isn't this a mountain biking site? Why is there a picture of a Dura-Ace crank and skinny tires?
For a long time, I have been stressing the importance of cross training to improve your mountain biking skills and endurance. The #1 best way to increase your endurance for mountain biking is getting out on the road. Ask any endurance racer and they will tell you that road riding is an essential part of their training regiment.
What Am I Looking To Accomplish On This Journey?
I want to become a better overall cyclist. The truth is…I enjoy riding anything I have to pedal. It does not matter if it is a dirt jump bike, downhill sled, cross country weight weenie creation or…in this case…a skinny tire road warrior, I am always looking for new and unique ways of enjoying the sport of cycling.
The road biking world is much different than the environment that I am used to with mountain biking. The riders are different…the attitude is different and even the gear is different. This transition is going to have a learning curve and it will take some time to blend into the new atmosphere. Luckily, I have a lot of riding buddies that also enjoy the perils of the road, so this transition will be accomplished with their help and guidance.
I am going to bring you guys along for the ride. This series of posts and articles are going to share my journey into the road biking realm. I am going to share the good with the bad as I attempt a new segment of cycling…that until now…I have generally stayed away from.
The Bike – Blue Competition Cycles NX7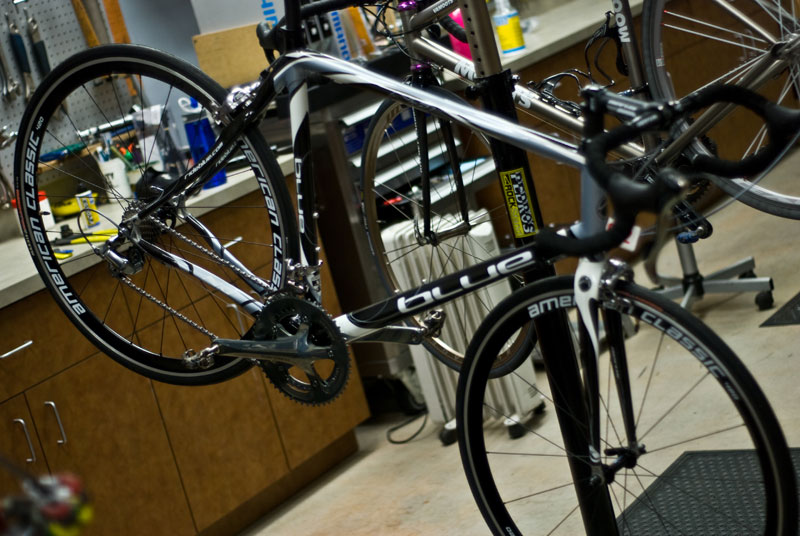 When I started this idea, I knew the road bike would have to meet some very specific requirements.
The road bike would have to make it through the long haul. As my road bike riding skills progressed, I could not get to the point that I was over riding the bike. This meant that I had to have a road bike that…at this point in time…far exceeded my abilities.
Local Support -There is not anything I can't do with a mountain bike, but a road bike was going to be a new territory. I needed great local support through a local bike shop that I trusted, and one that knew the brand I was riding.
After taking both of those requirements into consideration (combined with my need for an incredible looking bike), I landed on a Blue Competition Cycles Nx7. Not only do I have an incredible local shop that carries Blue…Reality Bikes…but Blue Competition Cycles is also based miles from my house.
I met with the crew over at Blue Competition Cycles and we worked out a deal for this long term project. Luckily, they had a Nx7 in their inventory in my size. The Nx7 is discontinued model for Blue, so for a current lineup check out rideblue.com.
I am very excited about this project and a special thank you goes out to Blue Competition Cycles and Reality Bikes for their help along the way. Be on the lookout for more in this series as it gets rolling.
What do you think?
comments