Interviews
Pimp My Ride – A Look Inside Spectrum Powder Works
Bike 198 has become a great place to look at the latest and greatest the cycling world has to offer, share ideas, and socialize with like minded wheel junkies.  While it is cool to check out what is "next" in the cycling world, sometimes it is fun to get the most out of what we already have.  Whether you are trying to squeeze a few more good years out of a trusty frame in a tough economy, refurbish a classic you got at a bike swap, or you just want to customize, custom painting can play a key part in making your ride look its best.  Fortunately, we are not too far from Spectrum Powder Works – one of the best custom paint shops in the cycling industry.  Mark Brandt and his amazing team were nice enough to have me down to their shop in early March to show me their fine work and how they perform their magic.
There are two basic roads one can go down in the world of paint – liquid or powder coat.  Before you make that decision, ask yourself a few key questions:
What kind of material is your frame made of?
What kind of look do you want to achieve?
Do you need a really durable paint?
What is your budget?
What kind of paint will work best for your particular needs and budget?
I have to admit, I had a few preconceived notions about what someone could do with liquid painting versus powder coating.  Some were right, and one was just plain off base.  Fortunately, Spectrum does both types of work as well as etching, so they were able to answer all of my questions.
Liquid Paint
Liquid paint is a little more low-tech and old school.  There is a lot that can be achieved with a liquid based paint job and the results can be beautiful.  Many of the hand built frames are done in liquid as some of the more detailed builders use a very thin lug.  Liquid can be applied and dry at much lower temperatures than to protect these types of parts.  In addition, the frame material may dictate that you have to use a liquid process.  Liquid can be used on wider range frame materials.  If you have a carbon frame you would like fully painted or detailed, liquid is your only option as the drying temperatures for most powder coats are at about 390 degrees Fahrenheit.  These temperatures would compromise the carbon fiber structure.  Liquid paint has its limitations though.  For one, it is more expensive.  The materials are more expensive, and liquid paint jobs can be more labor intensive.  A basic one color paint job is about $150 more by using liquid rather than powder coating.  In addition, liquid paint jobs are more prone to chipping and are harder to get into every crevice of an intricate frame.
Here are some examples of liquid-based paint jobs: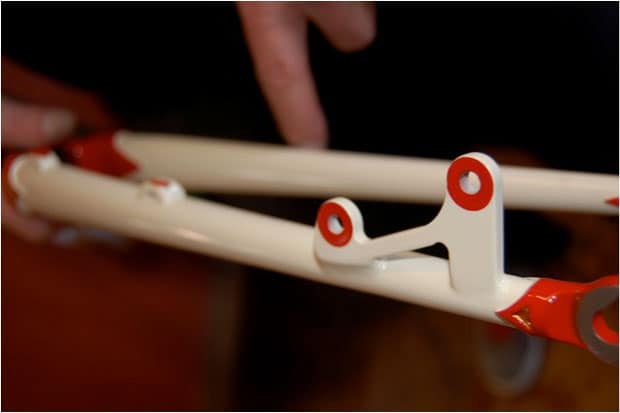 Powder Coat
I have to admit, I really thought of powder coating to be more of a mass production thing in cycling.  In my mind, it seemed like the kind of deal where a paint shop could do a high volume of projects in more simplistic designs pretty inexpensively.  It turns out that powder coating has come a long way and a variety of looks can be achieved, even on very detailed frame designs.  We'll show some examples of what can be done with powder coating that you may find surprising.  Powder coating is a very descriptive term as it involves applying a free-flowing dry powder in an electrostatic fashion.  The powder is then cured in a high temperature oven that allows the particle to dry into a skin on the frame.  Powder coating is typically a less expensive and more environmentally friendly process as there is very little waste produced in the process and almost no volatile organic compounds.  Powder coating is nice in that the powder really binds into every tiny crevice during the application process, so every nook and cranny gets covered without the risk of creating drips and runs in the finished product.  It is also creates a very durable finished product.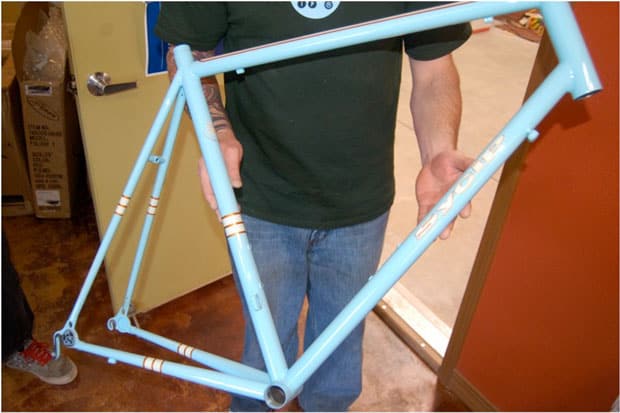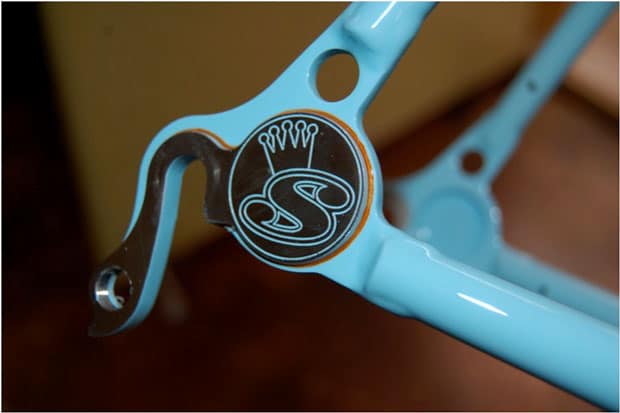 Process
So what happens when you send in your grungy looking frame in for a makeover?  Well, both liquid painting and powder coating start off pretty much the same until the final stages. 
For metal-based frames, your frame will need to be stripped of its old paint (assuming it has paint) and prepped.  Depending on the frame material, this involves using a high-tech form of sand blasting.  Please see the pictures below to get a better idea of what we are describing.  The frame is put inside a box where fine particles of either plastic (for steel and aluminum) or glass (for titanium) will be blown against the frame to remove old paint and impurities like rust.  The handler will actually slide his/her hands into the holes you see on the side of the sanding machine and into embedded gloves that are impervious to the particles.  In this way, they can hold the frame and aim the hose while looking through the window you see above the holes.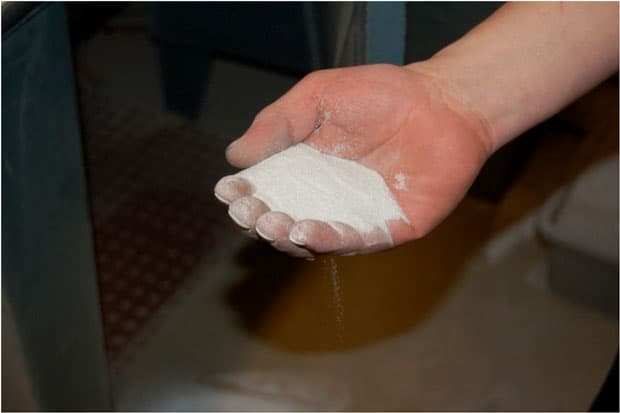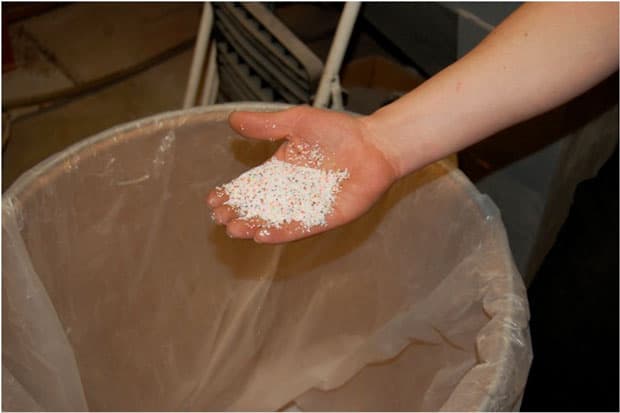 For steel frames or those undergoing a liquid paint job, the surface is immediately prepped with a primer to prevent oxidation and ensure that no impurities get on the freshly prepped frame.  It is also at this stage where any minor dings or dents are fixed to make the tube look perfect again.  As a side note, each dent repaired costs about $25, a small price for cosmetic perfection.
Here is where the processes differ between liquid and powder coat.  For a liquid job, a base coat is applied that the paint can bind to and then the liquid is applied and cured.  Multiple layers and masking can be integrated for painted logos and other graphic design details.  Further detailing can be added.  In a powder coat, the powder is applied as described above.  Some frame materials may require different curing temperatures.  Scandium, for example, would require a lower temperature (more like 325 degrees Fahrenheit) to maintain its structural integrity and would need to be cured for a longer period of time.
A final clear coat or pearlescent coat is applied to help protect the finish.  This both protects the frame and adds to the gloss.  The pearlescent coats are unique in that they bring out different pigments in the paint, creating a little bit of a luminescent effect that changes the look of the frame in different lights.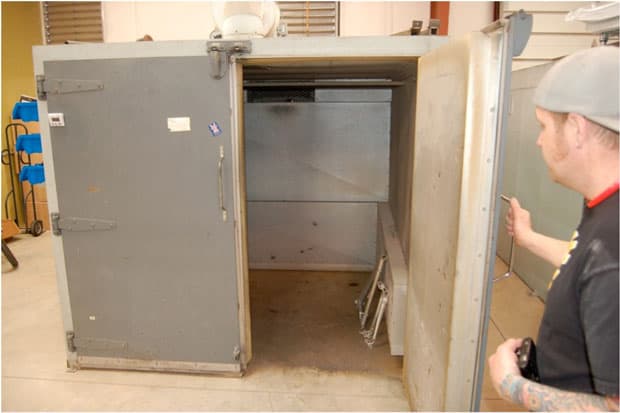 Graphics
One thing that is really cool is the graphic flexibility that is possible in a custom paint job.  While this may not be available at all shops, the facility we toured had the ability to replicate any logo for application on a frame.  This is done using Adobe.  They can take an existing file from the manufacturer or they can recreate one using their own artistic skills.  This is a great option if you are restoring a classic frame.  In addition, they can create just about any paint effect.  For titanium frames, graphics can actually be etched into the metal, creating an everlasting and subtle design detail.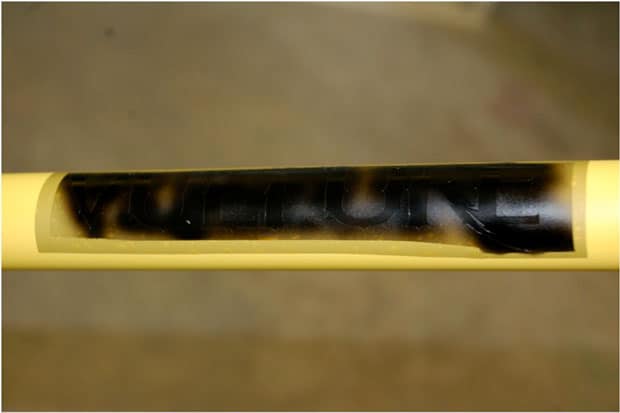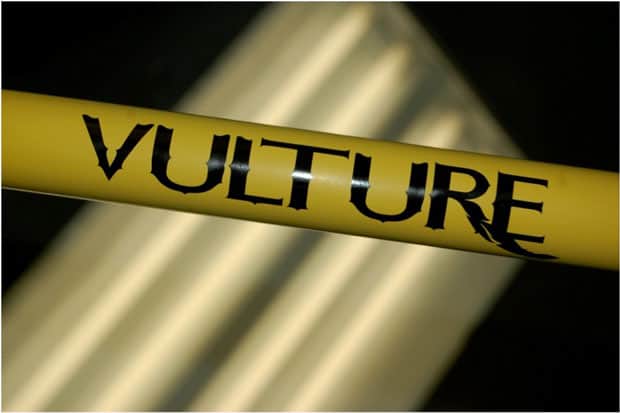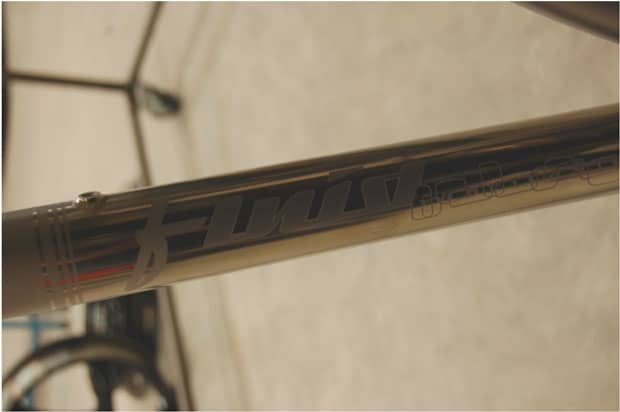 How good can it get?!
Here are some of my favorites from their gallery.
Powder Coating on Bike Frames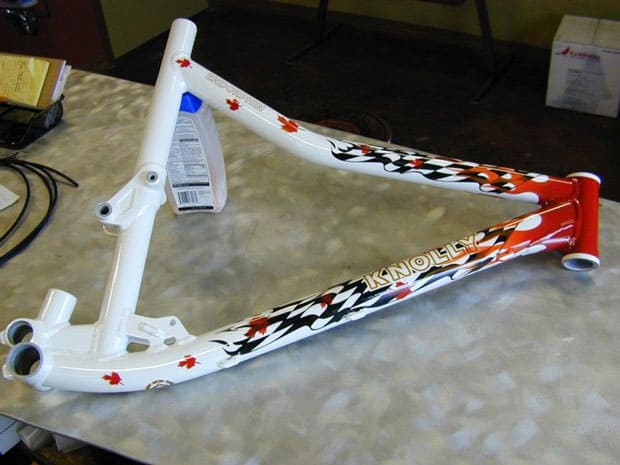 Liquid Painting on Bike Frames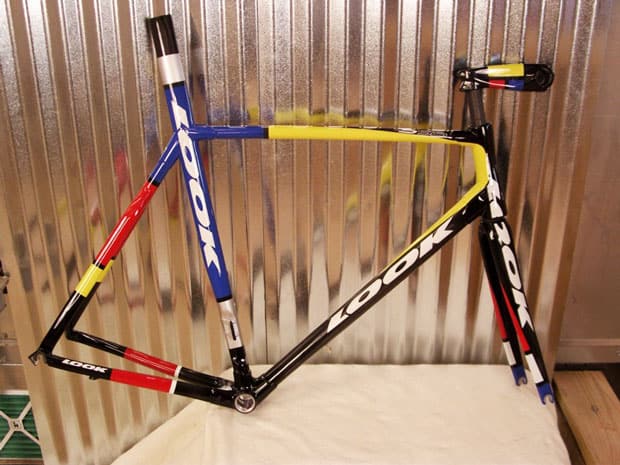 Pricing
Every shop is going to have different pricing, but some general rules of thumb apply.  A basic paint job with graphics will run about $250 for a powder coat.  As noted before, a liquid-based paint job will run about $150 more.  As complexity increases, so does price.  Multiple colors, extensive masking, and pearlescent finishes, all add to the price of a project.  As you can imagine, costs can increase dramatically due to the additional labor and materials required for more complex projects.
Special Thanks
While this article is intended to be general in nature, we wanted to send out a special thanks to Mark and his team at Spectrum Power Works.  They took an entire morning to let me tour the shop and walk me through each step of the process, answering all of my novice questions.  If you are thinking about exploring a new paint job, you will want to research the different options out there.  As a former customer of theirs, I can tell you that these guys do great work and are great to deal with; even letting you view your project online as it is in process.  I bought a used Land Shark tandem road frame that normally retails for $3,500 for $500.  The paint was purple, white, and pretty dinged up.  They created a water effect, re-logoed the bike, and added some shark gills to the top tube.  They also added in some shark gills.  It is now truly a one of a kind and a great conversational piece for a third of what it would have cost new.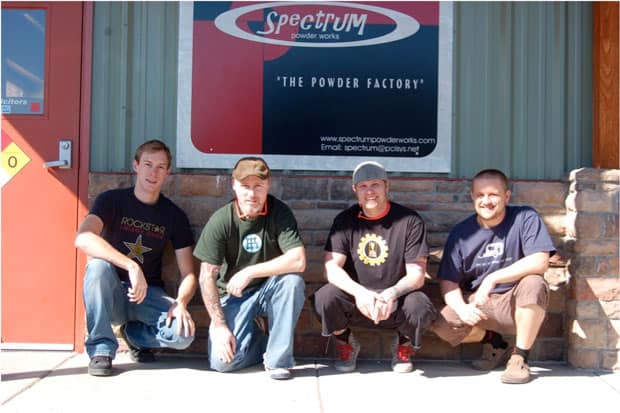 This post was written by Eric Pringle. The crew at Bike198 wanted to extend a special thanks for getting this together for publishing and taking the time to visit the team over at Spectrum Powder Works. Spectrum is known throughout the industry for providing high quality finish jobs for cyclists.
Interview: Joe Breeze – Founding Father of Mountain Biking
After my article on the comment left on Mountain Biking by 198, I was contacted by the crew at Breezer Bikes about doing an interview with Joe Breeze. Of course, I jumped at that opportunity and sent the questions over to Joe right away. For those of you that do not already know, Joe Breeze is one of the founding fathers of modern day mountain biking and the first to make bike frames design specifically for offroad use.
Excerpt from Breezer Bikes website:
In the road-racing off-season in the early 1970s, Joe and several friends from Velo Club Tam–including Gary Fisher, Otis Guy, and Charlie Kelly–began refurbishing old balloon-tire bikes from the 1930s and '40s and riding them off-road for fun. The old bike frames were not built for the demands of these off-road riders, who broke many old frames in their exploits. In 1977 Joe Breeze agreed to make a stronger, lighter mountain bike for Charlie Kelly. Word got out, and eight other orders quickly came in. Because he had to work out so many ideas, Joe first designed and built himself a frame, which he completed in September 1977 and immediately rode to victory at the Repack downhill time trial. He then produced nine more, building each into a complete bike, from late 1977 to June 1978. These were the first successful frames designed and built for use as mountain bikes. Joe built them up with all brand-new parts, including 12 or 18 gears depending on the buyer. They are generally considered the first modern mountain bikes. They were called Breezers.
For full history on Joe Breeze click here.
The comment left on this site (which also sparked a lot of discussion from you guys on the article) became of interest to Joe and the crew over at Breezer because this reader made direct reference to the founding fathers of mountain biking and what they would want. Instead of guessing…let's see what Joe has to say!
Joe Breeze Interview – Founding Father of Mountain Biking
Comment left on MTB198:
Adam writes:
I am unsubscribing because your website is just another commercial website. I am tired of commercialism; I prefer bicycles as a utilitarian vehicle, not a two – wheeled sport utility vehicle where the price of Chinese – made frames and components continually escalates. I think the founding fathers of mountain biking never wanted mountain biking to become the plaything of a small group of capitalists.
198: As one of the founders of mountain biking, it would very interesting to hear your take on the comment and where the industry has headed over the years.
Joe Breeze: (Sigh.) My take on Adam's frustration may prove futile, but I owe Adam for this opportunity. My take is expressed in my comments further down, but here are a few thoughts:
1) I'd prefer mountain bikes to be the plaything of many capitalists worldwide, not just a small group of them. The more bikes being ridden, the more enthusiasm there is for cycling.
2) The mountain bike has served as a key steppingstone toward greater use of bicycles in America. Many people have come to realize how useful bicycles are for getting around in everyday life. In Europe, mountain biking has essentially revitalized bicycling.
3) Outsourcing: My hope was to build an American bike industry out of mountain bikes. The problem was indifference by US manufacturers. In the 1970s and 80s trying to find an American manufacturer interested in making bike stuff was a lesson in futility. "What's the part for?" "Bicycles." "Sorry, not interested." They saw no future in it. Meanwhile, the Japanese were falling over themselves to get a piece of the action. Once mountain biking became popular, American manufacturers picked up interest, but it was too late. Asia was well established as the source for almost everything mountain bike.
4) Industry directions: It's all good. More people on bikes. The overall secret is leaking out: Bikes are great in so many ways.
198: Reading over your story, it is easy to tell that you have a passion for cycling that has really defined both your professional and personal life. Do you still have that same passion and excitement for biking that you did back in the day?
Joe Breeze: Yes.
198: You are known throughout the industry for making the first production mountain bikes. As you went through many generations to find the fit and structure that worked, what did you find to be the biggest hurdle in producing a bike that was built to be ridden offroad?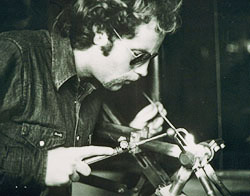 Joe Breeze: Perhaps the biggest hurdle was lack of data, as mountain bike design was uncharted territory. I took the analytical approach and did a lot of testing of the old bikes from yore (in other words, I had lots of fun!). Since 1974 I had been designing & building shorter, lighter road racing frames and made the necessary adjustments from that point. I made careful drawings. I made my Breezers with precision. I built them up with all brand new parts, which I tracked down from a wide variety of sources. I made the first 10 bikes all at once (1977 to 1978); I had no discarded generations. My first Breezers were a resounding success. They were all capable of winning Repack (which is a downhill, of course) and of being fastest up Mt. Tam as well. All survive to this day. I soon came up with my design plans for my next generation of Breezers, and shared those plans with others; I built my own next group of Breezers in 1980.
198: Mountain biking has seen a lot of changes over the past 20 years with the introduction of suspension components and bikes that can withstand the abuse that used to be reserved for dirt bikes. Over the years, what do you think was the greatest innovation in the mountain biking industry?
Joe Breeze: Your question has suspension written all over it, so I'll choose indexed shifting. It's been almost 24 years since Shimano Indexed Shifting hit the market and my, how we take it for granted now. Single-speeders may not agree, but then they're riding hard-tails, no? Okay, suspension is huge! And I love choice (of gears).
198: What do you think was the worst?
Joe Breeze: Elevated chainstays.
198: The amount of progression in riding styles has accelerated tremendously over the past couple of years with the downhill/freeride crowd. What are your thoughts on where mountain biking is going in this category??JB: I do see irony in the most efficient vehicle ever devised—the bicycle—becoming just another way to burn fossil fuels. A bit on the order of a gas-powered turtleneck (thank you, Steve Martin). Chairlift bikes were certainly not part of my vision. Riding to the ride was, and is. Long live cross-country, or at least cross-county.??MTBRT: Traditional cross country mountain bikes have also drastically changed in the last couple of years with the introduction of the 5″ travel trail bike. Do you think this will stay the "do-it-all" bike for the average mountain biker, or is the travel going to continue to increase?
Joe Breeze: Time will tell.
198: Switching gears a little bit, you have continued to impress the cycling industry with your commuter lineup of bicycles. For those that do not know about Breezer Bikes, can you explain a little bit on what you are trying to accomplish with the brand?
Joe Breeze: My goal is to offer useful bikes for everyday healthful getting around. Riding a fully dressed Breezer transportation bike, it becomes apparent how limiting a naked bike is—for the same reason we don't drive cars without fenders, lights or ways to carry things. Utility is the word. In my case, my other bike is a bike (or my wife's car). Because I crave speed I make my Breezer townies so they can GO!
198: Commuter biking is getting a lot of press lately due to increased energy costs. Do you see bike commuting increasing in the future?
Joe Breeze: Yes I do. As many people as we see riding bikes in the USA today, I see it as only 10 percent of the potential of Americans who could be riding. That is, someday bicycling in America could be 10 times more popular. It's all to do with a bicycle's extraordinary efficiency. That's what puts the smile on our face: You get health while you get where you go, be it physical health, mental health, environmental health, or fiscal health. And chances are, overall, it will save you time. The biggest hurdle is ignoring the billions of dollars spent every year (for how many decades?) trying to convince us all to just drive.
198: Where do you see the commuter bike industry in the next 5 years?
Joe Breeze: It depends on how quickly the biggest secret in bicycling gets out, and the perceived cost of driving. In America, since specifically 1991, big changes have been made in how we get around. Most of it is still below the radar, but in many parts of the country a new bike path goes in here and a new bike lane there. From the grass roots to the federal level, more people all the time see bicycling as a solution, but things take time. One day, it will get to a point where the perception of landscape will flip. The average Joe will say, "Bikes, duh!" Hard to believe there was a time when people—except for those doing it—would say, "Mountain bikes will go nowhere."
198: What are you riding right now?
Town: 2003 Breezer Villager, 2009 Breezer Finesse, 2010 Breezer PowerTrip e-bike
MTB: 2010 Breezer Thunder Pro, 2010 Fuji DSR, 2009 Fuji SLM
Road: 1998 Breezer Venturi
198: Where is your favorite place to ride?
Joe Breeze: The best place for me, is right out my door.
198: What bike has impressed you the most in the past year?
Joe Breeze: 2010 Fuji DSR, 2010 Breezer Thunder Pro (What? You figured I'd say that?)
198: What is your favorite beer?
Joe Breeze: Most any lager in a cool glass, right after a long ride (Okanagan, Yuengling, Peroni come to mind)
198: If you hadn't jumped into the cycling industry professionally, what do you think you would be doing now?
Joe Breeze: Architecture.
198: Anything else you would like to add?
Joe Breeze: I've said more than enough, thanks.
Joe…thank you for taking the time to answer these interview questions. You can check out Breezer Bikes entire bike lineup at BreezerBikes.com.
Photo Credit: Wende Cragg
Interview: Chris Sugai – Niner Bikes – 29er Domination
Today's interview is with Chris Sugai of Niner Bikes. We take a look into the Niner Bikes lineup and where 29er mountain bikes are headed in the future. You can read the interview below or hear Chris say it himself on the recording.
---
1 – What made you and Steve Domahidy decide to start a mountain bike company?
You know…what made us start was I had started riding a 29er singlespeed around and was taken back by how much my performance improved as far as climbing and descending ability…cornering ability with the bike that I thought was the best slap in the face upgrade to a bike that I had ever done on a mountain bike in all my years of riding. Being a bike geek and always wanting to improve, I wanted to have a custom frame made on a 29er and…you know…looked around and didn't really find anything exactly to my liking. Steve and I were friends and one thing led to another and we decided that we could probably make these bikes ourselves since so few people were doing it and see how it turned out. Ever since then, it has just been a wild ride.
2 – Niner bikes focuses solely on the 29er mountain bike market. Why did you and Steve Domahidy originally decide to stick to this platform?
Originally…you know…we only had one bike which was the one9 which was a 29er singlespeed. Everybody back then thought, "You guys are crazy. You guys are going to make 29er mountain bikes, especially just 29er singlespeeds"…at the time, that was not our sole focus…was not just to do 29er singlespeeds, but…you know…we basically had in our heads that if this went well we would come out with more and more models. Our second model the Sir9 was convertible from a singlespeed to a geared bike went really well. Our second, third and fourth bikes all came out really well received.
I've always believed that if you focus on one thing and do it well that you can pretty much dominate a market and trying to do too many things, kind of jack of all trades, you end up being pretty mediocre in all of them and I've seen that time and time again. When look across the landscape across businesses, it's pretty true that companies that just stick to their guns and only do one thing, or only stick to one genre tend to excel in those genres and other players that try to come in and mimic what they are doing usually end up doing a second rate job. So Steve and I's focus the whole time has been just to be core mountain bike company. Steve and I primary ride mountain bikes. That's what we love and we're passionate about. We feel that we have a special talent for that particular marketplace.
3 – What advantages do you see with the 29er wheel over the 26″?
This question has been asked a lot and there is a great deal of information on the Internet. The major points are that the 29 inch wheel as a lower rolling resistance than a 26 inch wheel so…basically…it will roll faster than a 26 inch wheel. The attack angle on a 29er is better than a 26 inch wheel, you are going to get over objects easier. You have a larger contact patch on the ground, so a 29 inch wheel is going to corner better and it is going to brake better. I feel the 29er wheel adds a lot of confidence to the rider because its stability once you get the wheels moving and…also…the 29 inch wheel, because of the way the axles are situated…are actually higher than a 26 inch wheel…the bottom bracket in relation to the axles of a 29 inch wheel is actually lower on a 29 inch wheel…thus technically lowering your center of gravity, so you'll find the 29ers will definitely turn better at speed. Those are what I see as the major advantages of a 29 inch wheel over a 26 inch wheel.
4 – Do you see any disadvantages with the 29er platorm?
The only major difficulties I see with the 29 inch wheel over the 26 inch wheel is sizing. I think when you start getting down to trying to fit riders at 5'1″, 4'11″…then you start getting a pretty cramped cockpit and toe overlap situation to where you would have to make some geometry changes. You might start sacrificing some of the benefits and then you kind of get into a gray area of if the benefits outweigh the compromises you have to make in handling in order to fit the rider properly. And that is where a 650B or maybe a 26 inch wheel is still a viable option for riders of that height. But…you know…I'm 5'6″ and able to ride a 29er no problem and we fit riders down to 5'3″/5'2″ on our bikes without any issues. That is about the only big disadvantage I see with the 29er platform.
5 – There are two huge releases this year with the WFO 9 and the Air 9 Carbon. Both of these bikes appeal to a very specific mountain biker. Who is the perfect rider for the WFO and Carbon?
For the W.F.O. 9, it is definitely for the rider that is going bigger. It has 5.5″ of travel in the rear, and usually with a 29er…you can subtract an inch…so the W.F.O would be the same as a 6.5″ bike on a 26 inch wheel bike. I think anywhere where someone is going to be riding larger stunts…5 or 6 foot drop offs…really, really rough technical terrain…is going to be a suitable rider for a W.F.O. Is it designed for buff, swoopy singetrack…no. But high speeds like SoCal where you have a lot of high speed descents and shoots and drops…the W.F.O. is a great bike for that type of riding.
The Air9 carbon, definitely on the other end of the spectrum. It's extremely lightweight…very stiff…very efficient. Designed more towards a person who is doing cross country racing or just cross country riding where there is a lot of climbing involved…smoother trails. Obviously, it can be ridden on rougher trails…but you would have to have the skill level to go up with that. The Air 9 can be ridden as a singlespeed or a geared bike so…basically…those two types of riders, or the same rider who wants to try both gearing setups, are available on the Air 9 Carbon.
6 – I had a chance to race your Jet 9 in a local xc event and it was incredibly fast…especially in the rooty/rocky sections of the trail. When you think of the perfect rider for a Jet 9, what characteristics do they have?
From all of the feedback we have gotten from the people riding the Jet 9, its a pretty wide spectrum of people that are riding that bike. We have guys that are riding it on terrain that I would think you would be riding a R.I.P. 9 or a W.F.O. on and they were really happy with the Jet. Wasn't really designed for that type of riding…heavy, heavy offroad riding…it is more designed to be an efficient cross country machine where you want to take the edge off. We have a lot of roots, baby heads and you want to be able to sit down and pedal through all of those and the Jet 9 will allow you to do that and hammer in the big ring. The CVA suspension is active in all 3 rings so that allows you to sit in any gear and have a fully active suspension. Where as a lot of other 3 name acronym suspension systems…only work really well or optimally well in the 32 middle chainring.
The Jet 9 is lighter than the W.F.O. or R.I.P. 9 so definitely marketed towards cross country racers. Great for 24 hour events where fatigue over time takes a toll. The Jet 9 has enough to just take off the edge and still be very efficient. Looking forward to what people have to say when we have the new 2010 model out fairly soon.
7 – With the popularity of the 29″ wheel size, there are a few manufacturers in the industry experimenting with the 650b. What are your thoughts on the 650b wheel?
I think the 650B wheel has its place. I think…again…like I spoke about earlier…29ers are hard to fit on riders under 5 foot 2 you definitely start having issues with toe overlap and so forth…so I think the 650B would be a great wheel size for that. When you start getting to riders that are 5'5″/5'6″ and then above 5'9″ and all the way to 6 foot tall and above…you know…the advantage of the 650B gets diminished quite rapidly because the 29 inch wheel is definitely more efficient then a 650B.
And then…its always that situation when new technology comes out, you always see the interim technology kind of come out. When rear suspension came out you had a lot of suspension seatposts pop out all over the place. The Thud Busters and U Shock Post and all of those type of RockShox shock posts because people just didn't want to go over to full suspension. As things became better known and people understood the technology better, full suspension definitely has won out. Suspension seatposts are still out there but not in the type of volume that you saw back then. Disc brakes is another great example.
When disc brakes first came out, people were really horrified about having the thought of a hydraulic hose and people didn't want to give up their ChiChi levers they had just bought, so you had cable actuated hydraulic brakes and that was that jump gap made for people who couldn't quite jump across stream to the new technology of hydraulic disc brakes. But…again…time marches on. Fully hydraulic brakes are definitely the way to go and cable actuated hydraulic disc brakes are a thing of the past. Unfortunately, I see the 650B has a limited use and that any rider to rides a 650B, back to back with a 29er on a trail, will easily see the advantage of a 29er…will see no disadvantages to owning a 29er. Also, as standards come, there is a huge selection of 29er wheels available and now forks and frames…where, with 650B, there is a very limited amount. I think it is going to be tough for the 650B to gain traction and get a lot of market share. That's my thoughts on the whole thing.
8 – What are you riding right now?
Air 9 Carbon and another prototype bike on the weekends and having a really good time.
9 – Where is your favorite place to ride?
You know…one of my favorite places to ride is definitely Donaville. Definitely like to go there at least once a year to ride and went to Whistler earlier this year…had a blast and hadn't been up there…at least for mountain biking…had been there to snowboard. Really had a blast up there. Those are two of my favorite places to ride as far as terrain goes, but I've had some pretty amazing rides in the Chez Republic a year ago. Just came back from Eurobike and rode in Switzerland, so a lot of it more than just the actual riding and the environment and who are with and just the day sometimes. Even your local trail is just your favorite place to ride when everything just kind of comes together real nicely.
10 – What were you doing before you started Niner Bikes?
I owned a small construction company that I started when I was fairly young and still have it today. Steve has been in the bike industry…basically…for the last 20 years or so. That is sort of where we came from.
11 – Where do you see 29ers in the next 5 years and beyond?
I've made some bold statements about this…I definitely think that 29ers are basically going to take over the mountain bike market. I feel that a paradime shift is going to occur and that 26 inch wheels will be the minority wheel size actually in the pretty near future. You look at the landscape when disc brakes came out…there was a lot of tension and a lot of back and forth about the whole thing but at the end of the day…superior technology always wins out and I think riders…once they ride a 29er…will se the benefits. I don't see riders going back. Just our own feedback we have gotten from our own riders, we rarely see people go from 26 to 29 and then go back to 26. Its always the same email, I just sold all my bikes and I bought another one of your bikes. I don't really see the market share for 29ers getting any smaller in the future.
12 – What is your favorite beer?
Let's see…I'm alcoholic…so I stopped drinking when I was around 25 after some mishaps with alcohol so I have not had a real beer in a long time, but I do enjoy nonalcoholic beers, so I don't have a favorite one to be honest with you.
13 – What is your favorite part of mountain biking?
My favorite part of mountain biking is just hanging out with my friends. Thats the part that…you know…just brings people together, riding on a trail, hanging out, sittin' back, eating a PowerBar and drinking some water at the top of a hill is one of the best parts of the ride for me. That is definitely my favorite part about mountain biking.
14 – Is there anything else you would like to add about Niner Bikes or any other random thoughts?
We appreciate all the support that we've gotten over the years and sites like yourself that have taken the time to look out for a small company like ours and give us a platform to speak and test our bikes and let people know what our bikes our about. We really appreciate it. Again…everyone at Niner rides. We all enjoy riding. That's what we talk about on Monday's. Where did you go and what did you do? So…I hope that shows in the bikes that we produce and thanks for the time…I appreciate it. Bye
Interview: Kent Eriksen – Custom Titanium Frame Builder
John Collins headed up to Eriksen Cycles to pick up his new titanium ride. Thankfully, while he was there, he was able to grab a couple of questions from Kent Eriksen and snap a couple of shot for us. The following article is John's recap and interview with Kent Eriksen.
In a very non-descript building next to the Yampa River, The Titanium Master works relentlessly.  He and his small crew craft the finest handmade titanium bikes in the world.  This isn't opinion, it is fact.  Eriksen Cycles has captured both Best Titanium Bike from the North American Handmade Bike Show and Best Bike Builder of the Year at the Rocky Mountain Bicycle Show in 2009.
Kent Eriksen is a legend in the cycling industry and world renown for his hand crafted and beautiful titanium bikes.  Moving to Steamboat Springs in 1974, Kent has been around this quaint Colorado town for many years, and the residents know of him very well.  I spent a lot of time at the local watering hole, the Double Z bar, which is conveniently located right next door to Kent's shop.   Every person I met there knew of Kent and his incredible bikes.
One may think someone with such stature in the bike industry would be on a high horse, but everyone at Eriksen Cycles is grounded and very fun to talk with.  If you want to talk bikes, these are the people to call or see if you are in Steamboat Springs.  The genuine enthusiasm in their voices and constant smiles are like nothing else I have experienced in visiting many bicycle shops and shows.  I spent a good part of Friday with Kent, talking about the design of the bike he is building for me.
I immediately sensed this is a biker who is passionate about designing and building.  You could almost see the calculations and design thoughts spilling out into the room from his head as he showed me the shop and materials.  There are no overblown egos here.  At Eriksen Cycles, it's like talking with excited kids who just got cool new toys and are sharing the experience with you.  One of the coolest and unusual bike frames I've ever seen was oversized frame for big people, and I mean people who are 6'6" and up.  Eriksen builds these frames for Lennard Zinn Cycles specifically for human Clydesdales.  Titanium is the perfect material for these bikes because of the weight advantage.  I can't even describe how incredibly light these oversized frames were.
Interview with Kent Eriksen by John Collins
How long have you been in Steamboat?  Did you move out there with plans to open a bike shop?  If not, how did it happen?
I left home on a long bike tour, returned several months later after touring around northern North America including Canada.  I worked along the way at odd jobs to eat and sleep.  After returning back to West End, WI for a few days, I decided to hit the road again, landing in Steamboat (Springs) on New Year's Eve, 1974.  I started a bike shop in the summer as a secondary business with Inside Edge Ski Shop, for the off season.  The bike shop morphed into Sore Saddle Bike Shop, the "Cone" was built and the shop became a mainstay in Steamboat until its last owner ran the business into the ground.  The current tenant is a bike shop called Orange Peel Bike Service.  Moots Cycles was born and raised in the same building we are in now, including the Cone, moving out of downtown to its current location in 2001.  I left Moots Cycles in 2005.
What are major challenges of working with titanium?
It is expensive, requires a very talented welder and it only comes in one color.  That said, it is very resilient, compliant, strong and light, lasts forever, is shape-able, beautiful and it looks great with any color!
What are the statistics on the type of bikes you craft, meaning what percentage are mountain, road, tandem, etc.?
50% road, 35% MTB, 15% Cross and other.
How long do you intend to keep crafting bikes?
As long as I can.
What are the dates for the 2010 Tour de Steamboat?
July 17, 2010
From the crew at 198, thanks for the article John! Great work!
Interview: Tony Ellsworth – Ellsworth Handcrafted Bikes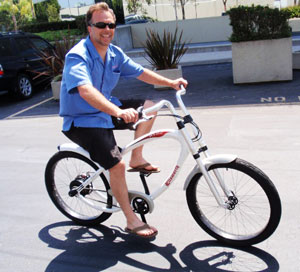 As we continue to revamp the content on Mountain Biking by 198, we are making the interviews public. In this interview recorded with Tony Ellsworth of Ellsworth Handcrafted Bikes, we cover everything from his bikes…to the mountain biking industry. This interview was recorded on August 15, 2008.
We have actually reviewed two of Ellsworth's products as of this point in time.
Ellsworth Evolve 29er Full Suspension Mountain Bike
Interviews on Mountain Biking by 198
Interviews with people in the mountain biking industry is an area of this site that we really want to expand. As we look for more potential industry, race and random people to interview on MTB198, I want to know who you guys actually want to hear from. If you have suggestions, please let us know through the comments section or by contacting me directly through the contact page.
Getting insight into the industry from people who dedicate their lives to the sport makes for very interesting conversation and content.
Interview: Dave Turner of Turner Bikes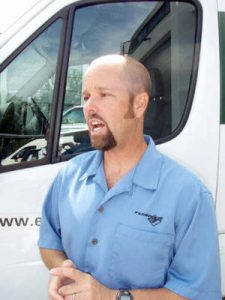 Dave Turner has created a mountain bike company – Turner Bikes – that has one of the loyalest followings in the business. A great ride combined with fantastic support has brought the Turner mountain bike lineup to the high ranks in the boutique mountain bike industry. With a recent changeover to the DW-Link suspension design, Turner Bikes has once again re-invented itself and reinvigorated sales in a market that is hurting due to the economic downturn.
Over the years, I have gotten the pleasure of working with the man known as DT professionally through this blog and on personal, let's just get out and ride events in the southeast. This interview was recorded shortly after the switch over to the DW-Link suspension design and we talk about that amongst a whole list of things during the interview. All you have to is click the arrow to get started!
Here is a rundown of some of the questions…
Tell us about your background, how did you get into building bikes?
Where's your favorite place to ride?
What is the best part of your job?
This year, you made the announcement that you were switching over to the DW-Link. What brought you to this decision?
How is the response so far on the DW bikes?
How do the DW bikes ride in comparison with the TNT bikes?
You recently made a visit to Sapa. For the listeners that don't already know…what is Sapa and can you describe what goes on there?
Where do you see mountain biking going?
Do you think the 650b wheel size will take off?
Also, check out the complete history of Turner Bikes that includes pictures of some older rides that you may have never seen before.