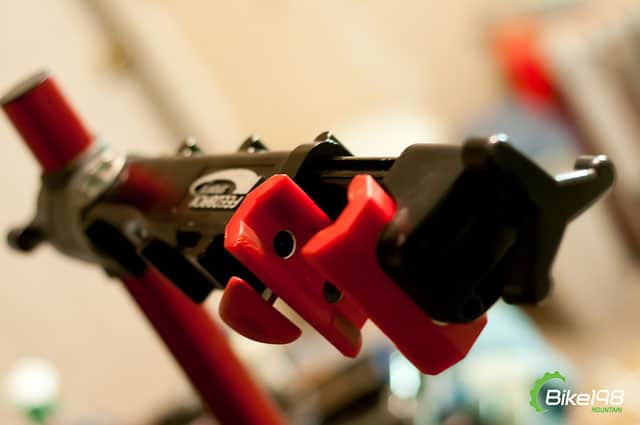 A few months ago I had the chance to research and review a number of bike repair stands and noted which ones strongly held even the larger size mountain bikes. This was all for my websites where I was trying to review and develop a list of some of the more popular repair stands on the market.
In reading the oodles of reviews out there, I developed a pretty good feel on which were the better repair stands and why. I ended up with a few useful and what I'm calling oddball tips that I think are worth noting for anyone who is getting into doing their own bike repairs and looking to invest a decent repair stand.
I'll list them in order of importance:
1. Go for the stands with a 99% positive review rating or higher.
That may sound like a high benchmark but it isn't as far as repair stands are concerned. If you start reading reviews on almost any bike stand, you will find an abnormal amount of rave reviews.
The negative reviews are few and far between, even for the ones that are obviously not that hot or even a bit wobbly. My personal theory on this is that a repair stand goes a long ways to make your bike maintenance easier. Users are getting some benefit from almost any bike stand they buy, and this makes it hard to criticize the stand you just purchased.
It was more common to see reviews where people were not 100% okay with what they bought, but were still looking on the positive side and letting you know the good points. After evaluating a number of them, I learned and would advise this to be one of the warning signs to watch for…
If the reviewers are trying to be nice but are obviously a little dissatisfied with their purchase, I would avoid that particular product. There are enough excellent quality bike stands on the market that do have 99-100% rave review rating. You do not need to settle in this case and you don't have to pay a fortune to get a good one either.
2. Stable and functional should be your main priorities, even if you create your own
The top qualities you should look for in any bike repair stand are stability and functionality. It should hold your bike rock solid at the height you need or it defeats the whole purpose in using one in the first place.
This is something you need to be careful of if you are thinking of making your own or buying a low quality and cheap work stand. For as many people raving about their store bought stands, there are equal numbers showing pictures and giving instructions on their home made creations. I've seen some wild works of art out there, all made to hold a bike in place and some have done a pretty impressive job.
Creating your own stand is doable for some. It will save you money, but it's not for everyone and you will need to be careful that it is stable and functional. If you are buying, be weary of the real cheap stands. They are usually not stable. If your bike is a large mountain bike, read the reviews carefully, as some stands work well for most but wobble a little for the larger bikes.
198 wrote a review last year about the Pro-Elite bike repair stand which is a good example of a stable and functional stand. Having a wide tripod base will keep your stand stable both inside or outside on uneven ground. Portability is another benefit you get with the store bought stand which brings me to my next wise man tip.
3. Truth is More Important Than Facts
That's my best Zen quote attempt. When checking out the product description of your bike stand, it will tell you the various features and accessories and how much it weighs…etc. That is all fine, but you can also keep it simple by just asking yourself what you need it for, and don't get too caught up on all the details.
If you are a racer then you need a good racing stand that will hold your light frame and perhaps be portable enough to bring to the track.
If you are a regular home mechanic, then you need something stable and functional, that ideally can be folded up and put away after you are done with it.
If you are a super serious going-to-crank-on-your-bike-in-your-garage-all-day mechanic, or perhaps you run a small bike shop, then you need a heavy duty stand, with great reviews, that you park in one spot.
Go for a well reviewed stand that fulfills your needs and falls within your budget, and you'll likely be happy with what you buy without worrying too much about the all the specifics.
4. Middle of the road price tags are often the best deals
Bike repair stands are all over the board in terms of pricing. You can get them super cheap, and you can buy some that are worth more than double the price of your bike (which just feels wrong to me). However as much as we all like to gripe about the pricing, they do cost and if you are going to invest in one, remember it is a one time investment if you buy wisely.
I often found the best deals were the stands that were middle of the road in terms of pricing. Cheap may be unstable, and super expensive is not always that much better.
The Park Tool PCS-10 Home Mechanic Repair Stand is popular example of a good middle of the road price tag that I did a comprehensive review on. The pricing was over the $100 mark which is fairly normal but it's a good deal for what you're getting. There are many stands that are well over the $200 or $300 that are not necessarily better and as mentioned above, cheap can be risky.
To sum it all up, if you are buying or creating this rather handy tool. stick to your needs and remember that stability and functionality should be king. Read up on a few bicycle repair stand reviews before you buy, which will give you a good idea of what is working for most and you'll likely be happy with what you end up with.
The article is a guest post from Sam Shucks. Sam writes reviews on GearReviewsOnline.com.
What do you think?
comments