Early last week, I threw up the question "How Many Times Do You Ride A Week?" to get an idea on how much spin time you guys are getting in these days. The results are just about exactly what I expected to see out of a group of mountain bikers, so let's take a look.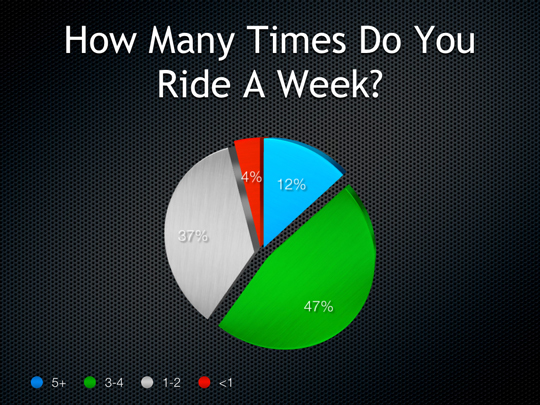 As you can see by the graph, almost half of you guys are getting out on the bike 3-4 times a week. Of course, this does not take into consideration which bike you are riding, but it is a great indicator that the vast majority of you are getting out multiple times a week.
Why did I expect these results?
Well…I expected these results for a number of reasons.
I suspected that readers of a mountain biking blog would probably get out and ride more than a casual rider who isn't on the web soaking up mountain biking related material on a regular basis. When we are talking about mountain biking constantly and bringing it into more of our daily lives even when we are not on the bike, the natural progression would be to ride more as well.
There is a growing trend as it relates to bike commuting. I really wish I could commute by bike more than I do now, but I suspect a number of you are looking at commuting by bike as a means of alternative transportation outside of the fact that you really just like to ride. So…this poll does not see the different bikes you are riding throughout the week.
Going hand in hand with the point above, your 3-4 times a week can also include road biking.
I also expect the numbers in this poll to change drastically in the coming weeks. Unfortunately, weekly rides are coming to a close and we are starting to charge up the lights to get ready for the cold riding season on the northern hemisphere. Those of you below the equator are just getting out of the dead of winter and are ready to hit the trail (yeah…we don't like you guys very much during this time of year!). Colder weather and shorter days generally equal less riding.
I was happy to see that most of you are getting out and enjoying the trail. I know that things are hectic right now for everyone, so the more we can just get out and ride…the better off we will be as we keep our sanity in check.
What do you think?
comments