The Pacenti TL28 26er mountain bike rims have been built up, mounted and thrashed around north Georgia. It is time to weigh in and let you guys know what we thought about the new rims released by Kirk Pacenti at Bikelugs.com.
First, these rims caught our eye almost instantly due to their light weight and wide width. As seen in our first look post from awhile back, these 26 inch wheel rims weighed in at 360g (vs. 470g of the Flow) on the scale while being 28mm wide. The inner width is actually .4mm wider than the Notubes.com Stans Flow rim at a weight that rivals the Crest (an xc race rim at 340g to 370g) in their same lineup. Having been a long time fan of the Flow, this was a rim that we had to try out.
For the build, we enlisted one of the best wheel builders in the business, Chad DeValls at Red Barn Bicycles. Every single set of wheels I have ever received from Chad has been rock solid and he is known for being one of the best on MTBR.com and around the MTB community. When I asked Chad how the Pacenti wheels built up, this is what he had to say…
As far as the wheel build goes i'd say the rims built as smooth and as good as it gets. They were round and true from the get go which as you know allows for a solid build with little spoke correction for trueness. But a couple other things i liked was the seamless weld at the rim joint. Looked like it was probably done via laser weld. Very clean. I also liked the finish of the rim and the decals/graphics were sweet too.

The dimensions look to be spot on for folks in the AM catagory and an ideal rim choice for folks who like wide tires but who also keep their wheels on the ground. I like the reinforced eyelets. I like the width. I'd like to see how they hold up because i'm guessing will end up mostly on 5-6 inch travel suspension bikes. 360grams….wow, that's light and if anything i'd be interested in seeing how a set works for myself or under a pal that i know. Would give me a very good idea of their capabilities. I will be bringing in a set for testing very soon. Nice work on the rim project!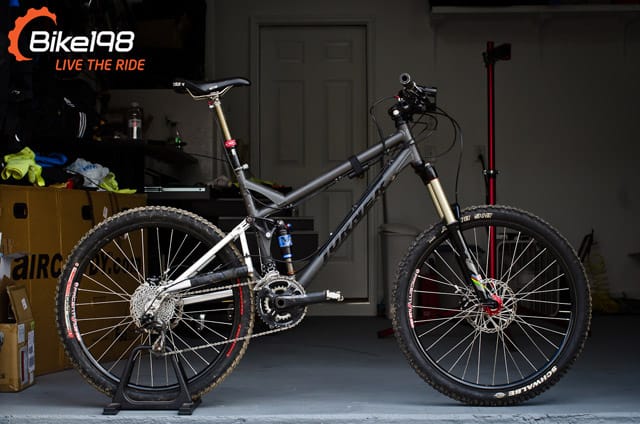 To get a grasp on how the wheels would perform in multiple conditions, I had Roger (our resident test freak) take them out on his Titus Motolite. When he was done, I bolted them up to the Turner 5.Spot to see how they handled the super stiff and capable frame from Turner Bikes. The silver spoke combination laced to red Hadley hubs (which we also love as you can see from this review) really looked great on the dark setup of the 5.Spot.
I asked Roger to send over some thoughts as a veteran racer and flowy singletrack enthusiast and this is what he had to say about the new Pacenti TL28 rims.
Robb sent these wheels over to try out on the most handling challenged bike I own. My Titus Motolite is a great bike, but does not carve corners very well. This would be a real test for the new wheels.

The first ride was eye opening. The stiff, wide, wheels transformed the bike from just ok handling to excellent. The bike now leaned over and carved turns. Almost like magic, it will make tight switchbacks and precisely hold a line. The rear wheel with its through axle made the rear of the bike almost flex free. Chad at Red Barn did an outstanding job on the build which added to the stiffness. The wheels have stayed perfectly true over the course of 15 hours ride time. I think I may have found my new favorite rim.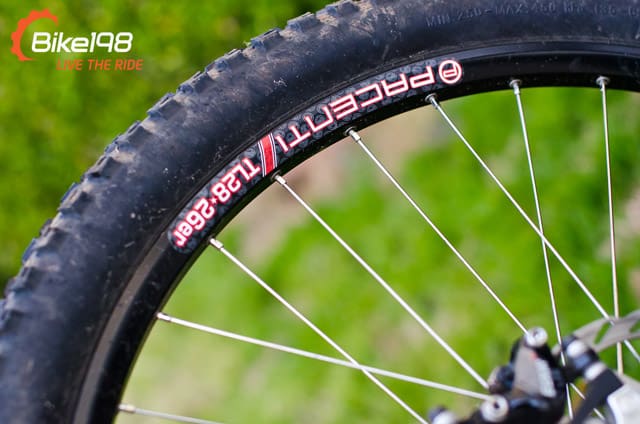 Those were strong words from a rider to is very critical about frames and components. Once I got them back from Roger, I stripped them down to take a look at how the build was doing and do a weigh in comparison with the Flow set I had on the bike previously. Hadley Racing did change the design of their hubs slightly, but the weight was pretty close to previous. Here are my weight comparisons between the Flow and Pacenti set laced up to Hadley hubs with the same spokes.
Flow Front Wheel Weight: 880g
Pacenti Front Wheel Weight: 790g
Flow Rear Wheel Weight: 1050g
Pacenti Rear Wheel Weight: 930g
As you can see by these specs, I gained .4mm of width and lost about 210g total on the wheelset. As Roger mentioned above, the tires mounted up without any real issues and aired up fine. For the review, I used the Big Betty 2.4 from Schwalbe up front and a 2.35 Specialized Eskar on the rear. The increased width of the rim wasn't really noticeable against the Flows just by looks, but the weight could be felt in the build almost instantly on the bike.
If you run narrower tires than I had mounted up, you will really notice the increased flat section tread profile with the increased rim width over your current set. Wider rims do a lot to increase grip on the trail by providing you with the best possible scenario for tread contact.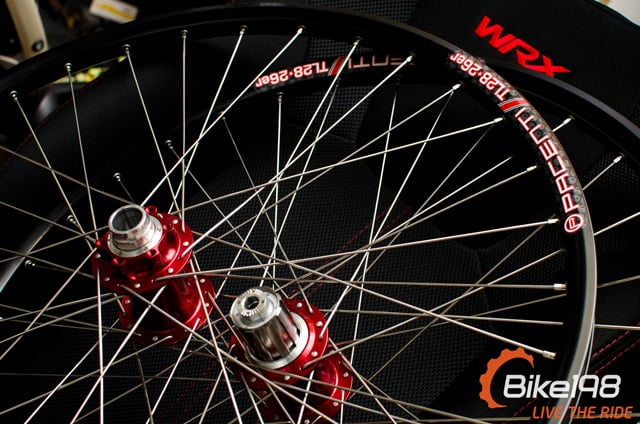 Out on the trail, the Pacenti rims build up by Chad at Red Barn Bicycles performed flawlessly. The wide contact patch due to the rim width provided a ton of grip on the trail and allowed for lower tire pressures. It also gave the bike more traction on technical climbing and more grip in the turns where the tire's contact patch with the trail is extremely important. The decreased rolling weight was also instantly felt on climbs as the bike seemed to take less effort to get rolling. On flat sections where pedaling is necessary, this same sensation brought the bike up to speed quicker with less energy expended. Basically, everything you would expect from losing weight and gaining width on a mountain bike rim.
The build kept completely solid without any need for truing or adjusting spoke tension. While this speaks very highly of Chad's build, it also proves that the TL28 rims can hold the build well. The 5.Spot loved the decreased rolling weight (the most noticeable weight loss on a bike) without having to sacrifice rim width to get there.
Through rock gardens and technical trail, the rims took hits in stride. There are several areas around the wheel that are showing silver nicks that would dent a DT Swiss rim so the structural integrity and metal composition is good. The metal is not so hard that it is brittle but not so soft that everything that hits it dents in. DT Swiss had some serious issues with soft metal on the 5.1 and 6.1 in the past with that.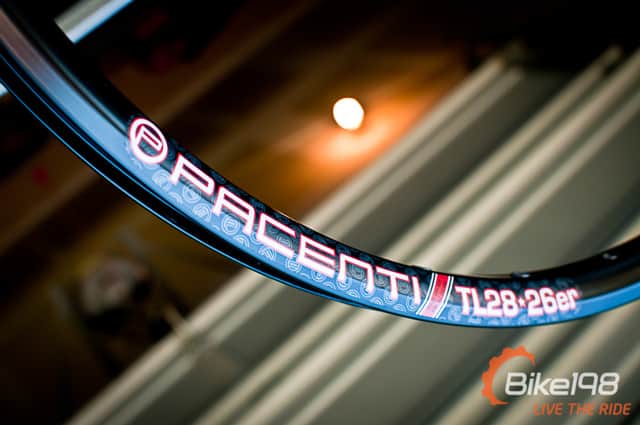 However – keep in mind – while these are wide rims that can make 2.4 tires incredibly happy, Kirk had told us up front that they are not meant for hucking. The ideal riding for the new TL28 rims is trail riding with small to medium jumps with transitions. That makes them perfect for bikes in the 120mm to 150mm travel range if you are not planning on doing drops to flat. While I didn't run into any issues beating these up (hard at times), just keep that in mind if your riding style lends itself to hard landings. If I had anything bad to say about these rims, it would be that the width might throw some riders off by giving them the illusion that they can handle hard drops to flat.
Honestly – for my purposes – I didn't thing I would find a better rim than the Flow. After spending some time on the TL28, I can tell you that these wheels will not be coming off my bike anytime soon. The decreased rolling weight combined with a nice, wide rim that holds a wheel build makes for the perfect trail bike setup. We used to have to sacrifice rim width for light weight. Thanks to Kirk Pacenti, it appears that is no longer true. It will be interesting to see how the market reacts to this new rim that is also available in 650b and 29er varieties.
How do you get your hands on a set?
You can buy the rims directly off of BikeLugs.com for 85.00 per rim. Personally, I would recommend calling Chad at Red Barn to build you up a set on your favorite hubs. He has rock star pricing for a build that is insanely good. I hate to sound like a cheerleader…but I have been dealing with him for years and all of his builds have been incredible. If you haven't tried out the Hadley hubs yet, I would go that route as well. 72 point engagement (same as Kings) with an incredible build quality.
What do you think?
comments