When Shimano set out to design a new budget group for mountain bikers, they ditched the LX (moved to commuter) and Hone (discontinued) packages for mountain bikes to create the Shimano SLX mountain bike component group. This groupo promised to mix the durability of Hone with the proven reliability of LX to give entry level to intermediate mountain bikes a quality component group that might not be the lightest on the market, but performs to expectations on the trail.
Sitting directly below the Shimano XT lineup, you can expect to see similar performance at a heavier weight with a few less bells and wistles. OEM mountain bikes will also probably see a mix and match of XT and SLX on some bikes much like we see XT/XTR and previously with XT/LX. Added for 2010, the Shimano SLX component group is also available in a 3×10 setup labeled DynaSys (9 speed reviewed) to bring the 10 speed mountain biking platform to more price conscious bikes.
Review: Shimano SLX Mountain Bike Component Group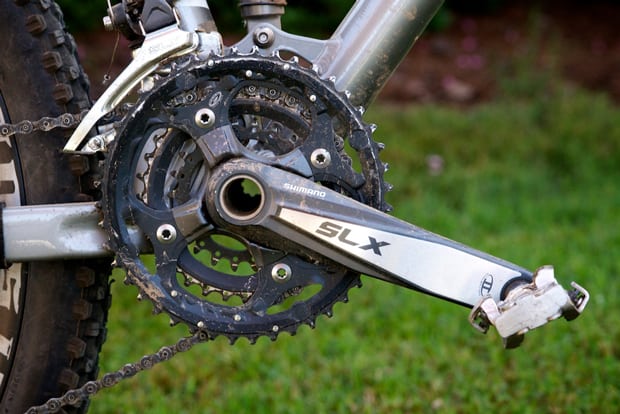 Shimano Crankset: SLX Component Group
The Shimano SLX crankset is exactly what you would expect out of a Shimano crank. With the legendary attachment mechanism found in the higher in XT lineup (2 bolt clamp down with 1 hand pretension cap), install and adjustment is as easy as it gets in the crankset world.
For all real world purposes, you get the same performance out of the SLX cranks as you do the higher end XT's. So what are you giving up? With the XT's you get to lose some weight (889g vs. 853g. w/bottom bracket), a little bit higher quality chain rings and get a better overall look. Other than that, you get the same smooth rolling, fast shifting performance out of the SLX crankset as you do the higher end offerings from Shimano. The SLX package even has a 2 ring setup option (with bash ring) not found in their higher lineups unless you move over to the downhill specific Saint group.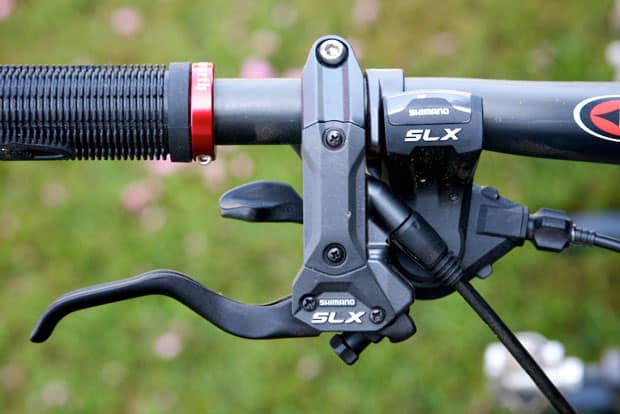 Shimano Shifters: SLX Component Group
For those of you that are used to Shimano shifters, you will be right at home with the SLX rapidfires. With a dual action (will shift by clicking in either direction) front paddle and large, smooth action rear paddle, the Shimano SLX shifters perform well on the trail. With a removable optical gear display, you can either leave it on if you have difficulty figuring out where you are in your shifting or take it off to save weight and give you more mounting options.
Matched with the SLX rear derailleur, the SLX rapidfire shifters provide consistent and precise action on the trail. However, I didn't get the precise feedback and lighter feel that I am used to with the XT lineup. The shifting was a little bit more muddy as you pushed the lever through the motions, but it did not cause any performance issues. One area that I do believe Shimano needs to redesign on all of their Rapidfire shifters is the size of the front paddle. The long design sometimes gets in the way for riders like myself that have larger hands. I found myself hitting that paddle while riding with the only real fix of moving the shifters so far inboard that they were uncomfortable to reach for while riding.
Shimano Rear Derailleur: SLX Component Group
The rear derailleur in the Shimano SLX lineup shares the same Shadow technology as the higher end lines. This narrow profile keeps the rear derailleur a little bit more out of harms way of rocks, roots, trees or anything else that might want to reach out and destroy your shifting for the day. As mentioned with the shifters, the SLX rear derailleur provided quick, accurate shifts throughout the review period but the feedback is not as clean as the higher end XT and XTR counterparts.
What the SLX lacks in super crisp shifting, it does make up for with great durability. The heavier, stronger design of the SLX rear derailleur was able to take multiple hits and still shift correctly on the trail. As you can see by the picture, it has been through a ton of abuse and still looks new at this point in time. The Shimano design does tend to have close clearance to Horst Link styled suspension as you can see by the picture and a bumper may be required to reduce noise and damage from the derailleur hitting the chainstay.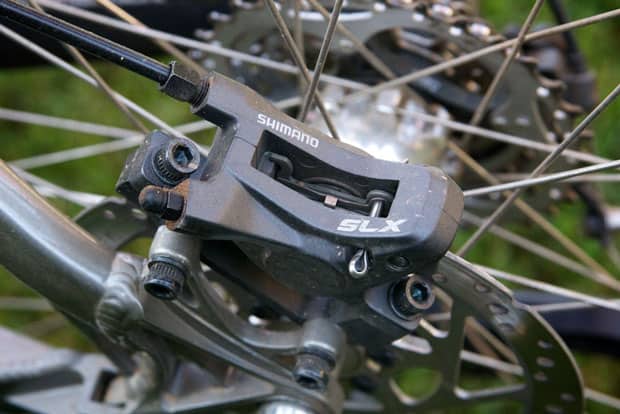 Shimano Hydraulic Disc Brakes: SLX Component Group
The Shimano SLX hydraulic brake set provides a solid, powerful braking without many bells and whistles. On the lever side, you get your basic reach adjust with a knob that is easy to turn with full finger gloves on, but don't expect pad bite adjust or any other features as those are reserved for the higher end lineups. The lever blade takes the same, proven Shimano shape that makes 1 or 2 finger braking easy depending on your preference and lever position. The one bolt clamping mechanism works, but the far protruding design can get in the way of some of the more popular remote seatpost switches limiting cockpit adjustment.
The two piston calipers provide more than enough power for longer downhill runs and there was no noticeable brake fade as the rotors started to heat up. As with any hydraulic braking system for mountain bikes, if you are going to be doing extended DH…man up for the larger rotors for more power and heat control.
While the SLX brakes had plenty of power on tap, the modulation seemed to be lacking. There is a gap in the braking force at the beginning of the lever stroke that made the brakes appear to have an on/off feeling as all of the modulation was in the last 1/2 of the stroke.
For the most part, the SLX brakes were pretty quiet with only a little bit of noise under hard braking (not squealing…just friction brake noise). When wet, there was some squealing but that died out pretty quickly as things dried up. I would like to see Shimano add a banjo fitting to the brake caliper (and lever for that matter) to aid with brake line placement. At this time, they use straight fittings on everything.
Overall: Shimano SLX Component Group
The Shimano SLX component group is a solid setup for mountain bikes. With predictable, solid, high end performance at a lower price, you can expect to get a lot of years out of any of the components in this group. I was expecting a slight increase in performance and weight over the old LX lineup, but this redesign is much more than that. For the money, you get incredible performance.
However, do not expect to be the lightest guy at the trailhead as the increased weight does add up and typical build weights of 5.5″ travel mountain bikes (varying depending on frame weight and other components) is going to fall in the 27-29 pound range.
With a dark gray exterior, the looks of the Shimano SLX lineup should appeal to most mountain bikers…especially those looking for more of a budget set that still looks like it performs well. The design is miles away from the LX package the SLX replaces in the mountain bike lineup.
Positives: SLX Component Group
Stiff, easy to setup crankset
Solid shifting performance
Strong braking
Consistent, quality and appearance that looks (and performs) more expensive than it really is
Available in new 3×10 Dyna-Sys
Negatives: SLX Component Group
Front paddle shifter design is a little too long
Single bolt clamping of brake lever interferes with remote switches
Missing the flare and features of Shimano's higher end lines
Shifting feedback not as crisp as XT and higher
If you are looking for a solid performing component set at a better deal than the higher end Shimano lineups, the SLX component group is exactly what you are looking for. With a much better design and higher performance than the LX group it replaced, the SLX component group is a solid package.
Best Prices on Shimano SLX Components
WHAT DO YOU THINK?
For the best prices on mountain biking gear and apparel, check out these approved vendors by Bike198.com - JensonUSA.com and Amazon.com
.