For the past 7 months, the Bike198 crew has been ripping up the Specialized Enduro SL Pro Carbon 160mm travel mountain bike around the southeast on trails ranging from cross country to light free ride. This sub 30 pound AM killer from Specialized was redesigned for the 2010 model year and brought many of the previous requests of Enduro owners to the trail. Let's take a look at the changes and how the Enduro SL Pro Carbon performed when rubber hit dirt.
Specialized Enduro SL Pro Carbon
The Specialized Enduro SL Pro Carbon represents the near top of the line for Specialized. With the S-Works planted up top and two lower aluminum based models below (Expert and Comp), the $5,500 complete bike features a carbon front triangle, top end components and the latest from Specialized in suspension. The previous Enduro saw a more traditional rocker design with the 160mm dual crown Specialized fork. In 2010, Specialized dropped the dual crown (a great move on their part) and went to the FSR linkage you see in these pictures. The idea…make the bike light enough to take on all day mountain rides but capable enough when gravity set in to appeal to the more technical, fast downhill crowd.
From Specialized.com:
Where XC and DH collide, you'll find the lightweight Enduro SL—the most capable All Mountain bike that lets you climb without crying and rail in the technical terrain. If you want to ride the whole mountain and really own it, the Enduro's six-inch travel frame, adjustable travel fork, position-sensitive rear shock and remote-adjust seatpost give you the skills to get the job done (though you'll need a little talent on your own).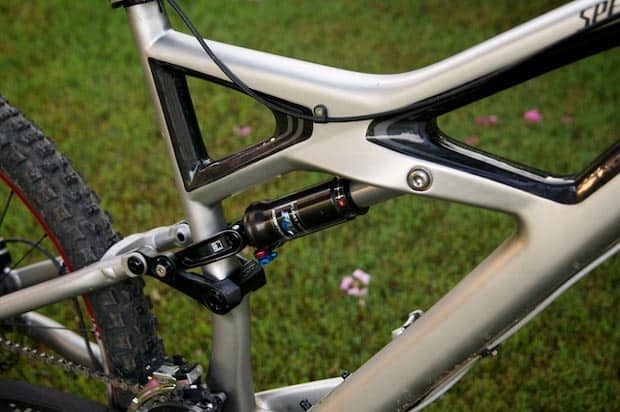 Component and Frame Highlights:
Specialized Command Post 3-position adjustable-height seatpost with remote lever for on-the-fly changes to riding stance.
Shimano XT 2-piece crankset with Gamut 22/36 shift guide for a stiff, durable and efficient power transfer from your legs to the rear wheel.
New for 2010 Specialized Enduro FACT IS-constructed 10m carbon frame with M5 alloy rear triangle is the centerpiece of an all-new 160mm travel design with sealed cartridge bearing pivots, ISCG mount and replaceable derailleur hanger.
Specialized E160TA fork with carbon steerer/crown assembly and Maxle Lite thru-axle delivers 160-135mm adjustable travel with external rebound/compression to devour singletrack with surgical accuracy.
Custom Fox RP23 rear shock features position-sensitve Boost Valve damping for better bottom-out control, plus 3-position ProPedal adjustment for comprehensive tunability on climbs and descents.
SRAM X.0 an X.9 Shifting
Specialized Roval Traverse AL Wheelset
Avid Elixir CR SL Brakes (203mm front and 185mm rear)
66.5 degree head tube angle
69.5 degree seat tube angle
Bike Weight As Tested: 29.42 lbs.
At sub 30 pounds fully built, the Specialized Enduro SL Pro Carbon represents a growing trend in AM mountain bikes hitting the lighter end of the spectrum.
Hitting The Trail: Specialized Enduro SL Pro Carbon
The Enduro SL Pro Carbon is a unique bike. When Specialized set out to design the new Enduro, they really strived to bring out the downhill abilities that riders in this category love, while realizing they were going to give up some on the climbing end. With the slack 66.5 degree head tube angle on the Enduro, you get the long wheelbase, stable ride that you come to expect out of this travel range and higher, but you also get the lightweight maneuverability of lighter rigs.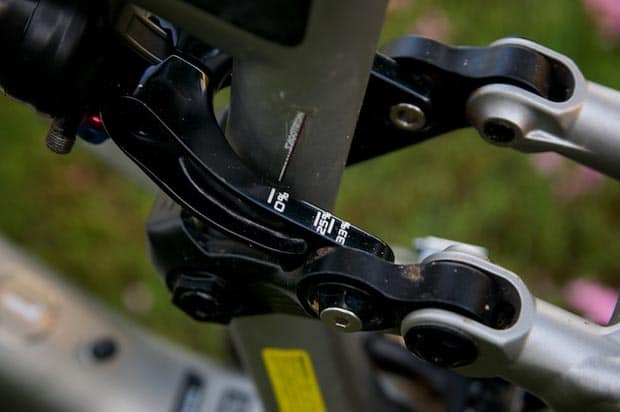 Initial Setup: Specialized Enduro SL Pro Carbon
The initial setup process on the Enduro is just as easy as any other mountain bike. With an adjustable seat post from Specialized as a standard part in the build (Gravity Dropper pictured in some pictures), you can set the seat height and forget about it throughout the ride. On the non-drive side of the rocker, there is a sag indicator set at 25% and 33% to make pressure adjustments on the rear shock an easy process. To get to the 25% sag range, I found that I had to run higher pressures than I am used to on a RP23. At 185 lbs. riding weight, I was running 220 psi in the rear. For big mountain days, I lowered that down to 200-210 psi to get into the 33% sag range.
The outer shell of the main frame carbon is durable and holds up against rock hits, but you will want to use 3M tape or some other frame protectant on all contact points as scratches from cable rub show up pretty easily on the dull gray finish.
Climbing and Flats: The Long Haul
The Enduro is really most comfortable with long, technical ascents that are not a race to the top. With the slacker angles than you find on most 160mm frames, you end up sitting more back and upright which gives you a ton of traction at the sacrifice of climbing efficiency. I found that the super plush rear end of the Enduro really needed ProPedal engaged for smoother/rolling climbing, but if you are in rooty, rocky, technical climbing situations, the increased traction keeps the rear end planted without much pedal induced bob (uncontrollable suspension movement while pedaling). You sit low in the travel, but the bike stays controlled. Standing up and hammering isn't really an option as weighting the rear end like that really starts to make it sink while climbing.
Your best bet, pick a little bit easier gear and get into a rhythm. You are not going to be the first rider to crest the peak, but you are going to want to be the first one headed down. The good news…while this bike is not a lightning climber, you do get the added benefit of it being pretty light so you are not pushing the bike like you would a typical 35-36 pound rig. Over the course of a long day in the saddle, that decreased weight does make a difference.
Over rolling terrain and flats, the Enduro is a little bit slower than most 160mm travel frames. With the plush suspension setup and slack layout, the Enduro is not the quickest accelerator without the aid of gravity to push you forward, so just like with climbing…just settle into a rhythm.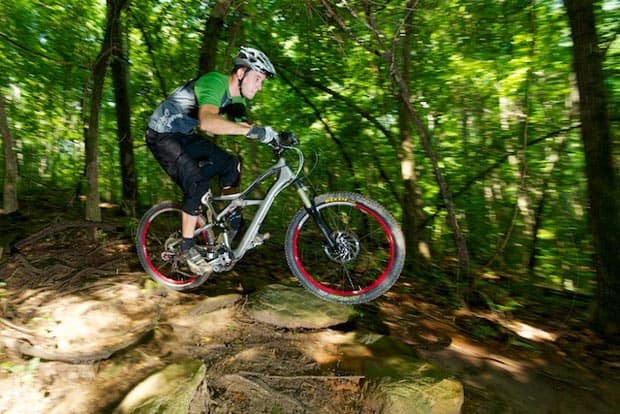 Downhill: Ready to open it up?
When talking with the Specialized engineers about the new Enduro, they specifically stated that they knew climbing efficiency was going to suffer some because they really wanted to open this bike up when gravity took over. When you get the Enduro pointed down, you get a chance to see exactly what those engineers had in mind.
The FSR suspension setup on the Enduro is SUPER plush. With a very linear feeling throughout the stroke, the rear end of the Enduro stays planted over big rocks and trail obstacles to the point that you feel like you can run over just about anything. The aluminum rear end mated to the carbon front is very stiff and holds a line incredibly well with the longer wheelbase and slack angles.
When navigating really tight switchbacks and turns, you do have to maneuver the bike a little bit harder than some other 160mm travel frames, but when things really open up…the bike just flat out flies. Every time I hit the brakes, you could almost feel the bike cringe and scream "No!" as it is best at high speed chop. Just let go of the brake levers and let her loose…you'll be glad you did. It even got to the point that some of the guys riding behind me said, "I could tell when you just let go of the brakes. You were gone."
Over bigger drops, jumps and stunts, the Enduro is very stable and more capable than most of the 160mm travel frames I have ridden. In certain cases, it actually feels like it has more travel than quoted with a bottomless feel over longer technical runs. The lightweight construction makes pickup and drop moves a lot easier if quick adjustments need to be made.
Under smooth, fast descents, the slow accelerating characteristics that you see on the flats and climbs is completely gone. Out of the saddle hammering when you have the front end pointed down is fast and responsive. I actually found myself manualing out of tight turns as the bike just wants to lung forward when the hammer is dropped. The 36T front 2×9 setup was perfect for accelerating hard out of turns and slow technical sections and I found it is probably the perfect 2×9 setup for 160mm travel rigs.
Overall Thoughts: Specialized Enduro SL Pro Carbon
The Specialized Enduro SL Pro Carbon is one of those bikes that I do not want to send back. The changes Specialized made to this bike for 2010 are dead on with my personal riding style which includes long days in the saddle where climbing is just a means to and end…the trip back down. If you are a rider that is looking for an extremely capable downhill machine that will get you to the top of the hill without a shuttle, the Specialized Enduro is a great fit. The sub 30 pound weight is going to catch the eyes of some 5.5″ travel mountain bikers, but the reality is the weight loss is just to not tire out riders whose real joy comes from not keeping up with the fast climbers…but killing it on technical terrain on the way down.
Simply put…the Specialized Enduro is just a blast to ride.
Positives: Specialized Enduro SL Pro Carbon
Super plush, linear suspension perfect for rough, technical descents
Long wheelbase and slack angles create a stable and capable downhiller (more than typical 160mm travel rigs)
Lightweight construction saves energy on the climbs
Stiff, high quality build
An extremely capable and versatile bike for big mountain riders
Strong component group package with single crown fork
Negatives: Specialized Enduro Pro Carbon
Not the fastest climber out of the 160mm mountain bikes
Lightweight can be misleading to some potential buyers that should look at the Stumpjumper FSR
Pricey: Other models available but $5,500 may be too much for a lot of riders
Love/Hate looks: Some love the new frame design while others don't. Personal preference.
If you are a rider that loves long climbs to long, fast descents…head to your local Specialized dealer and check out the Enduro. It should be on your short list of options.
WHAT DO YOU THINK?
For the best prices on mountain biking gear and apparel, check out these approved vendors by Bike198.com - JensonUSA.com and Amazon.com
.