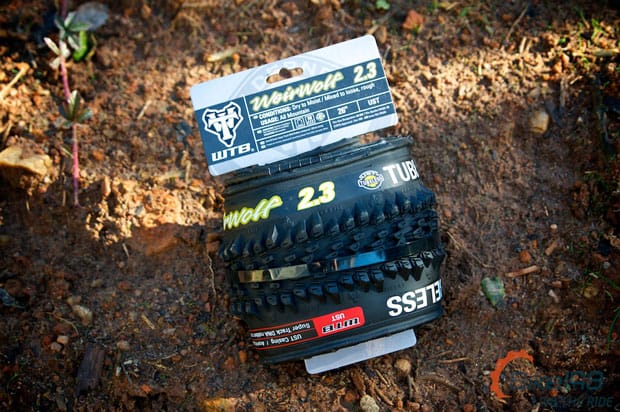 WTB has been known throughout the industry for providing high quality tires for mountain bikes. Back in the day, the front and rear specific Velociraptor set graced my rims for a long time. The newly redesigned WeirWolf aims to bring a high performance 2.3 tire to the all mountain and freeride markets with the help of pro downhiller Mark Weir. There are multiple models to choose from and the version we are testing is the 2.3 UST. Let's see how it did on the trail once we mounted it up and went in search of dirt.
From WTB.com:
The redesigned WeirWolf is a different animal entirely. We added an extra row of transitional tread between the crown and side knobs that gives the new WeirWolf a positive feel and consistent traction at any lean angle, from moderate to extreme. The TCS model adds the performance benefits of tubeless technology without adding weight. Mount the WeirWolf for big mountain cross county rides, Super D races of DH adventures and find out why Mark Weir is always sporting that goofy grin.
As tested:
Size – 2.3; GMS – 52/56; Quoted Weight – 890g
Features – UST aramid bead | dna rubber | supple tubeless casing
Pricing: Click here to get your best price
Below is short development video put out by WTB on the WeirWolf with Mark Weir that explains some of the redesign changes over previous versions.
Review: WTB WeirWolf 2.3 UST
The WTB WeirWolf mounts up nicely on just about any rim. On the Stans ZTR Flow rim as pictured, it rolled right over the wall and sealed up without any issue. With the 2.3 size, you get a nice balance of width vs. mass, but I was hoping to see a little bit more volume out of the tire with a higher profile off the rim. With a tire that is aimed at the all mountain and freeride crowd, volume is crucial to ride quality when blasting through rock gardens and technical sections of trail. With the UST sidewall, we were able to air it up in the mid 20′s without any worry of rollover or flatting.
The tread pattern on the WeirWolf is pretty unique. With matched sets of ramped, paired center knobs, single transition knobs and triple terraced side knobs, the WeirWolf has a ton of grip options for a wide variety of bike positions. With a tested weight of 860 grams, the WeirWolf UST is about average for a UST tire in this discipline of riding with the UST sidewall and bead.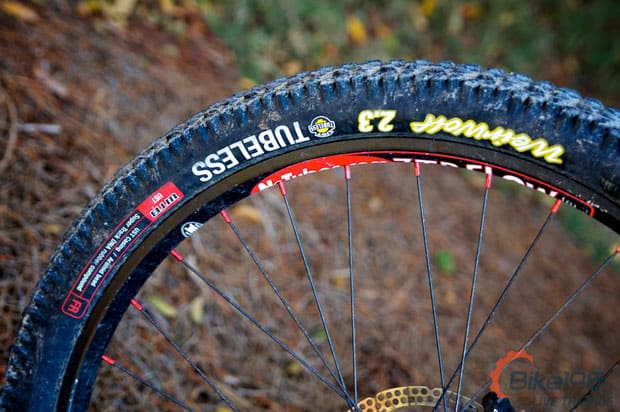 On The Trail: WTB WeirWolf 2.3 UST
The first thing you notice on the WeirWolf is how fast this tire rolls on hard pack trail. The ramped center knobs and their spacing allow the tire to move forward much easier than I was expecting out of a tire at this weight with that much tread. This really helped out in long climbing to conserve energy, but there was also a lot of grip as the trail got technical and you had to go up and over obstacles. As a rear tire, the WeirWolf really allows you to lean the bike into corners and brake predictably. With the terraced side knobs that have a ton of support down the sidewall of the tire, you can predictably hammer into corners or slide the rear out as needed. Under braking, the center tread and transition knobs bring you to a stop predictably.
As a front tire, the WeirWolf really allows you to lean the bike into loose corners. As mentioned on the rear, the pronounced transition knob brings the bike from the center tread to the side knobs predictably without any unpredictable sliding. Once you are relying on the corner knobs, the thick sidewall and reinforced side knobs hold the trail really well.
As long as you are in technical trail that is either loose or hardpack but dry, the WeirWolf from WTB is a solid performer. However, the tire does start to show weakness when the trail gets wet as it has a tendency to slide off of wet rocks and roots instead of gripping around them. I would contribute this to the tightly spaced knobs that are really designed to cut through dry and that makes them act as one over wet obstacles. That same factor also plays against the tire in ice and mud as it has trouble shedding the really sticky stuff.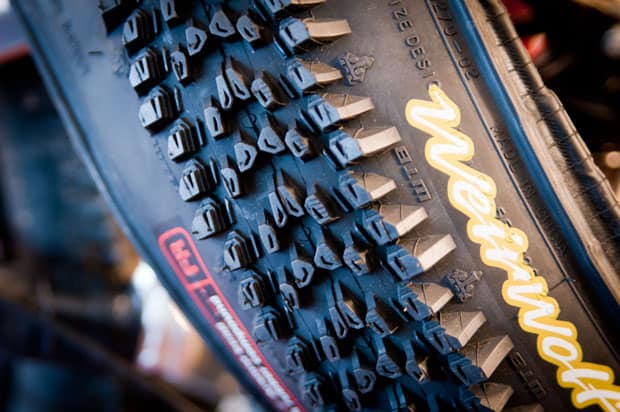 Overall: WTB WeirWolf 2.3 UST
The WeirWolf UST is a great tire for riders looking for a tubeless option that will rip on dry trails. For most of our riding here in the southeast, the tire performs very well and the fast rolling capabilities make it a great technical tire on longer rides. For wetter conditions, I would look for a tire with wider spaced knobs like the Stout.
Positive: WTB WeirWolf 2.3 UST
UST Capable and Seals Up Easily
Fast Rolling for Size and Weight
Aggressive Transition Knob and Terraced Side Knobs Perform Predictably with a lot of Grip in Dry Technical Trail.
Negative: WTB WeirWolf 2.3 UST
Could Use A Little Bit More Volume For Rock Gardens
Slides Off Of Rocks And Roots In The Wet
Doesn't Shed Sticky Mud or Ice Easily
Get your best price on a WTB WeirWolf by clicking here.
What do you think?
comments