Training
Mid Term Review: Tailwind Nutrition Endurance Fuel
A little while ago I wrote about Tailwind Nutrition Endurance Fuel and our initial impressions. I was very impressed with the product as soon as I tried it, and I've been using it for the last 2 months as my sole energy source for longer rides. I've experimented with different mix ratios and am in love with the product today, maybe even more so, than I was at first. I haven't had to worry about gels, Clif bars, shot blocks, etc during any of my rides. I've watched a couple of friends even fall behind in their nutrition and have to scarf down Clif bars while their heart rate was in the 170s. No thanks!
What's great about Tailwind is that you have constant sustained energy, since it's in your drink, and you are drinking all the time. In the past,  I'd run out of ooomph after 45 mins or an hour and rock out a gel or Clif bar and get your mojo back. Here, since you are getting your energy constantly you never have that dip, you just feel great the whole time. I like that.
Initially I tried 2 scoops (200 calories) per 24oz bottle (I'm 170lbs) and I think that ratio works well for harder or longer training rides. Something in the 4-5 hour range where I'll be putting in some harder efforts. For 3 hour rides or doing an epic group ride, where the pace won't be as fast, 1.5 scoops (150 calories) seems to be enough. You can always err on the side of caution and always drop in 2 scoops, but I'd like to save some calories if I don't need them.
I also did a 3.5 hour endurance time trial a few weeks ago. For that race, I put in 2.5 scoops (250 calories) per bottle and drank every last bit. I was a little worried that I didn't put in enough, as in the past I consumed 300 calories per hour of gel/clif bars/gatorade/etc but the 250 calorie portion of Tailwind gave me energy all race. I finished with a big personal best and finished in the Top 10 out of 100+ racers. Sweeet!
I plan on continuing to use Tailwind with my training and I've got my first 6 hour race coming up February 16th. I plan on doing that race solely using Tailwind. I think I will err on the side of caution and put in 3 scoops (300 calories) per bottle, as I'll be racing super hard the entire time.
CrossFit for mountain bikers
As I talked about in a previous article about me knee pain, I got into CrossFit over late fall/early winter to work on some muscles that were heavily underused in my biking. It turned out to be an awesome experience and I would highly recommend for everyone that is into mountain biking to at least incorporate some of the CrossFit principles into your cross training workouts. There are some very direct mountain biking benefits to this type of cross training. My technical climbing and descending has greatly improved, and my burst power used in those steep grunts is way better than ever. I'm able to finally understand what people mean by muscling my bike through rocks. I can pick up the tires over rocks and direct the back end of the bike where I want. It has enabled me to clear technical climbs that I used to walk, and I recently nailed a very technical what used to be a 50 minute climb in 32 minutes. That's what I call improvement!
CrossFit in short is a training methodology that focuses on "functional movements", which are basically things you could do in real life (well not me and you, but maybe firemen or policemen, I sit at a desk). You don't do any isolation exercises like bicep curls. It has compound exercises, many of which are Olympic lifts that work not only your major muscle groups, but also all the stabilizer muscles. That is the key in my opinion, as it will not only make those major muscles stronger, you are also working out all the support muscles leading to less injuries. There is a new WOD (Workout Of the Day) each day, and those are switched up, so you and your muscles and never bored and plateau'd. Also, the competition aspect of CrossFit makes you work hard and really push yourself. Every workout has some competition aspect to it, whether it's AMRAP (As Many Reps As Possible in a defined time frame) or performing a pre-set number of rounds no matter how long it takes.
Having said all this, CrossFit can be abused and since it's easy to open a CrossFit gym, there are many bad ones to go along with the great ones out there. In my opinion, it's very much worth the extra money to join a good, experienced CrossFit gym in the beginning to learn how to perform all the complex Olympic lifts and learn proper form. Without proper form, you WILL hurt yourself. Especially if you try to overdo it. I personally joined a great gym for 3 months and learned as much as I could. I went 4 days a week and tried to absorb all the knowledge. Now that the biking base training season has kicked in, I've built a little home garage gym, and I've scaled back my workouts to 2-3 days a week as part of my training plan (LW Coaching training plan review coming soon!) and don't do as high of an intensity as I did before. I'm focusing on maintaining my strength and keeping all those support muscles happy but I don't want to build a bunch more strength.
Have you tried CrossFit and if not, what kind of cross training do you do?
First Look: Tailwind Nutrition Endurance Fuel
For my whole time racing/riding I've used a mix of fluid/gel/food to get me by. While it's worked, and I haven't had too many nutritional issues, it sure isn't convenient. Dealing with used and unused gel packets, wrappers, Clif bars, dosing etc is a pain in the butt. I've been looking at the possibility of switching to just a single source of energy, and when I heard about Tailwind Nutrition I was excited to try it, as it seemed like a product aimed directly at me. It's a single endurance drink that gives you everything you need, and nothing you don't. It is supposed to be easy on your gut, easy to drink (even after 6+ hours on the bike), and hydration bladder friendly (a must for long training rides).
Here at Bike198 we got some samples from Tailwind and we'll be putting them through the paces during training and racing. The idea of it sounds awesome, and in my opinion, it has a bit of an advantage over it's main competitor (Infinit Nutrition) as it is very camelback friendly, has easier dosing options for easy/medium/hard rides, and is slightly cheaper. Tailwind also does not have any protein in it's drink, as according to it's website, it can cause stomach issues in endurance athletes. Lastly, compared with a similar dose of Infinit (~250 calorie portion) is has more Sodium (750mg vs 380mg), same Carbs, more Magnesium (37mg vs 23mg), and more Calcium (63mg vs 30mg). On paper, it sounds like a winner.
I've now tried Tailwind on 2 different training rides and have had great results. The first ride was a quick "trial by fire" as it was a Performance Test I was doing as part of my training routine. It was a short ride (30 minute warm up, 20 minute test, 30 minute cool down) and I did one bottle of 2.5 scoops. Solid energy the whole time, but I wasn't expecting to have issues. The next test was a bit longer as it was a 4.5 hour training ride this past Saturday. I put in 10 scoops of Tailwind into my 100oz camelback expecting to drink 20oz and 200 calories per hour. I brought some energy gels as backups, but didn't have to use them. I felt good the whole ride and never ran out of energy. The taste is this mix of sweet/salty that kept me coming back and I never got tired of it the whole time. It comes in 3 different flavors, so we'll see if Orange and Berry are as good as the Lemon one I've had so far.
I'm looking forward to using Tailwind exclusively as fuel for my training and racing. With my weight (170lbs) I plan on consuming around 150-200 calories for my longer training rides, and 250 during racing efforts. If things go well, this will be the end of my having to deal with gels, Clif bars, and other random things I have to hunt down and eat during my riding. I'll keep you guys up to date with how the longer training rides are going, as I have a couple of 5-6 hour rides planned in the next 2 weeks.
Last but not least, Tailwind Nutrition is so sure of it's product, it offers the Tailwind Challenge. "It's simple: if Tailwind Endurance Fuel doesn't make you stronger, happier, and less stressed while you train and at your next event, we'll pay your race fee." That's a pretty bold statement and I like the fact they put their money where their mouth is and back up their product.
The story of my knee pain
I've been dealing with knee pain on the bike for pretty much all of the last year. After multiple rounds of taking time off the bike, 3 different MRIs, Physical Therapy, massage, cross training, and Voodoo, I think I finally have it kicked this time around. This is a writeup of what I went through, and I feel that over the last year I've sort of become a mini-expert on biking and knee pain, so if anyone has questions about theirs, feel free to ask.
(This came out a little long, so if you are just interested in what worked for me, skip down to the last couple of paragraphs)
When I first got into biking a couple of years ago, I came off the couch and was super out of shape. I had no muscles in either the upper or lower body and just started riding. I didn't do too much riding as I was tiring fast, and I ramped into it pretty well and somehow managed not to hurt anything. Being an analytical guy, I got a professional bike fit from 55Nine Performance (Wobble Naught fit methodology) and figured I was fine. At the end of 2011 I ramped up my hours greatly and did a 50 mile endurance race and 6 hour race over a 2 week span to end the season. After those last two weeks, the pain came fast and totally took me off the bike. I couldn't even turn the pedals over without intense pain in my knee cap. I took some time off the bike and and got my fit rechecked (patella pain is usually a seat that is too low). Surprisingly, everything was fine with the fit and I couldn't figure out what it was. I had some MRIs done, went to a orthopedic doctor and they said everything was "fine with my knees". They couldn't explain the pain.
I took 6 weeks off the bike, and got back into it. I could bike for 2 hours on the local trails without pain but as soon as I went to climb some mountains, the pain came back with a vengeance. I got more MRIs with the same results, so I decided to take more time off the bike. I even got another bike fit from a different brand (Retul this time) which ended up putting me in the same 100% exact position as Eddie's original fit. The bike fit was not my problem for sure. I ramped up my training after this next session of time off and long story short everything was fine until I did a longer race towards the middle of the year. Terrible knee pain again.
This time, knowing the MRIs weren't the way to go, I decided to see a number of Physical Therapists and finally found a knee specialist that started looking PAST my knees to find where the actual problem was. Within 15 minutes, he had me diagnosed. I had a muscle imbalance in my quads. Since I never had leg muscles before biking, with how I'm built, I naturally developed my outer quad which led to that muscle being actually too strong, and over a longer ride/harder effort pulling my knee cap sideways, resulting in my pain. No matter how much time I took off, as soon as I got back into it, I re-hurt my knee.
This time, I took a few weeks off the bike to get everything calmed down and started doing Physical Therapy exercises specifically targeted at the VMO (Inner Quad muscle) as well as CrossFit. The below wall ball exercise has been key in getting VMO strengthened and along with full squats (Don't stop at 90 degrees, cover the calf with the hamstring when doing squats as seen in the video below) I've completely rebuilt the muscles in my leg.
I'm happy to report that I'm now 6 months into no knee pain and have done a number of long mountain rides and hard efforts. My legs also look balanced where before my outer quad completely dominated. I'm hoping that continuing to build CrossFit and VMO targeted exercises into my training throughout 2013 will keep me 100% knee pain free.
Tom Hoppe: A Story of the MTB Racer Wannabe
Hey, I'm new here. Wanted to introduce myself, as I'll be doing some write ups and reviews on Bike198.com during the coming up race season. In 2009, I was 250lbs, and racing cars with the SCCA. I bought a bike for myself for my birthday as I was always interested in mountain biking. I had a few friends that were "recovering car racers" that raced mountain bikes and I thought I'd give it a try. I picked it up pretty damn fast, fell in love, and created my next obsession.
3 years later, I'm  170lbs, been riding better and better and got into racing. I've done a handful of 6 hour races, a couple of 50-60 mile races here in the SE, and was ready to take it to the next level last year. I ended up hurting myself with a muscle imbalance in my quads/legs (write up about that and how I fixed it to come) and took a while off racing to get fit and recovered. Just riding for fun has been awesome, but I'm in the best shape of my life, ready to really kill it in 2013 and be more of a serious wanna be racer. I've got 4, 100 mile NUE races planned, along with a number of 6/9 hours.
I've done a bunch of research on training methodology, programs, and coaches and settled on a series of 12-week training programs structured around my 2013 racing season. Look forward to articles about cross training, racing preparation, how my training is working (or not), and nutrition. Along with racing, I also do plenty of riding for fun, and am a technical nerd and mechanical guy, so I'll also be do some writing about my equipment: The race bike (Trek SuperFly 100) and also the fun bike (Trek Remedy 9.9). Have fun out there and enjoy the awesome fall riding weather (at least it is that way here in the SE)!
Bridge and drop images taken by RegularJoe Photography (and on Facebook)
First Look: LeMond Fitness Revolution Trainer
Just in time for winter riding season here in the US, the LeMond Revolution indoor bike trainer has landed and ready for review. With bad, cold, dreary weather looming, we expect to get a lot of use out of this trainer to keep the winter legs from settling in and ruining spring epics. With the LeMond Revolution's unique direct mount system, it integrates directly with your drivetrain to create an "on the bike" experience with a resistance fan leading the way as you shift through the gears.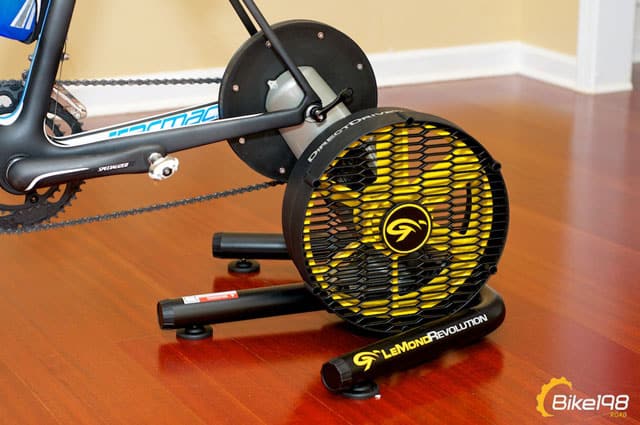 The LeMond Revolution Overview and Specs
From lemondfitness.com:
Introducing the LeMond Revolution, a direct-drive bike trainer that integrates directly with your bike's drive train. By simply removing your rear wheel and slipping the trainer into your dropouts, it replaces the need for mushy, slippery tire-to-roller connections, while eliminating wheel and tire wear and tear.
Realistic Road Feel
The Revolution features High-Inertia Technology (HIT), designed with a large, weighted fly wheel that mimics the inertia of a rolling bicycle. The Revolution spins freely when the pedals aren't engaged, and delivers progressive wind resistance similar to real-world conditions.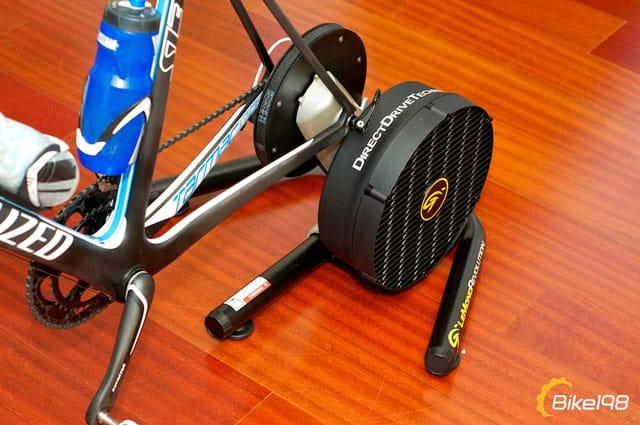 Ease of Use and Cost Savings
The Revolution fits all road bikes and works seamlessly with your mountain bike or winter-specific cross bike. Simply remove the back wheel, attach the rear dropouts to the spindle and go. No more tire slippage and wear, front wheel blocks or unstable platforms. Plus save $50 to $100 a year by not having to replace worn out rear tires.
Choice of Pros
The LeMond Revolution is the official bike trainer of Team Garmin-Transitions. Tested by riders like Dave Zabriskie, Christian Vande Velde and Tyler Farrar in the harshest and most competitive cycling environment.
2 Models to Choose From
The LeMond Revolution can be ordered direct from LeMond Fitness – sold with or without a SRAM/SHIMANO compatible cassette.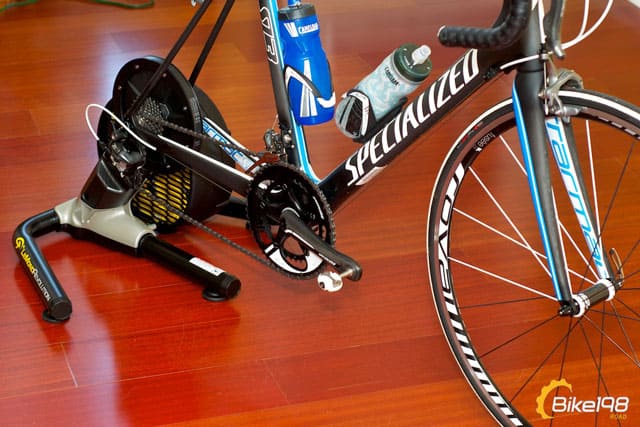 Be on the lookout for more indoor training tips and the full review of the LeMond Fitness Revolution trainer as we continue to put in the indoor miles. To get your own LeMond Revolution and learn more about the product…click here.
Century Road Bike Ride: Tackling Over 100 Miles On A Road Bike
Tackling your first ever triple digit mileage bike ride or taking on a century road ride that is drastically different than rides you are used to can be an interesting challenge.
For many, the achievement mark of a 100 mile ride is a stepping stone they must take in their cycling career…for others…it is a way to get involved with the sport through large, organized activities (like charity bike rides) for a cause during the year. Either way…if you are working up to a long mileage road bike ride, century road rides are a great way to test your abilities and get more involved with the sport. So you have picked one in your area…what do you need to do to get ready for the road bike ride and how do you need to tackle the distance once you get there.
Preparing For A Century Road Bike Ride
In all reality, about the only thing you can really do to prepare for a 100 mile road bike ride is to put in some miles. I typically do not recommend that riders take on a century unless they have completed 60-70 mile road bike rides without too much issue. The last 30 miles on a century tests your will to keep the legs moving in a way that you really can not experience and overcome without some miles on your legs already. Before you take on the 100 mile route, get out with friends and complete 60-70 mile road bike rides to test your ability to go the distance. If all feels good (or you are just fearless)…go for it…
Luckily, all century road rides also leave you with mileage options (typically 20′s, 40′s and metric century/60′s mileage options), so you can be apart of the event even if you aren't taking on the 100 mile. Additionally, century road rides are really well supported with SAG stops that provide nutrition and fluids to get you from point A to point B. If you get into trouble…help is not too far away. This makes century road rides the perfect avenue to test your distance abilities.
When you are ready get everything you need on a road ride and suit up for the long haul.
Century Road Rides: How I Ride The Distance
Everyone has their own strategy when it comes to century road rides. If you are shooting for a sub 4 hour on flat courses or sub 5 in the mountains, chances are you already know exactly what you are doing, so you guys are not really the focus here. The following tips and tricks for century road rides are how I personally attack the 100 mile ride.
Keeping Hydrated: Take In Fluids
I start every century ride with two bottles of water. The goal is to consume at least a bottle an hour during the entire ride. Towards the end of the ride, I normally take in more than that as stops at SAGs permit. The trick is to start drinking while you are getting ready and during the beginning stages of the ride when you feel like you really do not need to take in a lot of fluids. If you get to the point where you feel dehydrated 50 miles in, you are working from behind the 8 ball and that can get you into trouble. Two bottles…in most centuries…will get me to the SAG at around mile 50 which works out perfectly with the rest of the plan.
Once I have taken down the two bottles of water, I fill up one bottle with the drink mix provided at the SAGs to get sodium and one bottle with water to take care of my water craving while riding. From that point, I drink at least a bottle an hour and stop at one more SAG based off of that consumption/need.
Getting With The Right Group: Tear Off The Beginning Miles
On most century rides, I am not trying to tear off my best time possible. While there are groups that are trying to hit a time limit, 90% of the riders on the ride are trying to get to the finish in one piece. Now…as you already know…riding in a big group creates a lot less work on your end, so getting with a good, fast group from the very beginning can help you count down the beginning half of the ride much quicker with less energy expended.
When I start a century, I try to find a fast, organized, experienced group to latch onto for the first 50-60 miles. A lot of times, this group is averaging faster than I can sustain for the whole 100, but for the first half…I can use them to get to the first stop quickly. If you are comfortable with pulling (how to pull a pace line) and feel that you can do so without wasting yourself for the rest of the century, get out front and pull your own weight being careful not to waste energy you might need for the rest of the miles. Otherwise, just stick in the pace line (pace line tips) and let the others do the work for you.
Once you have let the strong group pull you for the first half of the route, refuel and find smaller groups you can work with to get to the end. If you have the muscle left, you can also try to stick with the smaller, faster section of the group that just broke up as well.
Nutrition: Keeping The Fuel Going
During long road bike rides, you are going to be burning a ton of calories and releasing a lot of salt. I always carry several packs of Margarita Cliff Bloks (3x sodium) to keep hunger at bay while also replenishing the salt in my body with something that is easy to eat while I pedal. At sag stops, an orange and bananas keep the legs moving throughout the ride. On most SAGs, you will also have sugars (cookies, crackers, etc) and other salt based foods, so you will have to test out what works best for your stomach/body. I generally do not like to eat anything to heavy so the fruits work the best for me.
Manage Your Fitness: Taking Care Of The Motor
Before you hit the century road bike ride, study the course and the overall distance (some are in the high 90′s in mileage while some others stretch into the low 100′s). The elevation change at the end and final miles are going to be some of the hardest, so you need to take that into consideration as you hammer out the rest of the route. Always be sure to keep enough in the tank for the end and focus on clean pedal strokes to get the most forward motion with the least amount of effort.
Century Road Bike Rides
Century rides can be a great experience or a complete disaster depending on how you deal with the ride. By keeping these things in mind as you hit the road, you can insure that you get the most out of the experience and figure out your own style of long distance road biking. In the end, these rides can be a great way to give back to a cause by participating in charity bike rides and spend time with new and old friends.
Image by Jon Wick
Off-Season Road Bike Training – What Do You Do?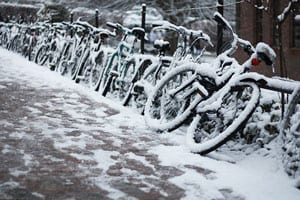 On the northern part of the world, it is cold and rainy right now. Typically, cold and rain are not a good mix when it comes to road biking and if you are even a little bit farther north…ice, snow and other winter conditions virtually keep you inside all winter…much less worrying about getting on your road bike. During the off-season, it is a crucial time to keep the legs moving to get ready for that first ride out once the weather cooperates. As you are itching to get out and ride and trying to prevent your very expensive bike from becoming a spider condo in the garage, what are your options to keep the flow going through the winter months so you can rip the legs off your friends on that first group ride?
Here are some things to consider as you look for ways to keep your endurance and power up during the off-season.
Stationary Trainer
I don't think I know a single rider that has fond memories of a stationary trainer, but the bottom line is that they work. This boring, monotonous spinning on a fixture that does not move keeps your legs moving during the off months and prevents that first ride back blow up. There are things you can do to keep this activity a little bit more bearable like music and movies, but the bottom line is that you need the spin time. With multiple options out there, you can find a great deal on a trainer. If you want a really good deal, hit up your buddy that bought one, road it twice and never used it again. The used stationary trainer market is filled with barely used merchandise that you can pick up for cheap.
Pros for the Stationary Trainer
You are spinning on your own bike.
Good leg exercise.
Affordable option.
Cons for the Stationary Trainer
Extremely boring.
Takes a lot of self discipline to keep the training going.
No upper body workout unless you mix in weights.
Inside Rollers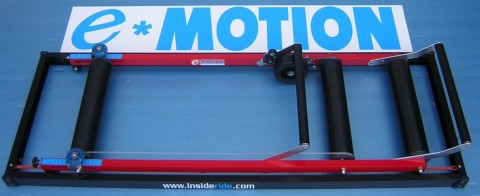 This one has really caught my attention as of late. With these stationary rollers (like the E-Motion that you can find at insideride.com), you are actually riding your bike inside. Set your bike on the rollers, start pedaling and start imagining the road in front of you as you are not connected to anything that is stationary. The appeal for me with the rollers is that they keep your attention because you are actually riding your bike. All you really have to do is put a fan in front of you with a movie of the road ahead…and…with a little imagination…you are out there from the comfort of your home!
Pros of the Inside Rollers
Keeps your attention as you actually ride your bike.
Great core and upper body workout.
As close as you can get to riding outside.
Cons of the Inside Rollers
High cost of entry.
A little bit of a learning curve.
Working Out At The Gym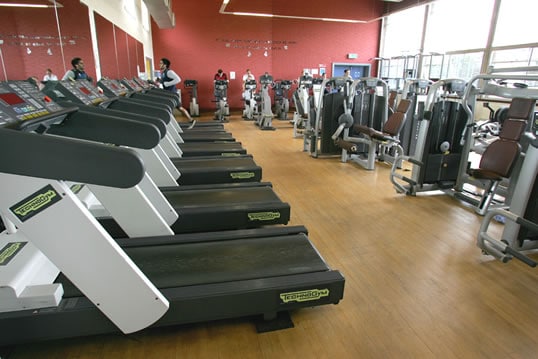 One of the most common ways to keep your strength going during the off season (and the on season) is to actually get up and go to a gym. Most gyms have spin bikes you can use with SPD pedals and a good, core workout program will help you regardless of riding ability. The key is finding a good system and schedule that compliments your riding.
Pros of Working Out at the Gym
Great public spin bikes.
Low cost per month.
Strengths muscles that compliment riding.
Cons of Working Out at the Gym
Monthly fee.
Have to leave your house.
Most gym memberships go unused.
Cross Training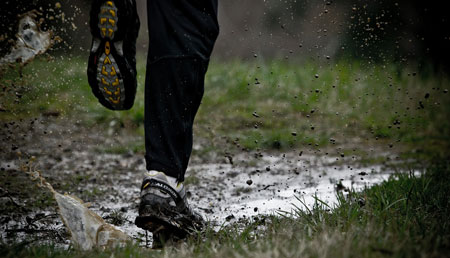 When you can't get on the bike, sometimes it is better to engage in an activity that you like that is possible during the off-season months. You can still trail run, ski and do other outside activities that keep the endurance and metabolism flowing throughout the off-season when you are off the road bike.
Pros to Cross Training
You get to be outside doing something you actually like.
Complete body workout in most cases.
Comparable cost to riding your bike.
Cons to Cross Training
Some bike riders ride bikes because their body can not handle running.
High cost of entry into some sports if you are new.
Still susceptible to weather conditions.
What do you do in the off-season to stay in riding shape?
Snow bikes image by sickmouthy