Review: Santa Cruz Tallboy – Lightweight Carbon FS 29er Mountain Bike
When Santa Cruz Bicycles set out to make their first production 29er, they dropped a bomb on the industry with arguably the lightest full suspension 29er frame on the market with the all carbon Tallboy. With lightweight and big wheels, the Santa Cruz Tallboy became a must have frame in the industry for those looking for the bigger wheel platform but were frustrated with the high 20′s, low 30′s build weights. Finally, it looked like there was a full suspension 29er bike that could actually be raced.
From SantaCruzBicycles.com:
Big Wheels Roll
Combining the acclaimed performance and durability of the latest VPP suspension with a sophisticated carbon fiber chassis and a set of big 29" wheels, we present the Tallboy. The curvaceous carbon fiber frame is more than just a pretty face: it offers amazing stiffness and strength while keeping weight feathery light. That, plus 100mm of rear wheel travel paired with fast rolling large diameter wheels spells out one thing: Long Haul Trucker.
Tallboy Build Kit: SPX XC29
Fork: Fox Racing Shox 32 F29 120RLC Taper
Rear Shock: Fox Racing Shox RP23 w/Boost Valve
RD: Shimano M773 SGS (XT) (Shimano XT Review)
FD: Shimano M771 (XT)
Shifters: Shimano M770 (XT)
Crankset: Shimano M770 24/32/42 (XT)
BB: Included w/ crankset
Cassette: Shimano M771, 11-36 (XT)
Chain: Shimano HG 94 (XT)
Brakes: Avid Elixir CR w/ 160mm rotors
Bars: Easton EC 70 31.8mm
Stem: Easton EA 70 31.8mm
Grips: Lizard Skin Charger
Headset: Cane Creek Tapered or upgrade to a Chris King Tapered +$109
Seat Post: Thomson Elite (KS i950 Pictured)
Saddle: WTB Silverado Team
Wheels: Mavic TN 719 disc rims laced to DT 350 15mm front hub and DT 350 rear hub w/ DT 14/15 guage spokes, alloy nipples
Tires: Maxxis Crossmark 2.1 folding
Price as Tested: Full Bike – $4,902; Frame Only – $2,442
The Santa Cruz Tallboy uses the same VPP suspension design that you find on the Blur, Nomad and their signature DH bike…the V10. This multi-link design uses two small links at the bottom bracket and seat tube to create a wide variety of suspension rates for varying needs. On the bottom of the lower link, you will also find grease ports for easy servicing. The weight as tested came in around 27 pounds overall. However, I have seen builds easily get under this number with lighter components and wheels.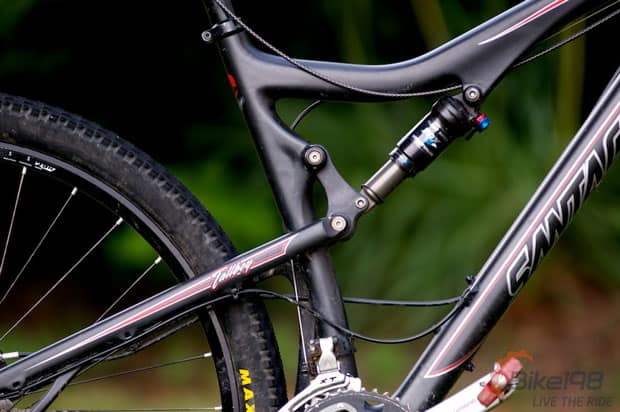 Santa Cruz Tallboy: On The Trail
The Tallboy was kept at it's original build spec for most of the riding during this review process. During that time, only the seat post and tires were switched depending on trail conditions.
Climbing: Gaining Elevation On The Tallboy
When you first throw a leg over the Tallboy and begin your assent up the hill, the first thing I noticed was how efficient this bike was climbing. The VPP suspension on the Tallboy is tuned to create minimal pedal induced feedback while turning over the cranks (also referred to as bob), so the use of the ProPedal function on the Fox Racing Shox RP23 was ignored in favor of extra traction up singletrack. For forest service road climbing, I could hit the ProPedal on 3 and almost feel like I was riding a hard tail. On long, semi-technical climbs, the Tallboy picks it's way up the hill almost effortlessly and you are left with a ton of energy at the top as you prepare for your trip back down.
As with most 29ers, the big wheels help tame rocks and roots during the climb and the momentum works in your favor as you keep the wheels spooled up and moving forward, but you will have to take some extra effort in tight switchbacks as the bigger wheels can be harder to maneuver in tighter situations.
In comparison with some of the other 4 – 5 inch travel 29ers on the market, the Tallboy is a rocket uphill. The more XC styled suspension setup and geometry really let this bike motor up the hill even with the 120mm travel F29 from Fox up front. I would imagine that it does even better dialed down to 100mm for a balanced 4″ front and rear.
Pedaling: Hammering The Flats On The Tallboy
The same efficiency that came through while climbing on the Tallboy also translates to speed on smooth, groomed, rolling singletrack. When the trail flattens out and you have to drop the hammer to keep up with faster riders, the Tallboy rolls forward with ease. The efficient suspension allows for out of the saddle sprints and high cadence, big ring hammers when the trail allows. Once the big wheels have gained momentum, this lightweight, full suspension 29er needs something big in the trail or a tight turn to slow it down.
When the trail starts to get rough and more technical with rocks and roots, the Tallboy starts to show its XC design. The stiffer suspension setup has a harder time taking in hard hits and fast bumps in series. The Tallboy is only a 4″ travel bike…so some of this is to be expected…but I would classify the suspension as more stiff than plush. If you are looking for a 29er that is going to roll over nasty lines easily, the Tallboy is probably not that bike as the efficiency that you find in climbing and pedaling on smoother trail translates into a harsher ride on rougher dirt.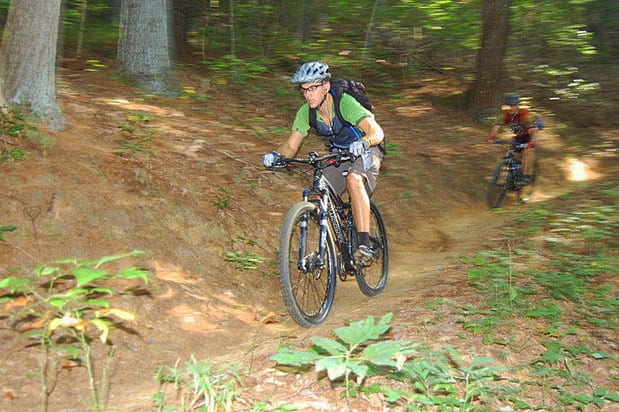 Descending: Gravity Assisted Riding On The Tallboy
The Tallboy really shines going downhill on groomed singletrack with slightly sweeping turns. The lightweight of the bike and the bigger wheels can get up to speed and stay there with the stability of the larger platform as you blow through trail. The bike loves to stretch it's legs on this kind of singletrack and that is what you will find on most race courses out west. The all carbon design is stiff enough to handle a wide variety of trail and I didn't feel any noticeable flex that would take away from the riding characteristics when riding.
When the trail gets technical, just like with the rolling technical sections the Tallboy starts to get hung up with the stiffer suspension curve. Through rock gardens and heavy root sections, you get reminded quickly that this is a purpose built XC bike. The 120mm Fox up front helps lessen the blow to the rear, but you are still dealing with a XC suspension design.
In the southeast US, our trails are characterized by really tight sections in massive tree cover. This usually means we are dodging bark at every turn as we try to squeeze speed out of our downhills. That said, the Tallboy corners like a west coast bike. The Tallboy performs its best in turns where you can really lay the bike down and sweep it in and out of turns with your upper body. For our trails, that runs into issues where pin point turning is required in a lot of sections. I felt like I was having to muscle the Tallboy around turns more than some other bikes in this same category just to get it to stay on line.
Also, the 160mm rotor up front is undersized for most riding on a 29er. I ended up cooking the front on extended downhills which didn't help the corning situation at speed. At a minimum, 29ers should have a 180mm up front to handle the larger wheel diameter and keep braking consistent throughout the ride.
Overall: Santa Cruz Tallboy FS Carbon 29er
The Santa Cruz Tallboy is an efficient, lightweight, 29er that is ideally setup for XC riding on the west coast where you have more open trail to hammer out a long ride. The bike really excels at climbing and fast pedaling sections and this will make it a weapon on the trail for endurance and xc races. The lightweight construction combined with the larger wheel size in the hands of experienced racers and cross country riders can be deadly.
Ideally, the Tallboy would setup the best with the new F29 Talas from Fox that has the ability to change from 120mm to 95mm of travel on the fly. This would slacken out the angles (geometry as tested) for the downhills but then you could dial the fork down to 95mm for climbing and faster turning through fast, rolling sections. If you mate that fork up with a 180mm front rotor, that would be the perfect setup for this bike.
Positives: Santa Cruz Tallboy
Climbs like a mountain goat
Efficient suspension in smooth to semi-technical trail conditions
Lightweight construction
Traffic stopping looks
Negatives: Santa Cruz Tallboy
Sweeping turner can slow down in really tight sections of trail
Suspension can be rough in technical trail
Price: Expensive with $92 upgrade to RP23
The Santa Cruz Tallboy is a great option for XC oriented riders, XC racers and endurance racers looking to get on a full suspension 29er mountain bike. For more information, check out the Santa Cruz website.
Here Is Your 29er Mr. President – Niner Bikes Goes Presidential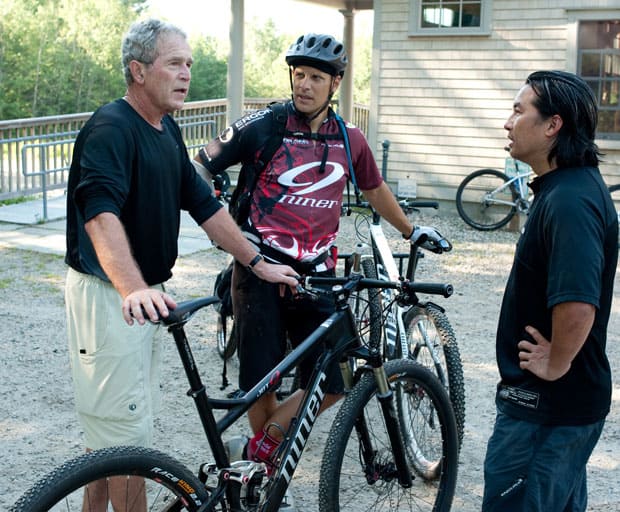 I just received a pretty cool email from the crew over at Niner Bikes. The attached press release (below) and picture (credit: C.A. Smith | casmithphotography.com) you see above is Chris Cugai and Steve Domahidy of Niner Bikes delivering a Niner Jet 9 to former President George W. Bush. President Bush has been known for his 26″ obsession, but this is his first jump into the big wheeled category and he picked a great bike to start on.
This story actually brings up a pretty important issue that needs to be addressed in the mountain biking community. One of the great aspects of riding is that I get to hang out with people from varying races, backgrounds, political views and religious beliefs…but we all hold a common ground when it comes to putting down the power with pedals. On a recent trip to the mountains, I was able to talk to a friend of mine on certain issues…some we agree on and some we don't…but at the end of the day, we are just two unique individuals that like to hang out on bikes.
Mountain biking is a common ground that has the ability to bring people together. There are very few sports in this world that have such a diverse group of obsessed loyalists that are able to set aside their differences for the love of the bike. This press release from Niner has no political affiliation. At the end of the day, it is just a couple of guys talking about the sport they love…mountain biking.
You can read our review of the Niner Jet 9 by clicking here.
Official Press Release from Niner Bikes
8/19/10 FOR IMMEDIATE RELEASE:
Niner Bikes Go Presidential
Former President George W. Bush checks out 29ers with Niner Bikes
Niner Bikes co-founders Chris Sugai and Steve Domahidy spent Thursday morning of this week delivering and fitting a Niner Jet 9 full suspension bike for Former President George W. Bush, with assistance from local Niner dealer Kennebunkport Bicycle Company.
"Most of Peloton 1, Mr. Bush?s regular mountain bike crew, is on 29 inch wheels and he wanted to check them out. He asked Brandon Gillard, owner of the Kennebunkport Bicycle Company and Peloton 1 rider, if he could try a Niner. Brandon called us and of course we were stoked for the opportunity" said Sugai " It is really hard to believe that just a few years ago we were showing our first frame at Sea Otter and now we are riding with a former President of the United States"
Bush, Sugai, Domahidy and the rest of the Peloton 1 crew (as well as a full complement of Secret Service people) went for a ride on the crew?s usual morning loop. "Mr. Bush is really fast" said Domahidy, "and a very good technical rider, too. He was flying on the Jet 9 and at the end of the ride said he dropped 3 minutes off of his fastest time!"
Post ride, there was ample opportunity to chat, and the group?s conversation covered everything from trails, trail access and trail building to entrepreneurship in the USA. Said Sugai, "I found that he was very interested in the challenges of being a small business in the current economic atmosphere. This has been an amazing opportunity and we really have Niner owners to thank – their support over the years has gotten our little company to this point".
Niner?s Jet 9 is their race-ready full suspension mountain bike. Light and fast, the frame features Niner?s proprietary CVATM full suspension system, and 3" of travel. It is available in three color options and retails at local Niner dealers for $1749.
Additional information can be found here: Niner Jet 9
Niner Bikes was founded 2004 in Southern California by Chris Sugai and Steve Domahidy. The company is dedicated to the ideals of passion, commitment and 29ers only.