How To Get Your Wife To Road Bike Without Divorcing You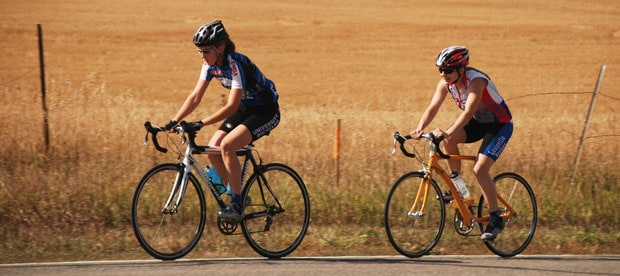 As the saying goes, "the couple that plays together, stays together" and for those of us that are obsessed with all things cycling, we can find that the time to play together can become a scarce commodity as we juggle the balance between work, family and riding. Before we got married, my wife had very little experience riding a bike as a sport or for pleasure. At the time, she wanted to get into mountain biking so we went that route. However, the demands on a woman's body to start a family can lead to worry of injury while on the trail, so to share my obsession with all things pedal powered…we started getting her ready to try out the road bike.
Riding the road together has become a part of our weekly schedule and I did it in a way that she didn't hate me by the end of the process. The following tips can really be applied to any beginner on a road bike, but is increasingly important for significant others (yes…if you are trying to get your husband into the sport too) as couples are far more sensitive to advice from each other than they are from outsiders.
How To Get Your Wife To Road Bike Without Divorcing You
So you have decided to jump into it and share road biking with your wife (or friend, girlfriend or anyone else that doesn't ride currently). Here are some tips to get you rolling with minimal arguments.
The Equipment
First, it all starts with the bike. If you are planning to take a trip to the local Wal-Mart and spend 100 bucks on a 50 pound road bike because you don't want to spend too much money on something she might not like, be ready for her to be pissed and not enjoy it. Would you like riding a Wal-Mart special? Probably not…so expecting a beginner that has less skills than you do to enjoy it is a stretch.
Especially for women, a proper fitting bike that doesn't weigh as much as their car is very important. For my wife, we went the used route and made sure it fit her perfectly. Luckily for me, it was also a chance to upgrade my bike and funnel the old parts down to my wife's ride. This way…I killed two birds with one stone! You can watch eBay, Craigslist and online forum classifieds like the ones on RoadBikeReview.com to find a high quality, used road bike at a great price. You can also watch for sales and deals at your local bike shop or places like Performance Bike.
Ideally, you would want to have something like SRAM Apex or Shimano 105 as the component group on the low end. While these are budget groupos, they still perform incredibly well for the price and will really drive down the price of the bike in the used market.
Special Note For A Woman's Bike: A quality, woman specific saddle (like the ones from Terry) is almost a must unless you can find one around your house that she absolutely loves. Men and women are created very differently in that area so comfort is a must. If you are going to invest in anything…put the money into a really good saddle as an uncomfortable lower region will be a deal killer for riding.
The Gear
Next on the list is to get a few items that increase comfort on the road. A comfortable pair of riding shorts, jersey, gloves and a helmet that fits go a long way in overall comfort once the miles start packing on. Be sure to pay close attention to the chamois in the shorts to make sure they are made for more beginner riders and not racers. With a little bit of extra padding in that area, overall comfort should increase as newer riders have to condition their rears to more miles and riding.
The First Couple Of Road Bike Rides
My #1 goal when I took my wife out for her first road rides was to make sure it was fun. If riding wasn't fun for her…what motivation would she have to do it again? The best way I can explain this process is the exact steps I took with my wife. So here is our story.
Initially, we started out in a field practicing clipping in and out of the clipless pedals to make sure she was comfortable with the bike and the process before we ever hit pavement. The easiest way to get this accomplished is to ride around on a flat field practicing it over and over again. If they fall over…they hit grass instead of asphalt. We also got her a pair of dual sided pedals to make this process much easier and quicker to pick up (mountain bike pedals or dual entry road pedals). Once she was completely comfortable with the clicking in and out process, we were ready to take this show on the road.
For our first break-in ride, we headed down to a local greenway (sidewalk in the woods for recreational purposes) and put in about 10-15 miles worth of spinning. During this time, I watched her as she rode to make sure the fit on the bike was correct and all of the components were functioning properly. With a flat, short mile ride, you are able to iron out the details that you can't do in the garage without cars and other distractions. After the ride, we made adjustments to a couple of parts (narrower bars, cleat placement, etc.) and the bike was ready for more mileage.
For the second ride, we headed up to a similar section of recreational area, but this one was much longer and more conducive to road biking. With wider lanes and long distances, we were able to get in about 30 miles and practice some road biking techniques before we went to play in traffic. By the end of the ride, grabbing the water bottle and drafting were second nature. We got a chance to see how the saddle and other fit/comfort items would do on the bike over longer mileage. I also watched water and food intake and explained when/where to eat and drink.
For the third ride, it was time to play in traffic. I picked some low traffic areas around our house as a break-in and we headed out on a 18 mile spin. I kept the mileage lower than the second ride on purpose as the hills and traffic add another stress element to the ride. While we were riding, I alternated riding in front and behind her to get her used to drafting on the road, staying as close to the white line as possible and cars passing her. By mixing up the situations, we were able to get comfortable with as many riding scenarios as possible. I also called out everything I saw on the road and explained the why and how of tasks like taking the lane as we did them.
Now…she is the one telling me to pick up the pace and traffic is a worry of the past. We successfully passed the beginning, nervous stage of riding and are now into building up endurance, distance and speed…all of the fun parts of riding the road.
Recap: The Cliff Notes For Breaking In New Riders
So what have we learned through my experience with my wife that you can apply to getting new riders to get on the road?
Equipment Matters – Getting the right equipment from the beginning drastically increases the chances of success. If you are not ready to drop the coin, try to beg and borrow your friends to get a quality rig to get the stoke rolling. If you plan on jumping out with the new rider in gym shorts and a heavy POS…be ready to have them not enjoy it at all.
It Has To Be Fun – We ride bikes because we love it. If you didn't like riding, would you do it? You have to try not to be too discouraging. The new rider is already going to think you are criticizing their every move (especially if it is your wife), so offer up words of encouragement and throw in little contests here and there to make it interesting and fun.
Get Essential Skills Nailed Down Before You Play In Traffic – You have to get certain skills on the bike nailed down in a non-traffic area before hitting the road with cars. Things like coming to a stop, using clipless pedals, drinking while riding, drafting and other essential skills need to be second nature before you add the element of cars.
Assume Nothing – If you have been riding for a length of time, there are certain things you do while riding that are second nature and happen without thought. When you are riding with new riders, you have to take all assumptions and throw them out the window. Explain everything…
Work Up Over Time – As I did with my wife, work up the riding progression and do not throw a 50 mile ride in traffic on in the first month. By progressively working up the rides on distance and distractions, the comfort level of the rider will move along faster. Would you want to get thrown into a CAT 1 crit tonight? Unless you are a CAT 1 racer…probably not. You have to treat the new rider in the same way. What is easy for you may not be easy for the new rider. Riding is all about progression.
Road biking is a sport that brings people closer together when done correctly. By taking the correct steps in the beginning, you can bring another member of your family or friends into the sport.
The Key To Getting Faster: There is no replacement for consistent miles
Our bodies are well oiled machines that rely on muscle memory to get the job done. Some of those actions are automated and others are conditioned over time to perform a certain task. With road biking, it is no different. If you are wanting to get faster on the bike, there is still no replacement for consistent miles over time to increase your speed and the distance you are able to ride in a day.
Your Body: What Happens With Consistent Riding
When you get in consistent mileage on your road bike (note: doesn't have to be blazing fast miles…just consistent), there are several things that happen that drastically increase your fitness and speed.
Your Pedal Stroke Cleans Up Dramatically – When you put in consistent miles on the road bike, your pedal stroke starts to clean up significantly making you much more efficient on the bike. Increased efficiency equals increased speed and milage without as much effort, so this goes a long way in improving your overal ride quality. Through muscle memory because of repetition, your clean pedal stroke spins without any extra brain effort as your muscles just fall into a rhythm. To increase your efficiency, practice correct pedaling form.
You Strengthen Your Riding Muscles – This should be obvious, but you do not use the same muscles while you ride that you do during other activities throughout the day. Even when you do use some of the same muscles, you are not conditioning them for the low impact, high repetition that road biking demands. Just like with any sport, you have to condition your muscles over time to perform at their best. Even if you are not racing, you have to get out and ride to condition your muscles so that every ride doesn't feel like you are pedaling up hill both ways with a 40 mph headwind in sand on every ride. This constant conditioning is also what will increase the distance you can cover in one ride.
You Get More Comfortable On The Bike – The more miles you put in…the more comfortable you are going to be on the bike…plain and simple.
Your Body Builds Up Over Time – When you are on the bike sporadically, your body never has time to build on the last ride to make you stronger for the next. It is like you are starting from ground zero with every ride. When you start to stack rides throughout the week (while also giving your body adequate recovery), you start to build off of each ride. Over time, you will start to watch your average speed climb and your distance longer with less effort without really noticing the difference outside of stat checking. Your body is building up with the consistency.
Short On Time? Tips On Finding Rides In Your Area
No everyone has a ton of time left over during the week to get in consistent riding. Ideally, you would want to be on the bike 3 to 4 times a week (two weekday rides and one to two weekend ones) to really stay consistent, but life obligations can railroad that quickly. Here are some ways that you can get in the consistent mileage during the week and fit it into your busy schedule.
Find A Weekly Night Ride – In my area, there are several weekly rides put on by bike shops or organizations that you can count on the same day every week. It becomes a part of my weekly schedule and is a lot easier to plan around if I know it is coming. If you get in touch with your local bike shop or advocacy group, they can point you in the right direction.
Find A Lunch or Early Morning Route – By using MapMyRide or Garmin Connect, you can search for routes out of your driveway or next to your office that you can get out and hammer in about an hour. With the convenience of being extremely close to where ever you are during the day, these quick rides in the 15-25 mile range can be a lifesaver throughout the week as they do not take up a huge portion of the day. When you match those routes up with a Garmin Edge 705 or 605, you can hit up new routes solo with turn by turn directions.
There are workout programs and spin classes for those that like to hit the gym throughout the week that helps your riding, but there is still no replacement for saddle time. If you really want to be more consistent on the bike…you have to put in the consistent time and milage.
Image by mikewarren