Ending The Debate: 29er vs. 26" Mountain Bike
With the widespread adoption of the 29er mountain bike in manufacturing and the mountain bike community, the growing debate of 29er vs. traditional 26″ mountain bikes is getting hot amongst riding groups. If you are in the market to upgrade your current mountain bike or get into the sport, your options are wider than ever which is a good thing for the sport but can be debilitating when looking to purchase a new rig.
There is no "right answer" for every mountain biker, so let's take a look at the 26″ vs. 29er mountain bike debate and see where it shakes out in my opinion. This topic is probably the most debated in the industry, so you will find that every rider has what they think is the right answer for you (typically what they bought).
The 29er Mountain Bike: What is the big deal?
Before we get into what will work best for you, let's take a look at this larger wheel size and see how it affects the mountain bike in a general way.
What does a 29er do well?
Rolls over rocks and roots easier due to the wider circumference.
More distance covered per pedal revolution.
Higher air volume in tires smooth out ride.
The larger diameter wheels of the 29er mountain bike can create the sensation of having an 1″ more travel than the bike is spec'ed due to the larger air volume and larger contact patch with the ground. For this reason, it has become the go to size for much of the hard tail and shorter travel mountain bikes in the industry. The racing world has really embraced the larger wheels size for these benefits it brings to the trail.
What are the drawbacks of a 29er?
Large size equals larger weight.
Harder to maneuver in tight, twisty single track.
Longer travel (5.5″ and higher) 29ers feel REALLY big.
Sizing and geometry issues with smaller riders.
Larger radius needs stiff wheel build and fork to prevent deflection.
Just as with any big change, it is not all good news. While the true 29er zealots will probably tell you these things are not true, the reality is that you are adding bigger wheels to the mountain bike than traditional 26″, so there are going to be negative side affects that go along with the positive changes.
26″ vs. 29″ Wheels: Which is right for me?
When you are taking a look at the 26″ vs. 29er mountain bike, there are several personal questions you need to ask yourself as you make your decision. As with all things, there is no right answer that fits all people. How you ride your bike and how you want it to react is the most important factor when making this decision…not what your friend bought and says is the best.
So here is how I see it shake out…
How tall are you?
As the distance from your head to the ground increases, the 29er wheel size actually becomes more proportional to your size. Riders in the 6 foot and up crowd that are looking for a XC to light AM mountain bike should test ride a 29er just to see how they like it. You might find that it fits perfectly and you have finally found a bike that feels like it actually fits. Shorter riders in the 5'6″ range and lower will need to take a serious look at geometry and test ride different frames as they might find the bike feels too big or isn't able to maneuver as well. I have known shorter riders that have loved the bigger wheel size, but that is typically in hard tail applications.
Taller Riders: Yes
Shorter Riders: Maybe
How much travel are you looking for?
While the argument that a 29er "adds an inch" of travel is almost true in theory, there is a big difference in 140mm forks and 160mm forks in mountain biking. The thicker stanchions and construction make a huge difference for riders looking to get into the more technical side of riding. If you are in the market for a 140mm or 160mm travel mountain bike, a 120″ travel 29er is not going to give you that same stiffness and confidence from a bike build and component standpoint. Also, as you move up in travel the bike feels bigger and when you add in the larger wheel diameter, that gets multiplied and can hold you back in slow tech and DH situations.
However, if you are looking at lighter 130mm to 140mm travel 26″ mountain bikes and you are taller, the 120mm travel 29er might be a great option. It will roll over technical rocks and roots on most single track easier and you will still be able to keep the overall bike weight under 30 pounds in most cases.
In the short travel and hard tail mountain bike market, the 29er mountain bike has almost completely taken over.
HT and 100mm travel and under: Yes
120mm to 130mm: Yes
140mm: Maybe
160mm and up: No
What type of trails do you ride?
As mentioned before, 29er mountain bikes do take more to maneuver through tight single track. If all of your riding is filled with tight turns in trees, you will want to try out a 29er on your own local trails before making a decision. On the other side of the spectrum, if your trails are more open and rocky, the 29er wheel size can really excel and bring more speed as you can hit sections faster.
Do a lot of racing and forest service road riding? A 29er is almost a no brainer in those situations. If you don't believe me…just try to keep up with a 29er rider on a FSR. This adds up with the shorter travel and hard tail mountain bike market.
Tight and twisty: Maybe
Open and rocky: Yes
Racing and FSR: Yes
What do I personally use? 29er or 26″?
When I spec out my personal mountain bikes given trail conditions, this is how everything lays out for me personally given my specs. I would describe my riding style as technical. I like to find the nasty lines possible and make them ridable at speed. For this reason, I typically like to ride mountain bikes with big forks and more travel, but I also like to dip into the XC and race side every now and then as I have a background in those applications. At 6'1″ tall, I fall into the taller side of the sizing spectrum in between large and x-large. To fit my need to find all tech riding, I am on large size mountain bikes to keep the bike easier to move in slow tech.
Singlespeed and Hard Tails: 29er
Short Travel Race Bikes (100mm and under): 29er
Trail bike (140mm and higher): 26 inch
As of right now, I have not found a 29er mountain bike that has been able to handle what I want to throw at a 140mm travel or higher mountain bike. It has not been agile enough and the 32mm stanchion forks mated with higher radius wheels are not built to withstand the abuse. Given the specs of 29ers, I do not see this changing for me as a rider.
On the shorter travel end, there are a lot of advantages of the larger wheel size that have made a couple of 29ers the fastest bikes I have ever ridden for those applications. I doubt if I will ever go back to 26″ wheels for anything under 100mm worth of travel.
What is the right bike for you?
As you take a look at all of these specs, you have to look inward at your body type and riding style to see which wheel size will be the best option for you. There is no right option for everyone and the 29er wheel size is not going to take over the mountain biking industry like a lot of the Kool-Aid drinkers are trying to say. The larger wheel diameter does have some serious advantages in certain situations, but it also does not work for others.
The best option…test ride your top 26″ candidate on your local trail and the top 29er candidate if they are available. If they aren't, find the closest substitute. At the end of the day, you are the one making the investment in your mountain bike and you will be the one riding it…not everyone else that is trying to inject their opinion in your buying decision.
The Best Mountain Bike: What is your best option?
What is the best mountain bike for you? This is a question that every single mountain biker asks as they look to replace a current bike or get into the sport for the first time. With all of the available options in today's market, you have a wide range of possible suspects which is a good thing…but it can be crippling in your search as well.
Here are some things I would consider while searching out the best mountain bike for your trails and budget.
Do you need the support of a local bike shop?
First off, a good local bike shop should work on any bike that was purchased outside of their shop as well as they do for one that was bought onsite. However, the local bike shop will throw in service and accessory perks when you purchase at their store. In some areas of the country, there are a lot of bike shops and brands to choose from. If you live in an area where there are not many shops, finding your best mountain bike might be narrowed down to just a couple of brands if you want to buy locally.
Your bike shop is going to be your lifeline to keeping your mountain bike running. With offers like free tune-ups for a year or discounts on labor for purchasing within their store, that relationship building part of the buying process can be very beneficial to sanity and the wallet over time.
If you are able to work on your own bikes and the support of your LBS is not as important, you have a wider range of options from buying online to searching out high quality used bikes.
Do you have demo days in your area?
Demo days are a time for local shops to bring out demo fleets and let you ride the new bikes out on your trails. This is a great time to get out and actually try the bikes you see in magazines or think might work well for your riding style.
There is no one best mountain bike for everyone. One of the driving forces behind diversification amongst designs and brands (outside of commercial reasons) is because everyone is different and everyone likes different trails. This allows for a lot of different options that have strengths and weaknesses that either benefit your riding style or hold you back. By getting on these bikes and actually trying them out on trails you know, you are able to find out if that particular bike you had your eye on is actually the best mountain bike for you.
I am a huge fan of riding as many bikes as you can before purchasing to figure out exactly what you like the best. Demo days are a great way to get in this saddle time.
The Ironic Truth In Mountain Bike Purchasing
There is one very important thing you need to understand when purchasing your best mountain bike. Mountain bike manufacturers figured out a long time ago that the rear derailleur was the #1 looked at item in component specs among new buyers. For that reason, they spec out the nicest derailleur they possibly can while cheapening up other components on the bike…specifically wheels.
This is not new and it has been going on for years…for one reason…it works. When potential buyers look in the bike shop for their next new ride, most of them look directly at that rear derailleur to see if it is the latest X.0 or XTR completely forgetting about the rest of the spec. If you even look at the latest Specialized Stumpjumper EVO we have in for review, the rear derailleur is the latest X.0 from SRAM but the front derailleur is X.7 and the rest of the shifting components are X.9.
If you are given the choice between models, X.0 and XTR are not worth it. Yes…they will look a little bit nicer and they might be a tad lighter…but on the trail you will notice zero difference between the two and the replacement cost is drastically different (when you step down to SRAM X.9 and Shimano XT…it is most times less than half the price). These days…you even step down to SRAM X.7 and Shimano SLX and get an great performing package at a fraction of the price.
You can use that savings to upgrade areas of the bike that have a drastic affect on how it rides…specifically wheels and suspension. Do not fall for the blingy rear derailleur trap.
Some Golden Rules In Finding Your Best Mountain Bike
As you look for your best mountain bike, keep some of these golden rules of mountain biking in consideration.
Money doesn't buy happiness…but if you try to stay in the $1,000 and up range, you will have a much more trail worthy bike.
The 5.5″ rear travel 26″ trail bike and 4-4.5″ 29er is the most popular full suspension bike for a reason right now. This is a great place to start and move up and down in travel from there when testing different options.
There is no one mountain bike that will be perfect for 100% of your riding. Try to find the bike that covers 75% of it really well and make adjustments for the remaining 25%…or have multiple bikes.
Decreasing weight drastically increases price. It is often easier and cheaper to get into better shape (assuming you are not trying to take a 35+ lbs bike on XC trails). Getting form 28 pounds to 27 pounds could cost you a grand without even being able to feel it on the trail.
Shorter travel bikes are better climbers and longer travel bikes are better descenders. Chose a travel range that fits the needs of where you ride…not what you wish you were riding.
Correct fit is very important. Consult a local bike shop that is credible and knowledgeable to make sure your best mountain bike is the right size.
Just because your friend likes his (or her) shiny new rig, that does not mean it is the best mountain bike for you.
Take reviews with a grain of salt…especially on online forums. Most of those guys spend more time online than they do riding. Only you know if a specific bike will be your perfect ride.
Last years brand new blowouts are a great way to get a better bike for a lower price.
and most importantly…
Ride the wheels off of it. Once you get a new mountain bike, it is very easy to get obsessed about the details. You can get yourself into a tailspin of trying to get every single components and color perfect…or you could be out riding. I am as much of a gear junkie as anyone, but it is still all about the ride.
Dual Suspension – Mountain Bike Suspension Explained
With all of the new dual suspension mountain bikes on the market, how are you…as the recreational mountain biker…supposed to pick out the best mountain bike for your needs as a rider? It seems like their is a new dual suspension platform for mountain bikes released every week that promises to bring your riding to a completely new level and be the best mountain bike for you in the years to come. In reality, all of these new mountain bike suspension designs are trying to tackle the same set of issues that you are seeing on the trail as you ride. I wanted to take a second and try to explain why there are so many dual suspension mountain bike suspension designs and the problems these mountain bikes are trying to tackle.
Dual Suspension Mountain Bikes – The Fight
So what is the fight with dual suspension mountain bikes and what does it mean to you? It would be incredibly easy for the mountain bike manufacturers to throw on a single pivot swing-arm like we are used to seeing on motorcycles and call it a day. You would have an extremely plush, active mountain bike suspension platform and there would not be as many options in your quest for the best mountain bike. However, there is two drastic differences that changes everything for the mountain bike suspension setup.
The obvious absence of a motor to carry your ass up the hill.
Pedal induced forces that play against the mountain bike suspension, but propel you forward on the trail.
These two factors make designing a mountain bike suspension much more difficult than a motorcycle suspension. Your body is giving more counteractive feedback to the mountain bike suspension because you are the motor. Your legs and body are what send the mountain bike into forward motion…not a motor. As you mash down on the pedals of your mountain bike, you are creating a downward force on the mountain bike suspension that sucks up efficiency. There is a constant fight between the mountain bikes suspension and your body as they try to react and work together on the trail.
What is a mountain bike suspension trying to accomplish?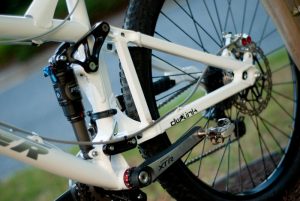 When a mountain bike is heading down the trail, what is that suspension design trying to accomplish for the rider? Your mountain bike suspension design is trying to give you a lot of different riding features without compromise…and that is not an easy thing to do.
An efficient pedaling platform that resists pedal induced feedback on the climbs that robs potential energy that moves the bike forward.
An active mountain bike suspension that is plush in all conditions…including during hard braking (very hard for most mountain bike suspension designs).
Have a stiff suspension platform at a low overall frame weight.
The fight between plushness, active braking and pedal induced feedback is the core reason behind the multitude of different mountain bike suspension designs on the market. Now…there are times that marketing takes over and there is a need for something new on the table to increase sales. It would not be a retail sale without that aspect, but…for the most part…each of these new mountain bike suspension designs that hit the market are on the quest to provide the best mountain biking experience possible.
As you see the new DW-Links, VPP's, Horst Links, Single Pivots, Faux Bars, LC2R's, ITC's, etc. hit the market, each of those mountain bike suspensions are on a quest for the same result…a mountain bike that climbs like a mountain goat but descends like a DH bike on a mission.
Which mountain bike suspension design is best for you?
I wish I had a answer for that question. In all reality, you need to get on as many mountain bikes and test out these suspension designs yourself to see which mountain bike suspension design is going to best fit your needs and riding style. The mass amount of options gives us a vast range of possibilities when choosing our next mountain bike suspension that is going to carry us to new riding heights, but it also creates a need to prolong the buying process a little bit further. By knowing the goals of mountain bike suspension design, you can single out the features that are most important to your riding and choose a suspension design that best fits your needs.
For this rider, I like a little bit more travel and I can give up some climbing pedaling efficiency for better small bump compliance. For another rider, they might just want to take the edge off and have the mountain bike's suspension act like a hard tail on the climbs. As you start to get a better idea of your specific needs, you should be able to tell those needs to a couple of local bike shops and find a mountain bike suspension design that will be your next perfect mountain bike (until the next latest and greatest comes out of course!)