Race Report: Big Creek 4 Ways In A Day Time Trial
Local events have a unique feel to them. With everyone invited to come out and race, you get a wide range of racing experience and riding ability that brings in a great atmosphere around mountain biking and friendly competition. No one out there is gaining points for a circuit and the majority of them are not even worried about placing. It is just a chance to get out and ride on the clock to see where you stack up and experience a different side of the sport.
Big Creek – 4 Ways In A Day Time Trial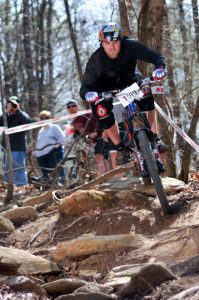 This past weekend, our local trail in Roswell, GA had its annual time trial event "4 Ways In A Day". It gets the name from the 4 different ways you have to tackle the hill that day to be crowed king or queen of Big Creek.
1 Lap Clockwise and Counter Clockwise Around the 4+ Mile XC Course (combined time)
1 Hill Climb Competition
2 Downhill Runs
2 Slalom Runs
I raced this event last year, but this time I decided to pack up the camera gear and be a spectator. The weather was a little chilly in the morning, but eventually turned into a perfect day of sunshine, tacky soil, racing and food.
There were individual winners for each of the stages and the lowest overall time for all of the combined events gets crowned king and queen of Big Creek. With some serious motors showing up for the event, it make for a handle full of riders that were all competing for the top spot.
The Roswell/Alpharetta Mountain Biking Association (RAMBO) put on the event and it went off without a hitch. Just under 100 riders showed up to compete and here are some of my favorite shots from Saturday.