Biking to Work: Before Your Tires Hit Pavement
Before I decided to commute to the office on my bike, I was often asked about why I didn't. I live within 6 miles from the facility in which I office out of and the weather is typically bike-friendly. I seemed to always have a handful of excuses ready to throw at my questioner as to why I decided against the commute on anything other than my politically incorrect SUV.
"I do not want to wake up any earlier to bike," was typical whining from me. I would begin citing the many reasons from my excuse array I had established over time. However, with health as a concern and the fact that our environment is being destroyed every time I start up my 6.0 liter Denali, I decided to give it a honest chance.
Now, I guess I could consider myself an avid biker. But, during my starting days of commuting on bike, I learned quite a bit about the roads, biking and everything in between. I have established some tips and information for anyone thinking about biking to work. It becomes a part of your routine and is a lot simpler and more fun than you would initially believe.
How close do I need to live to bike to work?
Even though a distance of 12 miles sounds pretty discouraging and intimidating, it is actually a quick ride on a bike. Ten to twelve miles on a bike is reasonable for someone to bike to work, though I have talked to other individuals who commute nearly 30 to 45 miles each way to their offices. Keep in mind that you are not always pedaling hard during your trip. Often, you will find yourself able to cruise and coast pleasantly and at a good speed.
It might take you 8 to 10 minutes a mile to get to work, as a beginner and without much effort. At that speed you should be pretty comfortable riding to work. You could definitely go faster than this and likely will. However, it is a good baseline to start calculating how long it could take you to commute. I suggest using it as a guideline for determining how much time to add to your morning.
Depending on the size of your city and whether it is bike-friendly or not could adjust your time. If you live further than ten to twelve miles, check into your public transportation authority. Some public transportation allows you to place your bike on the front of their buses or trains, this combination of public transportation and biking could turn a longer commute into something a bit more reasonable.
Savings, Savings, Savings!
Sit back for a moment and think about it. Keep thinking about it. If you already own a bike, your costs are already paid for! You might need the occasional tune-up, but it is far more affordable than having to fill up your gas tank all the time. People often argue that is your commute is short to begin with, you will not save much money biking versus driving to work. Actually, they are incorrect and should buy bikes. The inner-city stop and go and short drives on highways at cruising speeds is the least fuel-efficient trip your vehicle will make. These types of commutes are perfect commutes to be replaced by bicycles.
I will leave all the math and stats out of this as best as I can, but if your car gets average fuel efficiency, you will save about a gallon of gas a day biking versus commuting via automobile.
There are laws in place.. check yours!
Laws vary greatly by state. For example, in New York bikers are required to have a bell or horn on your bike to alert pedestrians of your presence, but in New Hampshire, you don't, but you are required to have a light on your bike if you are on the roads after 7 PM. A great place to start is by searching your local official government's website for bicycle rules and regulations. Know the rules before hitting the roads and commuting to work on your bike. Practice safety, respect other travelers and everything should be pretty smooth. You will definitely want to know all the gear you are required to carry or need to have on hand before you begin biking to work, especially safety equipment like a helmet. (Please wear a helmet… it hurts me on the inside when you neglect to.)
Dress accordingly
The main points of dress during a bike commute to work is comfort and safety. You will want pants that are comfortable and fit well, but are not very baggy near the ankles so they do not get caught up in the pedals of your bike. Usually dark colored pants work best because of their ability to hide the grime and grease you could collect during the ride. I typically dress in layers as the mornings here can get a bit chilly. I wear a t-shirt with a thin fleece jacket most of the time, and pack a light wind breaker just in case it decides to rain (it often decides to without the weather-people knowing..)
I wear Cannondale shoes because they are comfortable and have a great grip and they clip to my Shimano pedals well. However, if you do not have clip pedals and shoes, I would recommend something that is light and have very grippy bottoms. Thin track shoes seem to work pretty well as well. If you decide to bike at night or around dusk, you will want some reflective or bright clothing to wear.
Be prepared
When traveling to work, you might have some materials and equipment to take with you. A messenger bag or back-pack comes in handy for these circumstances. I use a bag that has some reflective material on the satchel section to act as a notification to cars. Check out some bags online or in local retailers to determine what all functions and features you can get out of the bag to reduce what all you need to carry or wear.
Pack your bag with your work clothes, shoes, personal items (wallets, cell phones, etc). The best bags seem to be messenger- single-shoulder style bags. They stay in place and carry everything pretty well without dangling from your handlebars. Don't forget your health. Bring something to snack on and something to drink during your ride so you stay hydrated. A cell phone in today's society is a very important piece of safety gear you should keep on you.
Map out the path and stick to it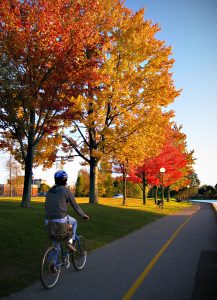 Obviously, the morning commute on the typical expressway or interstate is not an option while commuting to work on a bicycle. You will want to map out a reasonable direct route to your office, preferably through a residential or rural area. If you are new to your city or town, you might take a bike tour around the area to familiarize yourself with the back roads and shortcuts around town. While checking out your map, remember it is a two-dimensional representation of your area. There could be a mountain or hill between you and your job, so scope out the streets ahead of time to help determine the best route.
Because I live in a very urban (downtown) environment, my current route includes one-way streets that are very large (5 to 8 lanes of traffic) and nears the highway loops and entrance ramps. Luckily, my city has been developing a bit better for bike riders and have some nice paved trails to travel on near the roadways. However, I travel on the same street my entire journey, occasionally veering off course for a snack or quick stop at a cafe. This is nice, having the option to stop for a cup of coffee or get something to eat while I bike back and forth to the office.
Dry run the route and time it
After you map our the course and check out your path, it is always a good idea to perform a test run of the ride. Pick a day when you don't actually have to be at work and ride the course. Time it so you know about how long it will take you to get to your office or work on the day you actually need to commute. During the ride, pay attention to the traffic, people, scenery, etc so you know what to expect on a normal day.
Doing the dry run will help you prevent any unnecessary or unexpected stress during a normal commuting day. I also recommend taking note of all traffic patterns, crosswalk locations, and safest locations to cross streets.
Some added benefits
Once upon a time, when I used to think if I commuted to work on a bike, I would be more tired from waking up earlier that it would kill my day.. yeah I was wrong. I am actually more awake and lively around the office from my frequent commutes. The bike ride wakes me up and gives me a bit of energy that lasts throughout the day and the commute back home actually helps me wear down and burn off some energy from the day itself. Work this exercise into your daily commute and you will do things at once; save money and stay healthy.