Part 1: Bend The Trend By Bike by Pieter Parmentier
Republished on Urban.Bike198.com with permission from Pieter Parmentier
English summary
Cycling to Copenhagen in December, 700 km in five days and all alone? This seems to be quite an unusual plan and so it is, but for a very good reason.
I explained it like this in one of my mails to friends abroad: "I am going there by bike and will represent my granddaughter who is to be born next week. And I will also bring climate drawings from Dutch children (and the footprint of my granddaughter) to make clear that the climate negotiations are important for us and crucial for future generations."
Apart from the cycling I wanted to participate in the mass demonstrations expected on saturday the 12th and I had an invitation for the following sunday.
With me, things like this start with a trigger and the intuitive notion: 'it can be done'.
The trigger was the thought that being a granddad brings certain responsibilities. And as I explained above, climate change is not going to influence our lives much but it certainly will have great effects on generations to come. After this, the plan formed itself. I wanted to participate in the demonstrations as the representative of our granddaughter, whom I hoped would be born in time. If possible I wanted to take part in some of the other events and I wanted to produce as little CO2 as possible while executing the project. The idea to collect climate drawings from children and bring them with me to Copenhagen was the finishing touch, especially if I could also bring our granddaughters footprints (see above).
Apart from the plan I also had some time available to go to Copenhagen, some money, support from my family and quite a lot of experience in cycling. Although a cycling expedition through Germany and Danemark in winter was not to be undertaken lighthearted, I expected that my experience in Tibet and Peru would be sufficient for a proper performance.
However, some circumstances proved to be quite different, as always. Beforehand I knew that cycling in an almost flat area would be easier than crossing mountain chains like the Himalayas or the Andes. But winter in Europe is raher different from the desert/mountain climate. It happened to be very wet. Besides that I was bringing some 25 kg of stuff, cycling an average of 150 km every day and I contracted the Mexican flue the week before departure.
Our granddaughter Eline cooperated very well by being born on the 22nd of November, almost on the day she was due. Two days later my mother died which was expected but still sudden. She had been ill for a long time. Grandfather and orphan in two days time.
After writing Jacqueline Cramer, Minister for the environment in the Netherlands, about my cycling plan she immediately invited me to meet and have a photosession. This would make it easier to get the publicity I needed for the whole project. You probably ask yourself if this is how easy things normally work out in Holland but no, it is not. But it helps if you have known someone like Jacqueline for some time.
The same goes for the invitation I received from Jacqueline McGlade, director of the European Environment Agency, who has her HQ in Copenhagen and organised several events during COP15.
Werlte, 6-12-2009
7,5 hours cycling, 155 km, arrival 16.00
Just in time I recovered from my illness and at sundaymorning when the alarm clock went off at six there was no chance left to opt out. The weather seemed fair enough and at eight o'clock a crowd had assembled in our backgarden. One of them was granddaughter Eline with her parents Marieke and Marco. This was really a great surprise because when they left our house the evening before they had not given any indication they would return so soon.
Some cyclists were there to accompany me part of the route. And of course Dineke my wife was there to kiss me goodbye. She must have thought after 35 years she knew her husband well enough to predict his exotic inclinations, but alas.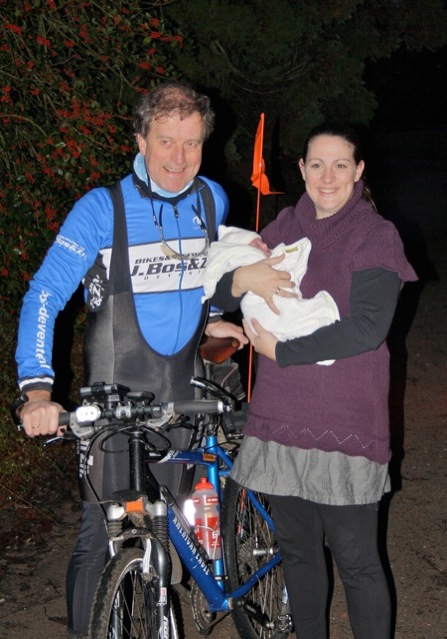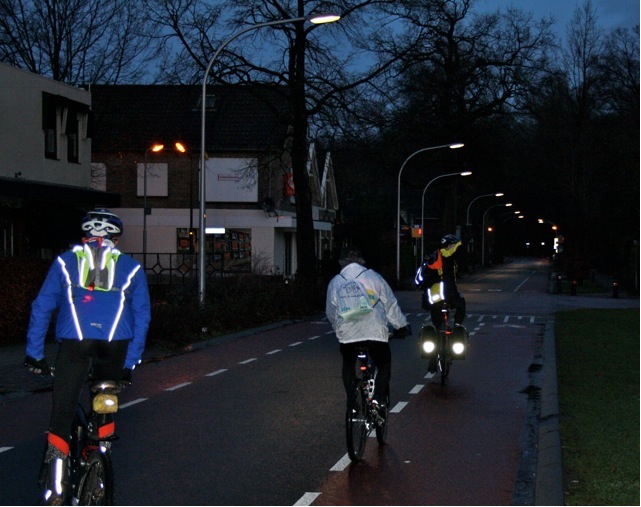 Having fun was part of the plan and there were several opportunities on the way. Cycling to the Dutch – German border I met several men who were also doing their exercise. Our little talks usually started with the question: "where are you headed?" "I am going to Copenhagen"…………… "No, really?" Or I would ask: "Do you know your way around here?" "Yes, I think so". "Which way do I go to Copenhagen?" "………….. No, really?"
After a fine sunrise it started to rain and it did not stop anymore. Probably I was under the same cloud all afternoon (I had the wind behind me).
Another source of amusement were the names of places in Germany. Cycling through the towns Meppen (smacking), Twist (quarrel) and Vrees (fear) made me look around for happy people. At least they did not look frightened to me. Further on names like Bovenmoor, Hemmoor and Moorausmoor indicated I was riding through swamps (moor) and indeed this part of Germany used to be a huge marshland.
As you might expect such an area is not densely populated and it turned out that finding a meal and bed in winter in the dark is no sinecure. After 155 km of cycling the very first and only hotel that was open and had a room available was called Hotel Cramer (which is also, as you recall, the name of our environment Minister). The owner with the same name looked as if she had some doubts about this guest and right she was for I must have been definitely the dirtiest cyclist or even man she had ever seen.
A few days later the owner of the B&B offered to wash and dry my clothing, probably because it was stinking to high heaven.
On sea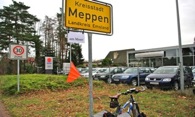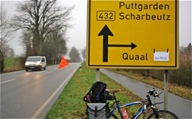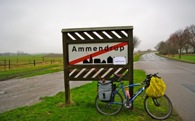 A small one-man but harmless campaign was the sticking (and photographing) a text to the place-name signs saying: aan zee, am Meer or ved haved which means 'on sea'.
An advantage of having the wind behind you, apart from going faster, is that if you take a wrong turn the wind will be in your face and the same goes for the rain. If the rain stops you are probably heading in the wrong direction.
The weather was however not like that every day. There was some sun on one day and no wind on another and it was raining icewater on the last day. I just had to keep the water in my clothing warm enough to survive and managed to do so just long enough.
Cycling through Germany you will immediately notice the sustainable energy difference with the Netherlands. It is really amazing that the Germans managed to get so far ahead in the generation of solar, wind and other sustainable power. And that when they also had a tough time joining Western and Eastern Germany and the huge investments that took.
by Pieter Parmentier