Overanalyzing 1×10 Mountain Bike Drivetrains
I recently made the decision to convert my fun bike (2011 Trek Remedy 9.9) over to 1×10. While I really enjoy the bike as it is now, on our local trails with the standard 2×10 that came with it, I found I spent a lot of time in the "wrong gear" as I felt I was either too fast for the little ring or the short steep sections were too much for the big ring.
I have an X0 2X crank on the bike, so the 120/80 BCD spiders did not give me very many options, especially to keep a nice chain line, but thankfully MRP created the "Bling Ring" for my situation; a chain line offset single ring that replaces the spider on my crank. (disclaimer: I paid full retail for the MRP parts in this article) It was very easy to install and works great. It took me a while of messing with gear ratios/calculators to settle on the 30T ring. While the standard 1×10 front ring is a 32, with the longer rides that I do and steep terrain of our area, I thought the 32T would be too much. With the 30T, I give up only my previous shortest and 2 tallest gears. There are hardly any times when I was in the 11 or 12 tooth rear with the 39T front big ring, or in my granniest of granny's (26T front/36T rear), so I figured this was a good compromise. The below chart shows the gearing on the 30T with the shortest (36T) and tallest (11T) gears, as compared to my 2×10 on the 2nd shortest (32T)  and 3rd tallest (14T).
The front is a bit more complicated as I needed some chain retention. A few weeks ago I converted to the SRAM X9 Type 2 rear derailleur and it's worked very well. It does a good job of eliminating chain slap and retention on the bottom, but I still need something for the top to keep the chain from bouncing off the top of the front ring. The Remedy has a direct mount FD and a press in BB, which eliminated most of the common simple chain retention devices out there. Again MRP came to the rescue with the MRP 1X Direct Mount guide. This is a simple guide that attaches where the front FD used to. Took a light bit of filing work to get the guide low enough for my 30T ring, as MRP recommends it only for a 32T or bigger, but it worked out.
I have to say that I fell in love all over again with my Remedy. 1×10 is so simple and takes a lot of thinking out of riding. It almost gives me that single speed feel in a way. Super quiet, no chain slap, and not much to think about. Wanna go faster? couple of clicks, want to go slower? couple of clicks. No need to worry about cross chaining, chain slap, chain suck. I haven't run out of gear yet on single track anywhere. Doing some gravel road descents I have spun out, but this is the "fun" bike after all. If I'm going > 20mph I'll either let gravity take me faster or just relax on the pedals. I would highly recommend the 1×10 setup to anyone trying to take some weight off their trail bike or looking for something a little simpler.
MRP LRP Shiftable Dual-Ring Guide – Bashguard and Roller 2×9 Setup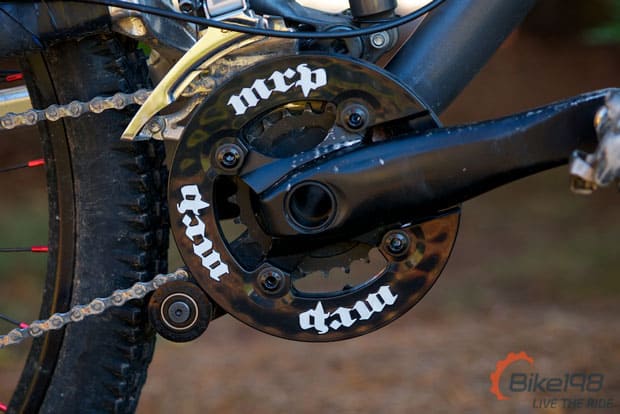 Awhile back, we published an article here on Bike198 that highlighted the benefits of setting up a 2×9 shifting system on your mountain bike (article here). With a properly setup 2×9 drivetrain, you can get about the same gear range as a comparable 3×10, but you get much better chain security and chainring protection for more aggressive riding where the chain is liable to drop and your big ring can hit rocks, down trees or even your legs. Mountain Racing Products (MRP) is known throughout the industry for providing high quality chain retention systems for the downhill crowd and this dual ring shiftable guide is your option in the AM segment to run an affective 2×9 setup.
About MRP:
MRP has been the pioneer and leader of high quality chain guide systems since 1996. From the original System 1 to today's flagship G2 guides, MRP guides are the consistent choice of the World's best riders in every discipline on the mountain. Just ask the legends of the sport what chain guide they insist on using year after year. The answer is always "MRP" for their quality, dependability, and reliability.
MRP LRP Shiftable Dual-Ring Guide Specs
From mrpbike.com
Designed to minimize chainslap and noise, while ensuring your chain is always right where you want it, the LRP is the best shiftable chain guide on the market. Featuring broad compatibility, and our new "Party Crasher Lite" bash ring, it also sports a new raised profile on the arm which prevent the chain from dropping off the granny ring and into your frame. That's right, no more chewed up, mangled bb shells. With the LRP installed, your bb shell will remain pristine.
2-Chainring Shiftable Guide System
235g Including Bash Ring
Ultra Quiet Urethane Roller
ISCG, ISCG-05, and BB-Mount (tested)
32-36T
Black or White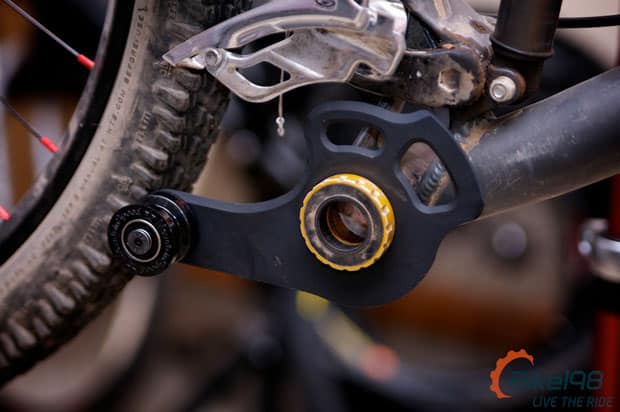 As tested, the guide we installed on our Turner 5.Spot was the bottom bracket mount that is compatible with just about every frame on the market (as long as the plate clears everything in the BB area). The plate that holds the roller actually replaces your driveside bottom bracket spacer, so installation is as easy as removing the driveside cup and replacing that spacer with the plate provided. Once installed, you replace your big ring with the bash guard provided (all bolts, washers and hardware included in the kit), adjust the roller up to the bash guard and make sure your height is correct. Once you feed the chain through, you are ready to roll.
On The Trail: MRP LRP Shiftable Dual-Ring Guide
For the purposes of this review, we ran a 36/24T setup which is quite larger than the 22/32T ring setup that comes standard on most cranks. That ring combination with a 11/34T cassette gave the bike a wide gear range that comes close to having the top end like you would on a typical 3 ring setup. This system is also compatible with a 22/32T setup, but I would recommend at least going to a 34T middle ring to get a little bit more range as you can sometimes feel like you are spinning out on a 32T.
The benefits of running this setup from MRP are significant:
Constant Chain Tension: With more chain rapping the ring and constant, consistent chain tension thanks to the roller design, there is far less chain slap and you never drop the chain in fast technical riding.
Bash Ring Protection: With a thick, reinforced bash ring like the one from MRP, you can literally bash it into rocks, log crossings and other obstacles in the trail without worrying about damaging shifting components or your chain. It also protects your legs and other body parts from getting caught up in the big ring. Having been the victim of this in the past (over 30 stitches in my right knee), the added protection is welcomed.
Medium Cage Rear Derailleur: When you run a 2×9 system like this one from MRP, you can run a medium cage rear derailleur to further decrease chain slap and get quicker, crisper shifts.
Of course, this increased protection and chain security doesn't come without a couple of little downsides. With the addition to another element to the chainline, you are going to notice a little bit of increased drag and the entire system does add another 235g to your bike. Given that, the MRP LRP chain guide is really meant for riders that are riding more technical terrain or are looking for that increased protection and do not race cross country or endurance mountain biking.
The MRP LRP is one of the best options for mountain bikers looking to convert their drivetrain to a 2×9 setup. The MRP roller is probably the smoothest in the business allowing for a quiet drivetrain while minimizing drag. The mounting plate installs easily and prevents the chain from dropping down into the bottom bracket as an added bonus. While some riders might not be a fan of the MRP logos, the bash guard is thick and withstands a lot of abuse over time. While some other manufacturers try to save a little bit more weight on the bashguard, they normally fall short on durability. MRP has found the right balance between weight and durability on their bashes and it shows once you hit the trail. The guide also shifts smoothly and consistently from the middle and small ring allowing the chain to change positions on the roller. Overall shirting performance was not affected at all in comparison to a typical 3×10 setup.
For any rider looking for a 2×9 drivetrain setup, the wide range of mounting options and consistent quality brings the MRP LRP Shiftable Dual-Ring Guide to the top of the list of options in our book. It doesn't get much smoother or easier to setup.
Get your best price on a MRP LRP dual-ring chain guide by clicking here.