Riding Tip: 7 Tactics for Tackling that Next Steep Hill
In this guest post by Greg Heil, Greg goes into the mechanics of steep mountain bike climbing. You can check out Greg's blog and riding tips by clicking the link at the end of this article.
Some of the most challenging parts of a trail for a new mountain biker to conquer are the climbs. Pedaling through the flats is relatively easy: you just have to pedal. Going downhill is pretty easy as well–until a tough turn or drop off pops up. But climbs… climbs are challenging. If the climb is especially steep, it will undoubtedly knock you off your mountain bike unless you know and utilize these key tactics:
Don't wait to shift. Since you should already be looking down the trail and know what's coming at you, shift as you approach or begin the hill. Do not wait to shift until you are in the middle of the hill and under full power. It is virtually impossible to shift the front chain rings while under power, and is also rather difficult to shift the back cogs–so shift preemptively. Since the rear cogs can usually be shifted under moderate power, take special care to make sure that you pick the proper front chain ring. For a steep hill, like we're talking about in this article, that's the small ring.
Shift all the way down. What I really mean is don't be afraid to shift all the way down. Of course you don't want to shift down too quickly and lose all of your precious momentum, but I have seen so many beginners walking up hills when they didn't even try to shift into their lowest gear (called the granny gear). You don't want to disrupt your two-wheeled experience by having to walk up an easy hill, so shift those gears all the way down.
Choose the right line. Even though you may be climbing a steep hill at what feels like a snails pace, it is still imperative that you keep your eyes up, scanning ahead in order to pick the path of least resistance up the hill.
Keep your butt in the saddle. Not only does this make you more efficient by keeping the weight off your feet, but it keeps your body weight back over the rear tire and is hugely important in maintaining traction. If you try to lunge out of the saddle and stomp the pedals, chances are your rear tire will spin out because your weight is too far forward.
Maintain a smooth, circular pedal stroke. This can be tough to do at times, especially if you don't have clipless pedals. But if at all possible, try to focus on maintaining consistent power to the back wheel, thus avoiding surges. This will help keep the rear tire firmly connected to the ground and prevent spinning out.
Remember to breath, and keep loose. The worst thing you can do while climbing is to seize up and forget to breath. Focus on consciously keeping your body loose and your breathing deep and regular to provide oxygen to those churning legs!
Maintain Rear Wheel Traction
In order to get to the top, your main focus must be maintaining rear wheel traction. All of the points above will help you do this, especially numbers 5 and 6. However, there is one secret, one technique that will exponentially increase your chances of cresting the hill without having to get off and walk. This technique is called "rowing the boat."
Climing: Rowing the Boat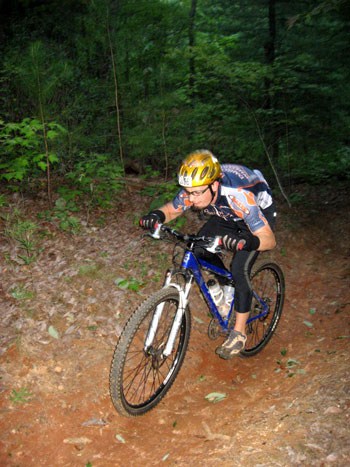 I was taught this technique of "rowing the boat" during my first-ever singletrack experience by a middle-aged mountain biker who has been riding bikes his entire life. These principles that he taught me on my first day of riding over 5 years ago have stuck with me as I've ridden mountain bikes all across the nation. I've learned to tweak this technique to suit my needs in different situations, but the basics always remain the same. As you climb up the hill and come to an especially steep spot:
Drop your elbows slightly.
Pull back and down on the handlebars. Don't think about lifting the front wheel up, but rather think about using the bike frame as a sort of lever with your body to leverage the rear tire into the dirt to increase traction.
Continue to row. As you continue up the steep section, continue this back/down pull. As you will see, it begins to create a "rowing" sensation.
Keep the front wheel down. When the hill gets very steep, your front wheel will have a tendency to pop up and wander off line while you're rowing because so much weight is over the back wheel. To combat this, lean forward to keep weight over the front wheel and keep your bike on course, while still keeping your butt in the saddle and maintaining rear wheel traction.
What this Rowing The Boat Looks Like
To help you visualize proper climbing position, check out the picture above of Matt "rowing the boat":
Matt is exhibiting picture-perfect climbing technique on this challenging hill (it looks steeper in real life, trust me): butt is in the saddle keeping weight over the rear wheel, elbows are dropped, his arms are rowing the handle bars, and he has his body hunched over the front wheel to keep it from popping up as he powers up this hill. Matt showed this climb who's boss!
5. Success!
If all of these factors are combined together into one cohesive attack on that excessively steep hill on your home trail you should be able to dominate it in no time! If you had not heard of these techniques until now, you will hopefully be pleasantly surprised by how much more conquerable your old nemesis now is.
That being said, there are some hills that are physically impossible to climb on a mountain bike. The physics of it just don't add up. Those hills are usually a result of poor/old construction before much of the current sustainable-trail science was created. Despite the poor construction of some of these obscenely steep climbs, you may surprise yourself with just how far you get using these techniques!
Your Turn: In your opinion, what is the key technique for climbing up a steep hill? If these are new to you, how do you plan to implement these techniques, and what hill do you specifically want to conquer?
Greg Heil is an avid mountain biker and has traveled all over the country riding singletrack.  He also writes an informational and instructional mountain bike blog.