Video: Freeride Entertainment 2012 Demo Reel
Freeride Entertainment released their 2012 demo reel 3 days ago and it is insane. The mountain biking clips included are truly unique (the barge shoot in particular) but the rest of the video is incredible. They obviously do a lot of work with Red Bull as most of the clips feature that logo in some way, but the riding, driving, skiing and other sports represented in this sequence are outstanding. Check it out below.
Beer and Mountain Bikers: Post Ride Match Started With Dirt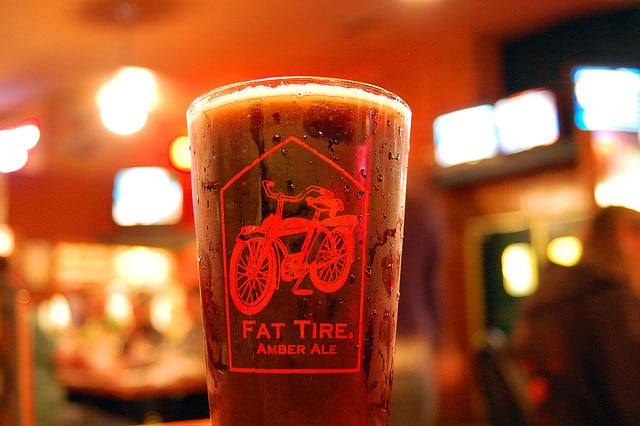 Today's article started with a simple question on our Bike198 Facebook page, what is your favorite post ride beer? What resulted is one of the most commented updates the Facebook page has ever received. While there were several Fat Tire mentions, everyone had their own favorite brew to bring to the trail head for that post ride liquid enjoyment.
Mountain Bikers and Beer
The relationship between mountain biking and beer is not a new revelation. Ever since the conception of putting over-sized tires on forest service roads, mountain bikers have been enjoying a beverage after rides. It has almost become as much of a staple in the industry as gears on bikes. You go kill yourself on the trail, then come back to the cars with a swig of your favorite brew. It is tradition in our industry.
While road bikers share our love of the hops, they typically do not congregate after rides in the parking lot (or at least that is how it is in our area), so the post ride ritual is not performed. The act of post ride consumption with other obsessed dirt go'ers is reserved for those with the love of fat tires (bmx and DJ crews are included in this bunch).
Side Effect: Beer Is Actually A Recovery Drink?
While I am willing to bet that no one is drinking a beer post ride as a real recovery drink, but there was a recent study done by researchers at the Technical University of Munich proving that non-alcoholic beer actually aided in the recovery of marathon runners. According to the study (nytimes link), consumption of 1-1.5 L/day non-alcoholic beer for three weeks before and two weeks after marathon competition reduces post-race inflammation and URTI incidence and those same men in the blind test were sick less with better overall immune system health.
Apparently, the beer allowed the marathon runners to recover quicker and train more due to the decreased inflammation and better overall health.
Just how nonalcoholic beer eases the ravages of strenuous marathon training and racing is still being investigated. But, said Dr. Scherr, it almost certainly involves the beverage's rich bouquet of polyphenols, chemical substances found in many plants that, among other things, "suppress viral replication" and "influence the innate immune system positively," all beneficial for fighting off a cold.

Alcoholic beer happens to be drenched in polyphenols, too — "even more than nonalcoholic beer," Dr. Scherr said — but has the signal disadvantage of being alcoholic. "We do not know whether the side effects of alcoholic beer would cancel out the positive effects caused by the polyphenols," he wrote. "Furthermore, it is not possible to drink one to one and a half liters of alcoholic beer per day, especially not during strenuous training." We all knew that, right?
Now, I have to imagine through life experience that there is a law of diminishing returns on this. I have never known an overweight alcoholic to be a great marathon runner, but it does bring interesting light into what the ingredients of a beer outside of the alcohol and calories do to the human body.
At the very least, your body gets some calories right after your ride and you have the excuse to hang around the cars recollecting mountain bike stories that could be as young as 5 minutes ago and as old as years past. The post ride beer will forever be a part of the ride experience even if you do not personally partake in the ritual. It is engrained in mountain biking.
What is your favorite post ride brew?
2008 Corsair Bikes
New for 2008, Corsair has come out with a line of mountain bikes that are unlike anything else on the market.  Check out CorsairBikes.com for more info.
Here is the lineup.
CORSAIR CROWN (DH)
From the website:
Developed to compete on the World Cup DH circuit with an adjustable headtube, two position primary rear shock and an optional add-on secondary blow-off shock. The Crown is designed to be fully adjustable and tune-able for any DH race course. The Crown's 65 degree head angle, 44.5″ wheelbase, 22″ effective top tube length and 17″ chainstay length may seem normal, but the function and adjustability of the frame are far from typical.
Pricing: Frame w/Marzocchi Roco WC and X-Fusion Air US $2399 (includes Headset, Seat Clamp, Maxle)
198′s Thoughts
What a killer frame. If you look at their website, you can see how the suspension reacts and actually control it with a slider. Corsair is one of the first that I have seen with this feature on their site. Overall, the frame looks really solid. The only worry I have is the two shock setup. It just seems like more linkage and shock problems to worry about. The axle path also radically changes when the second blow off shock engages. My guess is that Corsair did their homework, so the frame is probably an incredible performer, but we won't know until someone gets to abuse it.
CORSAIR MAELSTROM (FR)
From the website:
Fitted with a massive 10.5″ coil shock with a 3.5″ stroke (267x90mm) and featuring a 2:1 stroke ratio, the Maelstrom's 7″ (180mm) of high quality travel is designed for DH race courses, demanding back-country or bike park madness. With its proprietary idler pulley technology and innovative rear swingarm design, the Maelstrom has been painstakingly engineered to be a great climber. As with all other Corsair models, this frame features an adjustable headtube angle, and replaceable Maxle rear drop-outs.
Pricing: Frame w/Manitou Swinger Coil X-6 US $1699 (includes Headset, Seat Clamp, Maxle)
198′s Thoughts
Another great entry to their lineup. The 7 inches of travel and long stroke shock are just begging for a Cane Creek Double Barrel to handle the action. The fixed top shock mount is not something that you see very often. It will be interesting to see one up close.
CORSAIR KONIG (SS)
From the website:
Slopestyle is perhaps the most exciting new cycling discipline seen in years. When creating the Konig, our goal was to channel the energy of a great run into the engineering and style of our slopestyle frame. Getting off the ground, landing in one piece (at any angle) and getting the bike where you need it to be in a split second require that a bike be light, strong and maneuverable – three things that define the Konig.
Pricing: Frame w/Marzocchi Roco Air R US 1399 (includes Headset, Seat Clamp, Maxle)
198′s Thoughts
Honestly, I do not know much about slopestyle other than it is a blast to watch. The frame looks up to the task.
CORSAIR MARQUE (AM)
From the website:
Representing the newest breed of All-Mountain/Trail bikes, the Marque is lightweight but tough. It is ideally suited for the rider who requires more travel than is offered by the typical XC bike but still demands super efficient pedaling and climbing characteristics. With over 5″ (130mm) of high-quality travel, the Marque quite simply out-climbs and out-descends anything else in its class. As with all other Corsair models, this frame features an adjustable headtube angle, and replaceable Maxle rear drop-outs.
Pricing: Frame w/Marzocchi Roco Air R US $1699 (includes Headset, Seat Clamp, Maxle)
198′s Thoughts
Looks like a strong AM rig. I would have liked to see 150-160mm travel out of this frame. With the adjustable headtube angle, you could throw on a fork like the Rock Shox Lyrik U-Turn and really have a completely adjustable bike.
CORSAIR DUCAT (DJ)
From the website:
Dirt jumping and street are the main form of riding for many riders. Whether you live in the city, countryside or mountains, there are always great opportunities to build your skills and bag of tricks. The Ducat has been designed to be both durable and agile. With a dialed in frame geometry featuring 15.9″ (405mm) chainstays the Ducat is perfect for tricks and jumps of all types. As with all other Corsair models, this frame features an adjustable headtube angle, and replaceable Maxle rear drop-outs.
Priceing: Frame US $499 (includes Headset, Seat Clamp, Maxle)
198′s Thoughts
Solid dirt jumper for a good price.
198′S THOUGHTS ON THE COMPLETE LINE
The highs:
Maxle rear dropouts – I have been waiting on frame builders to bring this incredible axle to frames for some time now. This is one of the major selling points of this frame for me. All the ease of a QR with the stiffness of a thru axle. A Maxle rear should be standard on all AM and higher frames.
Adjustable Headtube Angle – You can really dial in a bike to your liking and trails with this feature. The headtube angle really affects how the bike feels during descending and climbing. Being able to adjust this measurement is a huge plus in my book.
Price – These frames are all reasonably priced in each respective market. I was actually really expecting them to be a lot more expensive.
Looks – Visually…these are great looking frames and they should equal even better looking builds.
Now the negatives:
Adjustable Headtube Angle – Hopefully this isn't a source for future creaking.
Linkage – There are a lot of tight linkage areas that may or may not pack with dust and mud. Hopefully these areas clear out easily with well designed pivots.
Dual Shock Setup – This part could end up being a huge positive if it works correctly and shows to be durable. Until there is some serious field testing…this will stay in the negative for now.