Hope Pro II Hubs – Preview
I came home yesterday surprised to see a package from Hope Tech on my doorstep. The Hope Pro II hubs had arrived for the Fox Talas 15QR thru axle review. Included in the package was the 15mm and QR end caps with the 20mm thru axle end caps installed on the front hub. For the rear hub, I opted for Hope's 10mm thru axle setup to stiffen up the rear end.
Hope Pro 2 Hub Specs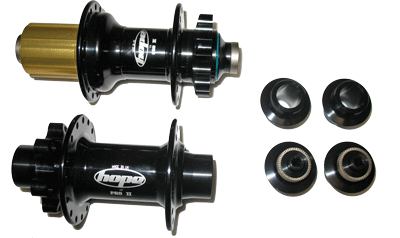 Front
The all new Pro ll hub has sealed cartridge bearings and can be swapped from 20mm to QR or maverick axles with the minimum of fuss.
Weight – 180g
Rear
The all new Pro2 range of hubs include a further development of our proven ratchet mechanism. This features a one piece 7075 aluminum rotor body and pawl carrier. Four pawls engage into a twenty-four tooth steel ratchet which is fixed into the hub shell and is sealed with a frictionless, non contact labyrinth seal. The axle runs on four cartridge bearings. The hub shell is machined from a solid billet of 2014 T6 aluminum.
Weight: 295g
Bearing type: Cartridge (5 off)
Hub Body: 2014 T6 aluminum
Cassette body: Aluminum
Ratchet type: 4 pawl (24 engagement)
Hope also has these hubs available in several different colors, so get with your LBS on which set will best fit your needs.
Hope Pro 2 End Cap Swap Out
Like all Hope products, these hubs are very well made. What makes them great for this build is their versatility. The front hub is easily changed from 20mm, 15mm and QR with a quick switch of the end caps. For detailed instructions on making the swap out, you can find this video on Hope's website. Hope is one of the few manufacturers that provides a complete video library on routine maintenance of their products. This makes working on their brakes, hubs and other products virtually painless even for the novice wrench.
For this set, I had to remove the 20mm end caps by removing the metal ring and then pressing in the 15mm end caps. If you are switching from a QR set to 15mm, your life is even easier. Simply pull out the QR end caps and press in the 15mm end caps and you are done. It does not get any easier than that. A rubber o-ring around the QR and 15mm caps makes keeps the outside elements away from the bearings, but it also makes it so that you need to really push in the caps to get them seated all of the way. This whole process is done without the need for tools.
For the wheel build, this set is going off to wheel building legend John Kovachi at Kovachi Wheels. John has been around the mountain biking scene since the beginning when it used to be just him and Mavic at all of the pro races. This should provide a bulletproof build that will really test the stiffness of the new 15QR TA from Shimano and Fox. Be on the lookout for more on this review and the review of the Fox Talas.