Gear: Finally! 4 Pot Brakes Out of SRAM with the new X0 Trail
Last week was big in the world of braking for mountain bikes. SRAM released their new "Trail" series of brakes in their and X.0 lineup. While we have always been a big fan of the Avid brakes, this takes their product to the next level we have been looking for.
At Bike198, there are two brakes that seem to really stand out in the market.
Hope Tech M4's for their 4 pot design and incredible modulation.
Shimano XT (or XTR) for their brute force (but have issues with lack of modulation/on/off feel)
The Avids have always been a mix of the two which has allowed the to be great for most riders. They are good on power and modulation but not supreme on either. They are brakes you can trust on rides and that is why we have had great success with them on numerous bikes at Bike198. They have been through several branding changes over the years but they have essentially been the same brakes for quite sometime.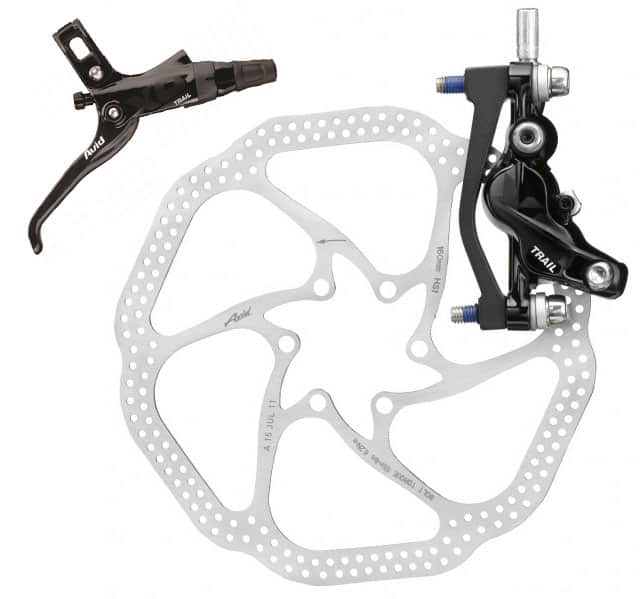 Now…enter the new 4 pots from the X0 lineup dubbed "trail".
From the looks of it, the new 4 pot brakes from SRAM should be the perfect mix of both the XT power and the M4′s modulation. We will have to get on a set and ride them to be sure, but from the looks of the design, what they have done with the taper bore technology in the lever and the amount of pad contact/force you get with a 4 pot design, these should be an incredible brake for bikes in the 5.5″ and up travel category. It is definitely something we have been looking for from SRAM for awhile.
The Trail features a powerful new 4-piston caliper, claimed weight of 340 grams, and features a lever pivot bearing.
4-Piston Dual-Diameter Caliper
Tool-Free Contact Adjust
Tool-Free Reach Adjust
MatchMaker X Compatible
More On Taperbore Technology
Review – Hope Tech M4 – Mountain Bike Disc Brake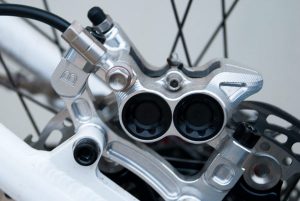 For 2009, Hope Tech revised their M4 hydraulic disc brake for mountain bikes by adding a completely redesigned lever and updated caliper. Labeled as Hope Tech's all mountain/do-it-all brake out of the lineup, the M4 provides a load of power and modulation at a respectable weight for trail bikes. After spending a massive amount of time with the M4′s on multiple bikes (racing and trail riding), it is time to check in and tell you guys how they did on the trail.
2009 Hope Tech M4 – What's New?
Ambidextrous 'flip flop' design, CNC machined from a solid billet of 2014 T6 aircraft spec aluminum alloy
Redesigned piston, lever and pivot assembly with external 'on the fly' reach and bite point adjustment dials. The new lever linkage eliminates free play in the lever giving a consistent and reliable feel to the brake. Further developments include bearing lever pivots for smooth, rock free use and increased lever ergonomics with a perforated lever for extra grip and feel.
Revised one piece caliper, CNC machined from a solid billet of 2014 T6 aircraft spec aluminum alloy. The M4 caliper has been developed for 09', primarily the two piston sizes have now become the same 16mm diameter (as opposed to a small and a large) which gives more usable power to the brake.
A drip free bleed nipple and wide angel orientation of the fluid inlet connector have also been added, allowing for neater hose routing and cleaner servicing.
As you can see, Hope Tech stepped it up for 2009 by providing some serious improvements to the M4 brake.
Actual Weights Using an Ultimate Digital Alpine Scale
Front Brake Caliper/Lever/Line – 270g
Rear Brake Caliper/Lever/Line – 280g
183mm Hope Floating Rotor – 140g
General Use and Installation – Hope Tech M4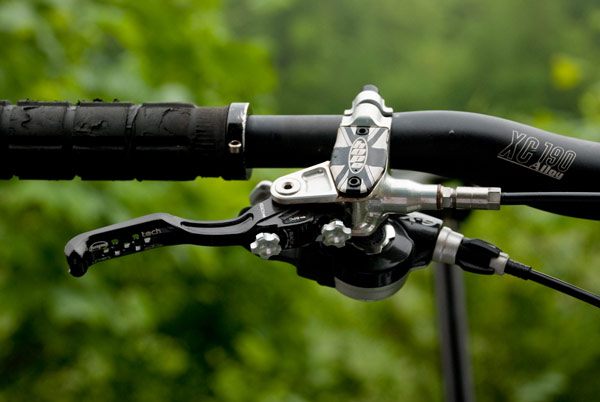 Out of the box, the Hope Tech M4 brakes are BEAUTIFUL. The aluminum machining is unlike any other mountain bike component part you will find on the market. It is absolutely flawless and looks incredible when installed on the bike. When you add in the floating rotors, the amount of bling you are carrying with just your brakes alone brings your trailhead bling cred to a whole new level. These have to be the best looking brakes on the market.
Installing the Hope Tech M4′s
Installing the Hope Tech M4′s is just as easy as any other post mount braking system. The dual bolt lever attachment makes installation faster as you do not have to remove the grips (most brake levers have done to this design). The Hope Tech M4′s have the increased versatility with the flip flop lever design and that is great for those of you that want to run your brakes moto style. However, that design does make the lever body thicker, so matching the levers with your shifters is going to take a little bit more precision. By using the combo mounts from Hope, you can make this quick and easy, but…as you can see from the picture below, there is very little room between the lever and shifter in its optimal position for braking and shifting.
The banjo fittings on the calipers allow for fine tuning your line routing and that really cleans up the install. Hope Tech brakes typically come with really long lines to accommodate a wide range of frames, so keep that in mind when you order. My set came in at the perfect length…so I was set straight out of the box.
Install Note: There have been some issues with the Hope Floating rotors and Fox post mount forks. There can be some scraping between the wider, aluminum inner spider of the floating rotors and the Fox post mounts. I didn't have any issues with either one of the F29′s during this review, but I have seen it happen first hand. If you are running a Fox fork, you might want to opt for Hope's regular steel rotors to prevent any installation issues.
Bleeding the Hope Tech M4′s
You have two options when it comes to bleeding your M4 brakes.
Hope Tech power bleeding system that runs off the air pressure of a mountain bike tube.
Hand bleeding much like a automotive brake.
One of the features I like best about the Hope Tech brakes is the ability to bleed the system without the need for any special tools or kits. You can bolt the lever parallel to the ground, remove the reservoir cap, hook up a tube to the stainless bleeder valve, pump the lever several times and hold, release the bleeder valve, close the bleeder valve, replace fluid and then rinse and repeat until there is no air in the line. It does not get much easier than that when it comes to hydraulic brake bleeding.
Lever Adjustment on the Hope Levers
Reach and bite point adjustments are handled through to external dials on the lever assembly. Each of them are extremely easy to dial in to fit your modulation preferences and hand fit needs. One of the cool features about their adjustment/lever design is that each of the adjustments are not directly attached to the lever body, so if you wreck and bend a lever…you can just replace the lever without worry that you damaged the lever body as well.
On the Trail with the Hope Tech M4 Brakes
As I noted earlier in the article, I used the 183mm rotors on the Hope Tech M4′s on a variety of bikes in multiple situations. I hit everything from an XC time trial race to serious technical trail riding.
Braking Power
The 4 16mm pistons inside the M4 brakes can bring you to a stop in a hurry. Even with just the 183mm rotors, I was able to have controlled, strong braking on long technical descents without any noticeable brake fade that is normally caused by overheating. The M4 brakes power was always there when I needed it and the power was very consistent. In comparison with other brakes on the market, the M4′s are towards the top range for 4 piston brakes, but are not at the braking level of dedicated DH brakes like the Saints from Shimano. Expect the M4′s to carry you through just about every situation you can throw at them without the worry of stopping. Coupled with larger rotors, the M4′s could even be used for dedicated DH duty.
Modulation
Brake power is nothing without progressive modulation and control. When you dial in the lever adjustments on the M4′s, the modulation is dead on. There is progressive braking power all the way through the stroke of the lever blade providing the rider with very controlled braking in all situations. As you move through the stroke, you can physically feel the power increase and feather this power as needed. This drastically helps your riding in slow tech line situations were accidental lockup can throw you off line or cause a washout.
Lever Feel on the M4′s
The new lever design includes grip holes machined into the lever blade. On the trail, these holes helped with one finger braking as your gloves had some resistance to grip onto. These holes were my favorite addition to the lever redesign as they were a noticeable feature when trail riding.
Noise, Feedback and and Other Annoyances
As with any hydraulic disc brake for mountain bikes, we want them to work and stay quite while doing it. Proper installation and adjustment can have a huge affect on the amount of noise that comes squealing from your brakes, but some brakes are more prone to this than others. During normal, dry riding, the Hope Tech M4′s were relatively quiet with only the occasional squeal under hard load. When wet, I did notice that the brakes were significantly loader, but…once dry…they quieted back down again and all returned to normal. Lever feedback and modulation stayed consistent no matter what conditions.
Conclusions – Hope Tech M4 Brakes
Hope Tech did an incredible job updating their M4 brake model. With the new, redesigned lever and more consistent braking out to the equal sized pistons in their 4 piston caliper, Hope was able to take an already incredible braking system and make it even better. Now…if you didn't have to shell out as much cash to pick up a set of these brakes…that would be even better!
Good Hope Tech M4′s
Flip Flop Lever Design
Traffic Stopping Good Looks
Consistent Power and Modulation Throughout the Levers Stroke
Easy Bleeding Operation
Easy Lever Adjust
Bad Hope Tech M4′s
Price – Be ready to shell out for this kind of machining
Fat Lever Body Can be an Issue During Install
Floating Rotors Interfere with Some Forks
Last note: Guess which brakes I am running on my personal ride now…you guessed it…the Hope Tech M4′s…
Cleaning Up Your Cockpit – Hope Style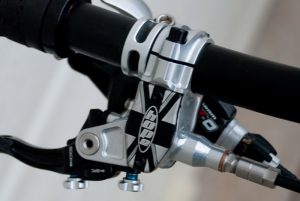 When Hope Tech sent over the new Hope Tech M4′s for review, they also sent over a set of their new combo mounts for the brake level and shifter. These beautiful, machined aluminum mounts really clean up your bars by mounting both the lever and shifter to one central mount on your bars. Like any of the brake products out of the Hope camp, they are a work of aluminum machining art. Available in both Shimano and SRAM versions, Hope should have you covered with all of your trigger shifter needs.
The use of combo mounts is not anything new. When SRAM send over the Avid Elixir CR's, they included their version dubbed the Matchmakers. Using combo mounts like these make for less bolts and brackets on your bars and that is always a good thing. Each combo mount offers its own level of adjustment to insure that the shifters are where you would want them and in the case of the Hope mounts…I was actually able to fine tune the distance from the grips better than before. If you like to angle your shifters differently than your brake levers, combo mounts like these from Hope or the Avid Matchmakers may not be for you. For me…they are essential as I already clog up my bars with miscellaneous levers like lockouts and adjustable seatposts.
Give Hope Tech a call at 936.756.5004 (usa at hopetech.com) in the US or +44 (0) 1282 851200 (info at hopetech.com) in the UK/abroad to get some for your Hope brakes. If you have a set of Avid brakes and SRAM shifters…get some of the Matchmakers.