Review: Feedback Sports Velo Cache Bike Storage Stand Review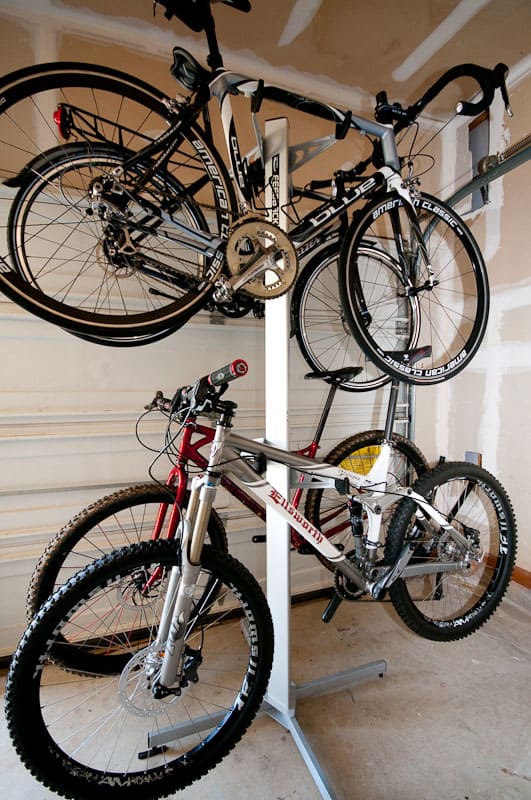 For awhile now, I have been on the hunt for a storage rack for my garage. With multiple personal bikes and the review rigs that are cycling in and out, I needed something to rack the bikes up and out of the way securely. After talking to the crew over at Feedback Sports, we determined the Velo Cache stand with the 4 bike add-on option would be the best bet for my needs. So…let's see how it works…
The Feedback Sports Velo Cache Bike Storage Stand
From Feedback Sports dot com:
Free Standing Column
Perfect for in-store displays, garage and home storage. High quality free-standing design won't mark walls or ceiling.
Stable Base
Three-leg base (2-bike configuration) holds up to 80 lbs. and four-leg base (4-bike configuration) holds up to 160 lbs.
Sturdy Construction
Quality anodized aluminum column and carefully engineered cradles ensure years of exceptional service.
Adjustable Cradle Arms
Each pair of arms can be independently height adjusted to hold all types and sizes of bikes, even with sloping top tubes. Soft rubber protects the frame's finish.
Accessories
Multiple accessories available.
height 83" (2108 mm)
base footprint 23" x 32.5" (580 mm x 830 mm)
support arm length 10" (250 mm)
load capacity 80 lbs. / 40 lbs. per cradle set (18 kg per)
weight 22.5 lbs. (10.2 kg)
shipping we ight 30 lbs. (13.6 kg)
available in black or silver
3-year warranty
Assembling The Feedback Sports Velo Cache Bike Stand
The Feedback Sports Velo Cache bike storage stand has a couple of pretty basic pieces. The base, 2 vertical sections and the mounting arms. When you order the 4 bike add-on kit, you get an additional leg for the base (makes it 4 legs instead of 3) and the additional arms to mount pointing to the rear of the stand.
After about 15 minutes, you are up and running with a storage stand in your garage or house. One of the legs has an adjustment to accommodate uneven floors. Luckily for me, my cement floor in my garage is anything but flat in the area I wanted to place the stand. With only once adjustment point, I had to put a couple of metal shims under the other leg to get the stand fully secure.
The arms attach to the vertical sections by bolting them to plates that slide up and down the sections. Once you have them in the location you want, tightening the bolts sets the position. You have the option of doing every arm individually, but I used the stacked method that put the arms on each side at the same level.
Once you have everything in and installed, you will want to mount the bikes in the stand to determine the correct arm height. I found it is best to set the arm height and then rack the bikes in the same spot each time so further adjustments are not needed. The arms have rubber feet to the arms that prevent frame scratches and keeps the frame from sliding back and forth.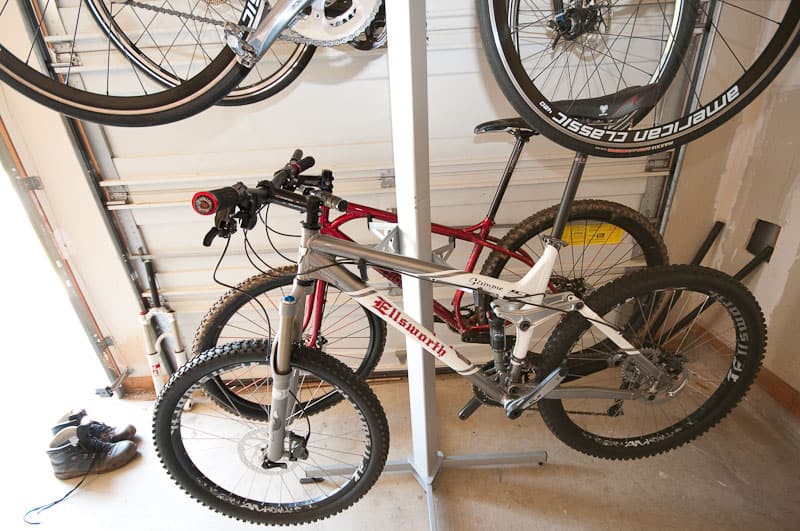 Using The Feedback Sports Velo Cache Storage Rack
The first thing I noticed about this storage stand from Feedback was how stable it was. Even with heavy commuter bikes racked on the top, the storage rack did not feel like it was going to tip over…even when you shake it. That is a big deal for storage stands as you do not want thousands of dollars of equipment dropping on cement from 6 feet up if the breeze blows the right way.
I did run into a small issue with smaller full suspension mountain bikes (like my wife's small Felt) as the arms are not adjustable for different sized frames. They worked out great for 99% of the bikes I racked up, but hers just couldn't get on there comfortably. Ideally, it stays on the floor anyway so she can get it out easily when I am not at the house, so it wasn't a big deal on my end. Every now and then, you have to get a little bit creative with more complicated suspension designs, but with a little adjustment…everything else fit on fine.
Final Thoughts: Feedback Sports Velo Cache Storage Rack
This turned out to be exactly what I needed. An efficient, stable way to store bikes in my garage. The lightweight, easy to assemble design is still stable with heavy rigs and makes better use of my space.
I would like to see some kind of adjustment in the arms for small full suspension mountain bike frames (maybe a flip-able arm would do the trick) like my wife's, but that is really the only thing I ran into while using this storage stand from Feedback. Now…I just need another one!
Positives On The Feedback Velo Cache Storage Rack
Very stable design with no worry of falling over during operation and storage.
4 bike add-on available for larger quivers.
Fairly simple assembly.
Requested Feature Additions
Flippable or adjustable arms for smaller frames.
Second adjustment foot for really out of whack floors.
If you are looking for a way to store your bikes in your garage, the Feedback Sports storage rack is a great option.
Pricing: $124.99 for 2 bike and $199.99 with 4 bike option. 4 bike option available separately.