kenda mountain bike tires
Rocky Mountain Slayer Update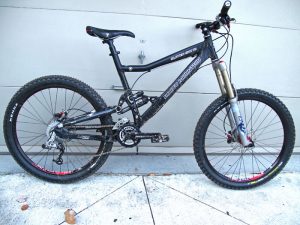 So it is about that time…we have been putting the Rocky Mountain Slayer through some abuse and I wanted to give you guys an update on how things are going. I gave the bike over to Chad Oliver for a couple of weeks to really get this 153mm travel mountain bike going.
Chad changed the configuration around a little bit to a bash guard setup and Thomson stem to better suit is riding style and cockpit requirements. Other than that, the bike was handed to him equipped with the Hadley Racing build on a Kenda Telonix and Excavator tire combo. Here is what Chad had to say about the Rocky Mountain Slayer.
Chad Oliver's Review of the Slayer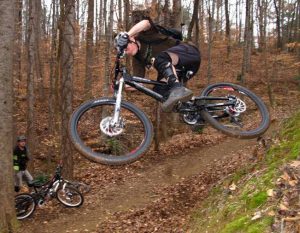 I'll hand it to Rocky Mountain. The claimed ride-qualities of the LC2R single pivot suspension design are true. The Slayer felt very plush and did in fact have the claimed infinite travel feel; seeming to have more than 153mm of travel. At speed, the Slayer performs best. The longer wheel base and rising rate suspension really keep the rear wheel glued and the bike stable. LC2R linkage works the magic out of the Fox DHX air shock. The bike feels plush on the small bumps but resists bottoming out on the big stuff. It will handle a decent sized drop without a harsh bottom out. It also climbed well with little pedal bob and good bite. Rocky Mountain uses a unique thrust/tug link design and a low bottom bracket in order to accomplish these ride qualities.
I believe that Rocky Mountain nailed it on the "feel" of the Slayer, it's a flow machine, but the lay out of the suspension design has some drawbacks. For one, the pivot bearings and the shock's reducer bushings are lined up directly in the rear tire's line of fire. In loose conditions, mud and grit are conveyor-belted directly at the bearings and bushings (see pic). Due to the location of the shock within the frame, it is hard to access the piggy-back reservoir valve and seat height adjustability is limited by the interrupted seat tube. The linkage lengthens the wheelbase, making a bit more of a fast-n-flow bike than a tight-n-steep bike. Overall, I give the Slayer high marks on the feel of the ride but a "needs improvement" on the frame's design lay-out.
The Good:
A light weight bike considering the plush feel
Rocky Mountain quality
"infinite suspension" feel
The Bad:
The suspension's bearings and bushings are directly exposed to grit and grime
Interrupted seat tube
Kenda Telonix 2.4 Folding Bead Review
by:
Chad Oliver
Folding Bead
Iron Clad
DTC: 50/60 durometer
Claimed Weight: 1002 +/- 52 grams
Kenda Telonix First Impressions
The first thing you notice about the Telonix is its aggressive tread. Knobs are not this large and pronounced on most mountain bike tires. Right away I knew that this wouldn't be the fastest rolling tire on the trail but the gnarliness of the tread fired me up. Telonix's center knobs consist of two tread shapes: 1 1/8" wide paddle-like blocks and twin spikes placed in an intermittent pattern. Spikes are used again in the mid-portion of the tire on the way across to the side tread. The side knobs are quite pronounced and form a squared "H" shape. Two rubber compound durometers are used in the tire, Dual Tread Compound: 60 in the middle and 50 on the sides.
Another thing I immediately noticed was the stiffness and thickness of the Telonix's folding bead side wall. A 2.35" folding bead Kenda Nevegal that I have is not as thick and stiff as the Telonix. Personally I was pleased with the sidewall construction which makes the Telonix a sort of hybrid between a dual ply wire bead and a floppy single ply.
Once mounted and inflated the Telonix tread pattern really comes to life; a sharp edged square profile with aggressive center and side tread that have traction written all over them. The center paddles are ramped on the drive side and have two sipes on the top. The spikes are pretty tall with angled sides.
Climbing on the Kenda Telonix
Hands down, the Telonix is a freaking tractor tire. I've been wearing out 26" mountain bike tires for a long time now and have yet to use a tire with this much climbing grip. The paddles and spikes really do their job of digging deep into the soil and not slipping. I would imagine that a "mud-specific" tire could match the climbing prowess of the Telonix but the Telonix is not a mud specific tire. It rolls faster than that.
Descending on the Kenda Telonix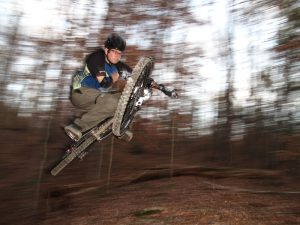 Side knobs on the Telonix are pretty darn pronounced, stick out a good ways and have a squared off "H" shape to them. Loose dirt, wet corners and plush mountain soil are where the Telonix corners best. The side knobs are almost too tall and mushy to provide a solid edge on hard packed dirt. They certainly grip but tend to have a gummy feel on the fast, hard packed corners. The Telonix is all about ripping the backwoods terrain though. Under the canopy and in the dirt. Roots, rocks, moss, etc. I really enjoyed seeing how hard I could push the Telonix in a corner being surprised each time it hooked up with out a drift. The same can be said for the off-camber terrain.
An important element of descending is braking traction. Here I found another aspect of the Telonix that really shined; its ability to slow down fast and deliberately. Those wide center-paddles are ramped on the drive-side for speed but remain a sharp-edged 90 degrees on the braking side. Scrubbing speed in the steep, rock-slab and root infested terrain is easier with all those sharp edged paddles working for you.
Just Riding Along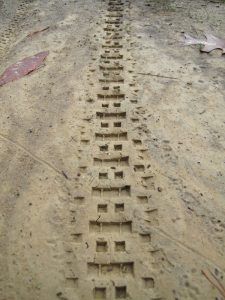 There is no such thing as a tire that will perform flawlessly in all conditions. All that gnarly grip on the Telonix comes at a price, rolling resistance. Now, the rolling resistance is not that bad but becomes noticeable on those hard packed gravel connector climbs or approaches. Otherwise, on the trail, the added grip is a welcomed feeling. When the going gets muddy, the Telonix are not afraid to grip but they do carry a little mud along with them on the way. Fortunately the angled sides on the spikes help shed mud for the most part. The more you learn to trust the tire, the more you realize what is possible to grip. The thicker than usual sidewall of the folding bead Telonix allows you to run slightly lower pressure than you would with the usual folding bead tire providing that extra grip and of course the sticky rubber side tread helps as well.
Conclusion
If you ride in the woods and your main concern is a solid grip on the trail both up and down hill, the Telonix is an excellent choice. If you mainly ride on hard packed trail or are concerned about rolling resistance, steer clear of the Telonix.
Good:
Remarkable traction both up and down hill
Dual tread compound
Side wall thickness a good middle-ground between a cross country tire and a dh tire
Bad:
Where to buy the Kenda Telonix
Kenda Racing Team Update – Mary McConneloug and Michael Broderick
Kenda Racing Team Update
Mary McConneloug and Michael Broderick
From Kenda USA: 1/26/2009
Two Time Olympian Mary McConneloug and teammate Michael Broderick will continue managing their custom-tailored race program racing under the title name: Team Kenda-Seven-NoTubes.  The duo is thrilled to announce the continuation of their race program under this title sponsorship and is proud to step into the 2009 season backed by three of the most outstanding companies in the industry.
"Kenda Tires has stood with us through a vast transition from our pure grass roots to the program that we have come into today. Mike and I are thrilled to be signing an unprecedented second four- year contract with Kenda that will see us through the 2012 season.   Kenda is renowned for its outstanding tires as well as for its flagship role in providing support to the U.S. mountain bike scene as a whole.  We look forward to helping maintain Kenda's #1 tire manufacturer status in the US while taking aim at expanding Kenda's presence in all the places we travel and race.   It is a huge honor and opportunity to continue representing this great company."
"Long-time sponsor, Seven Cycles continues to provide the core ingredients  of what we consider to be the finest race bikes on the planet.  Our stunning, custom- built  Seven frames are dreamt-up, engineered and hand-crafted  at one of the most soulful, thought-forward factories in the industry.   A telling testament to Seven's quality is their ability to craft an ultra high performance frame that is durable enough to compete at two consecutive Olympic games and on both occasions (four years apart) offer a feeling that we were going into the races with a significant equipment based advantage.   At Seven Cycles, this elite level of performance and durability is the standard with everything they produce. "
"Mike and I are proud to announce the addition of NoTubes as a title sponsors for 2009.  We have a long history of working along side NoTubes and it is a great honor to have them with us as a core supporter.  NoTubes brings a unique unrestricted perspective that has time and again been a catalyst for a pure innovation, bringing- about revolutionary things others said could not be done. NoTubes is responsible for creating some of the most sought after products in the bike racing world. Working with them as a title sponsor will allow us to pull all the stops with regard to going fast on the bikes."
"We look forward to showcasing the outstanding products and technologies that all three companies bring to the table.  We are happy to be able to develop a program with companies that are so well equipped to offer us the tools we need for ultimate race performance.  It is especially rewarding to be utilizing products that we believe in and that we feel can also positively influence just about anyone's cycling experience–no matter what you are using your bike for."
For 2009 Team KENDA-Seven-NoTubes will focus on an international competition schedule including the World Cups, World Championships, Continental Championships and domestic races throughout Europe and other points abroad.  On the domestic side the team will be present to defend Mary's national title at the US National Championships as well as attend several races in the ProXCT and Kenda Cups.
Thanks again for your interest and support in what we are doing. Best wishes for 2009 and beyond!
Kenda Mountain Bike Tires – In For Review
This week, I received a box of Kenda tires to review. Kenda is known for their signature series line of tires designed by some of mountain biking's legends.
So which mountain bike tires from Kenda came in by box?
Kenda ExCavator – Eric Carter Signature Series
Qty 2 – 26 x 2.35; 120 TPI Casing; Folding Bead; Dual Tread Compound; Weight – Claimed 729+38g, Actual 730g
Kenda Telonix – Hans Rey Signature Series
Qty 2 – 26 x 2.40; 60 TPI Casing; Folding Bead; Dual Tread Compound; Iron Cap; Weight – Claimed 1002+52g, Actual 940g
Qty 2 – 26 x 2.40; DH Casing; Stick-E; Weight – Claimed 1383+80g, Actual 1260g
Kenda Nevegal – John Tomac Signature Series
Qty 2 – 26 x 2.50; 60 TPI Casing; Folding Bead; Stick-E; Weight – Claimed 899+46g, Actual 900g
Kenda K-Rad – Dirt Jump/Urban Tire
Qty 2 – 2.30; 30 TPI Casing; Weight – Claimed 775+45g, Actual 900g
Reviewing The Kenda Mountain Bike Tires
Over the course of the next month, we are going to put these tires through the paces. With the help of two other test riders…Chad Oliver and another (TBA)…we will keep you updated on the progress of this review.
All weights were done on a…
Ultimate Support Alpine Digital Bicycle Scale
For more information on these Kenda mountain bike tires and the other tread patterns in their signature series line…visit Kenda Mountain Bike Tires.