mountain bike apparel
New Apparel Release: 29ers – Size Does Matter
For awhile now, the crew here at Bike198.com has wanted to start up a t-shirt lineup to express our obsession with all things mountain biking. The sport and the lifestyle extends past our dirt encounters and spreads into our lives outside of cycling. In an effort to keep the stoke rolling on and off the bike, we are proud to announce the first t-shirt in the line, "29ers – Size Does Matter"
29ers – Size Does Matter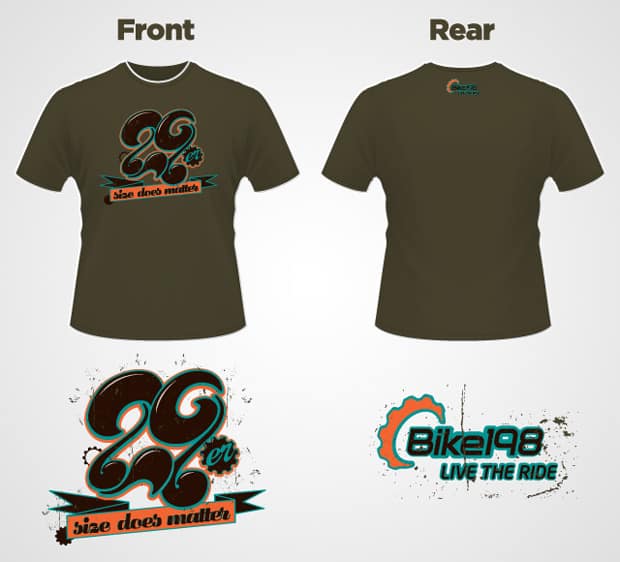 Those that are obsessed with the larger wheel diameter already know…in certain situations where tire tread meets dirt, size really does matter. With an incredible design done by Adam Allan (adam-allen.com), this 29er theme t-shirt captures the retro style that bred the 29er movement from custom steel hard tails to the full out aluminum full suspensions we see on the market today.
The t-shirts are a really high quality, 4.3 oz ringspun 100% cotton with a hybrid screen print that makes the illustration feel like it is a part of the fabric (no ink feel). This was done to bring the highest quality shirt we possibly could to the market.
For a limited time only, we are offering this t-shirt for $19.95 as part of a pre-order for this week only (ending 11/13). After that, the price is going to head up to $24.95. T-shirts require a large quantity initial order so we want to thank you guys for the initial quantity by offering a one time only discount to get the ball rolling. We are looking to start shipping orders the week of November 30th, so your wait will not be long to be able to show off your love for all things 29er.
The pre-sale discount has ended but you can still order a shirt online by clicking the link below.
Order your 29er – Size Does Matter t-shirt by clicking here.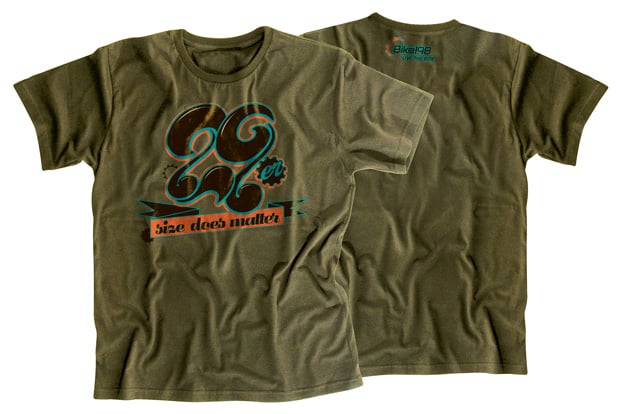 Review: Specialized MTB Shorts – Shindig and Para
Specialized is well known throughout the mountain biking industry for providing a complete lineup of high-quality mountain bike apparel and accessories for riders. As part of their extensive lineup, Specialized offers some apparel for the all mountain, free ride and downhill segments to meet the needs of more agressive riding. The Specialized Shindig and Para mountain bike shorts are part of that lineup and the subjects for today's review. These two heavy duty MTB shorts are designed to protect your lower body with thicker and more durable shorts that meet the needs of more extreme mountain biking.
Specialized Shindig Mountain Bike Shorts
The Specialized Shindig mountain bike shorts are the top end of the lineup for Specialized.
Specialized Shindig MTB Short Specs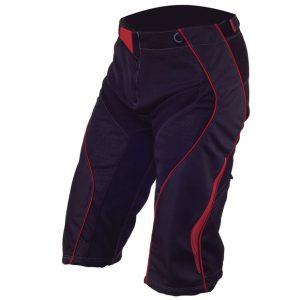 The most aggressive mountain short for the most mobility, durability and performance under fire.
Outer shell is a durable nylon/polyester blend
Inner polyester mesh lining for extra comfort while riding
Front mesh panels provide comfortable airflow
Stretch panels on the front for full range of motion
Full function front snap and fly
Waist adjustments enable custom fit
Single zippered cargo pocket on thigh provides storage
Lighter material at the back of knee for pedaling comfort
MSRP: $100.00
Review: Specialized Shindig MTB Shorts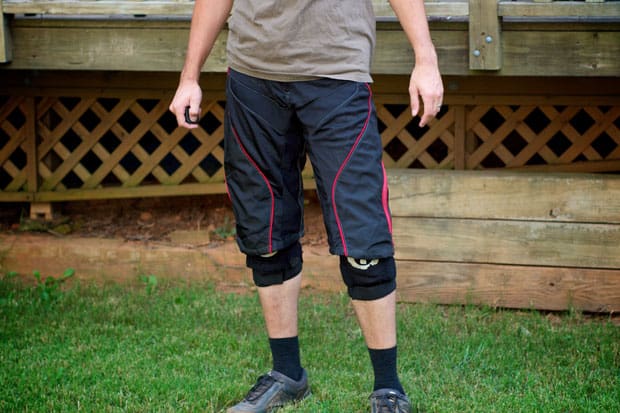 The first thing that hits me as I picked up the Specialized Shindig shorts for the first time was… durable. The nylon/polyester shell provides a very strong, durable weave that can withstand the abuse of hitting the ground on a repeated basis. This durability does come at a weight cost, but if you are riding with the Shindigs…you more than likely are carrying around extra weight everywhere in your search of hitting obstacles and trails that aren't for the average XC/AM rider.
With extra padding and material around the typical impact zones (knees and hips), the Shindig shorts provide some extra protection while keeping the other areas of the short flexible for ease of movement. With high impact mountain bike shorts like the Shindig, the extra material can sometimes decrease mobility, but Specialized did a great job of including flexible material around areas that need to move while protecting those areas of your body that don't.
The internal mesh lining does improve comfort while on the bike by giving a little bit of cushion between your body and the hard surface of the Shindig outer shell. With adjustable Velcro straps and heavy duty buttons and zipper, the Shindigs are both comfortable and durable for more extreme uses.
The subtle black and red styling of the Shindig (only color available) fits in perfectly with my style needs and matches just about all of my riding equipment so that is a nice change from some of the more wild designs now being released in the FR/DH market.
One area that I think the Shindig does lack in relation to other mountain bike shorts on the market is the single zippered pocket. While it does provide adequate storage with an extremely durable zipper, I do like to have more conventional open, side pockets on my MTB shorts for iPods, Goos and other readily accessible items.
Positives: Specialized Shindig MTB Shorts
Extremely durable outer shell for more aggressive riding
Comfortable on the bike due to the mesh inner shell and increased mobility with flexible outer components
Subtle styling
Will last a lifetime
Negatives: Specialized Shindig MTB Shorts
Only one zippered pocket
Price – 100 bucks may be a little much for some riders (but is about average)
Availability – Only available at Specialized.com or an authorized Specialized dealer
May be heavy for some riders
If you know what 5.10′s are and your bike has 6.4″ of rear wheel travel or more, the Specialized Shindig's will be a great set of MTB shorts that will fit your needs. While they might be a little bit heavier, they provide a ton of protection and will withstand the abuse of harder riding with World Cup style performance.
More info on the Shindig shorts at Specialized.com
---
Specialized Para Mountain Bike Shorts
The Specialized Para mountain bike shorts come in right under the Shindig above and provide a different feature set that may suit different riding styles.
Specialized Para MTB Short Specs
This cargo short packs all the right performance features for the biggest days on the mountain or anywhere else you're looking to roam.
Outer shell is a durable nylon/polyester blend
Inner polyester mesh lining for extra comfort while riding
Full function front snap and fly
Waist adjustments and functional belt loops enable custom fit
Single back pocket on right hip with angled front hand pockets
Mid-size cargo pockets on thighs for additional storage
Contoured shape at the leg opening for pedaling comfort
Also available in Black
MSRP: $90.00
Review: Specialized Para MTB Shorts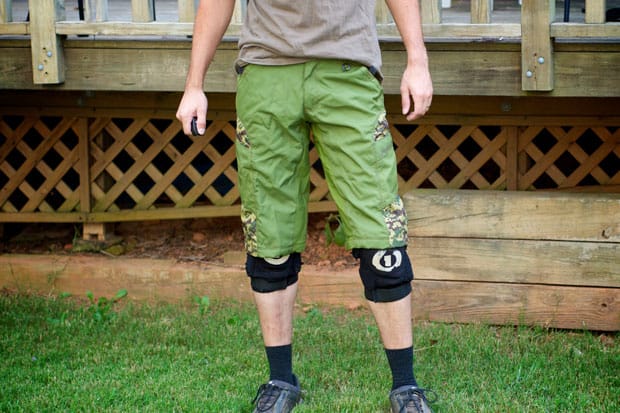 The Specialized Para mountain bike shorts are noticeably lighter than the Shindigs previously reviewed. With a thinner outer shell, the Para's provide additional protection than conventional mountain bike shorts but not to the extreme of the Shindig's. With multiple pocket options (cargo, side and rear) the Para's are really well suited for all day saddle excursions over rough terrain. The heavy duty zipper and double button combination provides a secure fit while the adjustable velcro straps and functional belt loops will allow you to get the perfect fit.
On the bike, the Specialized Para shorts are pretty comfortable. Even though they lack designed in stretch areas, the lighter outer shell provides enough movement that you do not feel constricted while pedaling. The inner mesh shell is confortable in multiple riding situations (stand and hammer, sit and spin), but for long days in the saddle you are going to want to match these shorts with some kind of inner shell as one is not included.
For easy pocket access, Specialized thought ahead and attached a loop to every single pocket flap to pull on to release the velcro. This made for easy opening with full fingered gloves on and was a nice addition on the trail.
With two color options available…Fatigue (reviewed) and black/white…there are options to fit your style needs. Personally, I am more partial to the black/white setup over the fatigues but that comes down to personal preference.
Positives: Specialized Para MTB Shorts
Durable outer shell that will withstand harder riding
Lighter weight shell for all day excursions
5 pockets to carry anything you need with loops for easy access
Plenty of adjustment for fitment
Negatives: Specialized Para MTB Shorts
Price – 90 bucks may be a little much for some riders (but is about average)
Availability – Only available at Specialized.com or an authorized Specialized dealer
May be heavy for some riders
Styling may not be up your alley
The Specialized Para mountain bike shorts are designed for more aggressive mountain bikers that are looking for a mountain bike short that provides both durability and flexibility for all day hammers in the saddle. The longer length and durable outer shell is going to lend itself towards riders that are not weight conscious but are looking for more protection as the take their 5.5″ to 6.4″ travel mountain bike up and over the hill in search of the nastiest way down.
More info on the Para Short at Specialized.com
Overall Thoughts: Specialized Mountain Bike Shorts
The Shindig and Para mountain bike shorts are for riders that like the more agressive style of mountain biking, so if you are into lightweight wheels and short travel…these are not going to be the shorts for you and you will want to check out the rest of the Specialized lineup.
Taking the shorts intended use into consideration, these are some of the best shorts I have found for this style of riding. With incredible durability and comfort, both the Shindig and Para provide more agressive riders with an incredible option that is custom tailored to their needs. They also fit perfectly with other increased protection items that are a requirement for much of this riding style as you can see in the pictures with the Kyle Straight knee pads.
If you are looking for a mountain bike specific set of shorts, hit up the Shindig for FR/DH and the Para for the lighter side of FR/DH and heavier side of AM.
For the rest of the mountain bike apparel lineup from Specialized mountain bikes, check out Specialized.com
Review: Harlot Murray Short and Primo Jersey – MTB Gear Review
Harlot Clothing Co. sent over some of their latest mountain biking apparel for review on Bike198. The Harlot Murray short and Primo jersey are some of the offerings on the men's side of things, but Harlot is most known for the great women's line for those females looking for MTB and commuter related gear.
More About Harlot Clothing Co.
Finally, bike shorts and activewear for the rest of us. No shiny lycra, no bulky pads. No pink butterflies, no neon anything. Just simple lines & style that let you get on with your sport.

We understand people like you, because we are people like you. We ride, run, hike, and play with the best of them, and we put that knowledge straight into our shorts, tops, and gear.

Our activewear and bicycling apparel is made in the USA in small batches.
Review: Harlot Murray Mountain Bike Short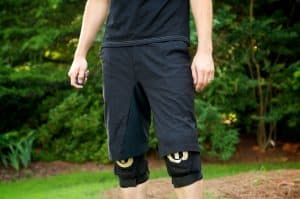 h4m is Harlot's performance line for men
85% nylon/15% polyester stretch shell offers lightweight protection
Dryon™ water repellent finish
Gusseted crotch with 4 way stretch panel
Fit easily over padded shorts and armor with supple stretch throughout
Wicking, lined waistband prevents chafing
Integrated seatbelt style straps allow waist adjustment for perfect fit
Zip fly, industrial snap waist tab, 2 deep trouser pockets in front
h4m embroidery on right hip
Made in USA of North American materials
MSRP: $89.oo
"For those that like the understated, these bike shorts offer all the technical features you need + the clean lines and style you crave."
General Use: Harlot Murray MTB Short
I am pretty picky when it comes to mountain bike apparel. Not only does everything need to be comfortable, but it needs to breathe well in the hot southeast humidity that plagues our best part of the riding season.
The Harlot Marray mountain bike short is a simple, all-black design made out of a lightweight nylon/polyester blend. When I first put them on, I noticed right away that these shorts are not as heavy as they look. The combination of materials sits on the body nicely with most of the weight up around your hips with the adjustable seatbelt style'd straps. Adjustments in the waistline are made via these straps and the wide contact patch for the velcro makes for a durable connection that will not come loose while riding.
The front attachment is done through a burly zipper and a combination of two buttons and velcro. Throughout my riding, this never came undone or loose, even during moments where I was unexpectedly sliding across the ground. The velcro makes it extremely easy to get the buttons pushed while wearing gloves as you are not fighting to keep the shorts up after a short "relieve yourself on the side of the trail" break. Everything comes undone and closed back up again very easily.
On the Trail: Harlot Murray MTB Short
The Harlot Murray MTB short is incredibly comfortable on the trail. The lightweight design almost goes unnoticed as you rip through singletrack. As I went blowing through creek crossings and pouring sweat onto the shorts while riding, precipitation actually beads up on the shorts preventing soak through. This was a welcomed feature on some of our wetter rides as I didn't feel like the lower half of my body was completely soaked.
The length of these shorts is perfect for my needs. As you can see by the pictures, the Murray short sits over the Kyle Strait 661 knee pads perfectly and the lightweight design keeps them comfortable on the knees even when you are not padded up. The inner stretchy material keeps things tight around the pads without being too tight on your body. It really is the perfect combo for those of you that wear pads on a regular basis.
The lightweight material did slide on slicker liners, so it is probably best to use liners that are dedicated mtb internals rather than lycra that is made to wear on its own. Having some texture to the outside of the liner helps prevent any slipping as you sit back into the saddle.
Overall: Harlot Murray MTB Short
These are a great set of shorts for mountain biking. The plain black style really speaks well to my preferences and the lightweight design keeps these longer shorts still cool during the summer months. If you do not get a lot of tree cover in your area, the black may prove to warm up on longer rides, but in the southeast they were about perfect. The increased length and stretchy interior really helps out with pad coverage to prevent the shorts from bunching up on the upper section of the pad.
Positives: Harlot Murray MTB Short
Durable Velcro Adjustment
Simple, Lightweight Design
Perfect Shorts For Knee Pads
Negatives: Harlot Murray MTB Short
No Liner Included
Limited Pockets
Can Slide On Roadie Lycra
If you are looking for a no nonsense set of shorts that can be used in multiple applications, check out the Murray's from Harlot. They have become a go-to set in my gear bag.
Pick up your own pair by clicking here.
Review: Harlot Primo Mountain Bike Jersey
h4m is Harlot's performance line for men
100% wicking, technical mid-weight polyester
Abrasion, snag, and pill resistant
Flatlock seams, contrast stitching, tagless neck
Roomy fit with lots of stretch, slides easily over armor
Made in USA
Available In: Gray and Black
MSRP: $45.00
"Silky and soft jersey on the inside but strong and tough on the outside – primo indeed."
On The Trail: Harlot Primo Jersey
The Harlo Primo jersey is a simple black jersey with contrast stitching and a 3 diamond design. Made out of a wicking, technical polyester, the Primo jersey proved to be durable throughout the entire testing period (still looks as new as the day it came out of the box). Overall, the Primo jersey was very comfortable on long rides bringing the sweat off my body quickly and evaporating easily. As you can see by the picture, the neck opening is a little bit wider than I typically like, but I run into this issue with a lot of mountain bike jerseys across several brands.
Like the Murray shorts, the Harlot Primo jersey really goes along with my simple style, so…from a looks standpoint…I really like where Harlot headed with the design. Other than that…it is just a solid jersey for those riders looking for something simple to throw on and shred. If you need something that is a little bit lighter for summer riding, you can get the gray color that is also available.
Positives: Harlot Primo MTB Jersey
Very Durable Material
Simple, Understated Design
Repels and Evaporates Sweat Quickly
Negatives: Harlot Primo MTB Jersey
If you are looking for a simple, durable jersey to hit the trail with, the Harlot Primo jersey might be exactly what you are looking for.
You can pick up your own Harlot Primo by clicking here. (on sale for $20.00 right now)
Final Thoughts: Harlot Mountain Bike Apparel
The Harlot mountain bike apparel has become part of my regular wear because of the simple design and style. Especially with the shorts, the Harlot gear does exactly what I need it to do on the trail without any real flare or trendy designs. It just works and works really well. I would like to see a jersey for men out of their lineup that includes a zipper and pockets sometime in the future that compliments their style and the option of a specifically designed liner with their shorts that clipped in…but…other than that…this is a really solid offering for mountain bikers looking for apparel that is both light and durable.
Descente Mountain Biking Apparel In for Review
It was an apparel week here at Mountain Biking by 198. To round out the review lineup, Descente sent over their Newton MTB short and Genetic Tee to fall and run into trees with. Mountain biking apparel is really starting to expand as riders are demanding a more relaxed, baggy look to compliment the all mountain/trail riding style. With the increased demand, comes more products for us!
More About Descente
Ripped from DescenteAthletic.com
The Europeans allowed for an apparent fluke in the 1986 Tour de France as American Greg LeMond raced to victory. But when an upstart American team, wearing Descente clothing, put its young American captain, Andy Hampsten, on the top of the podium at the 1987 Tour of Switzerland, the cycling world thought it had seen it all. Imagine the shock on the Euros' faces when in 1988, the same skinny kid from North Dakota and the same 7-Eleven team, wearing the same Descente uniforms, won the Giro d'Italia in a dramatic snowstorm over the Gavia Pass.

An indomitable team spirit, innovative approaches and savvy tactics all contributed to 7-Eleven's wins over the years. The team turned the cycling world on its ear. It was cutting edge, always doing things differently, right down to the very clothing it raced and trained in.

"No doubt, we were doing things the rest of the peloton had never seen," explains Hampsten. "Here we were, these young American guys, on an American team, doing things like stretching. Who'd ever heard of that?! We were cutting edge, and our Descente clothing was a big part of that. That stuff helped make the difference between winning and losing."

In 1935 Takeo Ishimoto launched the modern technical apparel revolution in Osaka, and by 1949 was focused upon sports apparel exclusively. The Descente "Spirit" logo, those familiar three arrows, represent the multi-dimensional and ceaseless pursuit of perfection in sporting apparel: function, innovation and quality, tied together through integrity. Descente expanded into North America in 1979 and quickly became an icon brand in the world of sport.

The Descente brand for the sports categories of Cycling, Mountain Biking, Run, Fitness and Triathlon was revived in North America by veteran and former pro bike racer Hugh Walton in September 2002. In 2008, Veltec Sports joined forces with Descente Athletic and became the licensee of Descente in North America and Europe. The power of the Descente brand continues to grow as seventy years of experience and collective passion for sports drives the ongoing mission to craft the finest technical apparel available today.
Our Review Apparel from Descente
Descente Genetic Tee
---
Orbit Lite – Polyester with a touch of Lycra™ for a great fit, feel and moisture management
Descente H2Zero™ fabric with vapor-channel technology and a soft, comfortable hand
V-neck construction
Embroidered Descente logo on sleeve and chest
SIZING: SM-XL
COLORS: Apricot (AP), Iron (IR)
FIT: Sport
WH2250
Descente Newton MTB Short
---
Lightweight, durable matte Nylon shell
Four-way stretch rip-stop Nylon gusset
Welded front and back seams for a lightweight and sleek loo
Welded front double pocket and welded back zippered pocket
Removable D-Vente™ 6-panel contoured liner with DNA gripper and quad stitching
Stealth Chamois
DNA 1 ½" logoed, elastic waistband on line
Two-snap fly with zipper
Waistband has dual ladder lock cinches
Back stretch yoke
10 ½" inseam
SIZING: SM-XL
COLORS: Black/Iron (BKIR)
FIT:  Club
WH6000
Initial Thoughts on the Descente Apparel
The Descente mountain bike apparel is durable. The Newton shorts are made out of a stiff nylon shell that feels like water will never have the ability to penetrate. This does create a stiffer short than usual. There are no traditional side pockets which are missed, but there are other lower side pockets to hold any essentials. The detachable chamois is a nice touch and the construction of the waist band is the best out of the detachable mountain biking chamois I have tried up to this point.
As you can see by the pictures, the Genetic Tee is form fitting and made out of a strong mesh. The v-neck design keeps the tension off your neck.
As with the rest of the apparel reviews, I am going to ride with these for awhile and see how they do in hot conditions on the trail. Stay tuned for more…
Buy Descente Mountain Biking Apparel