Local Support: Look For Killer Deals That Benefit MTB Advocacy Groups
Every country has advocacy groups that fund trail building, raise awareness and provide support for local mountain bikers. In our section of the US, we have SORBA (Southern Off-Road Biking Association) which is a chapter of IMBA (International Mountain Biking Association). By becoming a member, you are supporting your local mountain biking groups by increasing membership numbers that help with fundraising and making your small donation that goes towards fees associated with building and maintaining trails.
What you might not know…is that it doesn't have to stop there. Large companies like to partner with advocacy groups like SORBA and IMBA to provide some killer deals to their members while also supporting the groups at the same time. Recently, Bike198 took advantage of one of those deals.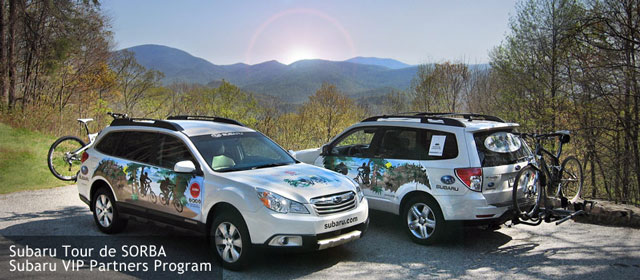 Subaru VIP Partner Program With SORBA
Subaru has been known throughout the industry for providing support to adventure sports fanatics all over the world. Their cars are actually built with us in mind as they provide fun to drive AWD platforms that include factory racking options and direct mount roof rack mounts. In just about every adventure area of the US, you can find Subaru vehicles around every corner.
In our area, Subaru partnered up with SORBA to provide discounts to members on new cars. With the only prerequisite being a membership length of 6 months or more, SORBA members can get invoice minus 2% and Subaru will also donate $200 to SORBA towards the land access fund.
As you can probably imagine, the full time bike hauler for Bike198 is now a shiny, silver Subaru!
As Your Local Group About Deals In Your Area
This kind of partnership is pretty normal in the mountain biking industry. Check with your local chapters and groups to see if there are any deals you can take advantage of while also supporting local mountain biking.
If there are not any current deals running right now, get with your local boards to brainstorm potential partnerships. You will be surprised how many industry and non-industry companies are willing to partner up with nonprofits to promote their brand, increase business and do all of this through programs that benefit the community.
Discount Bike Parts: Where To Find and What To Trust

Finding the best discount bike parts and mountain bikes is going to become even more crucial as years roll on. It is painfully obvious that the prices of new mountain bike frames and components are not decreasing anytime soon (seems like the price of mountain bikes and components keep going up! Check out the new SRAM and Shimano components), so by keeping an eye out and looking in the right places, you can find the best mountain bike deals and find discount bike parts that will stretch your dollar a lot farther down the trail. Here are some of my best resources for finding discount bike parts.
What Should I Be Upgrading?
When I have some extra cash to spend on mountain bikes and components, I try to look at my budget and where that money will get the most return on the dollar. For many mountain bikers, they take that several hundred bucks or less and jump out to buy the top of the line X.0 or XTR rear derailleur (Related: Is X.0 or XTR Really Worth It?) and that…in my opinion…is the wrong move. In the mountain bike component market, unless you are a racer extremely worried about weight, components from the XT or X9 component group from Shimano and SRAM perform just as well as their flagship lines.
Also, your money might be better spent on wheels or suspension components where you will see a lot better improvement in your mountain bikes ride for the dollar. It is just something to think about as you look for discount bike parts or look to find the best mountain bike deal to replace your entire sled.
Where? Find Discount Bike Parts and Mountain Bike Deals
So now that you know which component, frame or complete bike you want, it is time to go out and find it for the lowest possible price you can.
eBay: New and Used Mountain Bike and Discount Bike Parts
eBay is the typical, "go-to" source to find new and used parts at a lower price. With thousands of mountain bike components, frames and complete bikes, eBay can be your #1 source for finding new and used discount bike parts, but you need to make sure you buy from a reputable seller.
Only buy parts that have detailed description and pictures.
Only buy from sellers with a good reputation.
Always pay with PayPal to insure resolution if the part is not as advertised.
If it is "too good to be true", it normally is.
Find Discount Bikes and Parts On eBay
Forum Classifieds: Slightly Used Mountain Bikes and Components
Forum classifieds are a great way to find slightly used mountain bikes and parts. I have found some of my best mountain bike deals and discount bike parts on forum classifieds as many riders try something 3 times, throw it in their garage and then sell it when the latest and greatest hits the market. While there are huge, worldwide forums (like MTBR.com) that have the best selection, sometimes it is better to hit up your local forum so you can see the mountain or part before purchase.
Online Blowout Deals: New Bikes and Parts for the Price of Used
If you watch the trends, when mountain bike and component manufacturers release a new lineup, the online retailers need to blow out the old models to get rid of the inventory quickly. By watching out for these deals, you can get the best mountain bike deals you can find on complete bikes and frames. You can also find discount bike parts at a steal as it costs the retailer more money to keep old parts in stock than it does to sell them to you at near cost.
Just about every month, online retailers like JensonUSA, Huck N Roll and others will run a great sale on inventory they need to get rid of quickly.
Side Note: There is now a specific "deals" site for bikes at Chainlove where you can find some extremely good deals. Everything is one part at a time until it runs out, so you have to be on your toes and checking back regularly for discount bike parts and apparel.
Your Local Bike Shop: The Home Away From Home
The reality of local bike shop ownership is that it can be difficult to have discount bike parts, bikes and frames. Your best bike deals are not usually found at your LBS, but there are distinct advantages from buying from a LBS including service, atmosphere and supporting local businesses. Just like online retailers, local bike shops need to watch their inventory and make sure that bikes and components do not sit on the floor for too long.
If you already have a relationship with a local bike shop, sometimes the simple question, "hey…what do you guys really need to get rid of? I could use a new wheelset." will get you a long way in finding discount bike parts locally. You might not get exactly the brand and model you want, but you will get the service and experience of a LBS to back it up.
Discount Bike Parts: The Search That Requires Patience
Discount bike parts are an easy thing to find if you do not have to have it today. With a little patience and the willingness to check out multiple sources online and off, you can get higher quality mountain bikes and components for a cheaper price. After all, don't we all want to find the best mountain bike deals so we can continue to upgrade our rigs?