mountain bike riding
What is mountain biking about?
What is mountain biking about?
This great video by Filme von Draussen questions what mountain biking is really about. The best part about the sport for me is the ability to make every trail experience different. Some days it is about finding flow and extracting every single bit of speed out of a trail. For other days, it can be about a stress relief and channeling my life by beating up a local trail.
Mountain biking is open to interpretation. Every trail experience becomes a new adventure, experience and memory. Even that same trail that you have ridden 1,000 times before takes on new meaning as you bring your emotions into the ride.
Mountain biking for me is more than just riding a bicycle on dirt…it has become an integral part of my life providing more than just an activity to do with friends on the weekend. It preserves my mental and physical health while providing a creative outlet that keeps me begging for more. For this rider, mountain biking is more than the bike and the trail…it makes me who I am today.
Your own experience is out there…you just have to go out and ride.
Finding The Flow: Becoming One With The Trail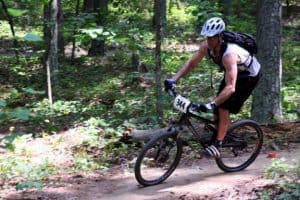 This guest post was written by a great friend of Bike198, Kyle Glave. Not only is Kyle an avid mountain biker for over 19 years, part time endurance racer, lifelong outdoor adventurist, but we have ridden together for years. I thought this article on flow would be a great lead in to a weekend of riding.
I was recently speaking to a friend and they mentioned a local trail that didn't have a lot of flow to it. I tend to agree with the statement about this trail as it is a very rocky and rooty trail and if you are not on it, it can bounce you all over the place. I rode this trail again a couple of weeks ago and realized that there is a lot of flow on that trail…it is just a matter of finding it.
It got me to thinking about flow in general. There are definitely a lot of great trails out there that have been built with tremendous flow to them. Basically, you just hop on your bike and go on auto pilot more or less cruising along on the trail as it flows and undulates along the contours of the land. No doubt these trails are a lot of fun and a blast to ride. But the flow I am talking about comes from within. Every avid mountain biker has experienced that moment where everything just clicks. Your breathing is rhythmic; you are always in the right gear at the right time, charging up the hills, staying off the brakes, railing the corners, floating through the rock gardens, etc. You and the bike feel as one. It is an extension of you. This is the type of flow that anyone can tap into and find on any trail regardless of how technical that trail is.
Finding flow for me is a matter of just relaxing and getting into a rhythm. Loosening your grip on the bars, focus on breathing instead of holding your breath in technical sections, focusing down the trail instead of right in front of your tire and the obstacles that are in front of you. Nice smooth pedal cadence instead of mashing the pedals. And literally a feel for the bike underneath you where your subtle weight shifts have you railing the turns, bombing the decent and hammering up the hill. Those moments are magical. If you can tap into that, you find you are expending a lot less energy overall and you end up coming away from the ride with a big grin on your face wanting more.
So the next time you are on a trail and its working you, stop for a moment, relax, clear the head and see if you can get into a rhythm with your bike. You might be surprised to find that all of a sudden you are floating over everything, hammering a bigger gear, clearing that climb, bombing that downhill, blasting the rock garden and railing the turns.
Guess what you just found Flow!
This guest post was written by Kyle Glave, an avid mountain biker for over 19 years, part time endurance racer, lifelong outdoor adventurist. If you would like to write an article, please contact us via the contact page and we will get things rolling.
Discount Bike Parts: Where To Find and What To Trust

Finding the best discount bike parts and mountain bikes is going to become even more crucial as years roll on. It is painfully obvious that the prices of new mountain bike frames and components are not decreasing anytime soon (seems like the price of mountain bikes and components keep going up! Check out the new SRAM and Shimano components), so by keeping an eye out and looking in the right places, you can find the best mountain bike deals and find discount bike parts that will stretch your dollar a lot farther down the trail. Here are some of my best resources for finding discount bike parts.
What Should I Be Upgrading?
When I have some extra cash to spend on mountain bikes and components, I try to look at my budget and where that money will get the most return on the dollar. For many mountain bikers, they take that several hundred bucks or less and jump out to buy the top of the line X.0 or XTR rear derailleur (Related: Is X.0 or XTR Really Worth It?) and that…in my opinion…is the wrong move. In the mountain bike component market, unless you are a racer extremely worried about weight, components from the XT or X9 component group from Shimano and SRAM perform just as well as their flagship lines.
Also, your money might be better spent on wheels or suspension components where you will see a lot better improvement in your mountain bikes ride for the dollar. It is just something to think about as you look for discount bike parts or look to find the best mountain bike deal to replace your entire sled.
Where? Find Discount Bike Parts and Mountain Bike Deals
So now that you know which component, frame or complete bike you want, it is time to go out and find it for the lowest possible price you can.
eBay: New and Used Mountain Bike and Discount Bike Parts
eBay is the typical, "go-to" source to find new and used parts at a lower price. With thousands of mountain bike components, frames and complete bikes, eBay can be your #1 source for finding new and used discount bike parts, but you need to make sure you buy from a reputable seller.
Only buy parts that have detailed description and pictures.
Only buy from sellers with a good reputation.
Always pay with PayPal to insure resolution if the part is not as advertised.
If it is "too good to be true", it normally is.
Find Discount Bikes and Parts On eBay
Forum Classifieds: Slightly Used Mountain Bikes and Components
Forum classifieds are a great way to find slightly used mountain bikes and parts. I have found some of my best mountain bike deals and discount bike parts on forum classifieds as many riders try something 3 times, throw it in their garage and then sell it when the latest and greatest hits the market. While there are huge, worldwide forums (like MTBR.com) that have the best selection, sometimes it is better to hit up your local forum so you can see the mountain or part before purchase.
Online Blowout Deals: New Bikes and Parts for the Price of Used
If you watch the trends, when mountain bike and component manufacturers release a new lineup, the online retailers need to blow out the old models to get rid of the inventory quickly. By watching out for these deals, you can get the best mountain bike deals you can find on complete bikes and frames. You can also find discount bike parts at a steal as it costs the retailer more money to keep old parts in stock than it does to sell them to you at near cost.
Just about every month, online retailers like JensonUSA, Huck N Roll and others will run a great sale on inventory they need to get rid of quickly.
Side Note: There is now a specific "deals" site for bikes at Chainlove where you can find some extremely good deals. Everything is one part at a time until it runs out, so you have to be on your toes and checking back regularly for discount bike parts and apparel.
Your Local Bike Shop: The Home Away From Home
The reality of local bike shop ownership is that it can be difficult to have discount bike parts, bikes and frames. Your best bike deals are not usually found at your LBS, but there are distinct advantages from buying from a LBS including service, atmosphere and supporting local businesses. Just like online retailers, local bike shops need to watch their inventory and make sure that bikes and components do not sit on the floor for too long.
If you already have a relationship with a local bike shop, sometimes the simple question, "hey…what do you guys really need to get rid of? I could use a new wheelset." will get you a long way in finding discount bike parts locally. You might not get exactly the brand and model you want, but you will get the service and experience of a LBS to back it up.
Discount Bike Parts: The Search That Requires Patience
Discount bike parts are an easy thing to find if you do not have to have it today. With a little patience and the willingness to check out multiple sources online and off, you can get higher quality mountain bikes and components for a cheaper price. After all, don't we all want to find the best mountain bike deals so we can continue to upgrade our rigs?
Contest: What Is Your Most Memorable Ride?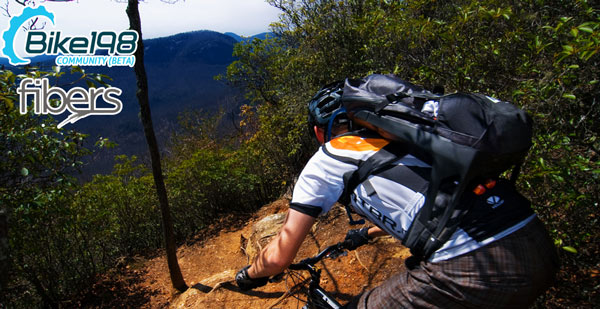 Fibers.com has hooked us up and we are going to give away 5 $25.00 vouchers for Fibers.com. On Fibers.com, you can purchase one of their pre-made products and t-shirts (mountain biking samples below) or you can customize and make your own design right on their site.
Fibers.com Contest Details
Describe your most memorable ride on the thread linked below on Community.Bike198.com. The top 5 favorites picked by the Fibers.com crew will get one of five $25 vouchers to be used on Fibers that are good for buying/customizing/creating a t-shirt/product. You can check out their mountain bike t-shirts here.
Dates for submitting: 3/1/2010 – 3/8/2010
URL for Contest Submission: Most Memorable Ride
If you haven't registered yet for the free Community.Bike198.com forums, you can do so by clicking here: Register for the Forums
First Look: Kool 'N Fit Sport Performance Spray
With the prime riding season coming for those of us on the top half of the world…we are looking for ways to get our legs ready for the abuse they are going to take on the first couple of excursions out on the bike. All of off-season conditioning, working out and spin bike brainless spinning is all going to come to a head with beautiful blue skies and tacky dirt just waiting to be ripped up.
As we look for ways to lessen the blow on our legs, there are certain products on the market that promise to help us out with that situation. The crew over at Kool 'N Fit Performance Sports Spray sent me over a sampler pack to try out. So what the hell is Kool 'N Fit?
Kool 'N Fit Performance Sports Spray
From koolnfitsport.com:
KOOL 'N FIT® SPORT PERFOMANCE SPRAY is a proven, powerful, and all-natural external muscle spray used by professional and amateur athletes alike to get an edge over their competition. It vitalizes the muscular system by increasing blood flow (up to 30%), by relaxing tight muscles, and by avoiding cramping and fatigue. When used before, during, and after competition maximum workload can be achieved & maintained, injury risk is being minimized, and recovery is accelerated. This time-tested European formula is easy to use, safe and effective, and generates a feeling of well-being. It is non-staining, leaves no messy residue, and has a fresh aroma-therapy scent.
Apparently, there are several pro teams using this throughout the mountain biking industry, so I figured it was worth a look. I haven't ever used a product like this before in my riding, so it will be interesting to see if there are any positive affects from its application.
Have you guys ever used a product like this? What were your results?
You can purchase your own bottle of Kool 'N Fit by clicking here or on Kool N' Fit's website…
Mountain Bike Halmark Holiday
So…my wife comes to me this week with a proposition. This year, for Valentines Day, she wants to go ride together! My mouth almost hit the floor. No expensive dinner and flowers? No getting dressed up to go somewhere I really don't want to? You really want to do what I want to do? Fantastic!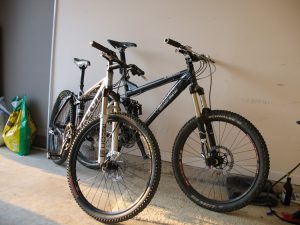 Historically, I have not been a fan of the Halmark holiday, but this year…we should actually have fun together. Unfortunately…it is raining here in Georgia, so today I am going to do a road ride, install a new suspension fork on her Felt Virtue 4 and get ready to go on a Valentines Day ride tomorrow. That…along with the RP23 and new bars, should bring her ride to a point that it is much more trail friendly for a light rider. The current Rock Shox Recon coil is harder to tune to her weight and is unneeded weight on the front end of the bike.
Jenn has not been able to ride lately because we have been incredibly busy at the new house. She has been attending a lot of spin classes at the L.A. Fitness down the street, so her hard work at classes should pay off on the trail. She has always been great at the technical aspect of riding so the rest comes with saddle/spinning time.
What can I say? I am a lucky guy…I am having a mountain bike Halmark Holiday! Here is to you and yours!