Series Summary: How To Become A Better Mountain Biker
Photo by
tricky ™
The series "How To Become A Better Mountain Biker" has come to a close. Here is the 6 part series in summary.
Part 1: Ride Different Trails
RIDE DIFFERENT TRAILS | HOW TO BECOME A BETTER MOUNTAIN BIKER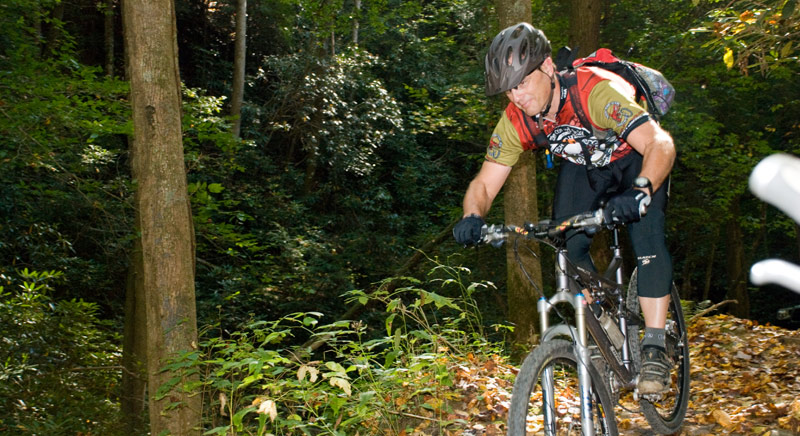 Everyone has their local trail that they have grown to love and know like the back of their hand. Here in lies the major flaw with becoming a better rider on your local trails…YOU KNOW IT LIKE THE BACK OF YOUR HAND! This is great when you are looking for a quick ride or one where you don't have to think. You can put it on autopilot and go through the same routine you are used to doing every Tuesday. Becoming a better rider is best accomplished by going outside of your comfort zone and away from the norm. Many times, riders will even ride the same trails on the same trail system over and over again. (Read More…)
Part 2: Sessioning
SESSIONING | HOW TO BECOME A BETTER MOUNTAIN BIKER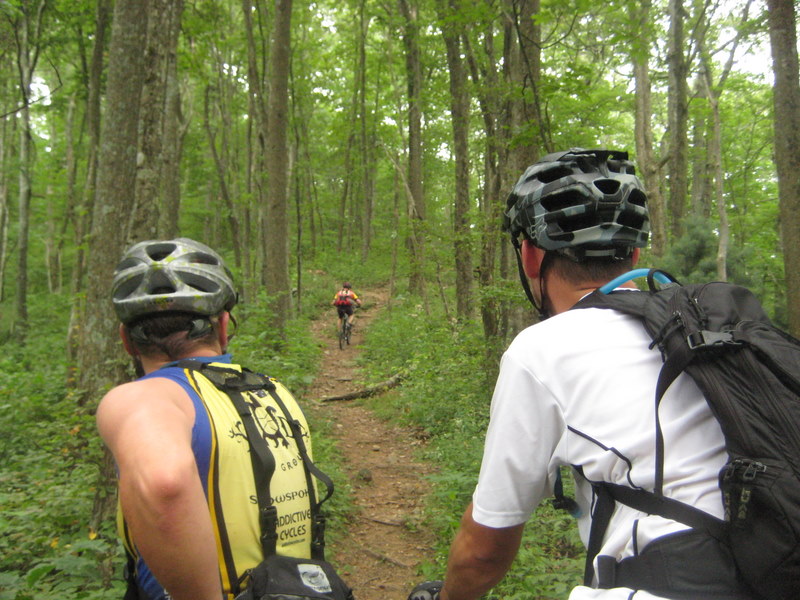 That is sessioning…picking out a small section of trail and doing it over and over again until you get it right. As the saying goes, "practice makes perfect" and how are you going to become a better rider if you don't practice? No one expects you to be perfect the first time out, so take your time and get it right. The more you do this kind of "redo", the better rider you will become. Sessioning is the art of practicing and developing your skills in areas that you are not as proficient in. (Read more…)
Part 3: Diversify
DIVERSIFY | HOW TO BECOME A BETTER MOUNTAIN BIKER
It is true, if you diversify your riding…you will become a better rider. This is a well known fact among many different disciplines in many sports. Why do you think there are stories of football players taking dance lessons? The more your body gets used to being out of its normal atmosphere, the more skills you pick up and apply to your favorite kind of riding style. In the end, you become a better mountain biker. (Read more…)
Part 4: Miles…Miles…and More Miles…
MILES…MILES…AND MORE MILES… | HOW TO BECOME A BETTER MOUNTAIN BIKER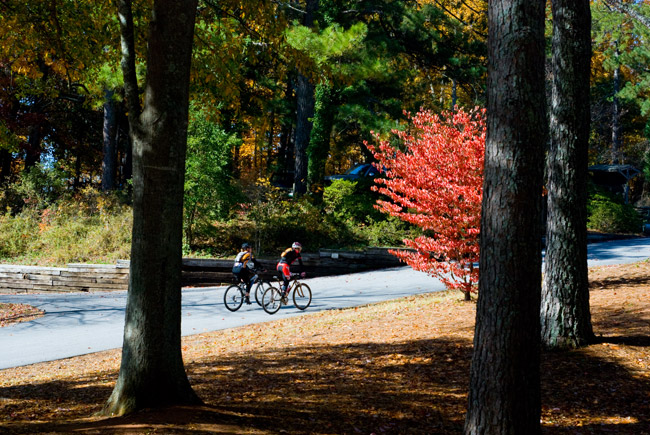 You can not expect to be better at any discipline of cycling if you do not log some serious miles. A reoccurring theme throughout this series has been that "practice makes perfect", so logically…getting a lot of miles under your belt is essential to honing in your mountain biking skills. So now it is time…whether it is a lot of short mileage rides or several long mileage rides…to start racking up the mile count and become a better mountain biker! (Read more…)
Part 5: Cross Training
CROSS TRAINING | HOW TO BECOME A BETTER MOUNTAIN BIKER
This is shocking but true…there are other things that you can do OTHER THAN RIDE A BIKE that will make you a better mountain biker. I know this is shocking and appalling, but it is time to warm up to the fact that other fitness conscience, like minded individuals have found ways to improve their life and health by finding happiness in other forms. Here are some other ways, other than saddle time, that will make you a better mountain biker. (Read more…)
Part 6: Heavy Bike Training
HEAVY BIKE TRAINING | HOW TO BECOME A BETTER MOUNTAIN BIKER
Time for part 6 in the series, and this one is my favorite. Heavy bike training is the #1 way that I have become a better mountain biker in recent memory. The theory here is pretty simple. Have you ever seen a batter warming up in the on deck circle that is using a weight or second bat to get ready? This batter is warming up with heavier weight so when his time comes to step up to the plate…the bat feels lighter in his hands. (Read more…)
A Challenge To You…The Reader
What have you done to "become a better mountain biker"? I want to hear your thoughts, tips, suggestions, etc. Comment below or send me your article and I will post it on the site!
Time To Give Thanks…
It is Thanksgiving over here in the states, so it is time to give thanks for all of the great gifts in our lives. I'd like to take this opportunity to thank you guys for supporting MTB by 198 in its first year or operation. A website is nothing but text in space without its readers. 
There are a lot of exciting developments in the works and none of that could be done without your support.
GoPro is sent a couple of their new wide angle 5mp Hero helmet cams in for use on the site, so stayed tuned for a lot more video content like this…Brian Lopes ripping up A-Line in Whister shot with a new GroPro.

Brian Lopes railing it down A-line at Whistler… from GoPro on Vimeo.
Or Craig Sanchez ripping it…

Helmet HERO Wide Jedi run through the woods from GoPro on Vimeo.
Or this GoPro Highlight Reel…(we are getting in one of those chest mounts…)

GoPro Helmet HERO WIDE Highlight Reel from GoPro on Vimeo.
Check out GoPro's website for more info…
Hey! Watch This!
What does this line mean other than a wreck is about to happen in front of a camera? That your riding buddies are some of your best sources for help while riding. As much as I would like to think that my site is the absolute best source for riding tips and information…that just isn't true. Sites like mine can be a valuable resource, but the following resource is your best source of riding information as it pertains to you and your riding style.
Riders that are better than you are…that you ride with…are your best source of information.
Why are they your best source?
They see you ride.
They ride the same trails you do.
They know your riding probably better than you do!
The advice you get from more experienced riders is priceless. Most of the time, you never know what you are really doing wrong without some outside input. Often it is difficult to tell what you are exactly doing on the bike to begin with. If you already knew you were doing it incorrectly, you would have already fixed it.
Use the advise from those riders that you see riding the way you want to. For this to work, you have to ask for help. Most mountain bikers enjoy helping other riders get better at the sport, so don't be afraid to ask. We are all out there with the same purpose…a great ride.
How did you take that turn so fast?
I feel like I am getting bounced around too much. What would you recommend?
Can you ride behind me to see what I can do to ride smoother and faster?
How did you get over that obstacle?
Be specific and you will get specific answers…answers that will help you achieve the goals that you have set for yourself.
What if I don't ride in groups?
For beginning riders, it can be very difficult to find groups to ride with that are at your riding level and higher. Mountain biking is a very social sport. We enjoy sharing the experience with others and watching riders grow. In our group, there have been several riders that were just recently "new" or "not at that level yet". Now they are monsters and we are struggling to keep up. Watching that progression is part of the appeal of mountain biking as you get to watch beginners become experts.
Find a group that you get along with and enjoy the same kind of riding style/trail. Your preferences may change over time (xc, am, fr, dh, etc.) but the friendships you build will last a long time because of that common bond.
Where do I find these groups?
Forum Sites
Local forum sites are the best place to start. While sites like MTBR.com, RideMonkey.com and PinkBike.com are great forums, it is better to be involved in one of your local boards to meet up with other riders in your area.
In the southeast United States, we have the Southern Off Road Biking Association (SORBA) which is now merged with the International Mountain Bicycling Association (IMBA). The SORBA website has an open forum where we discuss parts, organize rides and share riding pictures.
If you find yourself not going on a ride because you do not know very many people there…just remember…everyone is there for the same purpose…enjoy the ride with people they already know or don't know already. You will be welcomed in. It just might be that ride where you meet your group, but you will never know if you don't try.
This is also a great thing to do if you have recently moved to a new area. I have always found instant friends in the mountain biking community.
Local forum sites are also great for finding new trails or the best trails in the area. If you are traveling soon and you want to know where the best spots are…ask these people.
Social Media Sites
As many of you already know, social media sites have become a large part of many people's online world…including mountain bikers. Blogging is just as much about building a community as other web 2.0, social media outlets.
Sites like Facebook, Myspace and Twitter have brought people with similar interests together from all over the world. While you may never ride with some of the friends that you make over these networks, it is still great to talk to other riders.
Stumbleupon and Digg are two social media services that track the popularity of websites and articles. They are great ways to discover new sites that you may have never seen before.
These sites/services combined with forums are a great way to get in touch with other people that share your same interests.
Where Is MTB By 198 Across The Web?
To make things easy, click on the logo's below to go to MTB by 198′s pages. Add us as a friend and lets start sharing our riding experiences.




So get to adding your sites in the comments so we can start growing a community!
MTBR Pro Reviews
Be on the lookout for my Pro Reviews on MTBR. I have been talking with MTBR over the course of this week and we are both really excited about adding my reviews to their site.
The first review posted is the Maxxis Ardent 29er post that some of you may have already seen. From now on, I will be posting product reviews to the MTBR site at the same time as MTB by 198.
Links:
Thanks Gregg and the rest of the MTBR staff for including Mountain Biking by 198 on your site. We are really looking forward to the opportunity.
New Category Navigation
As the blog continues to grow, navigation across the posts and the site becomes increasingly harder. In an attempt to make this easier for you guys, I have created some new categories and created a listing that you will now find at the bottom of the page. Each category has the number of posts listed. Once you get into the category page with the post listings, you will notice it is very well laid out with pictures and summaries. Follow the "previous posts" link at the top and bottom of the page to get to the older articles. As always, you can search this site through the search function in the header and right sidebar.
I am always looking for ways to make this site easier to use.  If you ever have any suggestions on site layout or content, please shoot me an email.