Here Is Your 29er Mr. President – Niner Bikes Goes Presidential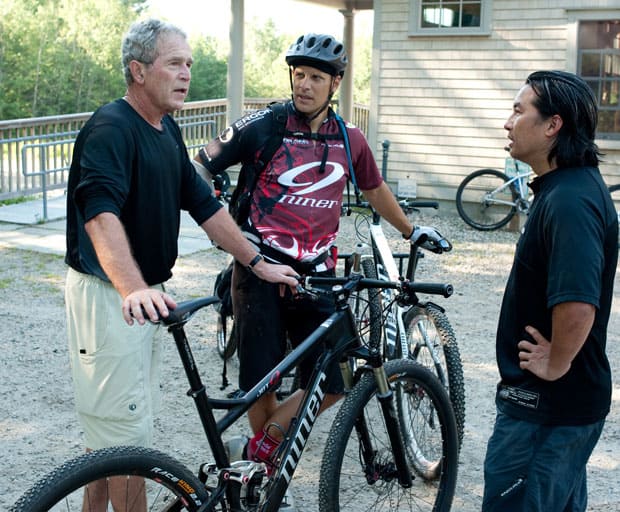 I just received a pretty cool email from the crew over at Niner Bikes. The attached press release (below) and picture (credit: C.A. Smith | casmithphotography.com) you see above is Chris Cugai and Steve Domahidy of Niner Bikes delivering a Niner Jet 9 to former President George W. Bush. President Bush has been known for his 26″ obsession, but this is his first jump into the big wheeled category and he picked a great bike to start on.
This story actually brings up a pretty important issue that needs to be addressed in the mountain biking community. One of the great aspects of riding is that I get to hang out with people from varying races, backgrounds, political views and religious beliefs…but we all hold a common ground when it comes to putting down the power with pedals. On a recent trip to the mountains, I was able to talk to a friend of mine on certain issues…some we agree on and some we don't…but at the end of the day, we are just two unique individuals that like to hang out on bikes.
Mountain biking is a common ground that has the ability to bring people together. There are very few sports in this world that have such a diverse group of obsessed loyalists that are able to set aside their differences for the love of the bike. This press release from Niner has no political affiliation. At the end of the day, it is just a couple of guys talking about the sport they love…mountain biking.
You can read our review of the Niner Jet 9 by clicking here.
Official Press Release from Niner Bikes
8/19/10 FOR IMMEDIATE RELEASE:
Niner Bikes Go Presidential
Former President George W. Bush checks out 29ers with Niner Bikes
Niner Bikes co-founders Chris Sugai and Steve Domahidy spent Thursday morning of this week delivering and fitting a Niner Jet 9 full suspension bike for Former President George W. Bush, with assistance from local Niner dealer Kennebunkport Bicycle Company.
"Most of Peloton 1, Mr. Bush?s regular mountain bike crew, is on 29 inch wheels and he wanted to check them out. He asked Brandon Gillard, owner of the Kennebunkport Bicycle Company and Peloton 1 rider, if he could try a Niner. Brandon called us and of course we were stoked for the opportunity" said Sugai " It is really hard to believe that just a few years ago we were showing our first frame at Sea Otter and now we are riding with a former President of the United States"
Bush, Sugai, Domahidy and the rest of the Peloton 1 crew (as well as a full complement of Secret Service people) went for a ride on the crew?s usual morning loop. "Mr. Bush is really fast" said Domahidy, "and a very good technical rider, too. He was flying on the Jet 9 and at the end of the ride said he dropped 3 minutes off of his fastest time!"
Post ride, there was ample opportunity to chat, and the group?s conversation covered everything from trails, trail access and trail building to entrepreneurship in the USA. Said Sugai, "I found that he was very interested in the challenges of being a small business in the current economic atmosphere. This has been an amazing opportunity and we really have Niner owners to thank – their support over the years has gotten our little company to this point".
Niner?s Jet 9 is their race-ready full suspension mountain bike. Light and fast, the frame features Niner?s proprietary CVATM full suspension system, and 3" of travel. It is available in three color options and retails at local Niner dealers for $1749.
Additional information can be found here: Niner Jet 9
Niner Bikes was founded 2004 in Southern California by Chris Sugai and Steve Domahidy. The company is dedicated to the ideals of passion, commitment and 29ers only.
Why Total Bike Weight Should Be Discounted In Purchasing Decisions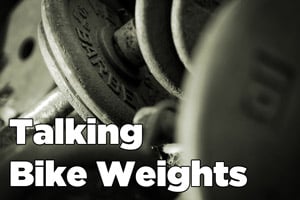 Back in the day, when basic geometry was pretty much set and 3″ of front suspension travel was considered DH (hard to believe it wasn't that long ago), the race for the lightest bike meant you were also riding the fastest rig on the market. With little to really distinguish the differences between brands outside of paint, the weight wars begun and everyone was on track to find the lightest bike that would still stay together on the trail.
Fast forward to today's mountain biking culture and we still see that same race. Marketing giants still brag out shaving the grams to make the lighter bike. We still see online bragging rights over a 1/2 pound weight savings over the other guy and the tutorials on how it was done. Now…where does this leave the recreational mountain biker and occasional, un-sponsored racer?
Why You Need To Look At The Bike And Not The Weight
Within the mountain biking industry, I see far too much emphasis focused on bike weight instead of what the bike was built for in application. Riders from all over the world are passing by bikes they have never ridden because they are a 1/2 pound heavier than the competition. In today's mountain biking market, advancements in geometry, suspension and materials has completely changed how we need to look at the overall weight of the bike and be more focused on how that weight translates into the trail experience.
Let's take a look at two bikes that have come through the stable at Bike198.com to illustrate a point.
Bike Comparison: Time To Make A Point

At only about a pound weight difference, on a excel spreadsheet…these two bikes might look like they are competition. However, the Niner Jet 9 is an 80mm purpose built race bike and the Specialized Enduro Pro Carbon is a 160mm all mountain/freeride sled. Both of these bikes have drastically different handling characteristics and are meant for two completely different riding conditions and purposes.
Now…let's take that theory one step further. The Niner Jet 9 is "heavy" by today's mountain bike race standards. However, the 28.36 lbs Jet 9 was also the fastest bike I have ridden in my 14 years of riding. Yes…it pedaled and moved forward on climbs faster than all of the sub 23 pound 26″ bikes I have owned/ridden and it was faster than the sub 27 pound 29ers…so what gives? Aren't heavier bikes supposed to be slower and lighter bikes faster?
There Is More To The Bike Than The Weight
As mentioned before, there is a lot more than just weight that goes along with how fast a bike is on the trail. The geometry, frame material, suspension setup and overall frame design have a drastic affect on how "fast" a bike feels. Two bikes, in similar markets (xc race, trail, whatever else), with similar weights can feel completely different once you put rubber to dirt on your favorite trail.
Next time you are looking to pick up a new rig for your riding style, try to ignore the weight measurements and actually get on one to test ride. You might be surprised at the result as you start to spin the cranks. Purely discounting a bike over weight issues in today's market will keep you off some extremely fast and capable rigs in all sorts of riding conditions.
Niner Jet 9 Review Update
After multiple rounds on the Niner Jet 9, what does 198 think about this rocket? It is fast…blazing fast actually. The Niner Jet 9′s 80mm travel platform makes for a great all day ride platform that is incredibly efficient. This bike has been put through some abuse in everything from groomed local hot spots to all mountain, technical epics and so far…it delivers exactly as promised. As I ride the Niner Jet 9, I have to remember that it is a purpose built machine. If you are a rider looking for the perfect 24 hr race bike or a pure cross country zealot, then the Jet 9 is built to make you faster and more consistent.
The 80mm rear travel CVA linkage is plush enough to take the edge off providing greater traction to the large 29er wheel, but with integrated suspension curve ramping…it also will not have harsh bottom outs. This gives the illusion of a bottomless feeling, but what I have found is that the bike does a great job of sitting in its travel. There is no uncontrolled mid stroke wallow or unpredictable damping action. The spec'ed Fox RP23 does help, but even during long, extended climbs, I found the bike worked much better if you just left the Propedal off. The larger wheel diameter and short suspension travel kept the rear tire on the ground without losing much efficiency…at least not enough to worry about.
I was a little worried about the geometry numbers with my riding style. The Jet 9′s geometry keeps to the hardtail line for Niner to provide a quick turning full suspension rig. I typically like super tech, fast downhills and I think I made Chris Sugai a little nervous when I told him what I was going to do to this bike. After multiple runs on my favorite North Georgia hot spots, I can see that this bike can handle a beating. Does that mean I didn't over ride the frame and it feels like it has 6″ of travel but rides like a hardtail? Absolutely not…any 80mm frame is going to show its limits with rock gardens and air time, but the good news…the bike was still ticking after the abuse.
I still have a couple of rides I want to get in on this frame before I do a full out review detailing everything I have mentioned here, but so far…this bike has been a blast to ride. Stay tuned for more postives/negatives on the Niner Jet 9. A full review on the frame and the ride is coming soon.
More on the Niner Jet 9…
Image by: Laurie at mylifeonabike.com