pilot rock
Video: Mountain Biking Wrecks, Extreme Mountain Riding and 2010 Red Bull Rampage Finals
Bike198 on Pilot Rock in Pisgah National Forest
This past weekend, we headed up to Pisgah National Forest to get some tech riding in before the weather turns to snow. As you could tell from my previous post this week about "6 Tips On What To Do When Rides Don't Seem To Add Up", it was an interesting run to say the least. This short clip is a preview of what I am putting together that shows one of the wrecks…a header straight into a tree.
Inversion Riders by Big Col
Colin posted up another video a couple of days ago of them mountain biking on one of the most technical, trails I have seen. On top of that…the breath taking views are spectacular enough to catch your attention and make you slide off the side of the mountain. This video is also another reminder that not all difficult, big travel bike riding is fast. This is a must watch mountain biking video for sure…
Inversion Riders from Big Col on Vimeo.
Redbull Rampage Finals 2010
The Red Bull Rampage wrapped up about a month ago. Known as the sickest freeride competition of the year, the Red Bull Rampage brings out all of the best freeriders in the world. Here is a video of the finals.
6 Tips On What To Do When Rides Just Can't Seem To Add Up
This past weekend, a group of us headed up to Pisgah National Forest in North Carolina to get some tech riding in. The area is about 3 1/2 hours from Atlanta and features arguably the best riding on the east coast and some of my favorite riding out of anywhere I have been to date.
Saturday we hit up the hardest trail in the area (Farlow Gap) and Sunday we headed off to Pilot Rock for some crazy fast rock downhill. On the Laurel Mountain climb up to Pilot, I should have known it was going to be a rough day in the saddle when, on the climb, a thick tree branch swung into my front wheel, grabbed tension off of a spoke and flung itself to hit me square in the face. It was the beginning of one of the roughest days I have had in the saddle that didn't result in a serious injury.
4 wrecks, 4 mechanicals and a host of other issues later…I proved that I can still cuss and throw 5 year old temper-tantrum with the best of them as what was supposed to me a flawless day in the saddle went to shit in a hurry. Now…the screaming and getting pissed of that I did is the exact wrong way to handle days on the trail that result in this and typically just make it worse. So…in the light of showing how I did it wrong…here is the advice I should have taken that would have resulted in a better day…
6 Tips To Get The Ride Back On Track
There are going to be those days that seem like they have everything stacked against them. At every turn, all flow goes away and you are presented with a new obstacle that isn't a rock or root to tackle. Here are some zen tips to get rolling and hopefully get all of the pedal strokes back in line before you give your friends the middle finger for trying to make it better.
Take A Deep Breath – The absolute worst thing you can do when days don't add up on the bike is to get super frustrated and start to rush into the rest of the ride pissed off. By doing this, you are just going to continue to make things worse as you hit the trail with enough adrenaline and anger to take on a bear. When things just seem to continually go wrong, it is better to take a deep breath in…and try to regain composure for a second.
Do A Quick Once Over of the Bike – Wrecks breed wrecks and mechanicals breed mechanicals. Before you go tearing off into the woods looking for that flow that you have lost, really take a good look over the bike and make sure everything is in working order. If you catch potential issues before they happen, you can prevent another frustrated moment trail side. The most common areas to check would be your tires (pressure and bead) and your shifting (derailleurs and chain).
Slow It Down A Notch – The first thing I want to end up doing after multiple unscheduled dismounts and encounters with the ground is drop the hammer. However, I obviously am having issues or I wouldn't have been on the ground multiple times to begin with. When you are trying to find your flow, do tip 1 and then build speed back up. By building up instead of hitting the gas, you might be able to get back into the swing of things and get the ride on track.
Take A Quick Break – Sometimes it is better to just sit on the side of the trail and regroup. When you wreck or experience mechanicals on the trail, you instantly peak your heart rate and throw your body into temporary survival mode. It can be hard to get things back to normal so taking a quick break to regroup can go a long way in getting the ride back to a manageable level. This is especially true if you are finding a sequence of wrecks.
Ride The Trail…Don't Play Catch Up – One of the temptations (especially on technical trails) is to try to ride against your fellow riders instead of riding the trail. Everyone has different skill levels and sections where they are faster or slower than the riders around them. If you forget to ride your ride and try to catch up to other riders in your group (or try to speed up not to hold riders up), you are going to multiply your problems quickly. Pro race car drivers will always tell you, "you are racing the track…not the other riders". You should be doing the same thing. (of course…if you are holding people up…get off to the side and let them by)
Go To A Happy Place – Just as in Happy Gilmore, take a second and get your mind in a happy place. If you are in a good mood…you will ride better. Pissed off riders just get more pissed off.
By taking some pretty easy steps, you can salvage cursed rides and regain the flow you lost on the trail. Admittedly…this is one of those advice pieces that is often easier said than done when you are in the moment as I proved this weekend.
Does Mountain Biking Require The Mountain?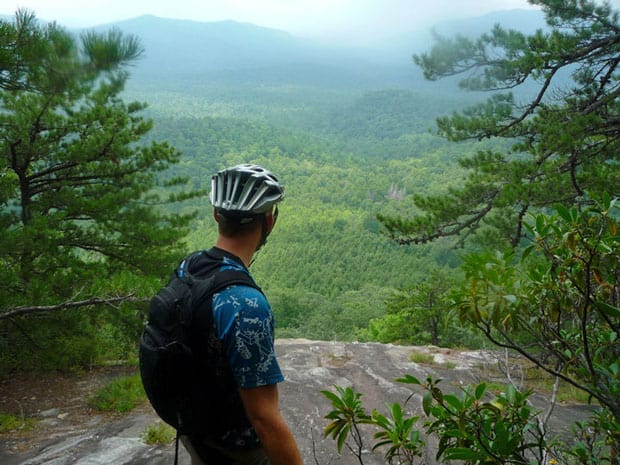 This past weekend, a friend of mine and I hit up Pisgah Forest, NC to ride on some of epic eastern United States singletrack. Known for the long climbs to long, technical descents, this area of the world was just built for mountain bikers. During a long climb up Laurel Mountain on our way to one of the best downhill mountain biking runs in the area…Pilot Rock…the thought hit me…
Does mountain biking require the mountain?
For me to answer that question right now…I am kind of biased. After a weekend of big mountain riding where my elevation profiles from 4 rides all look close to this…

…I would have to argue that "yes…mountain biking really does require the mountain."
For this mountain biker, the experience of long climbs to long descents in the wilderness away from all things urban is what defines mountain biking away from the rest of the cycling disciplines. Practiced in its purest form, when you hit the trails in mountainous areas, it is you, the bike and the challenge of tackling technical, steep trails. With longer descents and climbs, I feel like I can finally get into a rhythm and stretch my legs outside of the tight confines of short pitches and smaller descents that the lack of significant elevation change brings to a trail.
Mountain biking first got started with riders like Joe Breeze and Gary Fisher bombing down forest service roads and walking trails on beefed up, custom made bikes letting gravity do the work. Without mountains…that wouldn't have been possible.
However, just like with any sport…times change and the sport evolves. With fantastic trails in areas like Florida and epic adventures in Moab that are not considered "mountains", is mountain biking really about the mountain? If mountain biking is about the mountain, what do we call everything else? Off-road cycling?
My opinion…while I define mountain biking as an off-road biking discipline that requires the mountain it its purest form…that doesn't really matter. The beauty of the sport of mountain biking is that you alone get to define how you interpret the definition and at the end of the day…it is just you and the bike. It is not about how I define mountain biking but rather the enjoyment you get out of throwing a leg over that knobby tired, pedal powered machine and rip up whatever trails you call home.
Mountain biking is as much about personal expression as it is about the rig or the trail you ride. Your definition of what you consider real mountain biking is all that matters and that can change with time.
Elevation profile mapped with a Garmin Edge 705
Epic Mountain Bike Rides
I am going to try something a little bit different for today's post and get some feedback out of you guys. Everyone has a favorite trail. It can be your locals only spot or that destination that you finally got the chance to ride.
Here Is What I Want You To Do
Share your favorite riding spot in the comments section below. We all share the same passion and excitement for the sport of mountain biking, but sometimes it takes different forms on different trails. I (and everyone else) want to know your favorite riding spot and your experience riding it. Use the comment section below to share with the rest of us where that is.
What Is My Favorite Riding Spot?
Pisgah National Forest – North Carolina
There are miles and miles of the best singletrack you will ever find. From the locals only quiet spots to all out tourist destinations like Bent Creek and the new lift assisted 26 West, you can find anything within a 30 min drive in the mountains of North Carolina.
Out of all of the options you have at your disposal in Pisgah, the Laurel Mountain and Pilot Rock route has to be at the top of my list as of right now. Laurel Mountain is a scenic climb up to the worst hike-a-bike I have ever been on. When you crest the top of Laurel, you descend on several miles of switchback infested rock garden that overlooks the tree filled NC mountains. There is something about cooking it on a 6″ bike at about 30 mph through a bolder garden that really gets the heart pounding. We take a break halfway down the downhill to enjoy the overlook of the beautiful North Carolina mountains. After the break…it's back to ripping up rock filled, tight singletrack straight to the cars. By then, you are toast.
2nd Place…Windrock…you guys up in Whistler are used to marked drops and jumps…in TN we take them blind!
So don't waste anytime! Share your favorite ride/spot below!
HIP/VIP Ride Reports
As lined out here in a previous post, HIP/VIP is a time when a group of us off the MTBR board get together for some great riding in the Asheville, NC and Pisgah National Forest area. This is the mecca of east coast mountain biking with more epic trails to ride than you can handle. This year we went with Bent Creek, Laurel Mountain/Pilot Rock, Black Mountain and Dupont State Forest.
BENT CREEK
Friday started off with the Industry Nine tour and then we headed to Bent Creek for a late afternoon warm-up for the weekend. Bent Creek is an Asheville playground that consists of a spider web of incredible trails. This is what the riders in North Carolina consider a local urban trail. In Atlanta, this would be North Georgia mountain run. We started off riding up Ingles Field Gap to 5 Points and then from 5 Points you head up North Boundary to the promised land. Our favorite section of trail in Bent Creek is Green's Lick located at the top of North Boundary. Green's Lick is an over grown BMX track that blasts down for a little over 3 miles. You really have to watch your speed and prepare for the numerous jumps or things can get out of control very quickly. Just U-Tube "Green's Lick" and you will see what I am referring to. Everyone got down without a hitch and smiles were all around. It is always great to see first time riders of Green's Lick make it to the bottom. From there Jim (Cane Creek engineer) led us on a maze of the other trails in the area that are all better than most of us see on our local rides back home.
There was one casualty at Bent Creek. During a somewhat routine run, OnePointFive took a hard crash and hit is knee perfectly on a rock. It literately exposed his knee cap. For those of you with soft stomachs, I did you the favor of just linking the pictures here so that you didn't have to look.
Knee Picture 1, Knee Picture 2
Good luck with the healing. The rest of the ride went great and we headed to a Mexican restaurant to get some food.
LAUREL MOUNTAIN AND PILOT ROCK
This was my first time up Laurel and down Pilot. The overall ride is only about 14 miles (a little over 2 of which is gravel FS road), but it really puts a hurt on you. The first 10 miles is the climb. For the most part, the climb is pretty easy. There are some small areas that are hike-a-bikes to get through, but you end up just gradually going up the mountain until about mile 9. At mile 9, it is like you are taking an elevator straight up. This is the longest section of hike-a-bike I have ever been on. The last section of this climb, you are pushing your bike above your head wondering if it will ever stop. When it finally does stop, you are at the top of a 4 mile downhill that is a classic Pisgah run. This rooty, rocky, switchback infested mess is some of the best riding I have done in the Pisgah area to date. We even took a rest 2/3′s of the way through to get rid of the arm pump. There is nothing like coming down at 25 mph into a 25 yard rock garden. In the last section, watch for some strategically placed rocks in the center of the trail. These are perfect launching ramps that will send you air borne in a hurry. This was truly an epic Pisgah adventure. Thanks goes out to Mike (our local guide) for taking us up and down.
BLACK MOUNTAIN
Another Pisgah classic. Due to our long ride in the morning, we switched up the Black Mountain ride a little bit from my normal route. We climbed up Black to a connector that took us over to Sycamore Cove. This was a great loop. Sycamore Cove is probably my favorite trail in the Black Mountain loop. It's not the steepest or fastest section, but it is one of the most technical with it's multiple creek crossings and tight tree lines. You really have to love this run through the forest and stay on your toes because it changes quickly.
DUPONT STATE FOREST
Time constraints with family events back in Atlanta made me miss the Sunday morning Dupont ride. Having ridden there at least a dozen times before, I know the guys had a great time. You can spend an entire weekend at Dupont and still not touch all of the trails. There is everything from techy dh's to flowy single track.
198′S THOUGHTS
Another great HIP event in Pisgah. I am going to call it a HIP event now instead of HIP/VIP because I was the only Ventana rider there! Pilot Rock is going to go down as my favorite run in Pisgah after this years weekend. That was really surprising to me because Heartbreak Ridge was going to be hard to beat. Overall, I couldn't have asked for a better weekend with a better set of riders. The 12-14 of us really ripped up some North Carolina single track and left it all out on the trail. Can't wait to have another one!
Stealth Black Turner Sultan Revisited
Back in March, I posted some pictures of a stealth black Turner Sultan project that Mudpie was working on.
At that time, he was riding a 32 lbs. red RFX that seemed to be fitting the bill for the new Asheville, NC local.  Due to an attempt at flying incident on Green's Lick at Bent Creek, MP dented the RFX and had to build up the newly painted Sultan in a hurry to be ready for our HIP rides over the past weekend.  The build came out even better than I had imagined.  All of the parts came over from the original white/polished build with the exception of the fork, bar, pedals and saddle.
Here are the changes:
Original:
White Brothers fork
Older Time ATAC's
Sycros Carbon Bar
Specialized Saddle
New:
Fox F29
New Time ATAC Ti
Gravity DH Bar
Selle Italia Saddle
The flat black front and rear really sets the bike off with the red Chris King headset and white Fox fork.  Mudpie put a real beating on this bike down Pilot Rock DH in Pisgah over the weekend.  Even with the F29 at 100mm, this is a very capable bike.  I think he was missing the RFX during the really rocky sections, but the Sultan is a great all day bike.  It climbs incredibly well and the larger wheels help the 4 inch bike feel like it has just a little bit more travel than it really does.  As for the looks…I'll let you judge for yourself, but by taking a look at the set of pictures below, you can tell this is a great looking ride.  This is by far the best looking Sultan I have seen so far.  Now all it needs is some all black Industry Nine's on Stans Flow rims…