Ibis Mojo and Push Industries – Full Review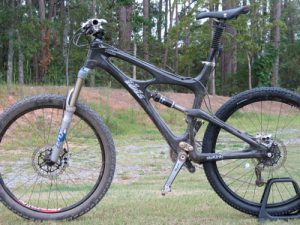 First, let's get the formal stuff out of the way…
IBIS MOJO
140mm Travel (5.5 inches)
BUILD KIT
Fork: Push'd Rock Shox Pike
Shock: Push'd RP23
Wheels: Industry Nine on Stan's Flow Rims
Tires: Kenda Nevegals
Headset: Cane Creek Integrated Carbon
Stem: Thomso 70mm x 0* X4
Bar: Azonic Carbon
Brakes: Hope M4 w/black Goodridge braided lines, 183mm f/r rotors
Shifters: X.0 Triggers
Grips: Ergon
Cables: Shimano XTR
Rear Derailleur: '08 SRAM X.0
Front Derailleur: '08 XTR Top Pull
Cranks: XTR w/FSA Clear Bash Guard
Cassette: XTR
Pedals: Shimano XT
Post: Truvativ Team Carbon
Chain: SRAM 991
Saddle: WTB Rocket V Ti
THE TEST TRAILS
The shake-down ride actually ended up being a time trail at Big Creek's Two Ways in a Day. Big Creek is a Atlanta local trail that provides great insight on how a bike will act in tight, twisty, quick up with quick down situations. As you can see by the elevation map, you really don't get a break at this place when you are going for the lowest time. The trail still, even after all of the traffic it receives, has loose rocks and steep climbs. There is even a free ride section in the back that was not able to take the bike on during the race, but I really wanted to get an idea how the bike felt in a race/time trial situation. Talk about perfect timing for a test ride.
The second trail system is not actually a posted trail system at all. I really wanted to get a feel about how the bike would act in extended climb situations and this turned out to be the perfect avenue. Just over 16 miles of total riding with 3,994 feet of climbing. As you can see by the graph, these were extremely steep straight up and straight down situations. This is also an off-the-beaten-track trail, so there are no really groomed areas and the ground is very unpredictable…again, perfect way to test out the bike's handling abilities.
THE LOOKS
There is no doubt here that Ibis built a beautiful bike. The raw carbon look really catches the eye and the lines are just curved enough to really look flowy, but not overdone. This bike also comes coated in colors, but I can't see any reason to cover up that carbon. This bike was built up with all black bits which really made the bike look like a unit instead of a bunch of high end parts thrown together. It really had the stealth bling look that I like so much. The construction of the frame and links are top notch. You can really see the attention to detail of the designers, and the subtle things really come together. Overall, I really like the look of the bike when it is all built, and that surprised me. Seeing the bike without parts on it and then built up is totally different, and that's a good thing. You might catch a little attention at your local trail head on this ride.
THE PARTS
Anyone looking at the build kit on this bike can tell you that it has the best the biking industry as to offer. The nice thing about that is you can really concentrate on how the frame is handling and not have to worry about if the components are going to perform or not. From Industry Nine to XTR…this bike is just solid. This is also my first time on a fully tuned Push Industry's suspension in the front and rear, but there will be more on that later.
So let's get down to business…
THE RIDE
As I stated before, my first ride on this bike and the first time it had ever seen dirt was at the time trial. My warm-up was literately the ride from my truck to the starting gate because I hadn't even planned on running the event. I was going to give the bike a more subtle shake-down, but instead took my cold legs to the line and hit the trail. To my surprise…this bike railed! The first section is a flowy groomed section that twists down the side of the hill. The bike was very nimble and took tight turns with ease. It did seem to better the more you just leaned it into turns and let it do it's thing. The DW-Link suspension sucked up what it needed to and I really didn't notice anything unusual about it. It just seemed to work. Out of the flowy section you get to a loose rock garden climb. Again, the bike handled it with ease. I did notice that the suspension did a better job with a "plow" type attitude during climbing. Basically, don't go around the square edge hits, hit them as hard as you can. The suspension really wanted to work…so I let it. At 29 lbs, this bike is right in the middle of 5″ bike territory, but it felt lighter. The geometry that Ibis has set up for this rig is a nice balance between all-mountain and cross country style riding. The fun really came when I hit the first steep climb of the day. The bike seemed to just carry me all the way to the top. It really was scary fast up the steep stuff. I dare to say that it is faster up hill than any of the 4″ travel bikes I have been on. That DW-Link is extremely efficient on the climbs. There was very little pedal bob, and this came without many of the negative effects that you normally get with multi-linked bikes like the VPP. It seemed to just to it effortlessly with no tension. The rest of that ride went on without a hitch and I ended up finishing with a pretty good time considering everything I had going on.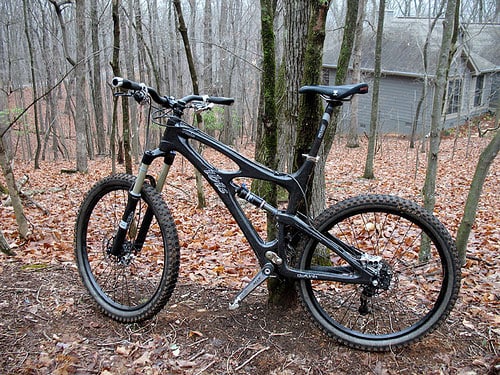 The next ride was in the North Georgia mountains, and this was some of the steepest, most extended stuff I have ever been on. There is nothing like climbing for 3,994 feet in less than 17 miles. My climbing reviews on the short burst type carried over to the extended. This bike really likes to climb, much more than any other 5 inch travel bike that I have been on. Between the DW-Link suspension and the Push Industries RP23, this bike is really efficient. When the ride got really steep, to the point you couldn't sit down and spin anymore, you could get up and really hammer out of the saddle without traction loss. On the steeper downhill sections, this bike also did pretty well. As great as it climbs, I was expecting it to be sluggish and twitchy on the downhills, but it wasn't. The bike was very controlled, even on the unpredictable terrain. It turned out to be a really great ride on this bike, and I wouldn't have even been able to finish it on my normal ride. Again, on the unpredictable climbing with baby heads and down trees, the bike was more comfortable with a plow-type attitude. I ended up just picking a straight line and motored on up. This is kind of uncharacteristic of a bike that climbs as well as the Mojo, but it just felt right.
PUSH INDUSTRIES
WOW! I have owned Pike's and RP23′s before and none of them came close to this experience. The front and rear end were extremely balanced and controlled. My everyday ride has a Cane Creek Double Barrel, and the Push'd RP23 is the closest an air shock has ever come to feeling that good. The guys over at Push Industries have the damping dialed. There was no more mid-stroke wallow or dead feeling that I hated about the RP23. At every point in the stroke, the shock was controlled. Push introduced their Rock Shox Factory Tuning this year, and from what I can tell, they hit it dead on the nose. They made the best performing 140mm travel fork on the market even better. My Lyrik is going to take a trip to CO as soon as they release their larger fork line. As the terrain/speed up, so did the rebound. It seemed like the fork knew how I wanted it to act before I did. My hat is off to the crew over there….great job.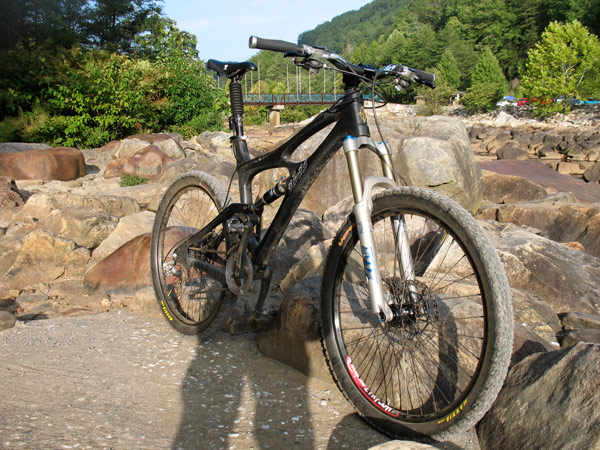 OVERVIEW/OPINION
The Good News
The 5 inch travel bike market has really expanded over the past year. The way I see it now, there are two categories of 5 inch bikes: the all mountain group and the cross country group. The Ibis Mojo is more geared towards the cross country side of the 5 inch bikes. This is a great thing for racers looking for a fast, race ready bike that offers a lot of the same positive sides of a 5 inch bike. This particular setup is probably a little bit burlier than most Mojo builds with the shorter stem and 140mm Rock Shox Pike. With lighter tires, a lighter fork and more race oriented cockpit, you could really race this bike seriously. With just a couple of little changes (how this bike is currently built), it is ready for an all day adventure that includes as many great downhills as great climbs. This is a great all day epic ride frame that doesn't weear you out on the climbs as bad but still has the capabilities of being a strong descender.
The Bad News
This bike is all carbon. This means taking big drops is probably not a good idea on this ride. I know Brian Lopes is racing this frame for 4x and downhill now, but before you take that route…I would ask yourself, "am I Brian Lopes?" If that answer is no, I would stay away from serious dh runs and jumps on this frame. Carbon does not bend…it shreds. The carbon frame material also means that you can't take the frame to get refinished if you scratch it, so tape up the frame as much as possible and make sure to take great care of it.
A WORD ON FLEX
There has been a lot of talk on the forums about the flex in this frame's rear end. I'm sorry, I don't see it. I intentionally jammed the rear end into a lot of situations where it should have felt like the rear tire was all over the place as these posts had alluded too…and nothing. It still felt solid. At over 190 lbs. geared up and not a smooth rider by any definition of the word, I was expecting the worst, but I found that the flex comments were untrue. The only reason I can see people even saying that is by having that thought in your head before you even rode the bike. Sometimes they just have to make their opinion true I guess, but if you were thinking about not buying this frame because of the flex comments…forget about it and pick one up. I didn't have any issue at all. For reference, I ride a Ventana El Terremoto as my regular bike, and it is known throughout the industry as being an extremely stiff bike. If the Ibis was even close to the claims…I would have felt it.
SUMMARY
The Ibis Mojo is a great 5 inch travel bike. With the right care, it should last you a long time, and it is perfect for those racers types looking for more travel, or the rider that is looking for a frame that climbs as well as it goes down. This is never going to be a 5 inch bike with a Fox 36 or Lyrik attached like some bikes are these days, but I don't think it was meant to be. This bike rides and performs for exactly the king of riding it was built for….all day epics, endurance racing and the occasional xc race. Not to mention…it looks great doing it. The 5 inch travel market as become the most competitive in the industry and this bike seems to stand out from the rest.
Also check out the Industry Nine post…