shimano xt
2013 Shimano SLX Component Group: Why buy XT now?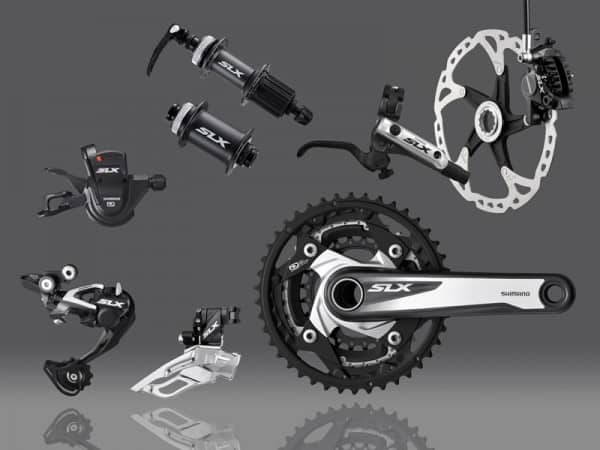 Shimano released their new update to the SLX component group recently. With the new changes, you have to wonder…what is the appeal to XT now other than weight (which isn't that big of a difference)?
SLX now gets the Shadow Plus technology for the rear derailleur that used to set the XT groupo apart from the more budget oriented group. With performance that is on part with XT (we reviewed the previous version of SLX) at a weight that is close to the same, riders are going to be looking to save some money by purchasing this more budget conscious performer. Unless – of course – they are a rider that just has to have XT.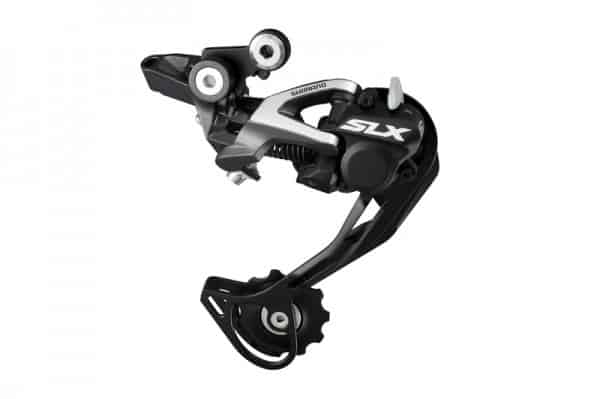 We are seeing this a lot in the bike industry right now. Where there used to be big gaps in performance between lines that justified price differences, we are now left with the decision for small gains over big dollars. X.9 performs as well as X.0…SLX performs as well as XT…and the replacement costs of the parts are very different if you need to head to the LBS or online retailer to get a part.
This really is a good thing for the average rider. The trickle down effect is actually working and you don't have to mortgage your house to get a high performing mountain bike part. Are the component manufacturers shooting themselves in the foot with performance as close as it is? We'll have to wait and see what happens to X.0 and XT sales as the new products get to the trail, but I really don't think they have a choice.
I can tell you this. For me…and my wallet…I would be building up a bike on SLX if Shimano was my brand of choice. There is not enough draw for the extra money to go up in price given the current specs. SLX is a solid performer and I would argue that many would not be able to tell much of a difference (if at all) in a blind trail test between SLX and XT at this point.
What do you think?
2012 Shimano Deore XT Revealed: Redesign Hits A Classic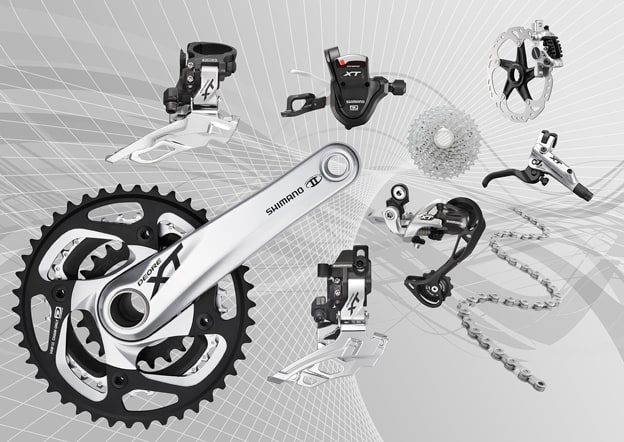 The Shimano Deore XT component group has been a staple in the industry since its humble beginnings. With a median price point, good looks and consistent performance, the XT component group has been a go to choice for riders wanting "XTR like" performance at a fraction of the price with a little bit more weight.
However, last year saw a drastic redesign of the Shimano Deore XTR group with the Deore XT only getting a slight change with the addition of the Dyna-Sys 10 speed option. Other than that…everything stayed the same…until now. The 2012 Shimano Deore XT component group is going to finally get the upgrade that XTR has been sporting for a year know with the addition of color choices (silver or black) plus the availability of a 2 ring crankset option.
Let's take a look at the new groupo that is scheduled to be available in June 2011.
2012 Shimano Deore XT Component Group
Let's break it down piece by piece and look at the new Shimano Deore XT component groupo.
Shimano XT FC-M780 / FC-M785 Crankset
The central component to the Dyna-Sys drive-train comes in two varieties: a double or triple. The rider can choose the option that best suits their style, fitness, or terrain. The ever popular and more versatile triple comes with a 42-32-24T ring set with the proven composite enhanced middle ring for maximum shift smoothness. Most notably, the 24T inner ring offers a significant improvement in efficiency compared with a 22T and still provides a very low gear for climbing when paired with a 36T rear cog. A trail oriented 2X10 crank debuts with a 38-26T ring set as well as a more XC oriented 40-28T combo. Both double cranks feature a unique crank with a 48.8mm chainline for better frame clearance and best compatibility on a wide range of bikes.
Triple or double gearing: 42-32-24T, 40-28T, or 38-26T •    Carbon composite reinforced middle ring on triple reduces weight and provides smooth,
quiet shifting
MSRP: $319.99, any spec
Weight: 860g, triple w/BB (double 820g w/BB)
Shimano XT RD-M780 Shadow Rear Derailleur
The Shadow rear derailleur design continues to be improved and combined with the newest shifter design optimizes the overall system stability. The new longer arm geometry of the cable fixing anchor takes stability a step further as well as provides a more tolerant system adjustment.
Enhanced system stability with Shadow technology
MSRP: $109.99
Weight: 234g (Super Long Cage)
Shimano XT FD-M780/M781/M785/M786
Front Derailleur Angled adjustment screws and clamp bolt make the new front derailleur more mechanic friendly and the option for direct mount create greater options for frame designers. Four mounting style available to accommodate most frames: Low clamp, high clamp, E- type, and direct mount Double or triple specific versions provides precision shifting for either format Cage design optimized for tire and frame clearance
MSRP: $54.99 (all specs)
Weight: 153g (low clamp, top swing)
Shimano XT SL-M780 Rapidfire Shifter
Advanced Light Action shifting with VIVID index requires the same amount of force to shift between the two largest cogs as it takes to shift between the two smallest. The VIVID index establishes intuitive shifting feedback without adding unnecessary shifting force to the system. Instant, multi-, and 2-way release are all integrated into the newest generation shifter as well as a mode converter that allows the left hand unit to be tuned specifically to the crank set being used.
Ispec (integrated brake lever mount) version available
MSRP: $159.99
Weight: 255g
Shimano XT CN-HG94 / CS-M771
The drive-train is completed with the Dyna-Sys 10-speed CN-HG94 and CS-M771 cogset introduced in 2010. The HG-X asymmetric design chain has inner and outer plates that take specific advantage of the contours of the Hyperglide cogset. Cogset options are 11-36T, 11-34T and 11-32T.
MSRP: CN-HG94 = $49.99, CS-M771 = $99.99
Weight: CN-HG94 = 343g, CS-M771 = 273g
Shimano XT BL-M785 / BR-M785 Hydraulic Disc Brake System
The Servo-Wave Deore XT hydraulic disc brakes continue to borrow from the features developed for XTR that provide huge leaps in braking and control. The new compact caliper with oversized 22mm ceramic pistons is combined with a lightweight lever for a brake that lighter yet packs 25% greater braking power when the ICE Technologies brake pads and rotor. The rotors have been proven to reduce temperatures of the rotor as much as 100% over a standard all steel rotor, and will be available in a 6-bolt pattern as well as the Shimano innovated Center Lock. Mechanics will appreciate the integration of the same one-way bleed that debuted on XTR last year.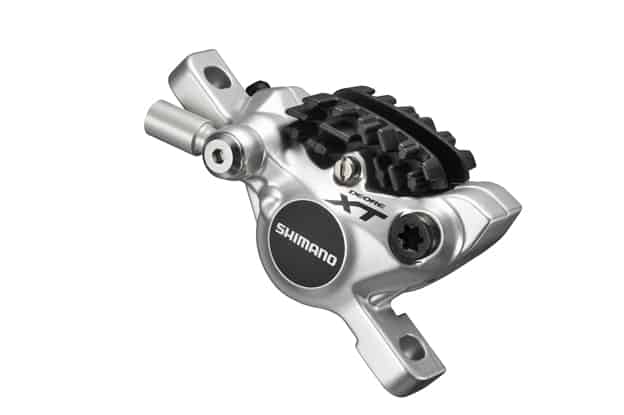 BL-M785 is compatible with Ispec shifter mount
Servo-Wave provides better modulation along with greater maximum power
Ice Tech Centerlock rotors consisting of a stainless steel clad aluminum core are durable and create a more efficient heat sink reducing fade
Ice Tech brake pads use finned extensions that pull heat away from the caliper, oil, and rotor to reduce fade and maintain power and modulation
MSRP: $159.99 (complete front or rear pre-bled system w/lever, caliper, hose, and pads)
Weight: BL-M785 = 266g/pr, BR-M785 = 242g/wheel
Shimano XT WH-M785 / WH-M788 Wheelset
Two new wheel options will feature different rim widths and axle options. The WH-M785 will have a 19×559 profile rim with 15mm front hub and QR rear wheel.    The WH-M788 will feature a wider 21×559 rim offering a different platform for wider tires and will come with a 15mm front axle and the option for a 12X142mm rear or QR rear.
MSRP: $749.99 (any spec)
Weight: WH-M785-F15 = 710, WH-M785-R = 915g; WH-M788-F15 = 775g; WH-M788-R12 = 1020g; WH-M788-R = 980g

Shimano XT PD-M780 / PD-M785 Pedals
The PD-M780 pedals increase pedal surface contact area by 5 times vs. the PD-M770 for incredible pedaling stability. An offset binding allows mud to flow through the pedal better than prior designs for the best possible performance in muddy conditions.
A completely new pedal for 2012, the PD-M785 is an XT quality pedal aimed at trail use. An integrated pedal cage offers greater stability even when not clipped in with an increase in surface area of 8.5 times over the PD-M770.
MSRP: $149.99 (either version)
Weight: TBA
Shimano Deore XT Component Group In Black
Overall, the component group looks really solid. Building off of the success with the 2011 XTR group, Shimano did a great job of filtering down the specs and technology without cannibalizing the XTR setup. We are actually really happy with the introduction of the black setup as we have several bikes that actually wear powder coated versions of the previous XT cranks.
What do you guys think?
Top 10 Mountain Biking Gifts This Holiday Season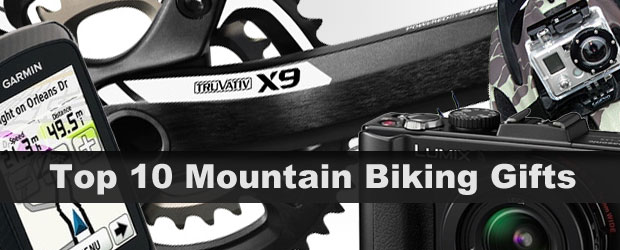 For those of you that are looking for holiday gift ideas for that mountain biker in your life or you are looking for a reference list to casually mention in conversation…"hey babe, take a look at his gift list…it's pretty cool! (hint, hint)", here are the Bike198 top 10 gift ideas for the 2010 holiday season.
#1 – Garmin GPS Cycling Computer
The Garmin GPS's have taken the biking industry by storm. Not only can you get turn by turn directions if you ride a road bike, but you can also satisfy that geek inside of every rider with about every stat you can possibly imagine recorded in a format that is easy to share with friends. The 605 and up will do turn by turn directions and the new 800 features a touch screen.
Your Options: Edge 305 | Edge 500 | Edge 605 | Edge 705 | Edge 800
#2 – Premium Compact Camera
Regular point and shoot cameras make it hard to get a solid picture when riding. The shutter lag is annoying and the quality of the pictures is usually terrible given the shooting conditions. When mountain biking, we are typically in low light situations that require a better chip and faster lens that used to be just reserved to big, heavy DSLR's. With the rise of the new premium compact cameras, riders can now get a quality lens and camera that can be used effectively on the trail in a size that is easy to carry and you get features like the ability to record HD video. You can even step up to the micro four thirds format to get interchangeable lenses.
Recommended: Lumix Lx5 | Canon Powershot G12
#3 – GoPro HD Helmet Cam
The amount of quality video you can get out of these small, wearable camcorders is amazing. Riders all over the world are now recording their exploits in full 1080P video and posting it online. Due to the multiple mounting options and wide range of view, the GoPro HD is the best option on the market for mountain bikers at this point in time.
#4 – New Bike Light
Decreased daylight hours equal more time riding under the stars. Helmet mounted lights have come down a lot in price over the past two years while providing more light than ever. Bike lights can have a lot of personal preference when it comes to brand, but look for a light that is at least around the 900 lumens range and you should be good to roll. Just because it gets dark early doesn't mean we have to stop riding!
Get your best price on bike lights here.
#5 – Cold Weather Riding Gear
Increased night riding also means the temperature is starting to drop. Night riding gear is essential to comfort during the colder months as we continue to try to hit the trail even when it can seem to be unbearable. Having the right gear can mean the difference between a good ride and a bad one quickly.
My Favorite Riding Jacket | SmartWool Arm Warmers | SmartWool Knee Warmers
#6 – RoadID
The RoadID is one of those must have items for all riders. Even your best friends are not always going to know where your insurance card is or what your wife's phone number is in the case of an emergency. A RoadID is that perfect riding companion that insures that a stranger or your friend of 20 years has all of the necessary information to get you help if you fall hard enough that you can't remember your name.
#7 – Remote Dropping Seatpost
If the 2010 model year isn't 10 speed groupo's, it would definitely be the year of remote seatposts. Even cross country riders are now seeing the benefits of being able to drop the seat easily when the trail gets pointed downhill. It allows for safer descending as you are able to get your weight farther back on the bike. Any rider that has used one realizes their weight in gold.
#8 – Nutrition Products
Nutrition products like gel packs, Clif Bloks and assorted bars are a great gift during the holiday season. It is something that mountain bikers need and it is relatively cheap. The Margarita Clif Bloks are a personal favorite because of their salt content.
Your best price on nutrition products.
#9 – Mountain Biking DVD
During the winter months, the weather doesn't really cooperate for riding. Having a couple of stoke filled mountain biking DVD's in the movie library can help keep the sanity when we are stuck inside or spinning away on a trainer. I personally like the movies out of The Collective/Anthill Films. Follow Me is now available in Blu-ray and makes the perfect gift for any mountain biker.
Follow Me | Seasons | Roam | The Collective
#10 – New 10 Speed Groupo
Have you been really good this year?! A new 10 speed groupo is the way to roll as this gearing setup is taking over the industry. It is time to ditch the 9 speed in favor of that 2×10 system that is probably not going to change your riding at all, but it looks good, shifts efficiently and finally gets rid of one of those rings up front in most cases. 10 speed is the edge of technology right now and your favorite 9 speed components are just going to depreciate more from here on out.
Bonus Gift Ideas
Of course, this wouldn't be a gift list without mentioning Ramped Riding and our new "29er: Size Does Matter Tee". Both make great gift items this holiday season.
Review: Santa Cruz Tallboy – Lightweight Carbon FS 29er Mountain Bike
When Santa Cruz Bicycles set out to make their first production 29er, they dropped a bomb on the industry with arguably the lightest full suspension 29er frame on the market with the all carbon Tallboy. With lightweight and big wheels, the Santa Cruz Tallboy became a must have frame in the industry for those looking for the bigger wheel platform but were frustrated with the high 20′s, low 30′s build weights. Finally, it looked like there was a full suspension 29er bike that could actually be raced.
From SantaCruzBicycles.com:
Big Wheels Roll
Combining the acclaimed performance and durability of the latest VPP suspension with a sophisticated carbon fiber chassis and a set of big 29" wheels, we present the Tallboy. The curvaceous carbon fiber frame is more than just a pretty face: it offers amazing stiffness and strength while keeping weight feathery light. That, plus 100mm of rear wheel travel paired with fast rolling large diameter wheels spells out one thing: Long Haul Trucker.
Tallboy Build Kit: SPX XC29
Fork: Fox Racing Shox 32 F29 120RLC Taper
Rear Shock: Fox Racing Shox RP23 w/Boost Valve
RD: Shimano M773 SGS (XT) (Shimano XT Review)
FD: Shimano M771 (XT)
Shifters: Shimano M770 (XT)
Crankset: Shimano M770 24/32/42 (XT)
BB: Included w/ crankset
Cassette: Shimano M771, 11-36 (XT)
Chain: Shimano HG 94 (XT)
Brakes: Avid Elixir CR w/ 160mm rotors
Bars: Easton EC 70 31.8mm
Stem: Easton EA 70 31.8mm
Grips: Lizard Skin Charger
Headset: Cane Creek Tapered or upgrade to a Chris King Tapered +$109
Seat Post: Thomson Elite (KS i950 Pictured)
Saddle: WTB Silverado Team
Wheels: Mavic TN 719 disc rims laced to DT 350 15mm front hub and DT 350 rear hub w/ DT 14/15 guage spokes, alloy nipples
Tires: Maxxis Crossmark 2.1 folding
Price as Tested: Full Bike – $4,902; Frame Only – $2,442
The Santa Cruz Tallboy uses the same VPP suspension design that you find on the Blur, Nomad and their signature DH bike…the V10. This multi-link design uses two small links at the bottom bracket and seat tube to create a wide variety of suspension rates for varying needs. On the bottom of the lower link, you will also find grease ports for easy servicing. The weight as tested came in around 27 pounds overall. However, I have seen builds easily get under this number with lighter components and wheels.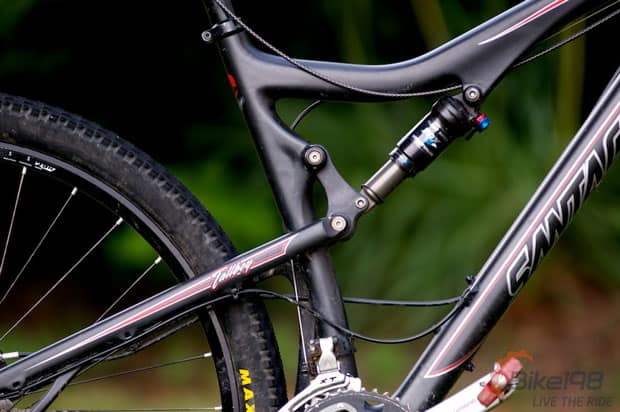 Santa Cruz Tallboy: On The Trail
The Tallboy was kept at it's original build spec for most of the riding during this review process. During that time, only the seat post and tires were switched depending on trail conditions.
Climbing: Gaining Elevation On The Tallboy
When you first throw a leg over the Tallboy and begin your assent up the hill, the first thing I noticed was how efficient this bike was climbing. The VPP suspension on the Tallboy is tuned to create minimal pedal induced feedback while turning over the cranks (also referred to as bob), so the use of the ProPedal function on the Fox Racing Shox RP23 was ignored in favor of extra traction up singletrack. For forest service road climbing, I could hit the ProPedal on 3 and almost feel like I was riding a hard tail. On long, semi-technical climbs, the Tallboy picks it's way up the hill almost effortlessly and you are left with a ton of energy at the top as you prepare for your trip back down.
As with most 29ers, the big wheels help tame rocks and roots during the climb and the momentum works in your favor as you keep the wheels spooled up and moving forward, but you will have to take some extra effort in tight switchbacks as the bigger wheels can be harder to maneuver in tighter situations.
In comparison with some of the other 4 – 5 inch travel 29ers on the market, the Tallboy is a rocket uphill. The more XC styled suspension setup and geometry really let this bike motor up the hill even with the 120mm travel F29 from Fox up front. I would imagine that it does even better dialed down to 100mm for a balanced 4″ front and rear.
Pedaling: Hammering The Flats On The Tallboy
The same efficiency that came through while climbing on the Tallboy also translates to speed on smooth, groomed, rolling singletrack. When the trail flattens out and you have to drop the hammer to keep up with faster riders, the Tallboy rolls forward with ease. The efficient suspension allows for out of the saddle sprints and high cadence, big ring hammers when the trail allows. Once the big wheels have gained momentum, this lightweight, full suspension 29er needs something big in the trail or a tight turn to slow it down.
When the trail starts to get rough and more technical with rocks and roots, the Tallboy starts to show its XC design. The stiffer suspension setup has a harder time taking in hard hits and fast bumps in series. The Tallboy is only a 4″ travel bike…so some of this is to be expected…but I would classify the suspension as more stiff than plush. If you are looking for a 29er that is going to roll over nasty lines easily, the Tallboy is probably not that bike as the efficiency that you find in climbing and pedaling on smoother trail translates into a harsher ride on rougher dirt.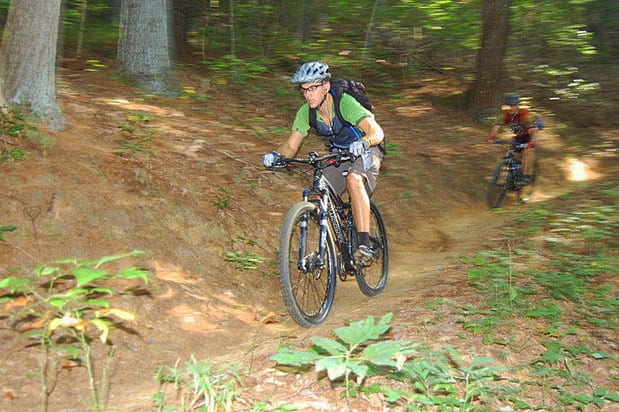 Descending: Gravity Assisted Riding On The Tallboy
The Tallboy really shines going downhill on groomed singletrack with slightly sweeping turns. The lightweight of the bike and the bigger wheels can get up to speed and stay there with the stability of the larger platform as you blow through trail. The bike loves to stretch it's legs on this kind of singletrack and that is what you will find on most race courses out west. The all carbon design is stiff enough to handle a wide variety of trail and I didn't feel any noticeable flex that would take away from the riding characteristics when riding.
When the trail gets technical, just like with the rolling technical sections the Tallboy starts to get hung up with the stiffer suspension curve. Through rock gardens and heavy root sections, you get reminded quickly that this is a purpose built XC bike. The 120mm Fox up front helps lessen the blow to the rear, but you are still dealing with a XC suspension design.
In the southeast US, our trails are characterized by really tight sections in massive tree cover. This usually means we are dodging bark at every turn as we try to squeeze speed out of our downhills. That said, the Tallboy corners like a west coast bike. The Tallboy performs its best in turns where you can really lay the bike down and sweep it in and out of turns with your upper body. For our trails, that runs into issues where pin point turning is required in a lot of sections. I felt like I was having to muscle the Tallboy around turns more than some other bikes in this same category just to get it to stay on line.
Also, the 160mm rotor up front is undersized for most riding on a 29er. I ended up cooking the front on extended downhills which didn't help the corning situation at speed. At a minimum, 29ers should have a 180mm up front to handle the larger wheel diameter and keep braking consistent throughout the ride.
Overall: Santa Cruz Tallboy FS Carbon 29er
The Santa Cruz Tallboy is an efficient, lightweight, 29er that is ideally setup for XC riding on the west coast where you have more open trail to hammer out a long ride. The bike really excels at climbing and fast pedaling sections and this will make it a weapon on the trail for endurance and xc races. The lightweight construction combined with the larger wheel size in the hands of experienced racers and cross country riders can be deadly.
Ideally, the Tallboy would setup the best with the new F29 Talas from Fox that has the ability to change from 120mm to 95mm of travel on the fly. This would slacken out the angles (geometry as tested) for the downhills but then you could dial the fork down to 95mm for climbing and faster turning through fast, rolling sections. If you mate that fork up with a 180mm front rotor, that would be the perfect setup for this bike.
Positives: Santa Cruz Tallboy
Climbs like a mountain goat
Efficient suspension in smooth to semi-technical trail conditions
Lightweight construction
Traffic stopping looks
Negatives: Santa Cruz Tallboy
Sweeping turner can slow down in really tight sections of trail
Suspension can be rough in technical trail
Price: Expensive with $92 upgrade to RP23
The Santa Cruz Tallboy is a great option for XC oriented riders, XC racers and endurance racers looking to get on a full suspension 29er mountain bike. For more information, check out the Santa Cruz website.
Battle Of The Titans: SRAM vs. Shimano Mountain Bike Components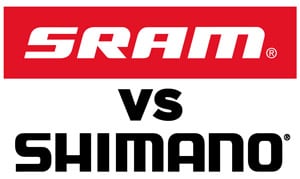 As with any great battle amongst the top two competitors, there is a decided split amongst the masses as they choose sides and defend their choice. In the mountain biking world, there is no greater rivalry in the component market than SRAM and Shimano. Each with their loyal followers that scream their greatness from the mountain tops, SRAM and Shimano each offer something a little bit different from the guy down the street in the pursuit of component part supremacy. So it begs the question…which camp do you reside on and why? Are you a bulletproof 1:1 actuation ratio freak or do you prefer the crisp action of Shimano's 2:1? With the component parts innovation race on…which side are you on?
[poll id="24"]
Review: Shimano Deore XT MTB Component Group
The Shimano Deore XT lineup as been the staple for Shimano mountain biking since back in the early days. With it's XTR couterpart, Deore XT has provided high quality components at a mid-level price that parts whores and budget minded riders can all get on board with. Over the years, Shimano has had incredible success with the Deore XT component group, so how does the latest reincarnation of the first mountain bike component group fair?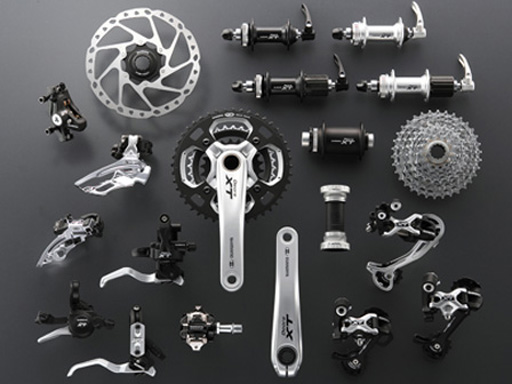 From Shimano.com
As Mountain Bikes continue to become more diverse, components must evolve. Deore XT addresses the needs of today's riders just like it did when it was first introduced back in 1982 as the world's first MTB group. Revolutionary new designs like the Shimano Shadow rear derailleur complement the the latest evolution of traditional designs to give you the right choice for your riding style.
Shimano Deore XT Cranks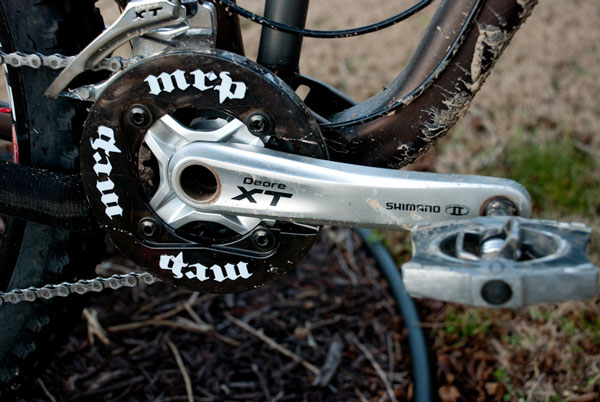 Shown here in a 2×9 setup, the Shimano Deore XT cranks have a long history of providing dependable performance at a reasonable weight (claimed 853g w/BB). The 2009 Deore XT cranks keep the tradition alive with stiff crank arms and consistent shifting. Shimano went to a steel/carbon composite for the middle ring to increase durability and wear period and…throughout the testing period on multiple sets…we didn't notice any premature wear or shark toothing. I would expect to see the middle ring wear in about the same amount of time as a typical steel ring.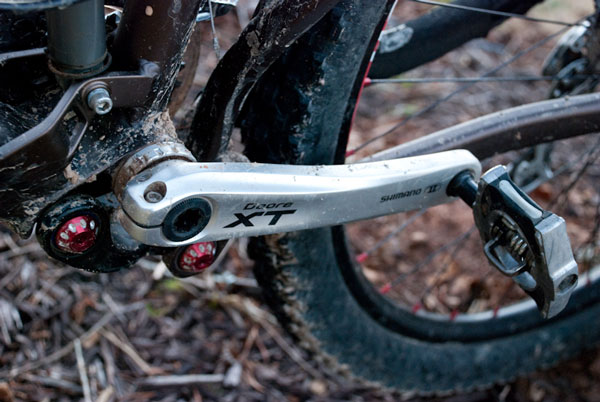 The Shimano Deore attachment system should be the staple that every other crankset bases their design off of (including the XTR set). To this day, there is not an easier to install and setup crankset on the market than the XT's. With two bolts and one outer, plastic preload cap, the XT's go on right everytime and leave you with a solid install on the trail that doesn't creak or loosen up. I have had small issues here and there with every other crank attachment method other than the XT's. It is just too easy and I am not sure why Shimano changed the XTR's.
Overall, the XT crankset is still my go to crankset for my personal rides. There are flashier and lighter sets out on the market, but the XT's are such a great do-it-all set that you see them on everything from XC racers do DH bikes. It's hard to beat the easy install and consistent performance combo.
Shimano Deore XT Shifters and Derailleurs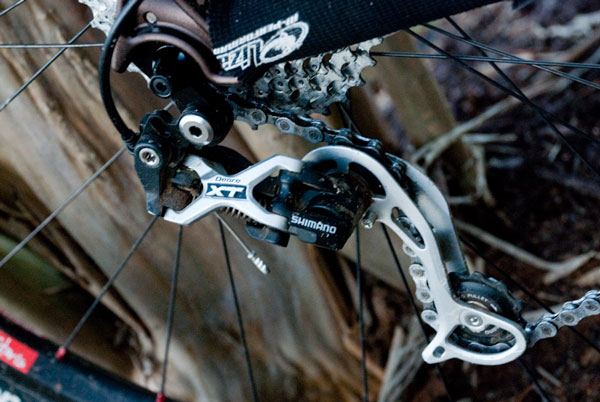 On test was the new XT Shadow rear derailleur, SL Rapid Fire Plus shifters and top pull front derailleur. New for 2009, the Shadow rear derailleur has a lower profile design than typical Shimano rear derailleurs.
From Shimano.com:
SHIMANO SHADOW RD: low profile design intended for more aggressive riding. Quiet: will not contact chain stay. Super low profile design carries many benefits. Because of its low profile and single tension construction = no hitting chain stay in rough conditions.The result is smooth and silent performance.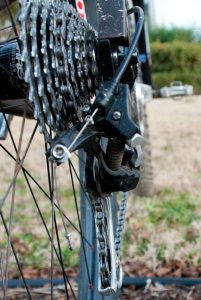 Install and setup is the same as any other Shimano shifting system with their 2:1 pull ratio. Takes a little bit to get things dialed in, but once the cables have stretched and you have your barrel adjusters set, you are good to ride for awhile without adjusting. The Shadow rear derailleur does sit tucked under the chainstay as advertised and…while we really wouldn't have known unless the regular version was installed…we didn't have any issues with smacking the RD up against rocks and dirt walls. It seemed to stay nicely out of the way as you can see by the lack of scratches on the outer cage.
Shifting on the rear was crisp and consistent and the 2:1 actuation ratio gives a lighter feeling to the front paddle as you move up the cassette. While I didn't notice any slap against the chainstay (something that Shimano claims doesn't happen with the new Shadows over their traditional RD's), there did seem to be a lot of chain movement on the longer travel bikes. A tighter tension on the cage, a slightly shorter cage or a chain tensioned on the bike itself would have remedied a lot of that.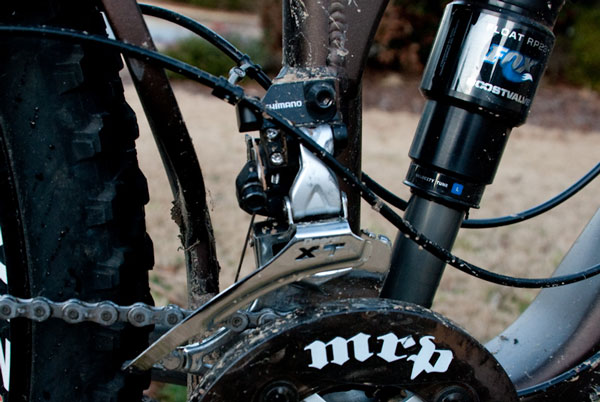 What can you really say about a front derailleur? You want it easy to setup and you want to forget about it after that. The Shimano XT front derailleur has really become the go to option for mountain bikers as there are not really any competition on the market. It works, it works consistently and is about as easy to setup as a front derailleur can be.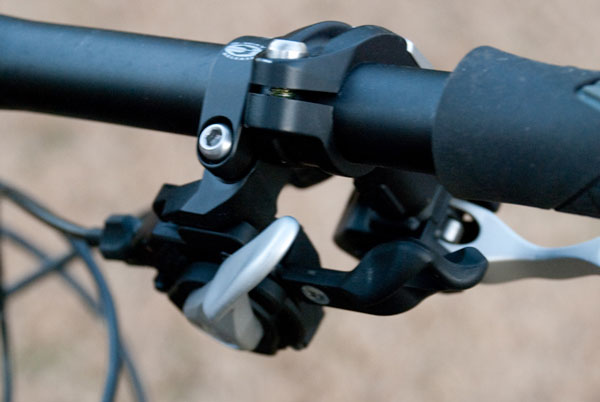 The Shimano Deore XT shifters are Shimano's 2way design with the front paddle (loosening paddle runs down the cassette or chainrings) actuating in either direction. We saw this introduction from Shimano shortly after the release of the SRAM shifters that only go in the push direction. While having the option to go in either direction is nice on the trail, it did make that front paddle a little bit too long. I found that the front paddle would hit my hand during riding, so I had to move the shifters inboard on the bars more than I would normally. As a result, the front paddle was farther away from my thumb which made quick shifting harder. I would like to see the front paddle get a shorter arm to prevent any interference with my hands during riding.
The shifting action was light and precise with the front paddle having a great ergonomic feel to it has you throw up the cassette or chain rings. The black and silver design matches the rest of the set nicely and blends into the rest of the chaos you have up around your handlebar area.
Shimano Deore XT Hydraulic Disc Brakes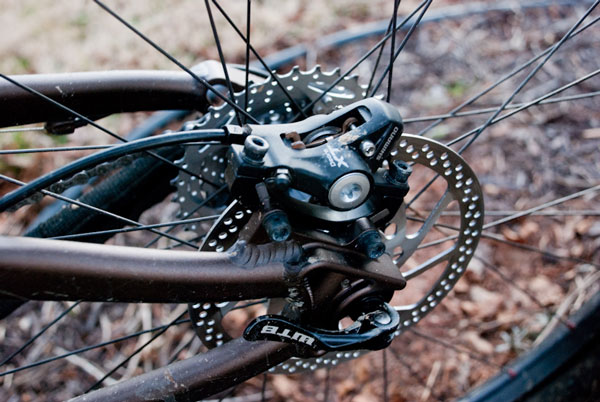 The Shimano Deore XT hydraulic disc brakes got a complete redesign in this model year. The new mono-block design and lever design is stiffer and lighter (claimed 233g) over the previous models. The Shimano XT hydraulic brakes do use mineral oil over hydraulic fluid, so keep that in mind if you go to bleed your brakes.
The braking action on the XT brakes was smooth and consistent. There was accurate modulation throughout the stroke giving me plenty of braking control on the trail. With minimal noise or hassle, they also proved to be very reliable after numerous runs. With the 180mm rotor setup, I didn't notice any significant brake fade over long downhill runs as the power remained all the way to the bottom.
However, it did seem like there was a little bit of a dead spot in the beginning lever stroke as the first 1/2 inch or so in pull had zero affect on braking. This was consistent across several sets, so I wonder if this has something to do with the way the master cylinder is setup in the lever body.
The calipers each have a direct line without the aid of a banjo fitting for install. In future revisions, I would like to see at least a banjo fitting at the caliper to aid with install and hydraulic line routing.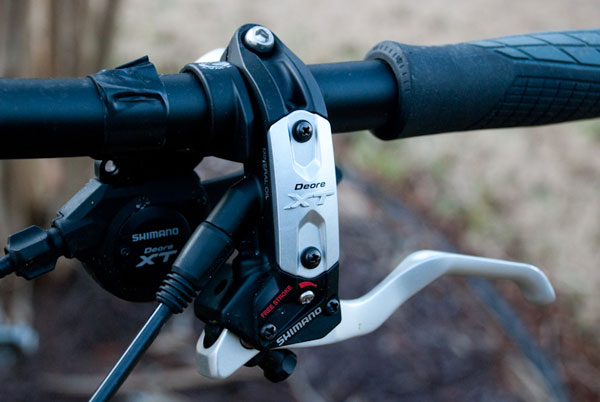 The Shimano Deore XT hydraulic brake lever has a nice feel to it. The actual lever has much of the same feel as that first time I laid my hands on the original XT v-brakes when they came out years ago. The lever allows for easy one finger braking with a light touch through the stroke. Reach adjustments are made through the black barrel adjuster found at the top of the lever body and adjustments can me made on the trail with gloves on. While Shimano does include a "free stroke" adjustment via a screw on the lever body, I didn't really notice much of a change when messing with this setting. Having an external bite adjust that is similar to the reach would be a nice addition.
Shimano uses a single bolt attachment for the lever. While I would like to see a 2 bolt clamp for easy of setup and adjustment, I actually ran into a problem with their current design. The Shimano single bolt clamp comes out so far away from the bar that it interferes with adjustable seatpost levers (I actually electrical taped the bar to raise the Gravity Dropper switch above the lever clamp). With everyone else on the market going to a 2 bolt clamping design, this is something Shimano needs to take a close look at for future revisions.
Final Thoughts – Shimano Deore XT Component Group
Shimano has come to the table with another solid setup for mountain bikers. The cranksets are still the best in the industry and with the improvements to the hydraulic brakes and rear derailleurs, Shimano is stepping it back up and providing the bulk of the mountain biking industry with a solid, consistently performing setup. There are a few things I would like to see tweaked and updated, but overall…this upgrade to XT has been one of the best since its release.
What I Liked About The Shimano XT Group
Best crankset in the industry
Solid shifting with a lighter feel
Shadow derailleur actually does stay away from rocks and other trail features
Great braking modulation and power
Consistent, quality look throughout the group
What I Didn't Like About The Shimano XT Group
Single bolt brake lever attachment dated and interferes with adjustable seatpost switches
Dead spot in beginning stroke of brakes
A little bit too much chain movement off rear derailleur
Front paddle on shifter too long…interferes with hand while riding
Where Can I Buy XT Parts?
Open Letter To Shimano
Note: This is the first time Mountain Biking by 198 has written an open letter to a mountain bike component manufacturer, so we will see how it goes!
An Open Letter To Shimano
Dear Shimano,
Over the years, I have watched you create mountain bike parts that are considered a must have amongst many enthusiasts. Your new SLX, XT, XTR and Saint lines for 2009 look like a huge step forward for your product line and I am excited to see new looks and technologies brought to the table for the recreational mountain biker. As we move forward, I look forward to seeing what else Shimano releases.
The reason for this open letter to your company is my frustration with your hub production. For many years, I ran your XT hub set. During those times, the XT hub set was known for its quality build and free spinning characteristics. While they did not have the best engagement in the industry, they did provide a hub that was worthy of carrying the XT name. 
Over the past couple of years, Shimano has killed their reputation in the hub market. The M756 hub is a disgrace to the XT brand name and Shimano's engineering capabilities. Not only does the hub have poor engagement, but now that engagement is sloppy and delivered in a less than ideal package. I understand the need for a budget hub for OEM and lower end builds, but the XT lineup is known for high performance at a mid-range price, and the XT hub does not deliver.
I believe that the mountain biking community is looking for a new direction from Shimano regarding their hub production and engineering. We can look at your other components and see that you can deliver a quality product at almost any price range. What is confusing is why you do not deliver this same quality and price with your hub sets. 
For the purposes of bike reviews, I remove any wheelsets that are based around your XT rear hub. I feel that it actually takes away from the ride of the bike. Instead, I install models from Hope, Chris King, Hadley and others that provide a more dependable, performance centered ride.
For 2009, you have made some improvements to your hub line and introduced a XT wheelset. I have not ridden these sets, but from what I can tell…it seems like more of the same. Many of the 2009 model year bikes are still being spec'ed with last years XT, so I expect to see that for some time while you try to flush out old inventory.
Make the XT brand name deliver XT build quality and bring the XT hubs to their rightful place as a high performance hub at the XT price point. 
Regards,
Robb Sutton
Mountain Biking by 198