Video: Junior World Champion Trials Biker David Bonzon Goes for a Ride
There seems to be a new spark in trials mountain biking that we haven't seen since the peak of Hans "No Way" Rey. A lot of this is thanks to the recent YouTube superstardom of Danny MacAskill. David Bonzon is the Junior World Champion…and he has some skills. Check out the video from Epic TV.
"David Bonzon rides a trials bike and only happens to be the best in Switzerland. And Europe. And in the world. Yep, he holds the world champ titles in all three junior categories. He lives only an hour away from the Epic headquarters, so we asked him to give us a tour of his hometown of Montreux, Switzerland. He took us to one of the most unlikely trial spots, the Chateau de Chillon, and this is what happened.
EpicTV would like to thank the staff at the Chateau de Chillon, for more info go to www.chillon.ch
To find out more about David Bonzon, go to www.davidbonzon.com"
Video: Drew Bezanson Is Back – Insane Tricks and Transfers
Back from injury, Drew Bezanson is back and looks like he is in the best shape of his life by the looks of this video. The competitors in the Dew Tour is going to have their hands full this coming season. The transfers and trick combos he is pulling off at Joyride 150 are just insane. The last gap transfer in the video is HUGE.
Drew Bezanson is back! Shot at Joyride 150 Bike Park.

Music: Pretty Lights – If I Could Feel Feel Again

Shot with:

Panasonic HMC150
Canon 60D
Canon EF 24-70mm f2.8
Canon EF 50mm f1.4
16×9 EXII Fisheye
Rode NTG2 mic
Rode Video Mic

Filmed & Edited by: Justen Soule
Bike Commuting Safety: Claiming the Lane vs. Riding on the Sidewalk
Take the sidewalk or the road? This is the pressing issue of safety for some many bike commuters. And many new cyclists make the mistake of sticking to the sidewalk because it seems less intimidating when you consider the other optional traffic-filled road. I myself, came to the decision after a dangerous accident with a car making a left turn when I road my bike through a crosswalk. The car struck my bike, throwing me off and caused severe injury to my right leg which forced me to spend 6 months in rehabilitation. Luckily I was smart enough to contact a personal injury lawyer in Denver, which is my hometown, and seek compensation for my injuries.
Surprisingly, many cyclists are dead set on the sidewalk because they assume it's the safest place to ride. Unfortunately, they are mistaken, the sidewalk isn't very safe for bicycles at all and this is why:
The sidewalk offers poor maneuverability on a bike. Sure, you don't have to worry about being struck by a car from behind, but you'll have to dodge running kids, people walking dogs, elderly folks who are unable to clear the way fast enough and other cyclists coming at you head on. So youíre not only a danger to yourself, but to pedestrians as well!
Drivers in cars on the road are not looking for fast moving objects, like bikes, on the sidewalks. This is why it's imperative to get off of your bike and cross street on foot while pushing your bike. Otherwise you risk getting struck by a left or right turning car.
The surfaces of sidewalks are not maintained for bike traffic. You could be facing potholes and other uneven surfaces for riding.
In many cities, itís illegal to ride on the sidewalk and cyclists face tickets should they choose the sidewalk and endanger pedestrians.
Equally dangerous, for entirely different reasons, is choosing to ride on the extreme right side of the road due to the following threats to cyclists:
You increase your chances of getting hit when car try to squeeze past you in the same lane.
You ride in a blind spot of any approaching cars. Imagine you're a car approaching the tail end of another car. The car in front is moving very slow so you follow a little too closely, but what's the harm? Suddenly, the first car swerves around a cyclist, but as the second driver you didn't notice the cyclist as it was traveling in behind the first car. As the second driver, it's too late to stop because didn't realize the cyclist was on the road until it was too late.
6 reasons why claiming the lane is your safest option as a cyclist
Drivers will automatically make room for you.
Drivers will be forced to slow down when you claim the lane in order to pass you.
You are now in the field of vision of other drivers. It's important to be visible to other drivers on the road and ahead, in the middle of the lane is where drivers keep their eyes peeled for other cars. Claiming the lane means you will be seen by cars approaching you from behind and the side, just as much as you will by oncoming traffic.
You will protect your tires this way. Where does all the dangerous debris and litter collect? It pools on roadsides where it can cause a fall or puncture your tires. Take to the roads for the flattest and safest riding surface available to cyclists.
You'll enjoy a stress free ride on the road where it's safer, easier to peddle and the risk of being struck by a car is lessened.
You are making the roads safer by riding there.  Cyclists who claim the lane have a long term effect on road safety by spreading a 'share the road' mentality. If drivers are forced to watch for you, they will be more aware of sharing the roadways with other cyclists, motorcycles, pedestrians in crosswalks and other vehicles.
This article was written by Colleen Harding who is a freelance writer that loves commuting by bike.
It's Your Ride – Cinecycle Productions Urban Biking Video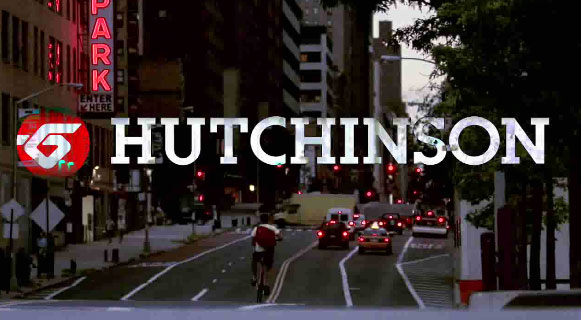 I first saw this video months ago actually. In this short put on by Cinecycle Productions funded by Hutchinson tires, we follow two very unique riders through the city. Other than being a complete sucker for a Masi fixie, this video illustrates how much cycling can mean to two completely different individuals. As a rider that loves just about anything that pedals, this video is a reminder that there is no "right way" to enjoy pedal propelled forward motion. The bicycle has been around for ages and as the sport and lifestyle continue to grow, we are able to enjoy this mode of transportation in ways we never thought possible. There is no "right way" to ride a bike…just the fact that you are riding one is all that matters…
The guy on the Masi fixie has some pretty sick skills to make thing even better. Riding a fixie is a skill unto itself and he makes it look easy…
It also has to be one of the best promotional vids I have ever seen for tires.
Directed by Daniel Leeb of Cinecycle Productions.
This short film features Alfred Bobe Jr. and Fatimah Durkee. The film spins a visual ballad between the two cyclists experiencing the city in their own unique ways. Both cyclists are city dwellers who amidst the chaos of the concrete jungle have created a private and peaceful psychological space as they traverse the streets. They are both alone and yet they are both very much aware of each others presence. The film speaks to the harmony with one's environment that can be found while riding a bicycle in a city and the synchronistic connection we can have with those we have not even met. The short was commissioned by Hutchinson tires.
Part 1: Bend The Trend By Bike by Pieter Parmentier
Republished on Urban.Bike198.com with permission from Pieter Parmentier
English summary
Cycling to Copenhagen in December, 700 km in five days and all alone? This seems to be quite an unusual plan and so it is, but for a very good reason.
I explained it like this in one of my mails to friends abroad: "I am going there by bike and will represent my granddaughter who is to be born next week. And I will also bring climate drawings from Dutch children (and the footprint of my granddaughter) to make clear that the climate negotiations are important for us and crucial for future generations."
Apart from the cycling I wanted to participate in the mass demonstrations expected on saturday the 12th and I had an invitation for the following sunday.
With me, things like this start with a trigger and the intuitive notion: 'it can be done'.
The trigger was the thought that being a granddad brings certain responsibilities. And as I explained above, climate change is not going to influence our lives much but it certainly will have great effects on generations to come. After this, the plan formed itself. I wanted to participate in the demonstrations as the representative of our granddaughter, whom I hoped would be born in time. If possible I wanted to take part in some of the other events and I wanted to produce as little CO2 as possible while executing the project. The idea to collect climate drawings from children and bring them with me to Copenhagen was the finishing touch, especially if I could also bring our granddaughters footprints (see above).
Apart from the plan I also had some time available to go to Copenhagen, some money, support from my family and quite a lot of experience in cycling. Although a cycling expedition through Germany and Danemark in winter was not to be undertaken lighthearted, I expected that my experience in Tibet and Peru would be sufficient for a proper performance.
However, some circumstances proved to be quite different, as always. Beforehand I knew that cycling in an almost flat area would be easier than crossing mountain chains like the Himalayas or the Andes. But winter in Europe is raher different from the desert/mountain climate. It happened to be very wet. Besides that I was bringing some 25 kg of stuff, cycling an average of 150 km every day and I contracted the Mexican flue the week before departure.
Our granddaughter Eline cooperated very well by being born on the 22nd of November, almost on the day she was due. Two days later my mother died which was expected but still sudden. She had been ill for a long time. Grandfather and orphan in two days time.
After writing Jacqueline Cramer, Minister for the environment in the Netherlands, about my cycling plan she immediately invited me to meet and have a photosession. This would make it easier to get the publicity I needed for the whole project. You probably ask yourself if this is how easy things normally work out in Holland but no, it is not. But it helps if you have known someone like Jacqueline for some time.
The same goes for the invitation I received from Jacqueline McGlade, director of the European Environment Agency, who has her HQ in Copenhagen and organised several events during COP15.
Werlte, 6-12-2009
7,5 hours cycling, 155 km, arrival 16.00
Just in time I recovered from my illness and at sundaymorning when the alarm clock went off at six there was no chance left to opt out. The weather seemed fair enough and at eight o'clock a crowd had assembled in our backgarden. One of them was granddaughter Eline with her parents Marieke and Marco. This was really a great surprise because when they left our house the evening before they had not given any indication they would return so soon.
Some cyclists were there to accompany me part of the route. And of course Dineke my wife was there to kiss me goodbye. She must have thought after 35 years she knew her husband well enough to predict his exotic inclinations, but alas.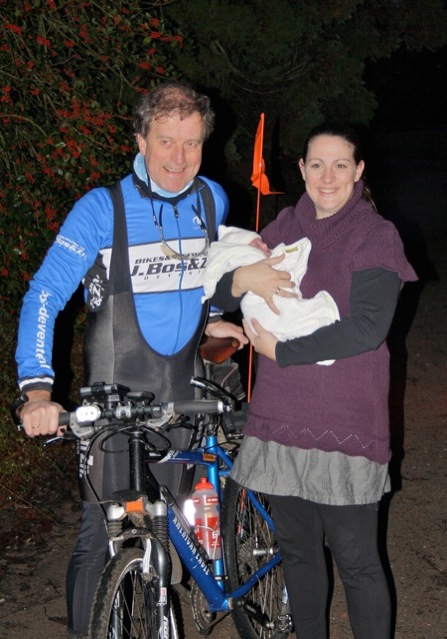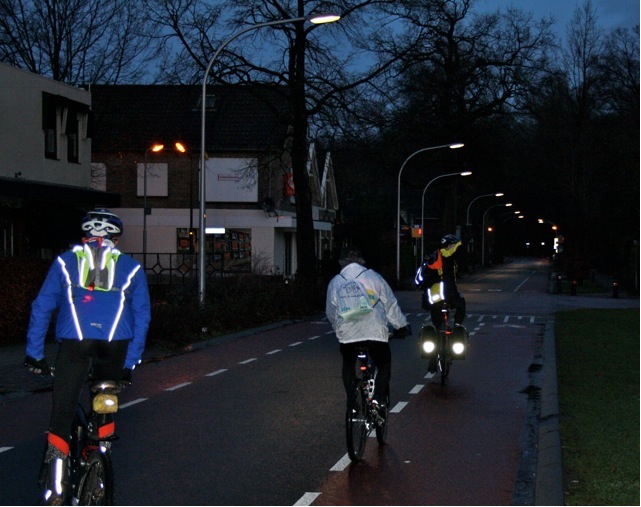 Having fun was part of the plan and there were several opportunities on the way. Cycling to the Dutch – German border I met several men who were also doing their exercise. Our little talks usually started with the question: "where are you headed?" "I am going to Copenhagen"…………… "No, really?" Or I would ask: "Do you know your way around here?" "Yes, I think so". "Which way do I go to Copenhagen?" "………….. No, really?"
After a fine sunrise it started to rain and it did not stop anymore. Probably I was under the same cloud all afternoon (I had the wind behind me).
Another source of amusement were the names of places in Germany. Cycling through the towns Meppen (smacking), Twist (quarrel) and Vrees (fear) made me look around for happy people. At least they did not look frightened to me. Further on names like Bovenmoor, Hemmoor and Moorausmoor indicated I was riding through swamps (moor) and indeed this part of Germany used to be a huge marshland.
As you might expect such an area is not densely populated and it turned out that finding a meal and bed in winter in the dark is no sinecure. After 155 km of cycling the very first and only hotel that was open and had a room available was called Hotel Cramer (which is also, as you recall, the name of our environment Minister). The owner with the same name looked as if she had some doubts about this guest and right she was for I must have been definitely the dirtiest cyclist or even man she had ever seen.
A few days later the owner of the B&B offered to wash and dry my clothing, probably because it was stinking to high heaven.
On sea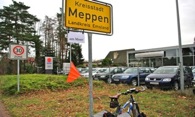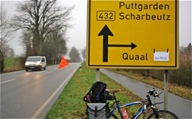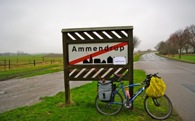 A small one-man but harmless campaign was the sticking (and photographing) a text to the place-name signs saying: aan zee, am Meer or ved haved which means 'on sea'.
An advantage of having the wind behind you, apart from going faster, is that if you take a wrong turn the wind will be in your face and the same goes for the rain. If the rain stops you are probably heading in the wrong direction.
The weather was however not like that every day. There was some sun on one day and no wind on another and it was raining icewater on the last day. I just had to keep the water in my clothing warm enough to survive and managed to do so just long enough.
Cycling through Germany you will immediately notice the sustainable energy difference with the Netherlands. It is really amazing that the Germans managed to get so far ahead in the generation of solar, wind and other sustainable power. And that when they also had a tough time joining Western and Eastern Germany and the huge investments that took.
by Pieter Parmentier
Is Your City Commuter Biking Friendly?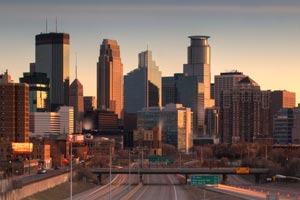 I hear a lot of talk in the bike commuting industry on ways to get more people to commute by bike to work and for leisure. On paper, it sounds like a great idea. There is less footprint on the world, cleaner air, more exercise, healthier population, obvious monetary savings…
But…what it really boils down to for the bike commuter is their surroundings. Typically, pro "use a bike for everything" people live in urban areas where bike commuting is widely accepted, encouraged and supported. In other areas of your country, there are areas that can not support those same actions as a way of life. With urban sprawl and the increased need to find places of employment outside of a normal commute time, commuting by bike has become increasingly difficult for many riders who would prefer to use this method of transportation.
In Atlanta for example, very few of the cycling community actually lives downtown. Most of them, are in the outlying areas of the city in suburban communities where commuting to work on a bike is not a possibility due to their 30 minute car commute (or longer).
Is your city commuter bike friendly? Yes or no and where are you located?