First Look: WTB TCS Customized Integrated Wheel System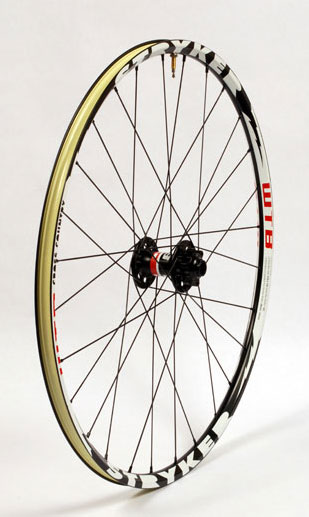 For 2010, WTB is releasing new lineup of wheels implementing their TCS (tubeless compatible system) to provide a lightweight wheelset option to compliment their lightweight TCS lineup of tires. The idea is to bring high volume, lightweight, tubeless tires to a lightweight wheel setup to bring down overall rotational weight while still getting the benefits of running tubeless.
The 23mm wide AM version is going right in line with the trend of wider rims at a lower weight that was all started with the Stans ZTR Flow rim that we have reviewed earlier. With higher volume, lighter tires (something WTB is known for), the wider rim profile allows the tire to expand farther and have a better contact patch with the ground.
I'll be interested to see how the new WTB Stryker wheels perform on the trail when we get a review set into Bike198. It looks like WTB is making a step forward in improving their wheelset lineup by providing a stiffer lightweight wheel. Without a hands on look and ride, that is about all I can assume at this time.
Specs on the new Stryker Wheels
WTB Stryker Wheels Feature:
All Mtn version (23mm wide) or XC version (19mm wide)
TCS -tubeless compatible system
UST type hook bead
Channel on rim
Straight pull on spokes all the way to "swelbow"
Bladed spokes
Also available in 29er
Steel inserts on freehub, to prevent marring or scratching
Standard QR or 15mm front hubs
Use with tubed tires or tubeless tires
780 grams rear wheel weight
The WTB Press Release
INTRODUCING WTB's TCS CUSTOMIZED INTEGRATED WHEEL SYSTEM
WTB's new TCS (Tubeless Compatible System) Wheel System is the newest option for light-weight tubeless tires, rims and wheels which allows riders to fully customize their set up for specific terrain and riding style. Features include WT69 metal alloy, tubeless compatible rim with light weight rim tape, bladed WTB spokes with SwellBow, alloy nipples and a stainless steel cartridge bearings with dual labyrinth seals.
WTB worked with a team of professional riders and engineers to develop the TCS Customized Integrated Wheel System. The product development team included WTB President Patrick Seidler, head of Product Development Mark Slate, and pro racers Mark Weir and Jason Moeschler. The team successfully made TCS technology compatible with all UST, ISO and ETRTO standards, tires, rims, and wheels.
The crew at MTBR.com got a chance to talk to Chris from WTB on the new wheels as well. Check out that video below.