Review: Hive Fifteen.G XC/AM Mountain Bike Crankset
The Hive (recently merged with e*thirteen) has come to the mountain bike component marketplace with some impressive new gear. This Fifteen.G crankset marks the first of crank in their line and promises high performance, low weight and a lower price than you are normally used to from a weight weenie setup. The beautiful black ano blends with just about any mountain bike perfectly, so let's take a spin and see how these impressive cranks performed on the trail.
the Hive Fifteen.G MTB Cranks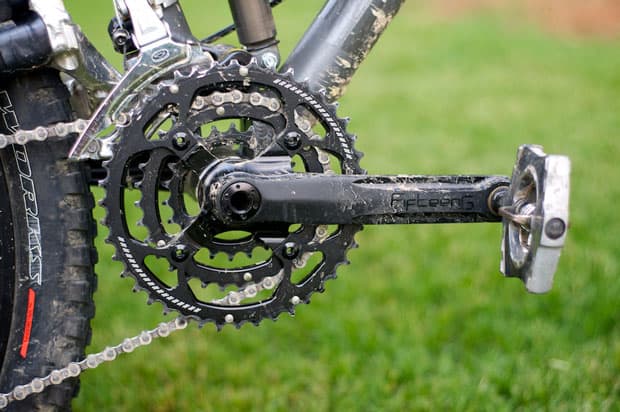 From bythehive.com:
Fifteen.G brings you cutting edge mountain bike components. If we can't engineer a product that provides a tangible benefit, we'd just as soon work on something else. (Don't expect to see a Fifteen.G (insert something stupid here) any time soon. Just saying.)

The Fifteen.G crankset uses a novel combination of features to provide a class leading value in a lightweight cross country/all mountain crankset. Total weight with bottom bracket: 802 grams.

Forged and CNC machined arms are attached to a 30mm aluminum spindle using a proprietary polygon interface (Based on DIN 32711 P3). The cranks spin on an oversized external bottom bracket bearing system, including an integrated non-contact shield.
Weight: 711 grams
Arm Material: 7050 AL
Arm Lengths: 170, 175, 180
Spindle Material: 7050 AL
Ring Material: 7075 AL
Ring Sizes: 44/32/22T
BB Shell: 68, 68E, 73, 73E
Chainline: 50mm
Colors: blackout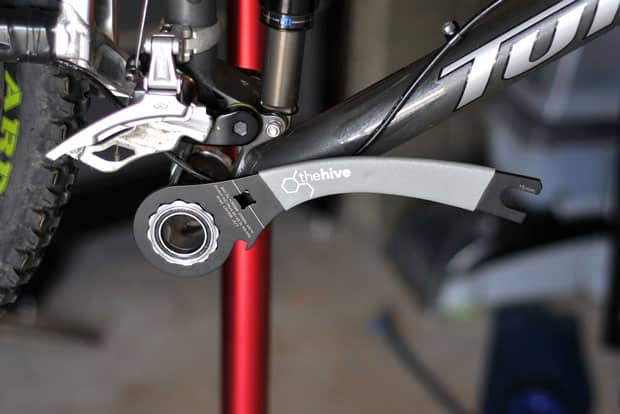 Installation: the Hive Fifteen.G Cranks
The Hive Fifteen.G bottom bracket setup is a proprietary hex that is installed with the Hive's bottom bracket tool. This oversized bearing setup (not included with purchase of the cranks) provides a smooth rolling platform for the Hive Fifteen.G cranks. One of the unique features you will find on this bottom bracket is a external plastic bearing protector (pictured below) that protects the bearings from the elements as you hit the trail. It simply snaps on and you are set.
The Hive Fifteen.G cranks use a bottom out bolt on design where the non-drive side crank arm is threaded into the spindle. By using spacers and a wave washer provided (pictured below), you adjust the bearing preload tension based upon the tolerances of your bottom bracket. After a couple of trial and error attempts, you find the right combination of spacers that allows the cranks to spin freely without any side to side play. The Hive recommends you grease all of your points of contact and spells this out clearly in their in-depth instruction manual. Be sure to use a torque wrench on the bottom out bolt to insure proper torque is applied.
While I typically prefer the Shimano method of installing cranksets, this bottom out design is much better than the comparable system from Race Face. After some ride time, I had everything set in and spinning smoothly. Two washers are also provided for pedal installation.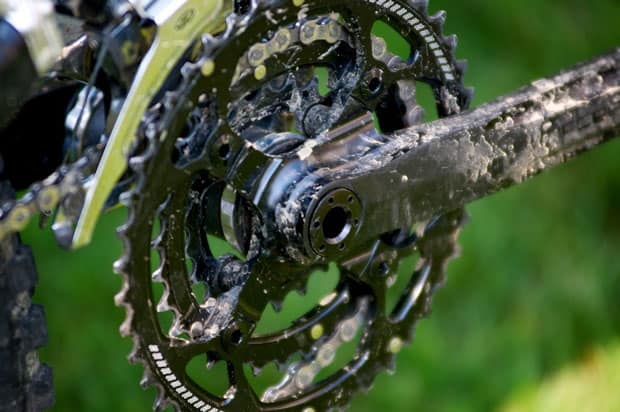 On The Trail: the Hive Fifteen.G MTB Cranks
Now that everything was installed and spinning smoothly, we hit the trail with these new cranks from the Hive, so let's see how they did after getting dirty.
General Spinning and Observations
The first thing I noticed when I got into some dirt was how freely they spun as you just pedaled along. When the cranks are setup correctly, there is no noticeable drag caused by the bottom bracket or installation. The crank arms provided adequate clearance on the Turner 5.Spot frame and enough Q Factor where I didn't feel like my shoes were hitting the crank arms while riding. Everything just seemed to work as I headed for chunkier sections of trail.
Shifting Performance
Transitioning between the rings on the Hive Fifteen.G's was painless. The chain efficiently shifted between all of the rings regardless of where you were in the cassette. Whenever I needed to make quick up or down shifts under load, the chain dropped and climbed without any hard transfers or drops. Simply put…it just worked. Over the course of the testing period, there wasn't any significant chainring wear, but with the all aluminum design, I am going to expect to have to switch them out faster than the steel counterparts.
Durability and Stiffness
The black ano finish on the Hive Fifteen.G's is extremely durable. I am partial to black cranks to begin with (even powder-coated my XT's), so a durable black finish is right up my alley. One of the downsides of running black cranks is that wear shows up almost immediately and is really easy to see on the dark contrast. As you can see by the pictures, the Hive Fifteen.G's barely even look used under the dirt. For those of you that are used to wearing huge spaces into your cranks, the thinner profile and harder finish on the Fifteen.G's will be a welcomed change.
When the trail got really rough I did notice that the Fifteen.G crankset was not quite as stiff as some of the burlier sets I am used to. However, this is an ultra-lightweight XC mountain bike setup so some of that was to be expected. The Hive does have a stronger crankset for more aggressive abuse (e*thirteen DH set) if you are looking to get into the type of riding that requires more travel. For XC, light AM and race setups, the Fifteen.G cranks were plenty stiff enough and transferred power to dirt efficiently.
Overall: the Hive Fifteen.G Crankset for Mountain Bikes
The Hive came to the market with a fantastic set of cranks. With a highly competitive weight (802 grams with bottom bracket) and a respectable price ($275 for the cranks; $43.00 for the BB), the Hive Fifteen.G's should be seen on a lot of mountain bikes in the near future. I especially liked how durable these set of cranks were on the trail.
Positives: the Hive Fifteen.G Crankset
Lightweight Design
Competitive Price
Great Looking and Durable Finish
Great Shifting Performance
Bearing Protectors On Bottom Bracket
In-depth Install Manual
Negatives: the Hive Fifteen.G Crankset
Bottom Out Bolt On Design Requires A Little Trial and Error
Availability: New…so a little bit hard to find
Bottom Bracket Install Requires the Hive Tool
If you are looking for a lightweight crankset that won't break the bank like some of the others on the market, the Hive Fifteen.G's are exactly what you are looking for.
Click here to pick up your own set!