From the whole crew here at Bike198, thank you for subscribing to the newsletter. You will be receiving periodic emails from us that will improve your riding, wrenching and keep you updated with what is going on with the site.
Your free eBooks
Download "Drop the Hammer" by clicking here.
Download "Extract the Power" by clicking here.
One-Time "Thank You" Offer: Ramped Riding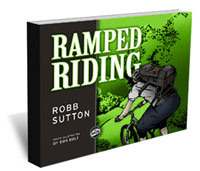 As a thank you for subscribing to the Bike198 newsletter, I want to extend you a one time only $5.00 discount off of Ramped Riding, our 130+ page eBook on how to increase your skills as a mountain biker. Want to become a better rider but just need to know how? Ramped Riding is your ticket to better mountain biking. With beginning to advanced mountain biking skills and techniques, Ramped Riding will bring your mountain biking to a whole new level.
To get your copy of Ramped Riding for $5.00 off, click the add to cart button below.
Ramped Riding comes with a 100% satisfaction guarantee.