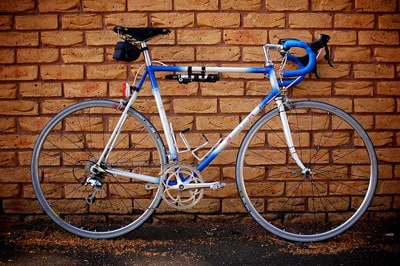 It's a story that has been told a thousand times. As we gear up for charity rides, group rides and spins out on our favorite stretch of land, we begin to size up the riders around us to figure out which wheel we want to grab onto to and who we need to watch out for in terms of sketchy riding. We check out their bike, equipment and how they interact with other riders. We watch as they clip in and take those first pedal strokes. We read the sponsors on their jersey and shorts wondering if they are just rocking another team's kit or are they actually part of the team itself. Are we fast enough to hang with that group? Too fast for the other? It is a routine we fall into as cyclists that is completely natural as we prepare to hit the road with riders we have never spun with before. However, 9 times out of 10…we can not judge a road biker by the quality of his bike.
You Can't Judge A Road Biker By His Bike
If there is one aspect of the pre-ride dance that has always held true it is one universal truth.
You can not judge a road biker by the quality and expense of his bike.
While you may think…he is on an XYZ bike, so he must be consistent and fast…you are often times going to be wrong. At the same time, discounting riders on older, less expensive bikes can bring you a surprise as after the start, they completely rip your legs clean off.
We all like new parts and bikes, but the quality of your bike does not dictate how you ride on the road. It also does not make you an authority on anything. Respect on the road is earned through experience and track record. Typically, the guy that is running their mouth the most about parts and how great all of their stuff is…is the guy you want to watch out for while the guy in the corner keeping his mouth shut with calves the size of tennis rackets is about to show you how to ride a bike.
There is nothing wrong with having the best the cycling industry has to offer (I am a self proclaimed parts junkie), but…at the end of the day…it is about how you ride the bike you brought and not what bike you are riding. You don't have to be the fastest or pull the paceline the longest, you just have to get out…enjoy the ride and obey the rules of the road. When you work on holding your line and working well in a paceline, that gets noticed much more than which model bike you are riding that day.
Enjoy your bike and your parts…and put them to use on the road.
Image by ah_blake
What do you think?
comments