angela brown
Buying Your First Mountain Bike
by Angela Brown
I read an article today on bicycling.com about how to choose your first mountain bike. This article all in all was a good one with some good advice. There were some things that I wanted to post that I agree with, and some things that I tend to disagree with.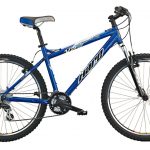 Buying a bike now a days is an investment. For instance, to get a quality bike, you are going to shell out some money. How much money can be relevant to the type of riding you want to do, how often you ride and down to the good ole budget that you have set for your purchase. The article on the web site bicycling.com stated that you should buy a bike that will fit you when you are the mountain biker you want to become. In a sense, you should buy a higher end bike to fit your advancing skills. It may be more than you need at the moment, but with some miles under your belt and increase in your skill level, you will be glad that you did in the long run.
One reason I agree with this logic is it will save you money in the end. If you buy a beginner level bike and ride religiously for a year, say 2-4 times a week, your skills will advance and you will be looking at trading up. Just like in cars, you will loose money doing this. I sold my old mountain bike and bought a new one, and I made half of the money I needed to buy the new bike doing this. Luckily, the bike I had was older, and I had gotten my use out of it anyway, so to me, there wasn't much of a loss to me. But if you decide to do this a year after you bought your lower-end bike, you will loose money, an possibly, more money than if you had just bought the higher end bike to begin with.
Now the issue of budget. Most of us today are thinking more about gas prices and how to save on groceries because every time we go to the store food gets more expensive. When you have decided to buy that new bike, most bike shop staff will talk you through your purchase and gauge to make sure that you are buying a bike that will fit your riding style, but you may not be asked all the right questions.
In the online article, the writer had gone to a bike shop to help her sister buy a bike. The sales guy asked her where she would be riding the bike, "oh, on flat trails". After going to the register, he asked her how far she usually rode, "oh, about 20 miles"… You could tell he knew that he missed out of the chance of a higher commission because the bike she bought would be fine for the terrain she was riding, but a higher up bike would have been more comfortable for those longer rides. I think her budget was in range to the bike she bought, but you can see where the right questions would have made a difference in the outcome and overall satisfaction with a different customer.
Where I tend to disagree with this logic is most people have good intentions when it comes to getting in shape. How many of us have workout equipment in our homes that serve no better purpose than a prop for our other things and to simply collect dust? If you know that biking may or may not fit into a weekly routine and you have a habit of not sticking with something, then, maybe the entry level bike is the better deal. Again, you have to be the honest gauge for that decision because making the right one before you buy will save you money down the road.
This article was modified from an article on Bicycle.com.
The Goal is Improvement. Right?
Post written by Angela Brown
As I have branched out and began riding more trails in the Pisgah National Forest, I can see how far my riding has improved over the years.  I am still not the fastest or the most agile rider out there, but I have improved none the less.  I mean my husband, Stephen, and I go out and ride, usually, the same trails every week.  We learn the curves, the rocks, and the roots, and over time, parts of those trails that seemed impossible become possible.  I believe that improvement in riding skills is the key to growing in this hobby that we have all become to love.
Recently, one of our local trails was revamped.  The trail is a favorite, and just about any weekend, you see a stream of bikes heading up to the almost highest point in Bent Creek to take the ride down Green's Lick.  This trail was built and is maintained by our Pisgah Area SORBA (PAS) group.  I also work in the Bent Creek area and know that it was a weekly occurrence for the local fire and rescue people to be dispatched to that trail to scoop-up some rider that took it too fast and either wiped out or wiped out another rider.
PAS decided that Green's Lick needed some new technical features to raise the perceived difficulty of the trail, so a few rocky sections were placed and some sweeping banked curves were built.  It worked.  I know that those sections will slow people down, which is what needed to happen, but it will also gave riders a trail to ride that will challenge their abilities and give them something to work up to.  The problem arose when a few mountain bikers didn't like what was built and removed part of the technical sections, which prompted additional work days from PAS to repair.
I lead beginner rides for people that are interested in seeing what the sport of mountain biking is about.  I know that a new rider would see the rocks at the beginning of Green's Lick and probably choose to walk across them, but that is fine.  It boils down to this, there needs to be a variety of trails out there for each level of rider. When you don't have challenging trails, the trails that exist will be made challenging by riders going way to fast and causing accidents.
We are lucky to have the Pisgah National Forest in our backyard, and the trails that we have access to are for different rider abilities.  Now that we are beginning to have different levels of trails being built in Bent Creek, new riders need to remember that not every trail is beginner friendly, and as their skill levels improve over time, so will their appreciation of the many challenging trails we are so fortunate to have here in WNC.
Spandex Not Required
Post written by Angela Brown
Many people think of one thing when it comes to cycling, those tight spandex shorts, wondering "do I have to wear those shorts if I want to get serious about cycling?"   Well people you are in luck.  Bike clothing manufacturers are making baggy bike shorts for those of us that want to be comfortable on the trails and not self conscious.
Many people just forgo the whole spandex thing by not buying cycling shorts at all not knowing that if they plan to spend any length of time on the bike that the shorts perform a very needed function.  Cycling shorts have a padded "chamois" that help protect your sit bones.  Many people that do buy the cycling shorts make one or several mistakes.  They wear other shorts over top of the spandex cycling shorts to be more modest.  This method works, you still have the protective chamois, but you also have the other shorts bunching up and that can be down right uncomfortable, not to mention making you look like a newbie.   The next mistake that people make is they wear underwear under their cycling shorts.  This is an announcement…  "you go commando under your cycling shorts!"… baggy kind or spandex kind.  Hey, before you make that "ewwww" face, you really need to try it and see how much more comfortable it is.
So you as you may be asking, "well, you mentioned the baggy cycling shorts, tell me more."  Their are several companies that make these types of shorts, and they are the rage with mountain bikers.  One such company that makes really comfortable mountain bike clothing is Hoss Technical Gear.  Their shorts are great, and they look like normal shorts, so only you will know they are bike shorts.  This is wonderful if you have to stop by the store after a ride because there are no worries about changing clothes or covering up.  These shorts are about the best out there, and they are reasonably priced.  Another company that has a good baggy type of short for men and women is Fox.  The "Fox Diva" for women is a personal favorite of mine because it is comfortable and well made.  The Diva isn't as well priced as the Hoss shorts, but hey ladies, don't we always have to pay more for our clothes?
So check out your local bike shop or your favorite online cycling gear retailer and get a cool pair of baggies.  You don't have anymore excuses on why you don't want to ride your bike!
Going Clipless
Post written by Angela Brown
Last year I changed my pedals to clipless and I have never looked back. I enjoy the control and extra power that I get from being clipped in to my pedals. I have a friend of mine that changed just this year to clipless and is also finding the new pedals to be a big improvement over her standard bike pedal. She was asking for some pointers and to keep her in mind as she started off on this new endeavor.
As for my transition into the clipless world of mountain biking, I was changing from toe clips to clipless and had to retrain my brain on how to get out of the pedals. With toe clips, you pull your foot backward and the clipless is more of a side step motion, so my brain had a disadvantage to begin with. I also made the mistake of riding clipped in all the time and not gauging when I should be clipped in or when I should just pedal without being attached. I had to learn to predict my dismounts and not just stop and then worry about removing my feet. "Trust me," this little detail led to several funny tumbles at 0-1 mph.
I was in my local bike shop a few times, and they offered to let me ride the rollers for as long as I needed to get the hang of it. Thanks guys, but I need to master this with as little of an audience as I can and in a busy bike shop was not my idea of private! Then one of the guys told me to remember "reverse Dorothy." Instead of clicking my heels together, I needed to move them apart. I thought this was funny, and actually, it stuck in my brain, "could this be the key?"
My rides after that resulted in fewer mishaps, and I could actually tell that I was getting the hang of it. So after blaming the pedals for being the wrong ones, my clips on my shoes being in the wrong place, it was the mud, a rock was stuck… I finally decided that the pedals were fine, the shoes were fine, it was just my learning curve that needed to end. I can't imagine riding any other way now. I always thought in the back of my head that people that used these types of pedals on mountain bike trails were just crazy, or they were just begging for a broken neck. Now I understand why they are so great, and why everyone that bikes should eventually move up to using them. You get more for your pedal stroke, and you can pull and push at the same time, which is tremendous when you are climbing or accelerating down a trail.
As for my friend and her new pedals, I think she is doing pretty good with them and already can tell a difference in her rides, so look into clipless pedals. You can get a good pair of Crank Bros. starting for around $35+ and they work like a dream.
Riding Tips for Women
Post by Angela Brown
Summer time brings the excitement of planning evening or weekend rides. I know that I try to plan a few rides a week, and most of the time, my husband and I ride together. There are times when he isn't able to go, and I still want to use my time to hit the trails. Some women don't think about it and just go ride, but I always have a bit of reservation in the back of my head because not everyone that is out on the forest trails are there for the sheer enjoyment of the forest.
I am not trying to say that there are Charlie Manson's lingering behind every other tree, but as women, we need to be more cautious. Unfortunately, last year we had a older couple that was hiking near the Brevard area that were kidnapped and killed. It took months to find their bodies, and their killer, hopefully, has been caught. Gary Hilton, who also kidnapped and killed a female hiker in Northern Georgia, is believed to be their killer. So not to advertise a dark subject, but we need to be mindful and careful when heading out to the trails.
I ride with others and never ride alone. I joined a local Women's Cycling Club, and there always seem to be someone that can go ride. You just have to plan ahead and send out an email to the group ahead of time to get everyone together.
Always tell someone that you are riding, including where you are going, how long, and when you will be back. Carry a cell phone so you can reach help if needed. I always call when I am back in my car and headed home.
Carry a first aid kit. You never know when you might need it, and it will be priceless if you do.
Carry an extra tube, pump, and some duct tape. If you have a puncture in a tire, you can place the duct tape over the puncture on the inside of the tire which will help hold you until you get off the mountain.
Carry some nutrition, a GU, a granola bar.. something just in case your ride goes longer than you plan.
Keep these points in mind, while heading out or on the trail, and you will stay safer and feel more relaxed while on a ride.
Written by:
Angela Brown