Niner Jet 9 RDO Carbon: Sexiest 29er To Date?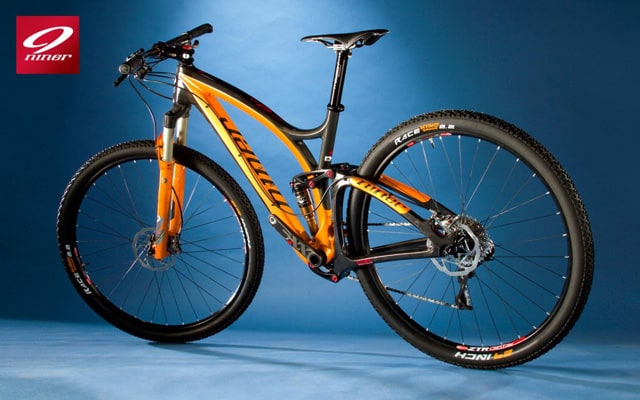 Hot on the heals of the new licorice black color scheme of the carbon Air 9, Niner Bikes releases the much anticipated Jet 9 RDO carbon full suspension 29er. When Niner released the Air 9 carbon, we knew the Jet 9 would eventually get the carbon treatment. It only seemed logical to bring the same technology to the 100mm full suspension platform. With bikes like the Santa Cruz Tallboy selling faster than demand, the market for lightweight, carbon 29er race bikes is one of the fastest growing in the industry.
From the looks of it, Niner Bikes really took their time with the Jet 9 carbon and released a bike that should keep the trademark Niner ride while providing a lighter platform for racers and XC enthusiasts. It is also arguably the best looking 29er full suspension bike released to date…especially in the black licorice color scheme.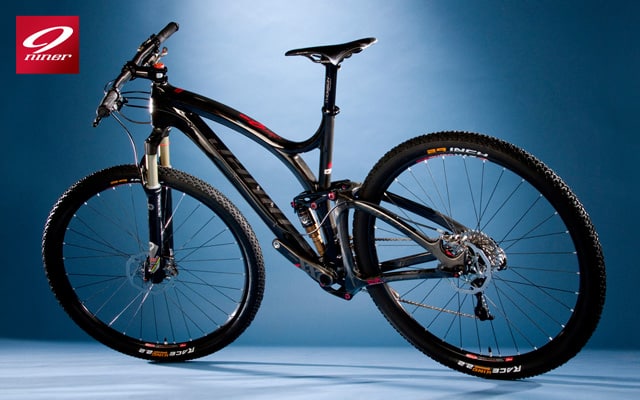 Some specs on the new Niner Bikes Jet 9 RDO carbon 29er:
Carbon full suspension from the only 29er only mountain bike company
Patented CVA suspension is efficient in every chainring. You won't find this design on other bikes.
100mm of race-ready rear suspension
Compatible with 100 – 120mm tapered forks
Custom valved Fox Float RP23 with Kashima coating
Custom forged suspension linkage and unique Niner suspension hardware
Next generation internal cable routing
Precise alloy hardware interfaces for brakes and derailleurs (direct mount front der)
The Niner Jet 9 RDO uses the same, newly patented CVA suspension (U.S. Patent No. 7,934,739) that can be found on the rest of the full suspension lineup from Niner Bikes. The frame also comes with Niner's C5 warranty giving the carbon a full 5 years of warranty from the factory.
With custom forged linkage and proven design, the carbon frame of the Niner Jet 9 RDO also promises to be a very stiff setup for serious speed on the trail. At a retail of $2,599, the Jet 9 RDO is not going to be in everyone's budget, but it will certainly be grabbing the eyes of everyone at the trailhead when one pulls through. It will be interesting to see how this bike rides in comparison to the regular aluminum Jet 9 that is still one of the fastest 29ers Bike198 has tested to date.
For more info, check out NinerBikes.com.
Niner Jet 9 Review Update
After multiple rounds on the Niner Jet 9, what does 198 think about this rocket? It is fast…blazing fast actually. The Niner Jet 9′s 80mm travel platform makes for a great all day ride platform that is incredibly efficient. This bike has been put through some abuse in everything from groomed local hot spots to all mountain, technical epics and so far…it delivers exactly as promised. As I ride the Niner Jet 9, I have to remember that it is a purpose built machine. If you are a rider looking for the perfect 24 hr race bike or a pure cross country zealot, then the Jet 9 is built to make you faster and more consistent.
The 80mm rear travel CVA linkage is plush enough to take the edge off providing greater traction to the large 29er wheel, but with integrated suspension curve ramping…it also will not have harsh bottom outs. This gives the illusion of a bottomless feeling, but what I have found is that the bike does a great job of sitting in its travel. There is no uncontrolled mid stroke wallow or unpredictable damping action. The spec'ed Fox RP23 does help, but even during long, extended climbs, I found the bike worked much better if you just left the Propedal off. The larger wheel diameter and short suspension travel kept the rear tire on the ground without losing much efficiency…at least not enough to worry about.
I was a little worried about the geometry numbers with my riding style. The Jet 9′s geometry keeps to the hardtail line for Niner to provide a quick turning full suspension rig. I typically like super tech, fast downhills and I think I made Chris Sugai a little nervous when I told him what I was going to do to this bike. After multiple runs on my favorite North Georgia hot spots, I can see that this bike can handle a beating. Does that mean I didn't over ride the frame and it feels like it has 6″ of travel but rides like a hardtail? Absolutely not…any 80mm frame is going to show its limits with rock gardens and air time, but the good news…the bike was still ticking after the abuse.
I still have a couple of rides I want to get in on this frame before I do a full out review detailing everything I have mentioned here, but so far…this bike has been a blast to ride. Stay tuned for more postives/negatives on the Niner Jet 9. A full review on the frame and the ride is coming soon.
More on the Niner Jet 9…
Image by: Laurie at mylifeonabike.com