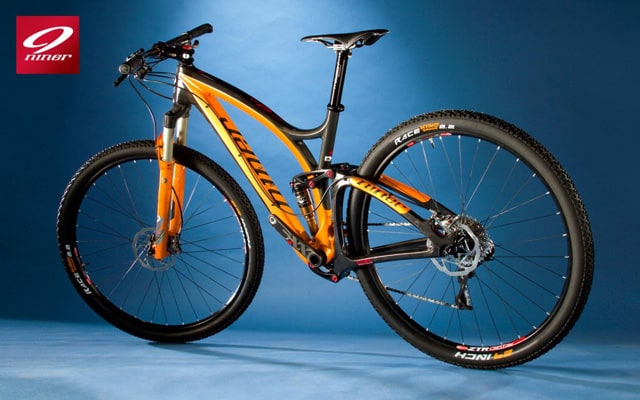 Hot on the heals of the new licorice black color scheme of the carbon Air 9, Niner Bikes releases the much anticipated Jet 9 RDO carbon full suspension 29er. When Niner released the Air 9 carbon, we knew the Jet 9 would eventually get the carbon treatment. It only seemed logical to bring the same technology to the 100mm full suspension platform. With bikes like the Santa Cruz Tallboy selling faster than demand, the market for lightweight, carbon 29er race bikes is one of the fastest growing in the industry.
From the looks of it, Niner Bikes really took their time with the Jet 9 carbon and released a bike that should keep the trademark Niner ride while providing a lighter platform for racers and XC enthusiasts. It is also arguably the best looking 29er full suspension bike released to date…especially in the black licorice color scheme.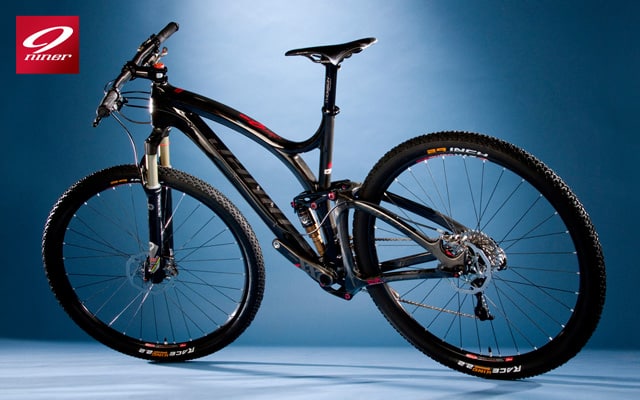 Some specs on the new Niner Bikes Jet 9 RDO carbon 29er:
Carbon full suspension from the only 29er only mountain bike company
Patented CVA suspension is efficient in every chainring. You won't find this design on other bikes.
100mm of race-ready rear suspension
Compatible with 100 – 120mm tapered forks
Custom valved Fox Float RP23 with Kashima coating
Custom forged suspension linkage and unique Niner suspension hardware
Next generation internal cable routing
Precise alloy hardware interfaces for brakes and derailleurs (direct mount front der)
The Niner Jet 9 RDO uses the same, newly patented CVA suspension (U.S. Patent No. 7,934,739) that can be found on the rest of the full suspension lineup from Niner Bikes. The frame also comes with Niner's C5 warranty giving the carbon a full 5 years of warranty from the factory.
With custom forged linkage and proven design, the carbon frame of the Niner Jet 9 RDO also promises to be a very stiff setup for serious speed on the trail. At a retail of $2,599, the Jet 9 RDO is not going to be in everyone's budget, but it will certainly be grabbing the eyes of everyone at the trailhead when one pulls through. It will be interesting to see how this bike rides in comparison to the regular aluminum Jet 9 that is still one of the fastest 29ers Bike198 has tested to date.
For more info, check out NinerBikes.com.