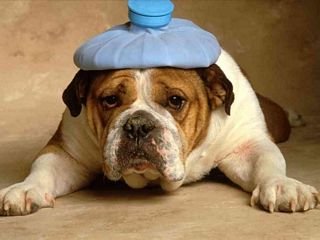 For as long as I can remember, my head feels like it has been stuck in between a vice and cranked down after hard weekend rides. The calm before the storm is great. I pack up my gear, head out to get something to eat with friends…and everything seems fine.
Once I finally get home…about two hours later…a splitting headache/mild migraine steps in and takes over the rest of my day. About the only thing I really want to do is sit on the couch and close my eyes as it feels like my head is caving in. It doesn't happen after every ride, but it is frequent and a real pain in the ass. Finally, I decided to take a look around online to see what the "experts" say to try to combat this issue that apparently a lot of riders have after pushing their body to the limits out on the trail.
What Is A Riding (Exercise) Headache?
Riding headaches (more commonly known as exercise headaches) can be caused by a lot of different things while you are out on the trail. Often times, the headache occurs after riding and can even be known to start affecting you while you are still out on the trail.
These exercise headaches:
Are usually described as throbbing
Occur during or after strenuous exercise
Affect both sides of the head in most cases
According to WebMD.com
When you exercise, or exert yourself physically, the muscles of the head, neck, and scalp need more blood to circulate. This causes the blood vessels to swell, which can lead to a condition called exertional headaches.

Headaches that most frequently occur due to exercise or over-exertion include jogger's headache and orgasmic headache (sex headache). While these may occur in isolation, they are most common in people who have an inherited susceptibility to migraine (one or both parents have migraines).

It has been found that most exertional headaches are benign and respond to usual headache treatments. Some exertional headaches are particularly responsive to Indocin (indomethacin), an anti-inflammatory drug available with a doctor's prescription. Still, in order to rule out other medical causes — some of which can be life-threatening — a doctor should evaluate your headaches.
So what can I do to prevent these headaches?
The answer…not too much really. According to everyone from WebMD to running magazines to About.com, exercise headaches are more commonly found in riders that are already more prone to migraines. If you are, about the only thing you can do is take some over the counter pain meds and ride it out.
However, the most common cause of riding headaches among riders that are not migraine prone is dehydration.
Howard LeWine, MD, a clinical instructor of medicine at Harvard Medical School and Boston's Brigham and Women's Hospital, explained that the pain from a water-deprivation headache may occur at the front or back or just on one side of the head, or it may be felt throughout the entire head. Bending the head down or moving it from side to side often worsens the headache.
It's not known precisely how dehydration causes headaches. According to some experts, it's a by-product of the body's effort to maintain adequate fluid levels. The blood vessels narrow, reducing the brain's supply of blood and oxygen. According to LeWine, the brain can't feel pain, so the headache discomfort may result from pain receptors in the lining that surrounds the brain. The loss of electrolytes may also contribute to dehydration headaches.
The trick…drink enough water. While there are a ton of opinions on how much water you should be drinking an hour to get in the right amount of fluids, the truth is that varying conditions (exertion, sunlight, etc) can impact the "perfect amount" so keeping your body full of fluids at all times is essential. If you are starting to feel thirsty, you are already behind the 8 ball, so the trick is to drink and drink often…especially at the beginning of the ride when you might feel like you don't need as much.
Other Factors Resulting In Headaches
While dehydration is the most common cause, you can also be susceptible to other headache triggers while on the trail including:
Exposure to direct sunlight for prolonged periods of time.
Over exertion (sudden sprints, longer distances, etc.)
Improper Breathing
Lack of nutrition (or bad diet)
As always, consult a doctor if things get worse or you feel like something is seriously wrong. For this rider, it looks like I am stuck with the ride it out and pop a couple of pills when I get home technique to try to keep down the pain.
Do you get riding headaches? What have you found to ease the pain?