There is something special about unwrapping a Niner Green bike. The electric green against black carbon has to be one of the sexiest color schemes on the market today…and we have a shiny new Niner Jet 9 RDO in for testing complete with matching components.
A couple years ago, we reviewed the original Jet 9 in aluminum form and loved it. There is something about the way a Niner turns that makes it more nimble and flickable on the trail. That 80mm platform also took a beating in ways that XC race inspired bikes are not supposed to be able to. We even joked with the guys at Niner about the drops we were taking on that bike. I think I could hear them cringe on the other side of the line.
This Jet 9 RDO takes that same inspiration from the original Jet 9 and adds an additional 20mm or rear travel (100mm), carbon and RDO suspension which Niner touts as "Top level performance with no compromises".
The Niner Jet 9 RDO: Shimano, RockShox, Carbon and CVA
At the heart of the Niner Jet 9 RDO is Niner's CVA linkage. This dual link setup has a lower link that extends in front of the bottom bracket. This setup is supposed to create a vertical wheel path that Niner is known for. When you couple that with their geometry, it creates a bike that is supposed to not turn like a 29er…it is supposed to be quicker turning and more nimble like we found on the original version.
With the combination of the Niner Green and carbon work, it makes for a beautiful bike to look at. We can hardly even post a picture of this thing without people just going crazy. To back up the technology, Niner bolts up a Fox float CTD shock with Kashima coating to keep that rear wheel glued to the ground. A 142mm rear Maxle also helps keep everything together and stiff so the suspension can go to work. You will also notice that the linkage is carbon for a nice touch that keeps down on weight.
This large with XT build is weighing in at 24 lbs. 7 oz. without pedals. Given this is not the lightest build up…there is still a lot of room to move if you want to get super weight weenie on this bike. I have heard of builds getting into the sub 20 range but I would question durability of the components at that stage. Low 20's would make for the perfect balance.
As mentioned before, this Jet 9 RDO came equipped with the new Shimano Deore XT component group and the RockShox SID in matching Niner Green. Color matching the fork was a nice touch on an already great looking frame. Components from Niner Bikes round out the rest while American Classic wheels keep everything rolling forward. There are also nice touches like internal cable routing and some motivation from Niner on the top tube. "Pedal Damn it" is definitely something I have said to myself on numerous occasions.
We are really looking forward to getting this big wheeled bike rolling. Given our love for some of Niner's 29ers in the past, this bike is sure to not disappoint. It will be interesting to see how the additional rear wheel travel effects the handling of the bike and if it will be as durable as it's predecessor. The only way to really tell is to check torque settings and get it out on the trail. Be on the lookout for more as we get this long term test rolling.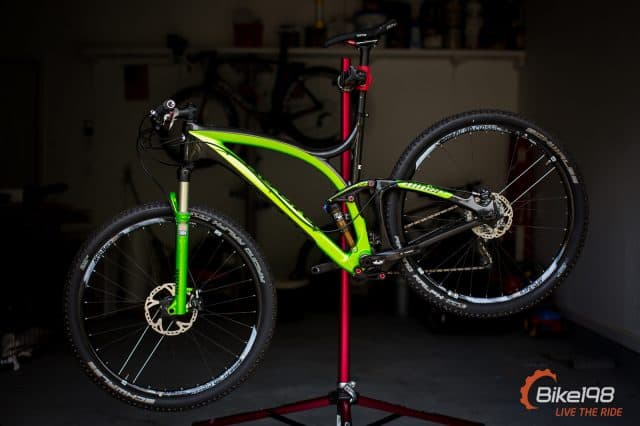 Thinking about buying a 29er? Check out this article on the differences between 26 and 29 inch mountain bikes to help make your decision —> 26 vs. 29er Mountain Bikes
You can also check out more on the Niner Jet 9 RDO by visiting NinerBikes.com.