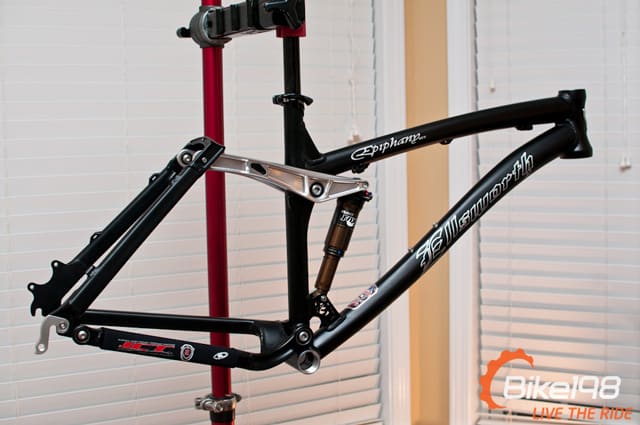 Just in to the Bike198 camp and next up for review is the Ellsworth Epiphany SST.2 frame in ago black. This 140mm (5.5″) rear travel mountain bike frame has been a staple of Ellsworth bikes for awhile and it is the flagship trail bike out of their range for that style of mountain biking.
As with all Ellsworth bikes, the Epiphany SST.2 gets their ICT (Instant Center Tracking) suspension design, but new to the Epiphany for this model year is the SST.2 tubing. The tubes are tapered, swaged and shaped to try to optimize strength and weight. This is also what gives the Epiphany its new, slightly curved top and down tubes look that is a change over the previous straight tube design. That brings this medium Epiphany down to 6.14 lbs. which is about 1/2 pound lighter than the previous generation.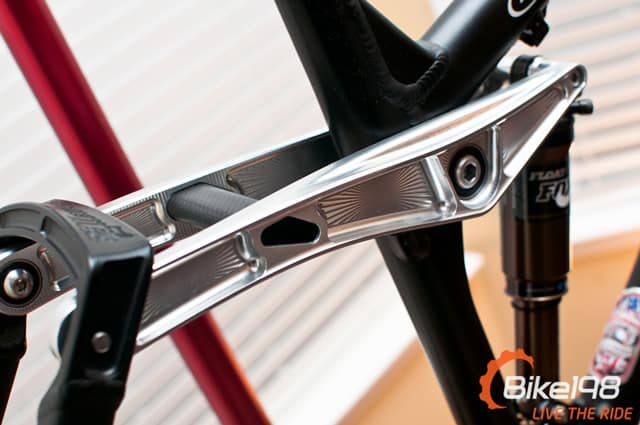 One of the distinctive styles of Ellsworth frames are the long aluminum rockers through the ICT suspension design that end up being a large focal point of the frame. For 2011, Ellsworth now allows you to add custom color kits to make your frame unique that includes the rockers, head tube badge, derailleur hanger, bolts and seat tube collar. This particular frame is in the stock silver on black.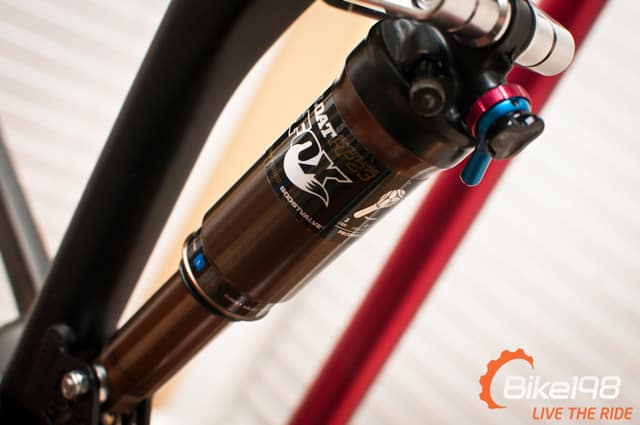 For suspension duties, you get the new Fox Racing Shox RP23 with the new Kashima coating adopted from their motocross program that provides for less stiction between the seals and shock shaft. While Ellsworth states that this rear shock is factory tuned, it does retain the ProPedal feature which used to be absent on Ellsworth frames.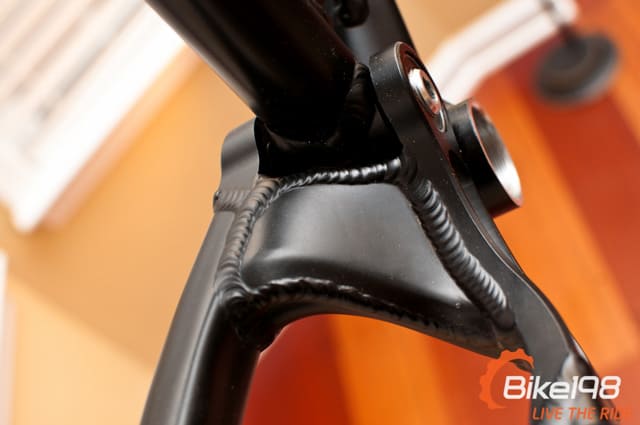 To round out the frame, the Epiphany SST.2 features well structured welds and full US based fabrication and manufacturing as you can see on the asymmetrical, CNC machined chain stays.
All that is left now…
We need to build it up and get it dirty to see how the new SST.2 version of the classic Ellsworth Epiphany performs on the trail. Stay tuned for more…
Discuss the Ellsworth Epiphany by clicking here and for more information on Ellsworth and the technology behind their bikes…check out EllsworthBikes.com.