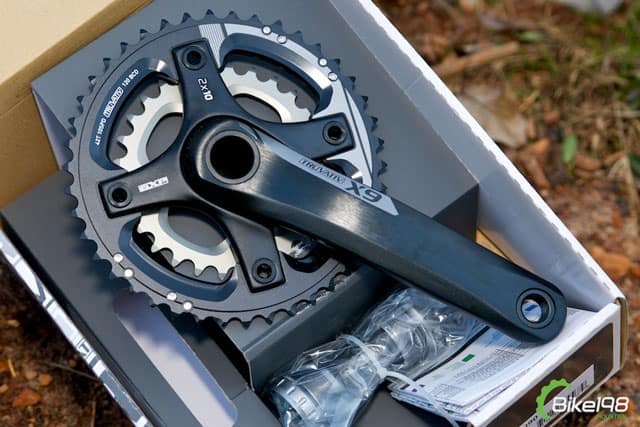 2010 was the year of 10 speed mountain bike components so to get the '10 season wrapped up and to get hammering on '11…we are reviewing the new X9 group from SRAM. With multiple color options and gearing combinations, this best seller from SRAM mountain bike components promises to fill the need of many OEM's and aftermarket customers as SRAM takes a big step forward in solidifying their lineups with unified branding. This particular X9 group features the harder geared 28/42 tooth crank matched with the large 12-36T rear 10 speed cassette in a gray that perfectly matches our Turner 5.Spot test bike.
From SRAM:
Performance Trail Technology No matter what you throw at it, SRAM X9 keeps coming back for more. The all new X9 family puts the SRAM 2X10 unrivaled shift speed and smoothness within easy reach of racers and experienced enthusiasts alike. Add Avid Elixir CR brakes with TaperBore™ Technology and you have performance trail technology you can trust to smoothly and quickly get you there and back again, no matter where "there" may be.
The SRAM X9 group has been a favorite amongst many trail and recreational mountain bikers for its X.0 like performance at a budget that is easier on the pockets. For sometime now, the crew at Bike198 has been running the speed counterpart for its durability and cost savings that does not sacrifice performance. We are excited to get this new group on the trail to see if it holds up to the same standard set by SRAM's previous X9 group as we bash it into rock and fill the cassette with tree limbs and mud.
Available options:
3 Color Options: White, Gray (tested) and Red
Multiple Crank Configurations: 26/39, 28/42 (tested) and 22/33/44 triple
Cassette Gearing: 11-23, 11-25, 11-26, 11-28, 12-25, 12-26, 12-27, 11-32, 12-36
The only products not included in our testing group are the new X9 hubs and front derailleur. Stay tuned as we get this component group dirty during some of the roughest conditions of the year.
Your Best Pricing On SRAM X9