For the better part of this year, the Bike198 offices have been riding the Niner M.C.R. 9 29er hard tail as part of a long term review. During this time, the Niner M.C.R. 9 has seen everything from casual rides at local trails with friends to all day epics and finally rounding the process off with a 4th place finish in the expert class of a local 6 hour event. The goal was to put this steel 29er hard tail frame through every single aspect of mountain biking we could imagine this bike seeing through it's life. At the end of the day…how did the Niner M.C.R. 9 do in the mountains of north Georgia?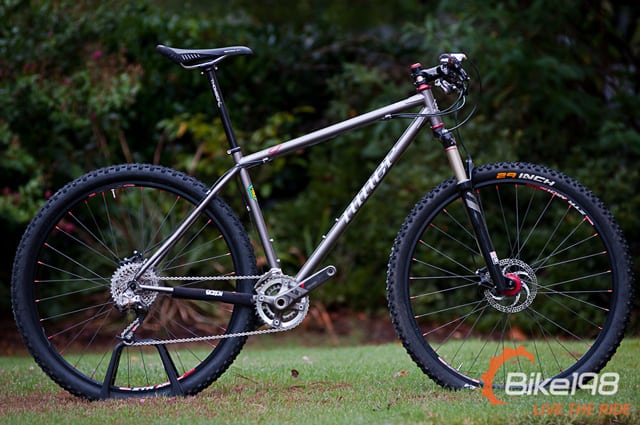 Specs and Info: Niner M.C.R. 9
The Niner M.C.R. 9 (short for Magic Carpet Ride) is a steel 29er hard trail frame from the crew at Niner Bikes. Niner is known throughout the industry for being 29er specialists and this frame is no different. Built up to be a purpose built, Reynolds 853 geared hard tail, the M.C.R. 9 is one of several hard tail offerings out of the Niner camp. With a MSRP around $849, the M.C.R. 9 comes in at the middle of the budget range for potential 29er hard tail buyers. It is more expensive than the budget options like Vassago but not quite into the 5 figure mark where you see some other boutique options.
Features of the Niner M.C.R. 9 frame:
A geared, steel hardtail for dirt connoisseurs
Custom drawn, 29er specific Reynolds 853 tubeset
angled toptube to maximize standover clearance
s-bend chainstays (fits 2.4 tires)
Niner's proven hardtail 29er geometry
Optimized for 80 to 100mm suspension forks
Disc brake only
Breezer style forged dropouts with replaceable derailleur hanger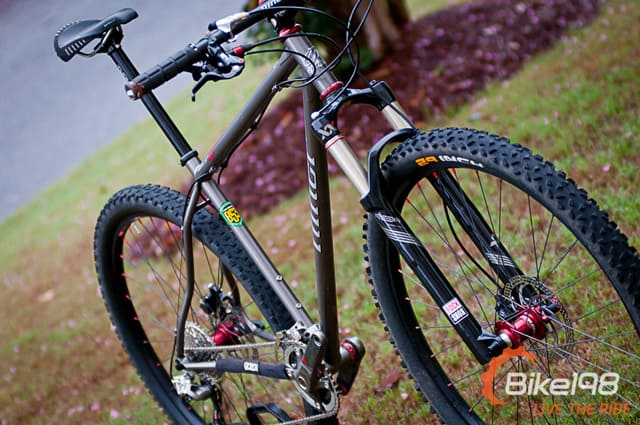 This particular M.C.R. 9 build came kitted out with some of the best the mountain bike industry has to offer.
SRAM XX Component Group
RockShox Reba XX (100mm)
Chris King hubs/headset/bottom bracket
Formula Brakes
Thomson Post and Stem
This brought the overall bike weight without pedals to 25.72 pounds (as weighed with an Feedback Digital Alpine Scale). If you wanted to drop additional grams, the wheelset, tires, post and stem could gain you well over a pound with a different spec, but for a steel hard tail frame that wasn't built with weight weenie measurements in mind…the Niner M.C.R. 9 does pretty well.
The Niner M.C.R. 9 is a geared specific frame (unless you go through the trouble of finding that perfect gear ratio). If you are looking for the same specs but with the ability to go single speed, Niner does offer the S.I.R. 9 which includes an eccentric bottom bracket with the same 853 Reynolds steel frame.
On The Trail: Niner M.C.R. 9 29er Hard Tail
As mentioned before, this Niner M.C.R. 9 saw a little bit of everything. From long days in the saddle with multiple FSR's to race day, a steel 29er hard tail is expected to be able to take a wide variety of riding conditions…so let's split them up and see how things went.
Casual Local Ride and JRA (Just Riding Around)
There are some days you just want to grab a bike and ride a local trail. If you are surrounded by XC trails like we are in the southeast, bringing your 30+ pound FS rig doesn't always make sense. The Niner M.C.R. 9 ended up being the perfect grab and go bike for some of the tamer local trails. The 853 Reynolds steel provided a great platform that took the edge off rocks and roots just enough to save your back from long term abuse while still being quick enough to enjoy dropping the hammer.
But where Niner really gets things right…is in the geometry of the M.C.R. 9. The 71 degree head tube angle (fork at 100mm) and 17.5″ chain stay length made the M.C.R. 9 a capable climber that also handled very well in tight, twisty single track. While some 29er hard tails feel really long in the trees, the M.C.R. 9 is able to handle them quickly while feeling stable and balanced. Over longer climbs, the steel frame helped keep traction over more technical areas that might be bounced around more on aluminum or scandium. Niner also built in the ability to run a 2.4 rear tire added to the cushion factor. With high volume, low pressures and the steel frame…you almost feel like you have a little bit of rear wheel travel.
Long, All Day Rides
Where the Niner M.C.R 9 really performs its best is on long days. If your weekends consist of 30+ mile days in the saddle that are a mix of forest service roads, double track and single track, you will find that a steel hard tail 29er will become one of your go to rides. The M.C.R. 9's geometry worked out incredibly well on longer, gradual climbs. Leg power went directly to the ground the steel frame did a great job of making gravel roads and double track rocks almost disappear.
On days where the squish of a full suspension bike would have been too much (even lighter ones than this build)…the Niner M.C.R. 9 does a great job of conserving rider energy for the long haul.
XC/Short Endurance Race Events
The last test of the M.C.R. 9 was a local 6 hour event that I ended up doing as a two man team. While the quick turning and stable climbing of the M.C.R. 9 made the bike do pretty well throughout the event, I felt like I really needed either an aluminum (or carbon) hard tail or a lighter full suspension rig. In fast, sprint oriented XC racing, the M.C.R. 9's weight due to the steel frame really starts to come into play. It also doesn't feel like it accelerates fast enough to hammer out of turns and attack steep climbs.
The reality is that the M.C.R. 9 was not built with the goal of being a fast XC race bike, but my guess is that many of these frames will end up seeing that duty at some point in time.
Conclusion: Niner M.C.R. 9 29er Hard Tail
The Niner M.C.R. 9 is a great balance of steel comfort and quick hard tail handling. For those that haven't ridden a steal hard tail before, the quality of the metal really does take just a little bit of edge off that makes longer rides easier. The whole "steel is real" slogan really does have merit.
If you are looking for a bike that will be able to go all day long without abusing your body to the point you feel like you can't walk the next day…a steel 29er hard tail like the M.C.R. 9 is your perfect balance. Hardcore racers are going to want to build up an aluminum frame that has quicker acceleration and the ability to go stupid light. The M.C.R. 9's perfect rider is more of a recreational or endurance rider that is willing to give up a some weight for comfort.
Good: Niner M.C.R. 9 29er Hard Tail
High quality 853 Reynolds Steel that gives a great ride quality
Dialed 29er geometry that handles incredibly well
Median price point that matches the quality build and handling
Great customer service out of Niner Bikes
Bad: Niner M.C.R. 9 29er Hard Tail
Won't work as a single speed unless you find that magic gear ratio
25+ pounds can be considered heavy by today's XC bike standards. Racers should opt for the aluminum counterparts as the weight adds up.
If you want a steel hard tail 29er that has the boutique ride without the boutique price and have no interest in SS'ing it…the M.C.R. 9 is at the top of our list currently in this market. Check out NinerBikes.com or your local Niner dealer for more info.
Discuss this review on the forums by clicking here.