A couple of weeks back, I wrote an article based upon an experience I had with a local competitive ride outlining why I am not willing to do what it takes to be competitive anymore. Well…I guess a friend of mine took that as a challenge as he convinced me it would be a good idea to do a local 6 hour race with him this past weekend.
I said "sure why not". He needed a partner for the event and I needed a put up or shut up one last time…
The "Race to the Sunset" 6 hour event at Blankets Creek was at one of our local trails. Seeing as this was the first time the event was actually run, it was cool to be apart of the start of a new race in the area. We were entering under the sport/expert class as a two man team to run the full 6. I loaded up the long term review Niner MCR 9 and got ready for 3 hours of race pace.
The start of the Blankets 6 hours was going to be a Le Mans start. The racers have to run a horseshoe loop to meet up with their bikes at the end and get to racing. We decided Dave was going to take the run and first lap since he is a better runner than I am and I need more of a warmup in high humidity. The formula for success for us was going to be having him take-off for the start and I would end in the dark where I am stronger. It played off of both of our strengths so that was the obvious way to head it up.
Straight out of the gate, Dave was up towards the front. As they came to the line to get their bikes…he was no where to be found. Did I miss him go by? Did he get hurt? Wait…there he is! What the hell happened? "Someone stepped on my shoe and it came completely off!" What a start…time to start playing catch up.
Dave did a great job on his first lap and made up a lot of ground. It couldn't have been easy on his heart rate and endurance to pass as many riders as he did that first lap to make up for the shoe incident.
The laps were a 9.35 mile combination of 3 different trails. The first had the steepest climbing, the second was the fastest of the 3 as it was the least technical and the 3 was the most technical. Fast laps were coming in at around 53 – 57 minutes (except for two friends of mine that set one at 47 minutes and 50 minutes lighting up all of the seasoned racers…but that is another story for another day).
Dave's first lap time: 55:53
My First Lap Out
Dave came in setting a fast pace. We made the handoff and I got to riding. The week and a half leading up to this race, I rode the Niner MCR exclusively. It had been a long time since I had ridden a hard tail full time and this first lap made me feel like a 3 legged dog. I was bouncing all over the place and unable to keep lines going through corners. Everything just felt off.
Given that…I tried to keep my mind on the task at hand and continued the catch up routine that Dave started on the first lap. At the time, it seemed like a terrible idea. All I could keep thinking in my head was "you are blowing yourself up and there are still 2 more laps to complete today". I ignored the voice in my head and continued to try to pick off as many riders as I could.
With my heart rate through the roof and legs screaming…I finished up the first lap feeling like death (highest temps and humidity of the day). I made my handoff to Dave and he went on his way.
My first lap time: 55:25
My Plan…
As soon as I got back into the pits…I had a plan set out from the beginning that I was hoping would carry me through the race.
Spin down.
Recovery drink
Eat a ton of grapes
Energy bar/goo
Gatorade
Warm-up
Wait for Dave
With the heat…it sounded like the best plan as I can not take in a lot of solid food during these events without feeling sick. It actually ended up being the perfect setup for me all the way through to the end.
For this stop, I also needed to figure on what the hell was actually going on with the bike. As it turned out, the saddle was at the wrong angle and there was only 16 pounds of pressure in the front tire. No wonder I was all over the place. That was a rookie mistake for not checking the essentials before I headed out.
After everything was set…I went back to the handoff area and waited for Dave hoping the second lap would feel better than the first.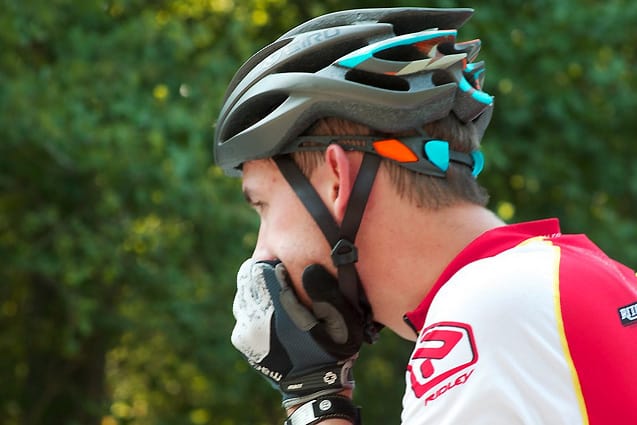 Photo by colinshome
Dave's second lap time: 56:20
My Second Lap Out
As I had hoped…my second lap out felt much better than the first. The bike was dialed, the steps I took in between laps was working and I felt like I was just railing the course. A slight drop in the temperature and humidity seemed to help out my lungs as well and I finally found a rhythm that was fast and not completely wasting my energy for the last lap of the day.
I managed to pick off a couple more riders while I was out and I came back to the hand off area somewhat confident that the last lap of the day would go pretty well. Even though I felt faster on the second lap, it did end up being a little bit slower but right on track.
The best way I can describe my second lap was that I found my race pace. It has been awhile since I have jumped into competition and really dialed myself in, but about 5 minutes into that second lap…I was a horse with blinders on. The pedal strokes seemed to have a beat, my breathing was high but under control, the entire trail seemed to get quiet and I was focused on making up time. I was in the zone.
My second lap time: 56:28
During my wait for Dave's 3rd lap, I did the exact same process as before minus the bike adjustments. Based on the feedback from lap 2, the bike was dialed and ready for lap 3. I hooked up my light and got ready to head out for my final lap with the extra weight. If I was going to pick up a lot of time during the race, the 3rd lap was going to be it as riders get tired and have to navigate the most technical part of the trail in the dark.
Dave's third lap time: 58:57
My Third and Final Lap Out
The first 2/3's of my final lap went much like the second. I found my rhythm and got to work. Ironically enough, my legs actually felt half way descent so I just started knocking off the trail in chunks preparing for the next section.
By the time I hit the 3rd trail in the series, I was feeling pretty good and on track for a similar lap time as before. However, I did know that this last section would be a little bit slower in the dark as I would have to pass riders and my legs were going to start to show the miles.
I was right.
I made up a lot of time on that last section of trail as riders got tired and had to navigate the rocks in the dark. This allowed me to make up positions but it also slowed down the lap time. I did what I could and tried to finish out the lap as strong as I could. Once I hit the flat section towards the finish, I dropped the hammer and tried to squeeze every last bit my legs had out hoping I could bring my tank to zero at the finish line leaving everything out on the trail.
I hit the finish and about cramped up…exactly how I needed to leave it.
My third lap time: 1:00:49
The Results and My Thoughts
Coming into this event, I wasn't expecting us to place all that well. There were some really fast riders showing up to this event that race all year long. Adding to that, I haven't really raced in forever and Dave just had a baby girl two weeks ago. We just pushed as hard as we possibly could leaving it all out on the trail. Surprisingly, that was good enough for a 4th place finish in sport/expert. I was stoked and not expecting that at all.
At the end of the day, we had a great time and I even had a couple of friends that made the podium in the 3 man team, SS and solo expert class (congrats to Chad/Wyatt, Matt and Mark). The event was also very well organized and seasoned despite it being the inaugural running. The organizers at SORBA Woodstock and Mountain Goat Adventures did an incredible job. Also, a thank you goes out to Reality Bikes for their support of Bike198 and Niner Bikes for the review bike that made this possible.
Will I be out there racing again?
Nope! While I had a great time and I was really happy with the finish, with a baby on the way in October…my weekends will not be filled with training and racing. You'll find me out in the mountains on a 5.5″ travel bike looking for technical terrain. That is really where I feel at home. I am glad I got the chance to get back out there and leave the competitive scene on a high note.  It was a great day and I am glad Dave talked me into getting back out there.
Here are my stats from the ride thanks to Strava (sign up for your free account here…it's much better than GarminConnect.com). Don't mind the wicked high heart rate…that is just how I roll.