An Open Letter To The Trail Head Bling Master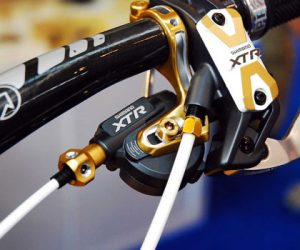 Dear Trail Head Bling Master,
If you are reading this (and you are probably not because you are actually searching for that next top end part you are going to buy), I want to let you in on a little secret. We all know your routine.
We have seen you come to the trail head with your bike that is color coordinated and blinged out with the latest and greatest the industry has to offer. The bike looks incredible propped up against your truck and the bench at the start of the trail. We watch you talk about parts, give advice and pine for the questions on your fully decked out rig. We see you on a regular basis with your bike, but there one large problem…we never actually see you RIDE that bike.
That's right. The gig is up. We know your bike does not get dirty as it serves as a trophy on your wall at home or on your rack. We know that every single pivot and part is immaculate because of low miles. The only person you are fooling…is yourself.
You might fool the trail noob…but you would get a lot more respect from us if you had less bike and more dirt.
Look…everyone likes parts. I am as guilty as the next guy over drooling over color coordinated X.0 parts, but if you do not ever use them…it is a waste of money. On top of that…I don't think you should give advice on part selection only because you buy a lot of parts. Every rider has different needs and a different budget and just because you buy the top end of everything, it doesn't mean they have to too.
I get a small chuckle every time you get passed by a guy on a Wal-Mart special because at the end of the day…it is all about the ride…not the parts.
Don't worry. There is still time to redeem yourself. You can still gain respect with your expensive colored out sled if you actually get it dirty. When we see you on the trail, there is no laughing or mocking no matter what speed you are pedaling. At least you are out there and not standing around talking about your bike. We can respect riding…but showing off at the trail head and calling that mountain biking will not fly.
Signed,
Those that ride.
Carbon Bling – The Ibis Mojo
Ham is building up another incredible sled, the Ibis Mojo. I will admit, I had my reservations about this bike when it was introduced, but even just a parking lot test will tell you that this is a great ride. Granted, this one has a Push'd Pike and RP23, so it has the best air suspension components available. The raw carbon look is even better looking in person and like always…pictures normally don't do it justice. It will be interesting to get some extended time on the DW Linkage. I have heard pretty good things so far, but time will tell.
This bike is going to have more flex than most frames due to the carbon, but it does appear that it can take a pretty serious beating.
Brian Lopes is now their factory DH racer, but we all know that he rides A LOT smoother than the average rider.
With the best parts on the market (X.0, XTR) this bike should perform flawlessly. Estimated final weight is right at 28 lbs.