The crew at Demon United got in contact with us earlier last month with some press releases regarding their new offerings for the mountain bike community in the form of protection gear. Specifically, they wanted us to take a look at their new helmet and pads. What really struck our attention right away was the addition to speakers integrated into the helmet. Since this was something new we really hadn't messed with before, we knew a review was in order…so here is a first look at the gear we got in from Demon before it gets smashed against the ground.
About Demon United
Demon started with a single product over 10 years ago by a pair of brothers based out of Salt Lake City, Utah. As you can guess by the url of their website (demonsnow.com), it was protection gear for the snow based sports. Their product offerings now range across multiple disciplines with over 150 products and now they are hitting our community with full force.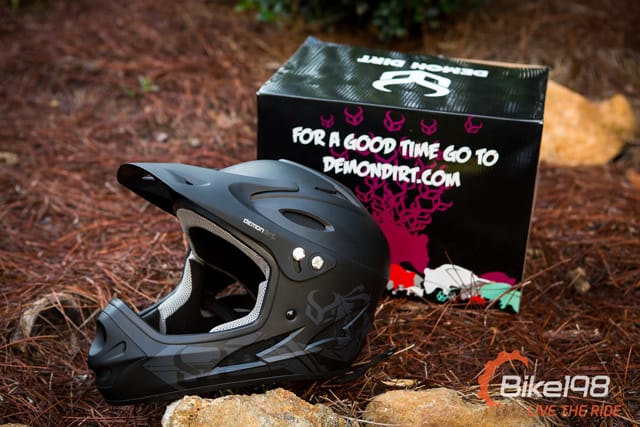 First Look: Demon Ricochet Full Face Helmet
As I alluded to above, the Ricochet helmet is really what caught our eye to start. While there are plenty of full face helmets on the market, the integration of audio into the helment itself is what really caught our attention.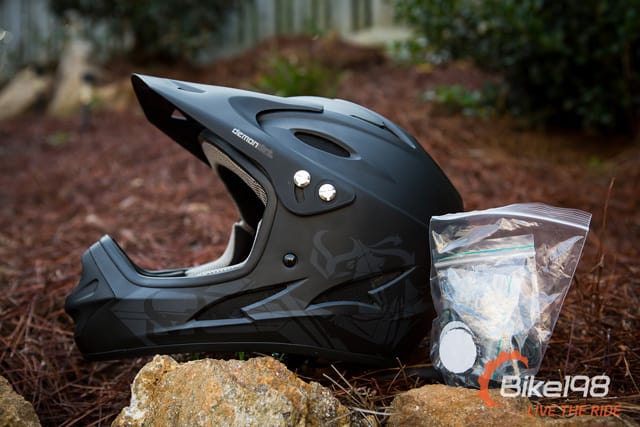 From Demon:
Demon United it excited to release the new Demon Ricochet and Podium full face Helmet. Both helmets are built with tons of features yet has a price affordable to every rider. Demon Dirt went with a stealth matte Black finish with a contrasting black graphic, a sure match with any outfit you want to wear. In order to compete as one of the best helmets on the market, Demon Dirt started by making a super light weight, high strength Injection molded polycarbonate shell. Polycarbonate is one of the strongest polymers available, which makes this shell extremely durable. Next, Demon Dirt put an adjustable visor and included aluminum screws (not the cheap plastic ones that come with most helmets).

The interior foam is an EPS liner that absorbs impacts with great effectiveness. Couple that with the plushy finished interior padding, the Ricochet and Podium helmets by Demon are ultra comfortable. The liner is also removable so you can wash the dirt and grim and keep the helmet looking and smelling clean!

The newest advance Demon has made to these helmets is equipping them with audio. Inside each helmet are two built in headphones and an A/V jack. Demon also includes an audio cord so no matter what devise your using, the Ricochet and Podium helmets are as ready as you are. "We are very excited about the audio, we are one of the first in the industry to try this," says co-founder, Brent Davidson. Demon is bridging the gap between wearing a full face helmet and being able to listening to music. Now, whether you're downhill mountain biking or riding BMX, you'll never be with out your music.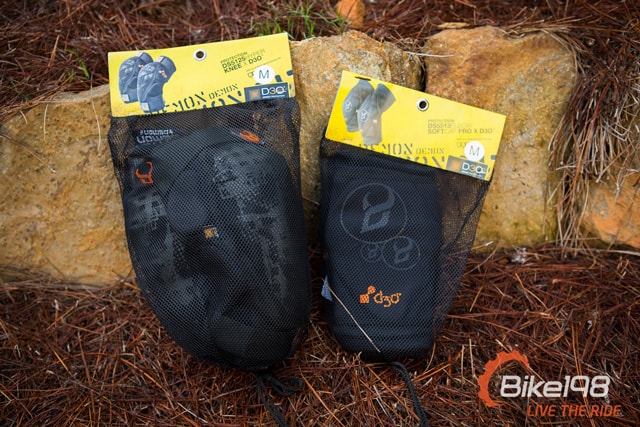 Demon Hyper Knee and Elbow X D30
The other products from Demon that arrived for review are the Hyper Knee and Elbow X D30 pads. As many of you already know, I am a huge fan of flexible, all day ridable protection as it helps you gain confidence on the trail and protects joints that are susceptible to getting nailed on rocks and other hard objects. The more protection we can have that is actually comfortable on epic rides…the better. So in a pursuit to find more options that fit that bill, we brought in the knee and elbow pads from Demon as well.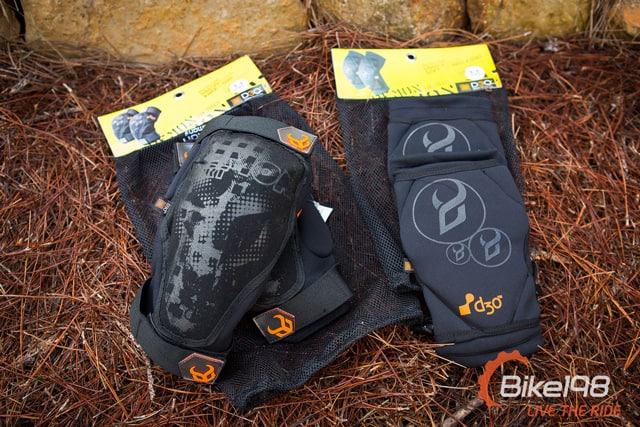 From Demon:
Demon understands that most riders will be wearing their gear for hours and hours at a time. With that in mind, Demon released the new Demon Hyper Knee and Elbow X D3O, which is a very aggressive, lightweight kneepad and elbow pad. The Hyper knee and elbow delivers some serious protection as well as being extremely comfortable. The benefits come from a Kevlar front shield, making it ultra durable, and D3O impact technology, which absorbs shock and protects against any blow to the knee or elbow.

Demons secret, though, lies in the form-fit padding behind the D3O. The memory foam cushions and conforms to your knee or elbow giving you the I-could-sleep-in-these-things feeling as well as adding that much more protection against a wipeout. The Airoprene body makes for excellent ventilation as well as the terry cloth inside which helps wick away sweat to keep you cool and dry. The entire pad has double bound stitching making it extra durable. "We want this to be a kneepad [or elbow pad] that last a long time so we put the effort into building it the right way," says Co-founder, Brent Davidson. Try it on and you'll never want to take it off.
Out of the box, the product looks great so far. The helmet is comfortable and super lightweight while the pads seem like they will do a great job at protection while not being a hassle to wear on the trail. Of course, this is all speculation at this point as we have to go out and get everything dirty. I guess this means I need to go hit the trail and wreck a couple of times…
You can check out more about Demon on their website and purchase their products through Huck N Roll.